Review || La Masacre de Texas 2022 - Texas Chainsaw Massacre 2022 [ESP-ENG]
Domingo por la noche buscando alguna película para ver, me encuentro con una secuela de la famosa Masacre de Texas, inspirada en el gran villano Leatherface que todavía continua con vida, pero teniendo una historia diferente a lo que sucedió en la principal película, aunque claramente encontramos muchas similitudes en este filme, jóvenes que van hacia un lugar muy poco poblado, sin tener la mas mínima idea que terminarían viviendo los peores momentos de su vida y acabando en situaciones muy sangrientas.
Sunday night looking for a movie to watch, I find a sequel to the famous Texas Chainsaw Massacre, inspired by the great villain Leatherface who is still alive, but having a different story to what happened in the main movie, although clearly we find many similarities in this film, young people who go to a very sparsely populated place, without having the slightest idea that they would end up living the worst moments of their lives and ending up in very bloody situations.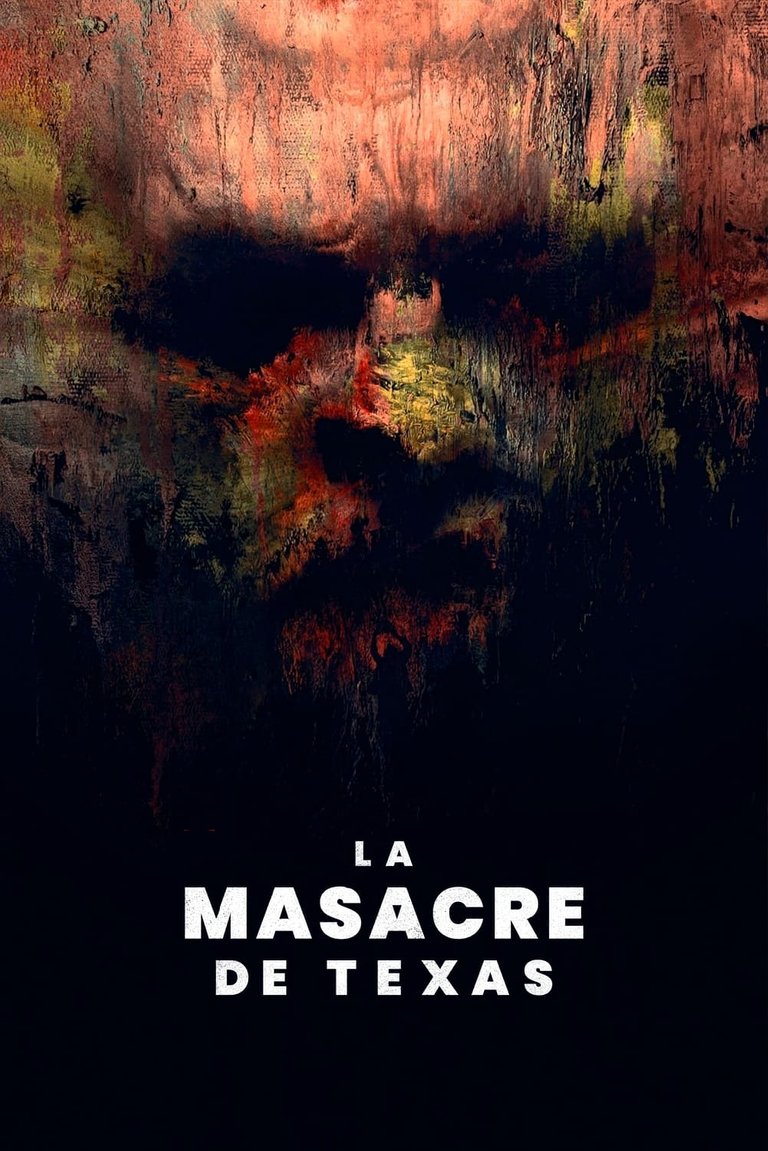 ---
Historia sin Spoilers - Spoiler free story
---
Tenemos a 4 amigos que inician un viaje hacia la ciudad de Harlow, ubicado en texas donde pretenden mudarse para abrir un negocio, tenían como proyecto comprar muchas localidades que habitaban en soledad, siendo un para ellos una gran oportunidad tomando en cuenta los bajos costos, pero no tenían conocimiento alguno que uno de las casas estaba habitada por el gran Leatherface, hombre que vivía todavía con una mujer muy mayor, quien resulta ser la madre y que recibe inesperadamente la visita de estos jóvenes.
Dante uno de los jóvenes comienza a discutir con la señora para que se vaya de la casa, pero esto le provoca un ataque que termina colocando todo muy mal y comienza el enfado de Leatherface que quiere ir tras todos los nuevos habitantes. Jamás se esperaron que llegarían a un lugar equivocado, donde se encontraba uno de los mayores asesinos en serie y que no descansaría hasta terminar con cada uno de ellos.
Empiezan a llegar muchas personas que estaban dispuestas a comprar los locales que ofrecerían los jóvenes, pero de momento comienzan los ataques de Leatherface, hombre que empieza a matar a los habitantes y en cuestión de poco tiempo se dan cuenta que están atrapados en una ciudad sin salida, donde tendrán que enfrentarse con un hombre muy sangriento y que no tiene miedo a nada. Melody y su hermana Lila son las principales protagonistas, ellas dos empiezan a buscar formas para escapar de estos ataques, pero ante los intentos fallidos, deciden enfrentarse a Leatherface en una batalla para salvar sus vidas y no terminar en una muerte sangrienta.
We have 4 friends who start a trip to the city of Harlow, located in Texas where they intend to move to open a business, they had as a project to buy many locations that lived alone, being a great opportunity for them taking into account the low costs, but they had no knowledge that one of the houses was inhabited by the great Leatherface, a man who still lived with a very old woman, who happens to be the mother and who unexpectedly receives the visit of these young people.
Dante, one of the young men, begins to argue with the lady to get her to leave the house, but this provokes an attack that ends up making everything very bad and Leatherface starts to get angry and wants to go after all the new inhabitants. They never expected that they would arrive at the wrong place, where one of the biggest serial killers was and that he would not rest until he finished with each one of them.
Many people begin to arrive who were willing to buy the premises that the young people would offer, but at the moment the attacks of Leatherface begin, a man who starts killing the inhabitants and in a short time they realize that they are trapped in a city with no way out, where they will have to face a very bloody man who is not afraid of anything. Melody and her sister Lila are the main protagonists, they both start looking for ways to escape from these attacks, but after the failed attempts, they decide to face Leatherface in a battle to save their lives and not end up in a bloody death.
---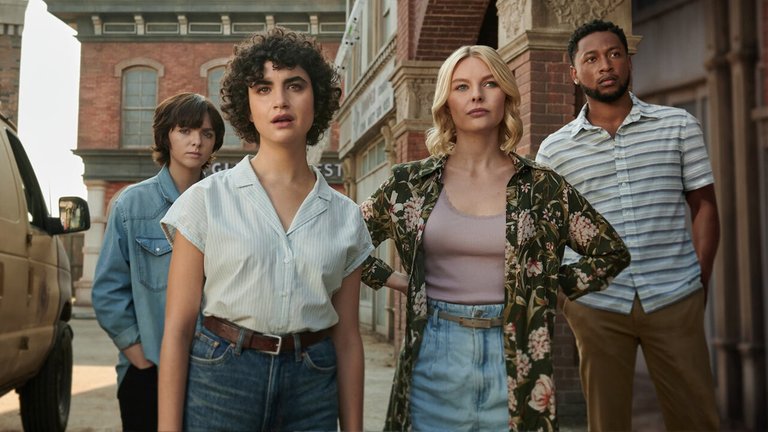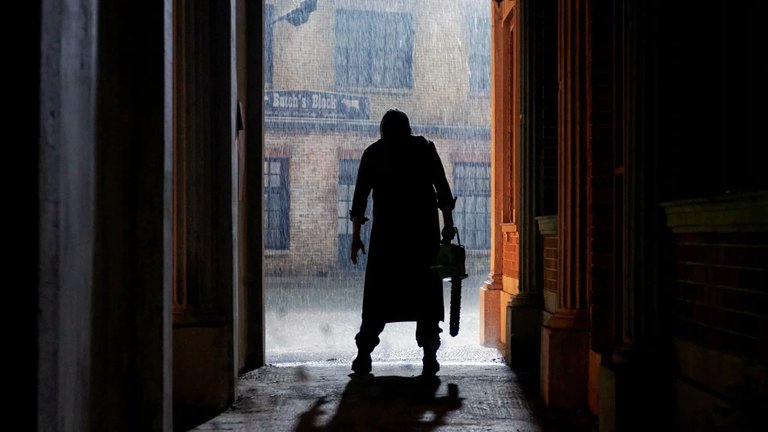 ---
¿Suspenso & terror? - Suspense & terror?
---
Vamos a tener mucho suspenso cuando Melody se queda atrapada en la casa de Leatherface, para mi encontramos aquí los mejores momentos de la película, dejando un poco de terror por la expectativa de no saber que va suceder con ella y si la podrán visualizar en su escondite. Pero no siento que haya mucho terror en esta entrega, eso queda a un lado en todo el filme, esta todo mas enfocado en la crueldad que tiene Leatherface contra sus victimas, mostrando mucho gore en todos sus ataques, pues suele ser muy violento al momento de atacar a todos y no dejan nada a la censura.
Tenemos en un momento la gran aparición de Hardesty, la chica que logro escapar en la primera película cuando Leatherface logra acabar con muchos jóvenes que van de vacaciones, esta mujer todavía tiene mucho rencor en su corazón por todo lo que le hicieron a sus amigos y cuando se entera que el hombre de la mascara volvió, decide ir tras el en busca de venganza, ya que lo ha estado buscando durante 50 años y por fin llego el momento de volverlo a ver para terminar con todos sus atentados.
Me fuera gustado encontrar mas terror, momentos donde se sintiera gran sorpresa, pero tenemos situaciones muy evidentes donde ya sabemos lo que va pasar, como en muchas películas de asesinos que ya visualizas lo que viene en la escena, incluso podemos anticiparnos a lo que efectivamente termina ocurriendo y eso genera que no haya un gran atractivo a parte de solo pasar el tiempo. Si estas buscando ver gore, aquí si lo vas a encontrar, porque Leatherface utiliza de todo para acabar con sus victimas, tenemos imágenes fuertes de los asesinatos y también tenemos a su gran motosierra que logra acabar con todos de una manera impactante.
We will have a lot of suspense when Melody is trapped in Leatherface's house, for me we find here the best moments of the film, leaving a little terror for the expectation of not knowing what will happen to her and if they can see her in her hiding place. But I do not feel that there is much terror in this installment, that is left aside throughout the film, everything is more focused on the cruelty that Leatherface has against his victims, showing a lot of gore in all his attacks, as he tends to be very violent when attacking everyone and leave nothing to censorship.
We have at one point the great appearance of Hardesty, the girl who managed to escape in the first film when Leatherface manages to kill many young people who go on vacation, this woman still has much bitterness in her heart for everything they did to his friends and when she learns that the man in the mask returned, she decides to go after him for revenge, as she has been looking for him for 50 years and finally the time has come to see him again to end all his attacks.
I would have liked to find more terror, moments where you feel a big surprise, but we have very obvious situations where we already know what is going to happen, as in many films of killers that you already visualize what is coming in the scene, we can even anticipate what actually ends up happening and that generates that there is not a great attraction apart from just passing the time. If you are looking for gore, here you will find it, because Leatherface uses everything to kill his victims, we have strong images of the murders and we also have his big chainsaw that manages to kill everyone in a shocking way.
---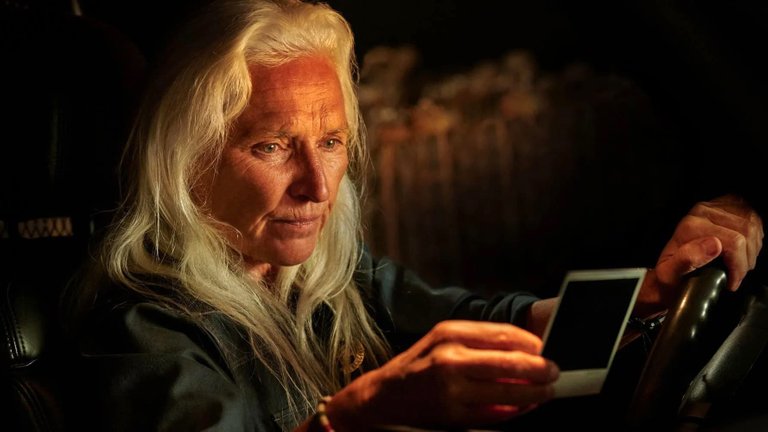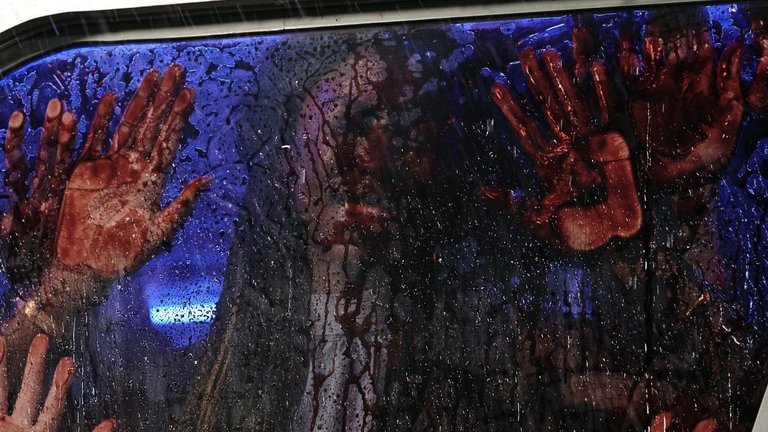 ---
Opinión Final - Final Opinion
---
Tenemos algunas matices de actualidad en la película, estos cuatro jóvenes resultan ser influencers, luego encontramos una escena donde Leatherface va atacar a los habitantes compradores y ellos pensando que es una broma, deciden sacar los teléfonos para hacer un en vivo en redes sociales y terminan es transmitiendo su propia muerte. Esto me pareció bien, pero fue sumamente mínimo y el enfoque de la historia estuvo muy básico, no hay un gran papel interesante a ninguno de los personajes, simplemente vemos como Leatherface es un hombre violento que parece indestructible, porque logran herirlo muchas veces y siempre tuvo la capacidad de regresar para seguir cometiendo sus crímenes.
Richter es un personaje que pudo ser muy interesante en esta secuela, cuando tenemos su aparición al momento de iniciar la película, podemos llegar a pensar que podrá actuar de gran forma en la historia, pero termina en nada y de igual forma Hardesty, quien parece que su reencuentro no tiene ningún valor y recae en lo mas simple posible. Personalmente creo que no lograron nada con esta nueva entrega, la historia es mas de lo mismo, tenemos poco terror y un final que me parece totalmente malo, seguramente si logran verla van a coincidir conmigo y solo me queda decirle que la observen sin esperar mucho de esta secuela que quizás no se debió hacer.
We have some current shades in the film, these four young people turn out to be influencers, then we find a scene where Leatherface is going to attack the buyers inhabitants and they thinking it is a joke, decide to take out their phones to make a live on social networks and end up broadcasting their own death. I thought this was good, but it was extremely minimal and the focus of the story was very basic, there is no great interesting role to any of the characters, we simply see how Leatherface is a violent man who seems indestructible, because they manage to hurt him many times and he always had the ability to return to continue committing his crimes.
Richter is a character that could have been very interesting in this sequel, when we have his appearance at the beginning of the film, we can think that he can act in a great way in the story, but it ends in nothing and likewise Hardesty, who seems that his reunion has no value and falls into the simplest possible. Personally I think they did not achieve anything with this new installment, the story is more of the same, we have little terror and an ending that seems to me totally bad, surely if you get to see it you will agree with me and I can only tell you to watch it without expecting much of this sequel that perhaps should not have been done.
---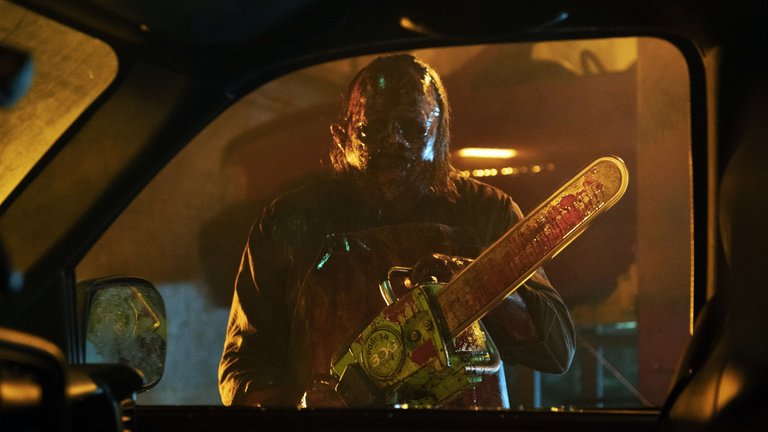 ---
Calificación: 6.5/10
Director: David Blue Garcia
Genero: Gore, Terror
Rating: 6.5/10

Director: David Blue Garcia

Genre: Gore, Horror
Trailer

Dejo Mi Twitter ---> Wensports
Traductor Utilizado: Deepl
Banner creado en Canva
---
---