Tyson Fury vs Dillian Whyte // Porque Gano Fury? Mejor Pesado del Mundo - Tyson Fury vs Dillian Whyte // Why did Fury win? World's Best Heavyweight [ESP-ENG]
El Día sábado tenia un gran atractivo porque iba estar peleando Tyson Fury, considerado por muchos uno de los mejores boxeadores de la historia, como muchos han podido notar, sigo muy de cerca los deportes de contacto, mas que todo la UFC que también se llevo a cabo este sábado, pero como no había un combate mas allá de la estelar que me llamara la atención, coloque mi mirada en el boxeo y se dio lo que yo esperaba ver por parte de Tyson Fury.
Saturday had a great attraction because Tyson Fury was going to be fighting, considered by many one of the best boxers in history, as many have noticed, I follow contact sports very closely, especially the UFC which also took place this Saturday, but as there was no other fight beyond the stellar that called my attention, I placed my eyes on boxing and what I expected to see from Tyson Fury took place.
Para ser sincero no tengo ningún registro de Dillian Whyte, no conozco de su trayectoria, pero todas las ultimas batallas de Tyson Fury si las he visto, escuchando un poco los comentarios de los relatores, se decía que Whyte podía hacerle frente y entonces mas ganas tenia de observar este combate. Fue interesante que la pelea comenzara a las 5:30 PM de la tarde, por lo general estas peleas son a largas horas de la noche, pero dejando eso a un lado, pueden ver en mi titulo que Tyson Fury gano y ahora lo que hare será dar mi opinión basado en mi análisis de como Fury obtuvo la victoria o que lo llevo a ganar fácilmente.
To be honest I don't have any record of Dillian Whyte, I don't know his trajectory, but I have seen all of Tyson Fury's last fights, listening to the comments of the reporters, it was said that Whyte could face him and so I wanted to watch this fight even more. It was interesting that the fight started at 5:30 PM in the afternoon, usually these fights are late at night, but leaving that aside, you can see in my title that Tyson Fury won and now what I will do is give my opinion based on my analysis of how Fury got the win or what led him to win easily.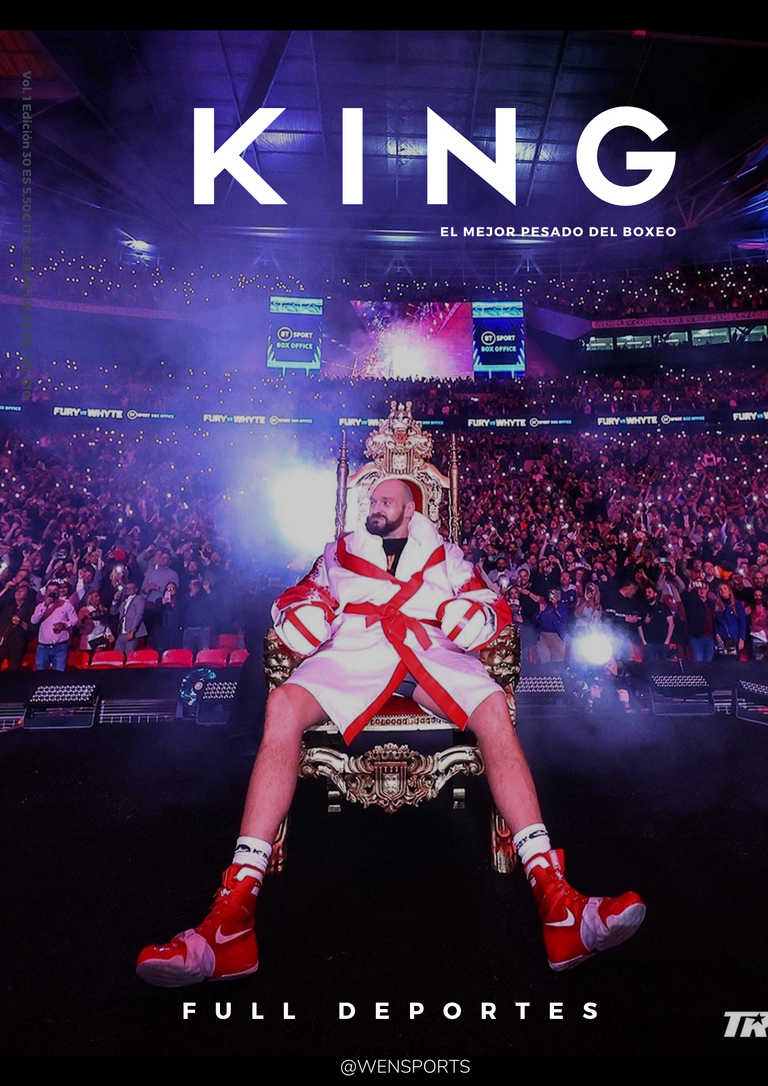 Imagen Editada en Canva - Edited image in Canva
Análisis del Combate - Combat Analysis
Estuve observando la pelea el día sábado, luego hoy me he vuelto a ver el combate para poder iniciar mi análisis, lo voy a formar basado en 3 aspectos que para mi han sido fundamentales para que Fury pudiera ser el claro dominador de la pelea y comenzare de la siguiente manera:
I was watching the fight on Saturday, then today I have seen the fight again to start my analysis, I will form it based on 3 aspects that for me have been fundamental for Fury to be the clear dominator of the fight and I will start as follows:
Estupendo Jab - Great Jab
El Jab es un golpe muy importante en cualquier disciplina de contacto, esto lo puedo confirmar porque los campeones en la UFC tienen un buen jab y eso quiere decir que realmente es importante contar con esta herramienta de ataque. Tyson Fury estuvo excelente con su jab de ambas manos, pocas veces cambia de guardia, pero puede conectarlo con derecha e izquierda, lo que hizo que durante los 6 round lograra establecer una distancia que a su vez le sirve como gran defensa para que no lo puedan alcanzar con un golpe y eso te hace controlar el centro del ring.
The jab is a very important punch in any contact discipline, I can confirm this because the champions in the UFC have a good jab and that means that it is really important to have this attacking tool. Tyson Fury was excellent with his jab with both hands, he rarely changes guard, but he can connect with right and left, which made that during the 6 rounds he managed to establish a distance that in turn serves as a great defense so they can not reach him with a blow and that makes you control the center of the ring.
Desde el segundo round Fury supo cual era la estrategia perfecta, Whyte maneja una guardia muy cerrada y cuando a penas bajaba los brazos le propinaba ese jab recto que perforaba la defensa. Dillian Whyte sin ninguna formula para conseguir golpes, empezó a ir al frente un poco mas y eso le dio mas oportunidades a Fury de ir ganando mas puntos porque conectaba mas Jab y a su vez lograba hacer daño. Mientras tu puedas golpear y no recibir golpes estas logrando un combate excelente, bueno el Jab de Fury estaba haciendo que pasara esto, entraba con este golpe y al mismo tiempo mantenía la distancia en el ring.
From the second round Fury knew what was the perfect strategy, Whyte manages a very closed guard and when he barely lowered his arms he would hit him with that straight jab that pierced the defense. Dillian Whyte without any formula to land punches, started to come forward a little more and that gave Fury more opportunities to score more points because he connected more jab and in turn managed to do damage. As long as you can hit and not get hit you are getting an excellent fight, well Fury's jab was making that happen, he was coming in with this jab and at the same time keeping his distance in the ring.
Movilidad & Resistencia - Mobility & Resistance
Tyson Fury es increíble porque a pesar de su peso, tiene la gran habilidad de moverse como si fuera un ligero, esto es algo que solo el puede hacer ahora misma en la categoría de pesados, pues desde el 1er round Fury estuvo moviéndose por todo el ring, Dillian Whyte lo seguía y mientras mas pasaba el tiempo de combate se vio que la preparación de Fury era mucho mejor. Cuando se iba acabando el tanque de Whyte, fue el momento que Tyson Fury se fue al frente a lanzar combinaciones de golpes, ya no era solo el Jab para mantener distancia y dominio, ahora teníamos a Fury en modo agresivo buscando el KO y un Dillian Whyte que a penas podía moverse.
Tyson Fury is incredible because despite his weight, he has the great ability to move as if he were a lightweight, this is something that only he can do right now in the heavyweight category, since the 1st round Fury was moving all over the ring, Dillian Whyte followed him and the more the fight time passed it was seen that Fury's preparation was much better. When Whyte's tank was running out, it was the moment when Tyson Fury went to the front to throw combinations of punches, it was no longer just the Jab to keep distance and dominance, now we had Fury in aggressive mode looking for the KO and a Dillian Whyte who could barely move.
Sin duda alguna la resistencia fue clave en la pelea, mas complicado se le hizo a Whyte poder conectar golpes, no tenia energía para lanzarlos y como Fury se encontraba en perfecto estado de forma no podía seguir su ritmo. A partir del 4to round comenzó el dominio al 100%, solo se estaba viendo un peleador arriba lanzando golpes y el otro aguantando todo sin capacidad de reacción. El aspecto físico de Tyson Fury puede ser un poco raro, pero su preparación física es excelente, claramente esto ayuda para que pueda vencer a su rival, uno cansado y el con toda la energía del mundo es una enorme ventaja.
Undoubtedly the resistance was key in the fight, it was more complicated for Whyte to be able to connect punches, he had no energy to throw them and as Fury was in perfect shape he could not keep up. From the 4th round on, the 100% dominance began, only one fighter was throwing punches and the other was holding everything without any reaction capacity. The physical aspect of Tyson Fury may be a little strange, but his physical preparation is excellent, clearly this helps him to beat his opponent, one tired and the other with all the energy in the world is a huge advantage.
Inteligencia del Mejor - Intelligence of the Best
El primer round puede que Fury lo haya perdido, no hizo nada en esos 3 minutos, claramente todo se debe a que estaba estudiando a su rival, luego Dillian Whyte quiso proponer una pelea sucia, comenzó a garrarlo contra las cuerdas y hasta lanzar golpes de conejo que son prohibidos. Tyson Fury siguió con su plan de combate, empezó a ver que la guardia como dije anteriormente estaba muy cerrada, pero a través del Jab comenzó abrir esa defensa y solo era cuestión de tiempo para poder conectar ese golpe fuerte de poder. Dillian Whyte llevaba tanto cansancio que ya no mantenía mucho las manos arriba, empezó a recibir muchas combinaciones de Fury que siempre comenzaban primero con un Jab y seguido venían otros golpes que lograron poner en aprietos al británico.
The first round Fury may have lost it, he did nothing in those 3 minutes, clearly it was all because he was studying his opponent, then Dillian Whyte wanted to propose a dirty fight, he started to claw him against the ropes and even throw rabbit punches which are forbidden. Tyson Fury continued with his fight plan, he began to see that the guard as I said before was very closed, but through the Jab he began to open that defense and it was only a matter of time to be able to connect that strong power punch. Dillian Whyte was so tired that he could no longer keep his hands up, he began to receive many combinations from Fury that always began first with a jab and then came other blows that managed to put the British in trouble.
Llegaría el 6to asalto donde ya la pelea tenia un claro dominador, Tyson Fury estaba castigando fuertemente a Whyte que para mi estaba pidiendo la hora, y entonces llegaría el gran momento del KO. Como vino? Justamente primero le lanza el Jab de izquierda que hace levantar las manos de Whyte, logra aguantar el golpe, pero seguido de esto baja la guardia y rápidamente ya tenia una derecha en gancho de Fury que impacto duro en la mandíbula y lo mandaba hacia la lona. Eso era lo que estaba buscando Tyson Fury desde que comenzó a conectar su Jab con facilidad, sabia que una vez se abriera la defensa de Whyte venia con un golpe certero y con su gran poder uno solo bastaba para ganar el combate.
The 6th round would arrive where the fight already had a clear dominator, Tyson Fury was punishing heavily Whyte who for me was asking for the time, and then would come the great moment of the KO. First he throws a left jab that makes Whyte's hands rise, he manages to withstand the blow, but after that he lowers his guard and quickly had a right hook from Fury that hit hard on the jaw and sent him to the canvas. That was what Tyson Fury was looking for since he began to connect his jab with ease, he knew that once Whyte's defense was open he would come with an accurate punch and with his great power one was enough to win the fight.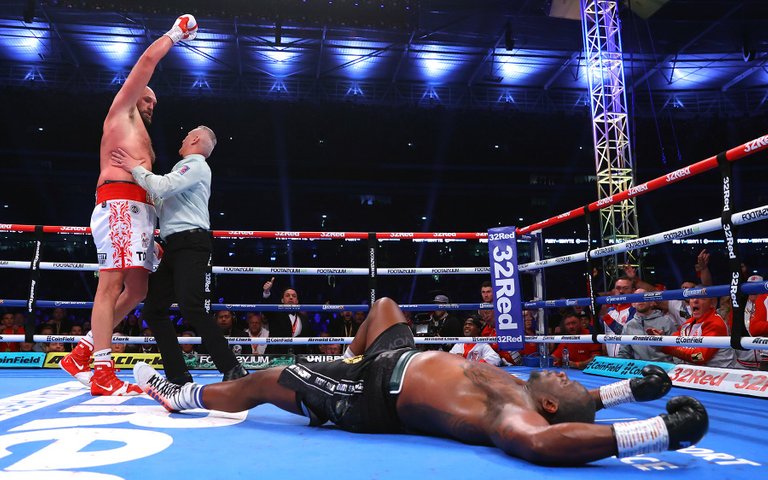 Se retira? - Can I pick up?
Tyson Fury tiene pensado retirarse joven, a penas tiene 33 años y comento después de la pelea que probablemente este haya sido el final. Récord de 32 victorias con tan solo 1 empate y 0 derrotas, mantiene un gran invicto que dicho empate es cuestionable, para mi que me vi las 3 peleas contra Deontay Wilder considero que le gano todas, pero hablando sobre el retiro, pues seria un buen momento si así desea hacerlo, campeón de los títulos de peso completo y realmente ya demostró al mundo que no hay otro peleador mejor que el en la actualidad. En su momento se hablo de la pelea del siglo contra Anthony Joshua, peleador que prometía mucho, pero fue derrotado el año pasado y parece que eso tumbo todos los planes porque ya no tiene sentido colocarlo con Fury.
Tyson Fury plans to retire young, he is only 33 years old and he commented after the fight that this was probably the end. He has a record of 32 wins with only 1 draw and 0 defeats, he maintains a great undefeated record that this draw is questionable, for me that I saw the 3 fights against Deontay Wilder I consider that he won them all, but talking about retirement, it would be a good time if he wishes to do so, champion of the heavyweight titles and he really showed the world that there is no other fighter better than him today. At the time there was talk of the fight of the century against Anthony Joshua, a fighter who promised a lot, but he was defeated last year and it seems that that knocked down all the plans because it no longer makes sense to place him with Fury.
Oleksandr Usyk es el otro campeón de pesos completos, el boxeo tiene muchas promotoras y hay muchos títulos por todos lados. Pero este peleador Ucraniano esta igualmente invicto, creo que la cereza al paste para retirarse seria ver un Fury vs Usyk, aquí se jugarían todos los títulos para ver quien es el mejor pesado y definir al mejor campeón. Mi opinión es que Tyson Fury es el mejor sin dudas, pero para dejar a los fanáticos de este deporte contentos, no seria nada malo un enfrentamiento entre ambos, desde ya daría mi pronostico a Tyson Fury y si gana esa pelea irse por la puerta grande como uno de los mejores de la historia. En el papel seria una historia muy bonita, pero solamente el peleador tiene la decisión, queda esperar haber que sale mas adelante, pero la única pelea interesante que pudiera hacer seria esta, de lo contrario su retiro esta muy bueno, pues se va joven con poco daño en su cuerpo y con una carrera increíble manteniendo un invicto.
Oleksandr Usyk is the other heavyweight champion, boxing has many promoters and there are many titles everywhere. But this Ukrainian fighter is also undefeated, I think the cherry on the cake to retire would be to see a Fury vs Usyk, here all the titles would be played to see who is the best heavyweight and define the best champion. My opinion is that Tyson Fury is the best without a doubt, but to leave the fans of this sport happy, it wouldn't be a bad thing a confrontation between the two, I would give my prediction to Tyson Fury and if he wins that fight, he would go out the big door as one of the best in history. On paper it would be a very nice story, but only the fighter has the decision, it remains to wait to see what comes out later, but the only interesting fight he could do would be this one, otherwise his retirement is very good, because he leaves young with little damage to his body and with an incredible career maintaining an undefeated.
Es muy complicado ver hombres tan grandes con tanta movilidad, seguro si ves a Tyson Fury en fotos cuando esta de vacaciones, dirías que no es un deportista, pero realmente es uno y de nivel elite. Da mucho gusto verlo boxear, su estilo de pelea es muy único gracias a esos movimientos que hace en el ring, parece un artista flotando y sus combinaciones de golpes suelen ser también excelentes. Quede muy sorprendido desde la primera vez que lo vi, me fui rápido a ver muchos resúmenes por youtube de sus primeros combates y luego de todos estos años siguiendo un poco el deporte, digo con total confianza que no hay un peso completo que pueda hacer lo que hace este hombre, así que no veo a nadie que pueda derrotarlo y para mi es el rey de los pesados como el se hace llamar.
It is very complicated to see such big men with so much mobility, sure if you see Tyson Fury in pictures when he is on vacation, you would say that he is not an athlete, but he really is one and at an elite level. It's a pleasure to watch him box, his fighting style is very unique thanks to those movements he does in the ring, he looks like a floating artist and his punch combinations are usually excellent as well. I was very surprised from the first time I saw him, I went quickly to see many youtube summaries of his first fights and after all these years following the sport a little, I say with full confidence that there is no full weight that can do what this man does, so I do not see anyone who can beat him and for me he is the king of the heavyweights as he calls himself.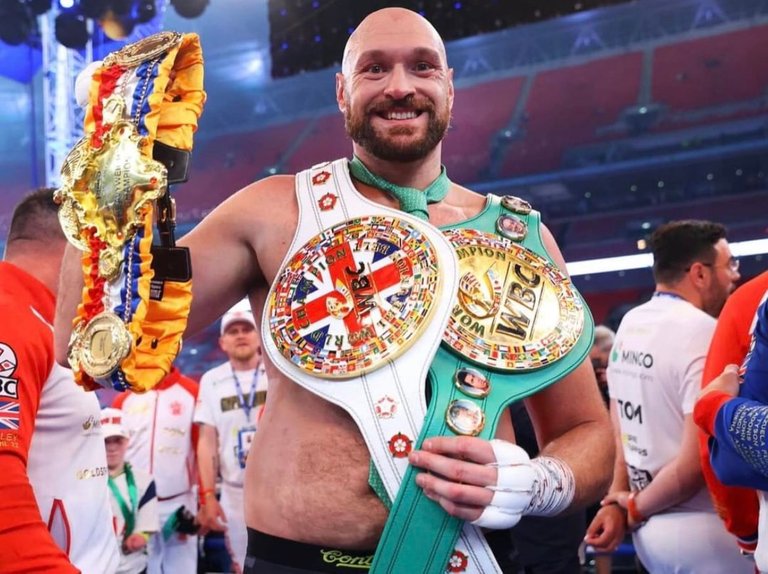 Muchas Gracias a los Lectores
Many Thanks to the Readers

Les dejo Mi Twitter ---> Wensports
Traductor Utilizado: Deepl
Banner creado en Canva
---
---