Vicente Luque vs Belal Muhammad // Los Derribos son Importantes - Vicente Luque vs Belal Muhammad // Knockdowns are Important [ESP-ENG]
Se estuvo llevando a cabo el UFC Fight Night anoche en las Vegas, la pelea estelar de esta contienda seria entre Vicente Luque vs Belal Muhammad lo que seria una revancha, ellos dos se habían enfrentado años pasados donde Luque había ganado por la vía del KO, pero ha llovido mucho desde ese entonces y ambos peleadores venían con muchas victorias consecutivas por lo cual ahora íbamos a observar quien ha evolucionado mucho mas. Ellos dos están en el puesto 5 Luque y puesto 6 Muhammad de la categoría Welter de la UFC donde reina el libra por libra del mundo Kamaru Usman.
The UFC Fight Night was taking place last night in Las Vegas, the main fight of this contest would be between Vicente Luque vs Belal Muhammad which would be a rematch, they both had faced each other years ago where Luque had won by KO, but it has rained a lot since then and both fighters came with many consecutive victories so now we were going to see who has evolved much more. They are both ranked #5 Luque and #6 Muhammad in the UFC Welterweight division where the world's top pound-for-pound fighter Kamaru Usman reigns.
Vicente Luque tiene raíces Chilenas así que iba a este hombre para este combate, quien ganara seguramente iba a tener la posibilidad de enfrentar a Gilber Burns que esta 4 ahora mismo luego de perder su pelea ante Khamzat Chimaev, tener esa oportunidad de enfrentar a Burns es grandiosa porque si le logran ganar van directamente al top 3 de la división a tan solo un paso de poder conseguir una lucha por el titulo, la categoría Welter tiene 3 hombres que están muy difíciles de vencer, justamente son los top 3 que están horita en el ranking pero de igual forma seguir avanzando para ellos es algo grandioso y dentro de la jaula cualquier cosa puede suceder.
Vicente Luque has Chilean roots so I was going to go to this man for this fight, whoever won would surely have the chance to face Gilber Burns who is 4 right now after losing his fight against Khamzat Chimaev, having that opportunity to face Burns is great because if they can beat him they go directly to the top 3 of the division just one step away from getting a title fight, The Welterweight division has 3 men who are very difficult to beat, they are just the top 3 who are in the rankings at the moment, but in the same way to keep moving forward for them is something great and inside the cage anything can happen.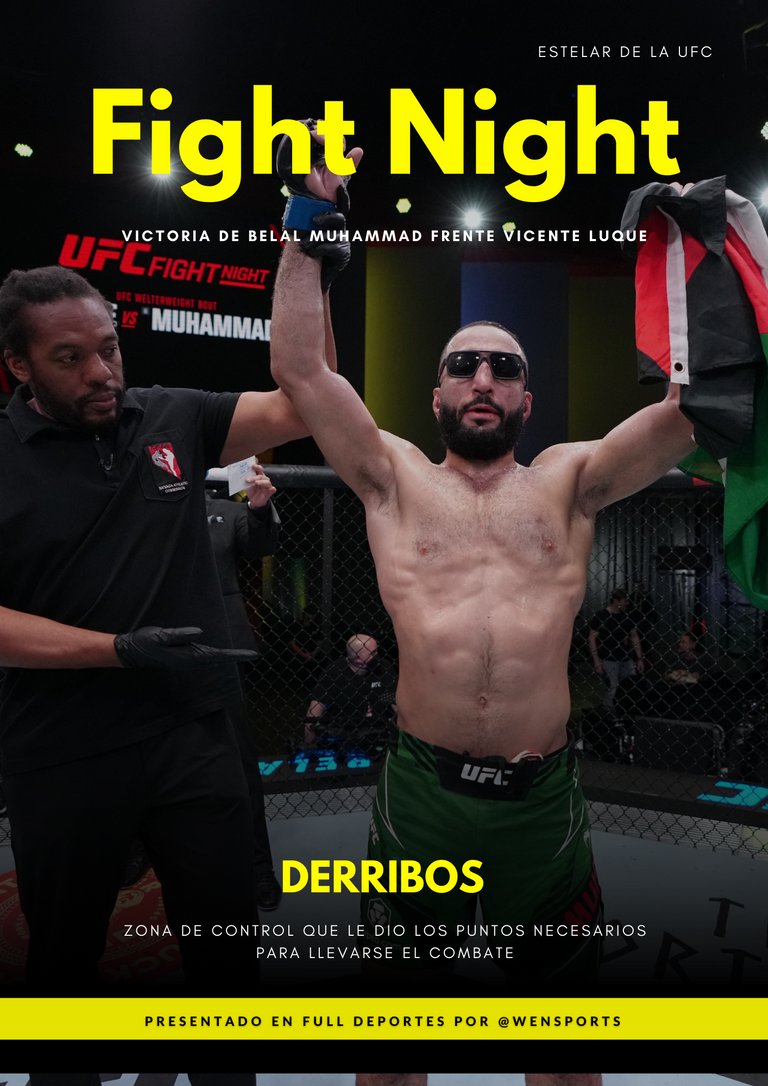 Imagen Editada en Canva - Edited image in Canva
Análisis del Combate - Combat Analysis
Lo primero que pude observar por parte de Muhammad es que tenia un plan escrito ya en su mente que llevo a perfección en todo el combate, mientras que Vicente Luque no lo vi con un plan y estaba simplemente yendo hacia al frente del rival que no dejaba de moverse dificultando que lo pudieran acorralar. Muhammad estaba lanzando una combinación de 2 golpes que estaba totalmente efectiva, se trataba de un jab y seguido de eso un golpe recto mas fuerte, con esto lograba crear una separación en su rival y al mismo tiempo ir ganando puntos en la pelea. Vicente Luque buscaba de cortar espacios para buscar la pelea con boxeo, debo mencionar que Luque le dio un KO en el año 2106 y quizás por eso estaban buscando lo mismo pero este Muhammad es otro luchador totalmente diferente al de esa época.
The first thing I could see from Muhammad was that he had a written plan in his mind that he carried to perfection throughout the fight, while Vicente Luque did not have a plan and was simply going to the front of the opponent who kept moving making it difficult for them to corner him. Muhammad was throwing a combination of 2 punches that was totally effective, it was a jab and followed by a stronger straight punch, with this he was able to create a separation in his opponent and at the same time gaining points in the fight. Vicente Luque was looking to cut spaces to look for the fight with boxing, I should mention that Luque gave him a KO in 2106 and maybe that's why they were looking for the same thing but this Muhammad is another fighter totally different from that time.
Considero que si tu contrincante se esta moviendo mucho hay que presionar mucho mas, eso quiere decir que debe lanzar mas golpes, Vicente Luque no lo estaba haciendo y Muhammad seguía con el mismo plan de combinaciones de 2 golpes y moviéndose mucho en el octágono. Desde la transmisión no puedo escuchar lo que le dice la esquina a Muhammad, pero cuando llegaban los 2 minutos buscaba el derribo y lo conseguía tranquilamente frente a un Luque que en el suelo no pudo hacer nada. Esto paso en el 1er round, segundo y 4to round donde Muhammad se movía golpeaba arriba y después con el derribo ganaba tiempo de control y lograba también castigar consiguiendo ganar el round fácilmente. Los derribos fueron lo fundamental en este combate, cuando Muhammad se vio en peligro busco el derribo y luego para terminar el round en control buscaba el derribo y lo consiguió las veces que quiso.
I think that if your opponent is moving a lot you have to press more, that means that he should throw more punches, Vicente Luque was not doing it and Muhammad continued with the same plan of 2 punch combinations and moving a lot in the octagon. From the broadcast I can't hear what the corner is telling Muhammad, but when the 2 minutes were up he was looking for the takedown and he was getting it quietly in front of a Luque who on the ground couldn't do anything. This happened in the 1st round, 2nd and 4th round where Muhammad moved and hit upstairs and then with the takedowns he gained control time and was also able to punish getting to win the round easily. The takedowns were the key in this fight, when Muhammad was in danger he looked for the takedown and then to finish the round in control he looked for the takedown and he got it as many times as he wanted.
Para mi Luque solo gano 1round que seria el 3ro, aquí pudo conectar a Muhammad muchas veces con golpes de poder, pensaba que había conseguido ya como entrarle y esperaba que en el 4to y 5to se repitiera esta tónica la cual no sucedió. Nunca la esquina de Luque mando a que buscara el derribo, me parece extraño porque el es muy bueno en jiu jitsu y en cambio Muhammad con su plan totalmente claro siguió buscando el derribo y mantuvo su combinación de 2 golpes. El cardio también jugo un papel importante en este combate, Vicente Luque llego muy cansado al 4to round y Belal Muhammad se movió durante los 5 round de lado a lado sin parar. El estadounidense termino ganando la pelea en una decisión unánime, claramente note que gano 4 round de los 5 y me parece super acertada la decisión de los jueces en este combate donde los derribos fueron gran protagonista y la capacidad mental de saber llevar un plan durante todo el combate.
For me Luque only won 1 round which would be the 3rd, here he was able to connect Muhammad many times with power punches, I thought he had already managed to get in and I expected that in the 4th and 5th this tonic would be repeated which did not happen. Luque's corner never told him to look for the takedown, it seems strange to me because he is very good at jiu jitsu and on the other hand Muhammad with his clear plan kept looking for the takedown and kept his 2 punch combination. Cardio also played an important role in this fight, Vicente Luque arrived very tired to the 4th round and Belal Muhammad moved during the 5 rounds from side to side without stopping. The American ended up winning the fight in a unanimous decision, clearly I noticed that he won 4 rounds of the 5 and I think the judges' decision in this fight where the knockdowns were the main protagonist and the mental capacity of knowing how to carry out a plan throughout the fight was super accurate.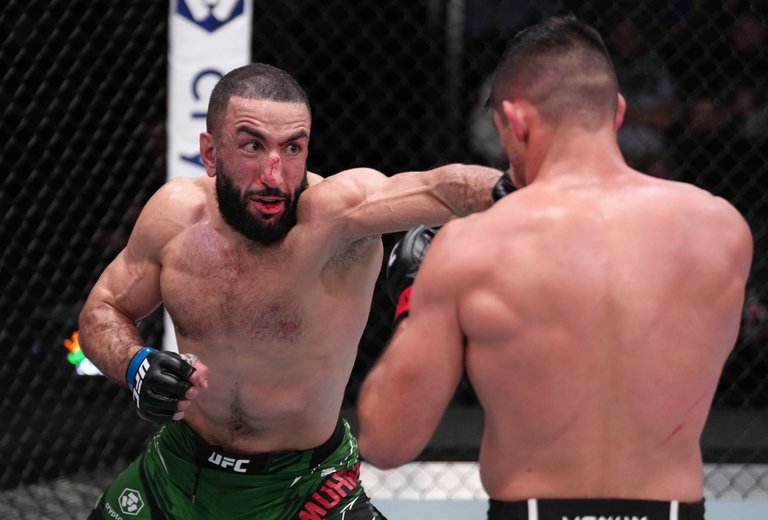 Derribos con Tiempo de Control - Control Time Knockdowns
La semana pasada hubo gran polémica en la pelea de Petr Yan vs Aljamain Sterling porque este ultimo lo derribo 2 veces y se mantuvo con el tiempo de control durante todo el asalto en el suelo. Porque Polémica? Viene de que Sterling no estaba haciendo nada, simplemente lo tenia en el suelo con la posición ganada pero no estaba lastimando al rival, igualmente por haberlo derribado y mantenido durante muchos minutos en una situación donde no podía salir le dieron el puntaje para llevarse el round. En este combate Muhammad también estuvo manteniendo mucho el control de su rival en el suelo con derribos, pero la gran diferencia es que si estaba castigando mucho a su rival con golpes y así claramente no hay forma de que un luchador pueda perder el round.
Last week there was great controversy in the Petr Yan vs Aljamain Sterling fight because the latter knocked him down 2 times and kept time control during the whole round on the ground. Why Controversy? It comes from the fact that Sterling was not doing anything, he simply had him on the ground with the won position but he was not hurting the opponent, also for knocking him down and keeping him for many minutes in a situation where he could not get out he was given the score to take the round. In this fight Muhammad was also keeping a lot of control of his opponent on the ground with takedowns, but the big difference is that he was punishing his opponent with punches and there is clearly no way a fighter can lose the round.
Cada vez mas en la UFC los hombres que tienen habilidad en
el suelo están teniendo mas capacidad para dominar, pienso que ahora todos deben tener habilidad para todo dentro de la jaula y eso lo demostró Belal Muhammad que estuvo castigando con boxeo, patadas abajo y arriba pero también siempre dejo presente los derribos para asegurarse el round. Lo que se vio ayer en este combate si se trata de control con derribos, Vicente Luque no solo estaba siendo dominado en el suelo si no que también estaba sufriendo mucho y eso lo degasto tanto que ya en el 5to round ni se podía mover. Esperaba un poco mas de Vicente Luque, pues venia de ganarle a Michael Chiesa un rival muy fuerte por sumisión, pensé que intentaría lo mismo contra Muhammad pero quiso hacer una pelea de pie cuando su rival no tenia intensiones de intercambiar golpes.
Increasingly in the UFC the men who have ground skills are having more ability to dominate.
I think that now everyone should have the ability to do everything inside the cage and that was demonstrated by Belal Muhammad who was punishing with boxing, kicks down and up but also always left the takedowns present to secure the round. What was seen yesterday in this fight if it is about control with takedowns, Vicente Luque was not only being dominated on the ground but he was also suffering a lot and that was wearing him down so much that in the 5th round he couldn't even move. I expected a little more from Vicente Luque, because he came from beating Michael Chiesa a very strong opponent by submission, I thought he would try the same against Muhammad but he wanted to make a stand up fight when his opponent had no intention of exchanging punches.
Hay que ser inteligentes dentro del octágono para cambiar la estrategia, si Vicente Luque observa que su adversario se mueve mucho, no puede encontrarlo por ninguna manera, no tiene ganas de hacer una lucha de a pie tenia que buscar el también los derribos y no intento hacer ni 1 solo en toda la lucha de anoche. Por parte de Muhammad lo aplaudo porque todo lo que hizo en la pelea habla muy bien de su evolución como luchador, estaba paciente para buscar derribos, siguió a la perfección lo que tenia planeado hacer y nunca cambio lo que le estaba funcionando. En el 3er round cuando sintió los golpes de Luque supo que no tenia nada que buscar en striking, sencillamente Vicente Luque es mucho mejor y pega con mas fuerza. Salió al 4to asalto buscando el derribo de una vez sin mucha demora, conecto patadas arribas para despegarse de su rival y vuelvo a repetir que su zona de control en el suelo fue muy efectiva castigando con su mano derecha.
You have to be smart inside the octagon to change the strategy, if Vicente Luque observes that his opponent is moving a lot, he can't find him in any way, he doesn't feel like doing a stand up fight, he had to look for the takedowns and he didn't try to do a single one in the whole fight last night. On Muhammad's part I applaud him because everything he did in the fight speaks very well of his evolution as a fighter, he was patient to look for takedowns, he followed perfectly what he had planned to do and never changed what was working for him. In the 3rd round when he felt Luque's punches he knew he had nothing to look for in striking, simply Vicente Luque is much better and hits harder. He came out in the 4th round looking for the knockdown once and for all without much delay, he landed overhead kicks to get off his opponent and again I repeat that his control zone on the ground was very effective punishing with his right hand.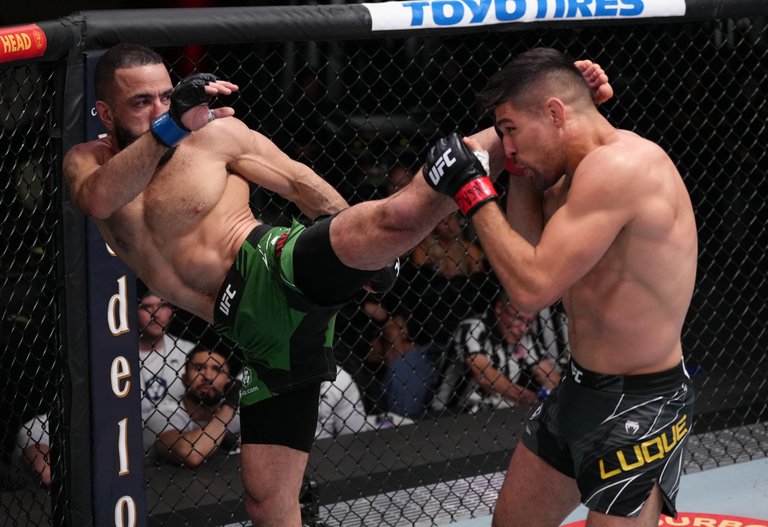 Opinión de la Categoría Welter - Opinion of the Welter Category
Esta categoría Welter esta un poco frenada a mi parecer, lo que vi ayer entre estos dos luchadores no se acerca para nada a lo que pueden dar los 4 primeros puestos, tenemos a Gilbert Burns, Khamzat Chimaev, Colby Covington y Kamaru Usman. Por razones lógicas el ganador de esta contienda va enfrentar al 4to, entonces seria Muhammad contra Burns y la verdad es que no le va ganar. El nivel esta muy disparejo ahora mismo en esta división, si comparamos la pelea de Burns vs Chimaev contra esta de Luque vs Muhammad podemos decir que el escalón esta muy alto para estos dos hombres y pienso que esta frenada porque no va ver nadie que pueda sacar a estos 4 hombres que parecen tener una lucha interna entre ellos para poder quitarle el cinturón a Kamaru Usman que los ha vencido a todos.
This Welterweight category is a bit slow in my opinion, what I saw yesterday between these two fighters is nowhere near what the top 4 can give, we have Gilbert Burns, Khamzat Chimaev, Colby Covington and Kamaru Usman. For logical reasons the winner of this contest will face the 4th, so it would be Muhammad against Burns and the truth is that he won't beat him. The level is very uneven right now in this division, if we compare the Burns vs Chimaev fight against this Luque vs Muhammad we can say that the step is very high for these two men and I think it is slowed down because there will be no one who can take out these 4 men who seem to have an internal fight between them to take the belt from Kamaru Usman who has beaten them all.
Vicente Luque perdió con Stephen Thompson hace años atrás que esta en el 7mo lugar, con esta derrota seguro Luque va subir al puesto 6 o 7 y para mi lo van a tener que poner a luchar contra Thompson nuevamente haber si puede conseguir la revancha. Menos mal de la nada salió un fenómeno como Khamzat Chimaev que esta amenazando fuertemente con ser campeón, porque de no haber salido este hombre creo que esta seria la categoría mas aburrida de toda la UFC y es un problema porque se necesita espectáculo y un poco de historia para vender estas peleas. Observar que siempre están los mismos arriba, ver que no hay un peleador que los pueda poner en aprietos es muy malo, pero bueno la evolución de Muhammad ha sido bastante grande, ahora toca esperar si le colocan una lucha contra Gilbert Burns y ver como luce contra alguien que para mi esta en otro nivel.
Vicente Luque lost to Stephen Thompson years ago who is in 7th place, with this defeat Luque will surely move up to 6th or 7th place and for me they will have to put him to fight Thompson again to see if he can get a rematch. Thank goodness a phenom like Khamzat Chimaev came out of nowhere and is strongly threatening to become champion, because if this man had not come out I think this would be the most boring category in the UFC and it's a problem because you need a show and a little history to sell these fights. To see that the same guys are always at the top, to see that there is no fighter that can put them in trouble is very bad, but well Muhammad's evolution has been quite big, now we have to wait if they put him in a fight against Gilbert Burns and see how he looks against someone who for me is at another level.
Para concluir debo mencionar que la lucha entre Luque contra Muhammad no fue tan buena para el espectador común, todos desean ver peleadores intercambiando golpes de poder, situaciones donde hay sensaciones de KO y ayer no se vio absolutamente nada de eso. Luque debe mejorar mucho su cardio y quizás tener la capacidad de cambiar el plan de estrategia en pleno combate. Por parte de Muhammad me parece que debe mejorar su striking, su próximo rival es muy bueno en todas esas facetas y de ganarle los que vendrán después son aun mucho mejores en Striking y si o si debe mejorar ese aspecto porque en lo demás se ve muy completo Belal Muhammad.
To conclude I must mention that the fight between Luque and Muhammad was not so good for the common spectator, everyone wants to see fighters exchanging power punches, situations where there are KO sensations and yesterday we saw absolutely none of that. Luque must improve his cardio a lot and maybe have the ability to change the strategy plan in the middle of the fight. As for Muhammad, I think he must improve his striking, his next opponent is very good in all those facets and if he beats him, the ones that will come after him are even better in Striking and he must improve that aspect because Belal Muhammad looks very complete in the rest of the fight.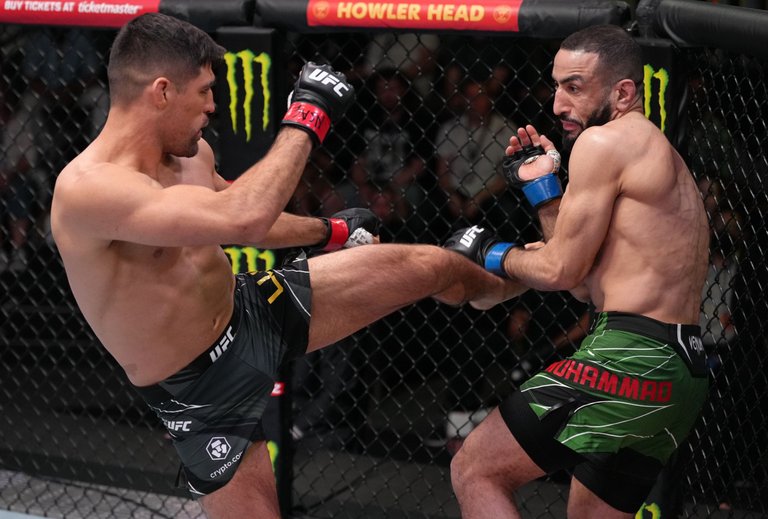 Les dejo Mi Twitter ---> Wensports
Traductor Utilizado: Deepl
Banner creado en Canva
---
---