Islam Makhachev cumplió su promesa & acabo con Charles Oliveira [ESP-ENG]
---
ESPAÑOL
En Abu Dabi esperaban una victoria de Islam Makhachev, hombre que partió como favorito en las apuestas. Ya podemos comprender por qué, tenía todo a favor y no fallo con las expectativas. Estaba jugando de local, tuvo mejor preparación y gano con mucha contundencia. No fue la mejor noche para Oliveira, el campeón del pueblo termino siendo dominado y jamás pudo hacerle frente a la lucha de Islam Makhachev. Pero, a sorpresa de muchos, tampoco inquieto con striking, arriba el mejor fue Islam y termino llevándolo al suelo con una derecha.
Nunca imagine a Charles Oliveira superado en striking, había enfrentado a hombres muy duros y buenos en esa faceta. A todos los venció, mientras que Islam, siempre ganaba abajo con lucha y ground and pound. Lo más lógico, sería pensar que Oliveira fuera superior y realmente no fue así. Creí presenciar una batalla histórica, digna de recordar y enmarcar en los libros de la UFC, veía un combate muy cerrado, los mejores suelos de la compañía enfrentándose, choque de titanes y al final tuvimos a un Islam dando un paseo por el parque.
ENGLISH
In Abu Dhabi they expected a victory of Islam Makhachev, a man who started as a favorite in the betting. We can understand why, he had everything in his favor and did not fail with the expectations. He was playing at home, he had a better preparation and he won very convincingly. It was not the best night for Oliveira, the people's champion ended up being dominated and could never face Islam Makhachev's fight. But, to the surprise of many, he didn't bother with striking either, Islam was the best upstairs and ended up taking him to the ground with a right hand.
I never imagined Charles Oliveira to be overpowered in striking, he had faced very tough and good men in that facet. He beat them all, while Islam always won downstairs with wrestling and ground and pound. The most logical thing would be to think that Oliveira was superior and it was not really like that. I thought I was witnessing a historic battle, worthy of remembering and framing in the UFC books, I saw a very close fight, the best ground and pound of the company facing each other, clash of titans and at the end we had Islam taking a walk in the park.
---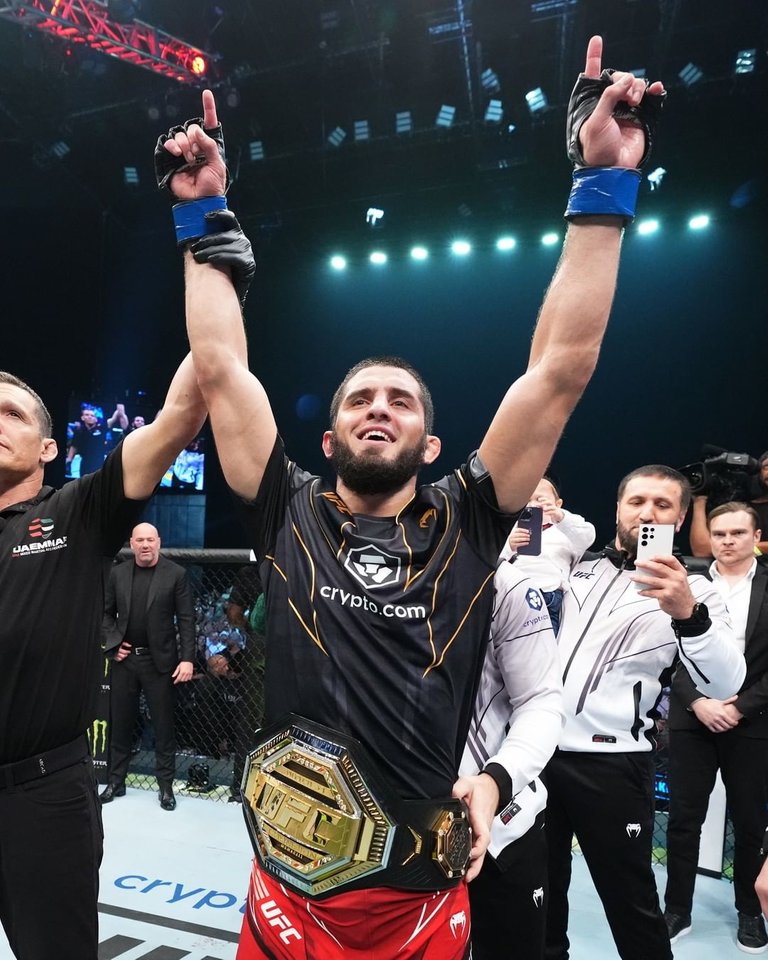 ---
ESPAÑOL
Quienes tenían dudas, quienes decían que no ha enfrentado a nadie, ya tienen la prueba y confirmaron que Islam es cosa seria. Aplasto a Charles Oliveira, hombre que venía limpiando la división y Makhachev lo venció fácil. Impresionante, además lo finalizo, abajo en su área más fuerte, Islam no tuvo miedo, golpeo arriba, lo llevo al piso y lo sometió. Promesa cumplida y cinturón obtenido. ¿Quién se lo podrá quitar? Veo a este hombre durante mucho tiempo, quizás Dariush pueda ser el oponente perfecto, pero eso no será pronto, primero viene Alexander Volkanosvki y Makhachev luce como amplio favorito.
Khabib Nurmagomédov consiguió 3 defensas por el título, ¿Será que Islam Makhachev pueda superar esta cifra? Lo veo con grandes posibilidades, desde un principio fue mi favorito a ganar, lo veo muy fuerte y ahora lo tengo como el luchador más complicado de toda la UFC. Estoy subido al carro de Islam, todo el team Khabib está en otra liga, han hecho un trabajo excelente y su peleador se encuentra en un estado de gracia. Enorme performance contra Charles Oliveira. Se viene una era de dominio para Islam Makhachev.
ENGLISH
Those who had doubts, those who said he has not fought anyone, now have the proof and confirmed that Islam is serious. He crushed Charles Oliveira, a man who had been cleaning up the division and Makhachev beat him easily. Impressive, he also finished him, down in his strongest area, Islam was not afraid, he punched up, took him to the floor and submitted him. Promise fulfilled and belt obtained. Who can take it away from him? I see this man for a long time, maybe Dariush can be the perfect opponent, but that won't be soon, first comes Alexander Volkanosvki and Makhachev looks like a wide favorite.
Khabib Nurmagomedov got 3 title defenses, will Islam Makhachev be able to beat this number? I see him with great chances, from the beginning he was my favorite to win, I see him very strong and now I have him as the toughest fighter in the whole UFC. I'm on the Islam bandwagon, the whole Khabib team is in another league, they have done an excellent job and their fighter is in a state of grace. Huge performance against Charles Oliveira. An era of dominance is coming for Islam Makhachev.
---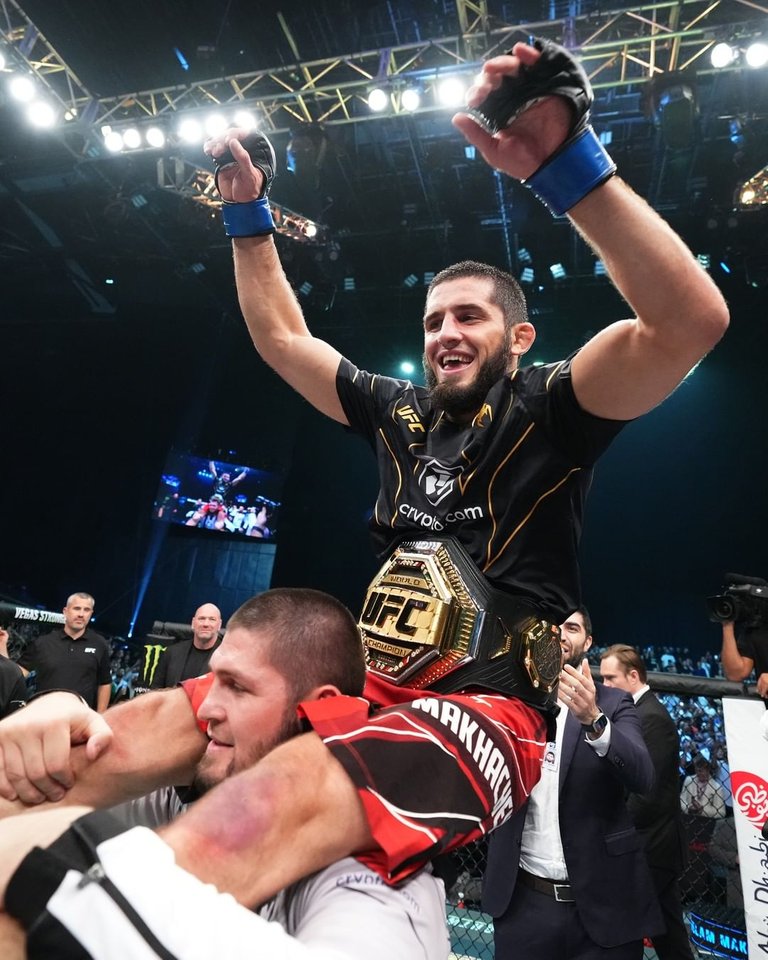 ---
---
---