And I don´t even like Tarantino that much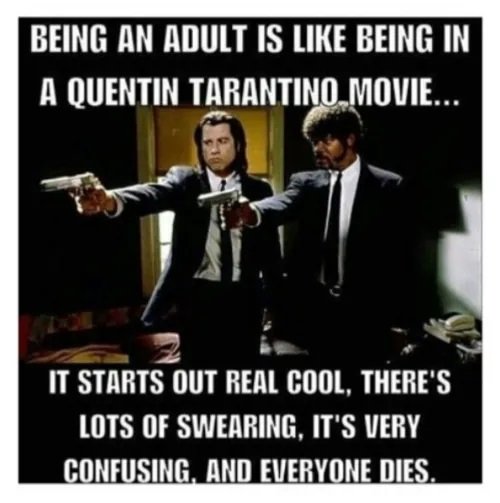 As per the title of the article, I am not a big Tarantino fan....so shoot me.
Why, as per the picture. I think the guy is pretty predictable, but he got one thing going for him.
He definitely has great soundtracks for his first two movies.
Reservoir Dogs
"Little Green Bag" – The George Baker Selection (3:15)
"Hooked on a Feeling" – Blue Swede (2:53)
"Stuck in the Middle with You" – Stealers Wheel (3:23)
But those could easily be topped by the 2nd best soundtrack ever:
Pulp Fiction
"Pumpkin and Honey Bunny/Misirlou" - Tim Roth, Amanda Plummer/Dick Dale & His Del-Tones (2:27)

Yes indeed, Urge Overkills version of Neil´s Girl You´ll be a Woman Soon.
That song sends shivers down my spine every single time.
It has this Alice in (a weird) Wonderland feel.
The first time you watch it ....you have hope.
Although the song makes the scene feel eerie, you wish they will get together...while at the same time you know it´s a Tarantino movie.
Those windows black as night, the pale white walls, it´s a perfect romantic setting.......to o.d.
Let me take you back and refresh your memory if the song did not spark the images yet.

Urge Overkill did not record the song for the movie, it was already out there on their EP Stull. They did re-release it as a single and it became probably their biggest hit ever. BTW they are still a band. And another fun fact, Sir Cliff Richard also covered the song...but well I would suggest not to spoil your good taste in music by listening to this version.
As mentioned this is my best movie song ever, from the 2nd best soundtrack.
What´s my number 1 soundtrack? That dear reader is for the next post. Hope you are still able to sleep and snore like a baby.
---
---