STV - A Dream After Leaving My Mind Laying On The Piano During A Lazy Sunday Morning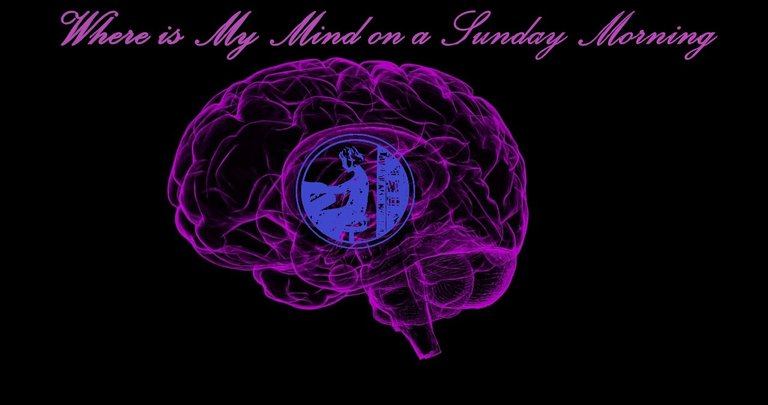 In line with the original #spreadthevibes (STV) concept, I was triggered by a post, a musical post indeed. But if you read the rules that can be bent, it does not have to be a musical post. Still, in my case, it was.
Before you start reading, just read that title once again, isn´t that pure poetry
It was a week ago and still, that melody hunts me, it´s in my head.....calling out: "Where is my mind?"
It triggered so many thoughts.... a wave of mutilation of thoughts.
Back to a black teenage boy's room where I played that Frank Black CD till it gave me a headache.
Pixies, that is a pillar in non-popular music society....
It´s the dark horse that never really broke the charts but inspired so many.
I think the first song I learned was indeed a wave of mutilation thanks to the Pump Up The Volume soundtrack.

Lazy Sunday Morning
And then unsuspectingly on a Sunday morning, I get played by a Lady- I should have seen it coming, but being a headstrong stupid boy and only having had one coffee I went ahead and clicked.
@mipiano spun a great story about a student, herself, and a song on the radio and then played this:
---
Wasn´t that beautiful, damn it was amazing. I think it was the first time I heard her play a popular tune (which is probably my fault for not searching hard enough).
She is a true teacher pushing me out of my comfort zone, making me explore all kinds of new genres, without her even trying. Probably she is not even aware.
That marks a great teacher if you ask me.
The thing is that if it comes to piano covers I am so addicted to this one guy, his tunes just have that vibe that sends chills down my spine.
He´s truly mi Pianoman, and I have asked him so often: Play me a song Mr. piano man. It all started with me wondering how VNV would sound if it was pure piano:

Then it was that Under the Milkyway piano cover, where I thought that the piano could be just a little darker, and it could:

And then of course, that bitter-end cover because I heard VK´s Version, and that made me wonder how Hansel would have played it.

But there is some serious cover competition out there now as that lazy Sunday Morning version by MiPiano is played in a very different style but also very awesome. It made me dream, a dream I hope one day to turn into reality.
The Dream
Five years from now I will pay for a ticket, well three tickets. And I invite @hanselmusic and @Mipiano to a tropical Island with no phones, no TV just a great white house and a tremendous white piano. I would ask him to bring the coffee her to bring the wine and I would bring the Rum and there we would enjoy 48 hours of pure piano.
That would be pure bliss and probably my biggest musical wish.

Spread The Vibes
This is my second Spread The Vibe post, if you are curious about me bending the rules a little in my first post enjoy: https://peakd.com/hive-192806/@whywhy/what-the-fairy-tale-song-is-filk
If you want to know more about the #STV challenge not a challenge then here is the launch post: please clikerdeeclick me and find out more by the hand of its creator @edje .
Wouldn´t it be great if our creator had written a little instruction manual for us? Well, I guess that is a post for another day soon to come.
---
---