𝑩𝒂𝒕𝒄𝒐𝒊𝒏𝑩𝒂𝒃𝒚 𝒊𝒔 𝑩𝒂𝒄𝒌 (𝑰 𝒕𝒉𝒊𝒏𝒌) - Swapping your BAT to BCH and get them away from Uphold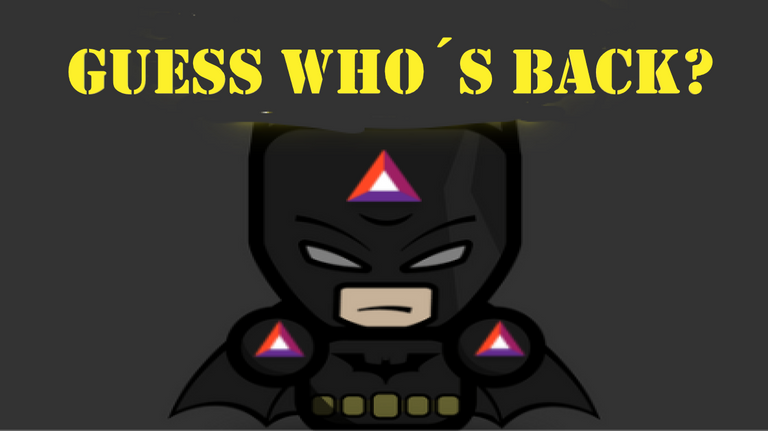 Alright, it seems I might be back in business.
Last week I was crying like a baby that I lost my verified✔️ and was no longer a verified Brave Creator. That meant I could no longer take your BAT and give you BCH or HIVE in return. Because losing that check mark means people can´t tip your pages anymore. And that dear reader is the whole trick of monetizing the BAT you earn from Brave Ads.
If you are new to the game here is a post on setting up your Brave Ads and getting the most BAT for your Buck:
10 Tips to get the most BAT out of Brave


I got 99 problems and Uphold is one
The issue with Brave ads is that you can receive them in 120+ countries, but you can only connect an (Uphold) wallet in 48 of them. That means that plenty of people get BAT, but do not have a wallet to send that BAT to. Or they just do not think it´s worth doing the Uphold KYC for a couple of BAT.
Hence they can never swap them for any other coin and are stuck with their BAT sitting on their Brave Browser.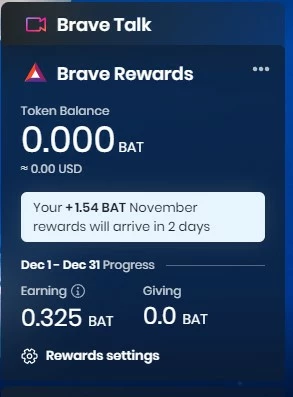 Now when I found out that so many of us had a nice amount of BAT and no place to spend them I came up with my Devilish Deal.
The Devilish Deal
In summary, the deal means you tip a channel 10 BAT which you otherwise can not monetize. Brave takes 5% and the channel gets 9.5 BAT. Once received I sent you 0.666* 10 * the current BAT $ value in return. So basically you are able to get 2/3 of your BAT monetized, which is a lot more than nothing.
Happy Days!
Happy days indeed, till Uphold no longer supported the Netherlands and I had done my KYC with a Dutch passport. The Dutch being difficult as always got some regulations in place which caused Uphold to no longer support the Netherlands. And there went my service, flushed down the drain by some stupid government interference.
Just when I was doing better and planning on branching out. I have been doing these swaps for almost a year now I guess and I started from months with 2-5 BAT swaps, to doing 50-100 BAT swaps a month as my fame and credibility were building.
As I was no longer verified, it seemed everything was ending in the regulatory soup.
Help
Help I need somebody!
When I was younger, so much younger than todayI never needed anybody's help in any wayBut now these days are gone, I'm not so self assuredNow I find I've changed my mind and opened up the doors
So I called for help and fortunately, my call for help got answered.
One of the people responding to my latest post said that he was willing to partner up. If you dyor you might find out whom. For now, I am keeping it a little mystery till I am sure everything is working fine. But it all seems to be legit so I expect to be back in business soon.
The Business
To get back in business I do need to explain the business and well maybe it´s best that I will be transparent as some of you might also benefit from this info.
Step 1 - Become A Verified Brave Creator
In order to become a verified creator with Brave Creators, you will need to connect a custodial account to your Brave Creators account from a supported region.
Once you do that, any website or channel you have registered in your Brave Creators account will appear as "verified" to Brave Rewards users in Brave.

Verified means that on your Twitter, Twitch, Reddit or YouTube channel you will get the check mark the stole from me.
When you click that Brave Icon with the check mark you see the creator and get the option to send a tip.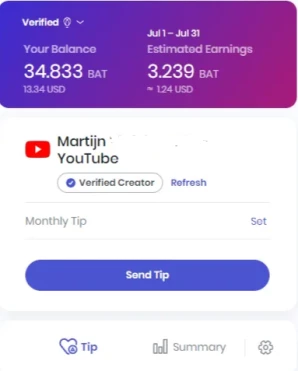 If you click Send Tip: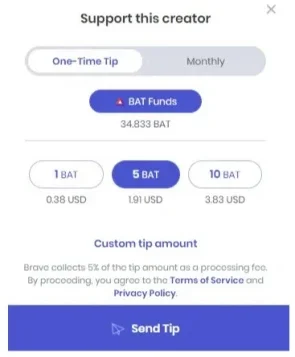 You can choose an amount or select a custom amount, you can send at least 84 BAT if you hold that in your browser as that is the biggest Swap I done so far.
Select the amount and sent the tip.
This tip will then go to the Brave Creator Account of the owner of the Channel: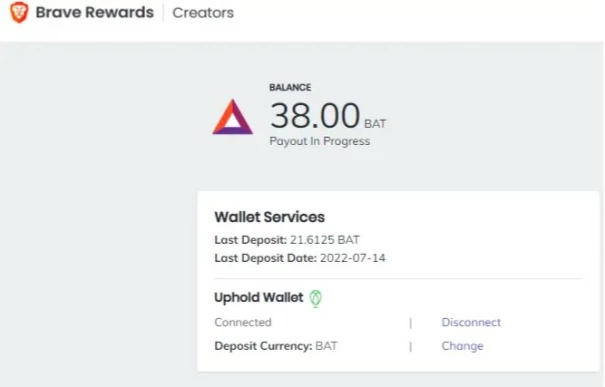 As you can see that channel is connected to an Uphold wallet, probably the only reason to use Uphold....just saying NYKNYC.
Now as I mentioned the owner will receive 95% of the tip as Brave keeps 5%.
Keep in mind that the owner of the channel does not see any specifications, so if you plan to swap make clear how much you send and do so before you send. That way the owner can check and confirm if all is received.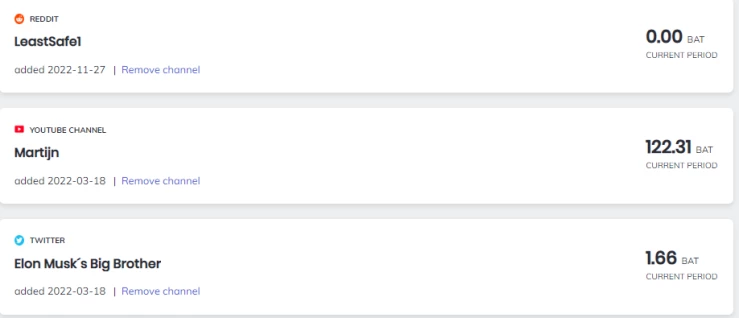 The BAT received in the creator account will remain there for about a month before Brave will send it to your Uphold wallet. That means you need some funds available to pay your customer during that first month.
Because as soon as you have BAT in your Uphold things will get even easier.
Step 2 - Swapping BAT to BCH in Uphold
Now this swapping sounds really simple, but knowing myself I prefer a walk-through if I have never done it before so here it is:
Once you have some BAT in your Uphold and a new swap offer comes in the easiest thing to do is just swap the BAT for BCH in Uphold. This keeps all the funds in one place and makes sure you do not have to touch any of your holdings.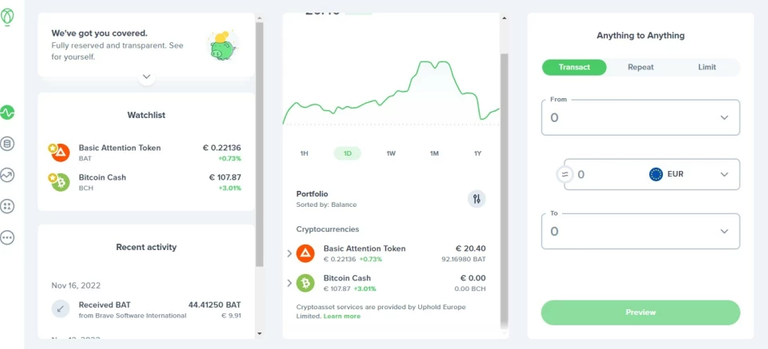 On the right side of your Uphold portfolio, you have the Anything to Anything option.
There you select your BAT Account: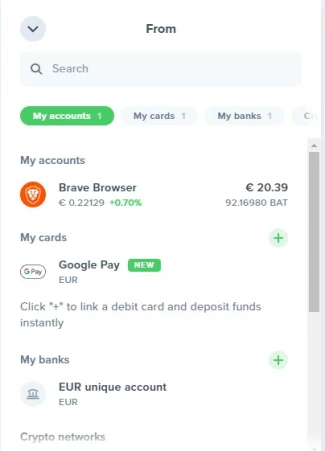 And your BCH account: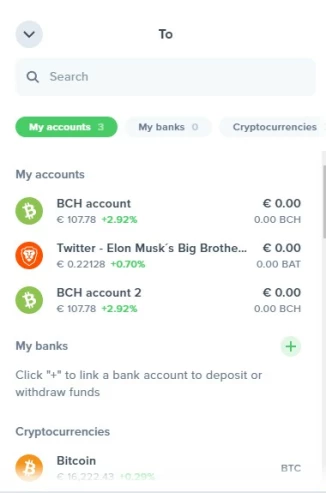 Or just select BCH from the cryptocurrencies if you are not yet having any BitcoinCash in your portfolio.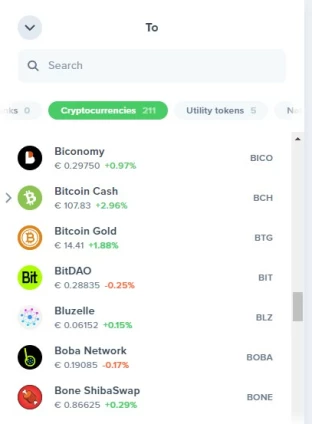 Then make sure you use dollars as the value for your swap. In the below example, I calculated that I owe the person who tipped me 4 dollars, hence I put in 4, and Uphold will calculate how many bats you will need to swap to BCH.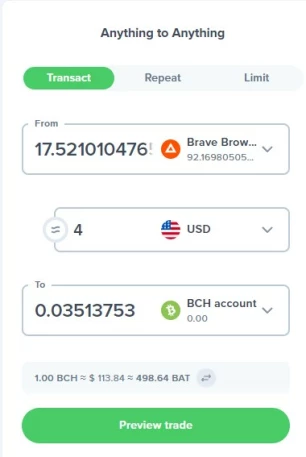 Keep in mind that when sending you will pay a little fee so always add 5 cents to the calculated amount. Click Preview Trade and it will take you to the next screen.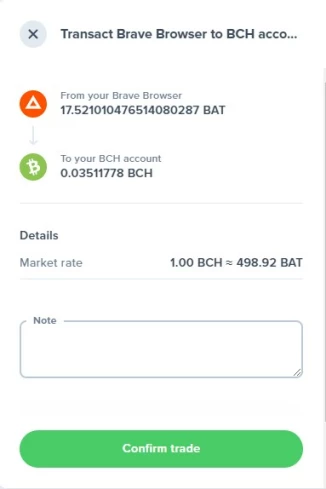 There you only have to confirm the trade and you will have your BAT swapped to BCH in a matter of seconds.
Step 3 - Sending the BCH to the Customer
Now that was the easy part, but like I said it´s always nice to have the pictures at hand if you have never done it before. The next part is the hard part, well not really.
You now have the BCH in your uphold and if the customer gave their BCH address you also know where to send it.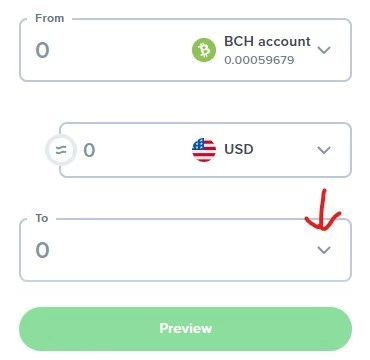 Important note: Uphold only uses legacy BCH addresses, meaning the addresses that do not start with BitcoinCash:
So if you receive a new BCH address just use a converter. I normally use this one:
https://www.bitcoin.com/tools/cash-address-converter/
Just put in the new address, select the legacy format, and copy-paste the legacy address.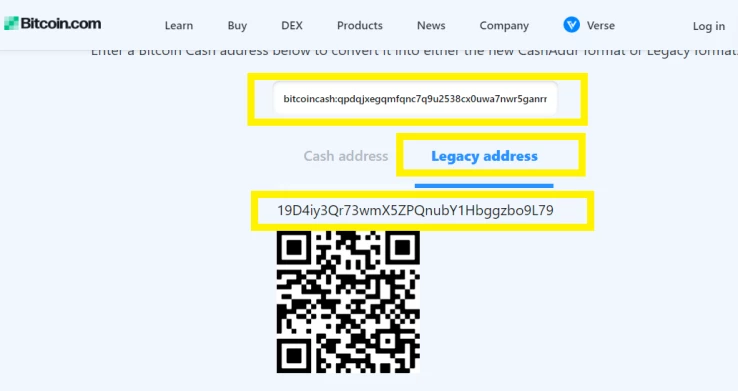 Then go back to Uphold, go to Anything to Anything on the right side, it should be set to transact as default, and select the BCH account you just created by swapping BAT for BCH. Make sure you set the currency to USD again.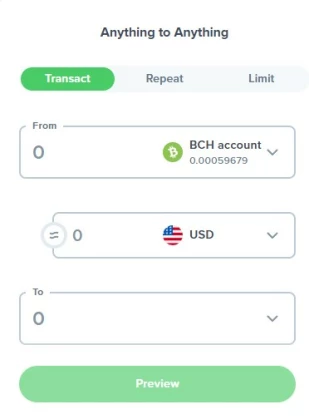 Then comes the hardest part. You now need to select the network, click the drop-down in to: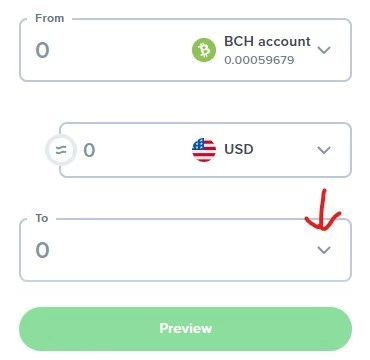 It will give you these options: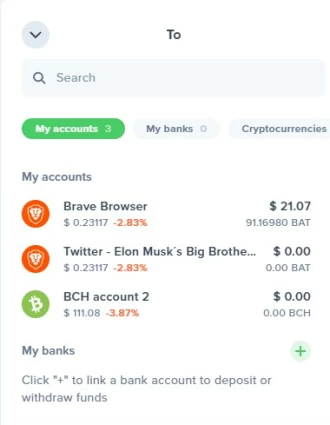 Now type BCH in the search option: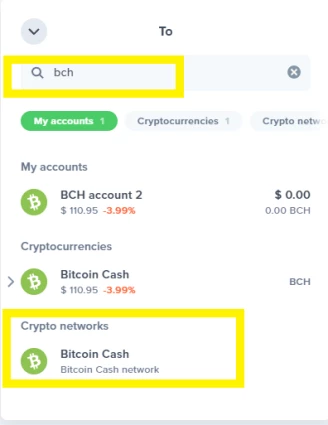 And select the BitcoinCash Crypto Network: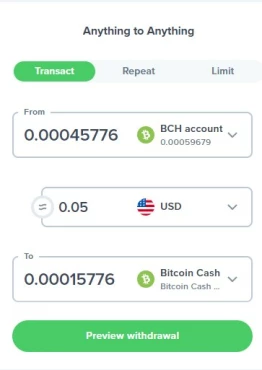 Put in the agreed amount + 5 cents for the fee and click "Preview Withdrawal":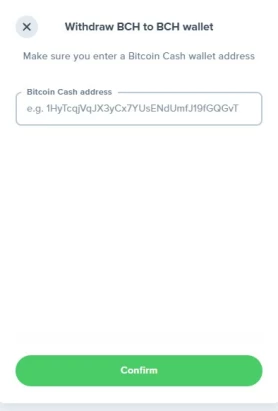 Here you put in the Legacy BCH address and click confirm: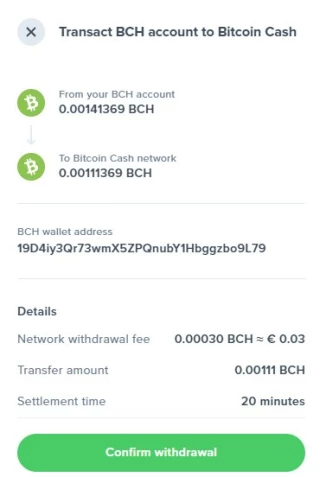 It will show you the exact transaction including the fee. If you "Confirm Withdrawal" you will be asked to authenticate with a verification code. If you have never done this before download the Google Authenticator App as you probably will need more in than once in the cryptoverse. Connect your Uphold account to the App:
Enter the verification code and click continue: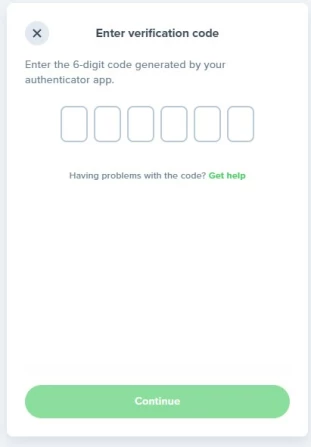 Now the transaction should be in your recent activity showing as processing, the yellow clock.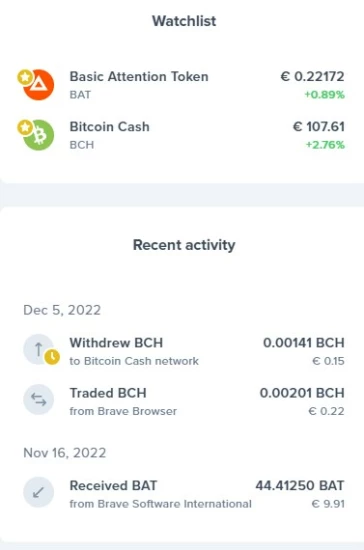 Now Uphold recently introduced a new feature causing this first transaction to fail. Why, because they want a selfie to confirm your identity....but they only tell you that after the transaction failed. A failed transaction has a red exclamation mark.
Now if you would repeat the same process they will ask you for the selfie the second time around: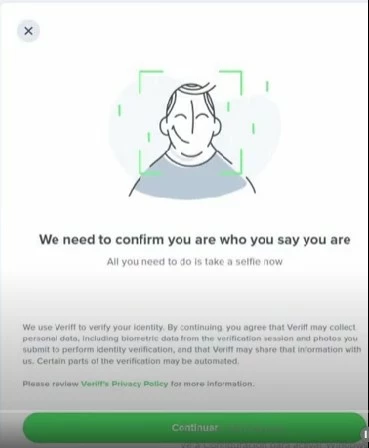 This new feature is clearly not working very well as it does not appear on the initial transaction, and when it does on the second it takes a long time for the camera to get activated. So be patient, because as soon as the selfie is taken (if you are in a well-lighted area) it goes through in seconds. The payment will be sent and arrive in 15 -20 minutes and we will have a happy customer.
Bottom Line
Now maybe Uphold has changed the selfie process because when I was doing a test transfer yesterday for this post I got no selfie request. And as I was doing my research this selfie stuff was giving a lot of problems. So they might have removed it temporarily to fix it.
But even with the selfie, the process takes 5 minutes once you have done it a couple of times.
Now I really hope all goes well and this service can be continued because over these last months I have gotten nothing but praise and positivism. This makes sense because this service allows people that otherwise can not monetize their BAT rewards to still get a buck out of their Brave ads. While my partner and I are able to grind some crypto during the bear market and hopefully earn enough to cover our Celsius and FTX losses.
So it´s a win-win situation.
Just to answer a frequently asked question: Why BitcoinCash? Because it´s easy to swap, cheap in fees, fast to transfer, and accepted in many places. I do also offer to swap for HIVE if you are on HIVE, but so far BCH has been the most common swap currency and it works great.
So if you are just like me and are still earning BAT, but have no Uphold there is a way again to get some crypto from those Brave Adds.
To make the most BAT from your Brave ads:
10 Tips to get the most BAT out of Brave
More about my Devilish Deal you can find here:
My 𝕯𝖊𝖛𝖎𝖑𝖎𝖘𝖍 Brave BAT Deal is doing well!
BATCoin Baby Returns - The Brave to Uphold/Gemini Disaster
Thanks for the read!
Give me a follow, give yourself a nice big tip, and please hit that like button!
It's one of the few free things in life!
Posted Using LeoFinance Beta
---
---