Cinetv contest: The girl on the train!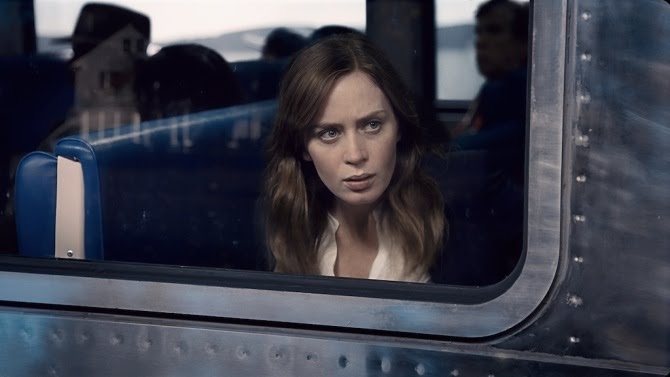 This movie is one of the movies that got me snorting like a pig while I slept on the couch in my living room to the surprise of my mom who thought that I was given sleeping pills as i'm not used to taking naps.
---
The girl on the train is a 2016 American psychological thriller film written by Erin Cressida Wilson and directed by Tate Taylor. This film is based on the British debut novel of the same name authored by Paula Hawkins.
The movie actually had a great cast and stars Emily Blunt, Haley Bennett, Justin Theroux, Luke Evans, Alison Jannay, Rebecca Ferguson etc. I don't seem to remember all their names.
The movie centers on an alcoholic divorcee, Rachel Watson who becomes a suspect during a missing person's investigation.
Let me get on with the little story/plot I have in my head before moving on to why the movie made me sleep. I literally had to watch this movie in shorts as I found it kinda boring but for the characters, I had to watch to the end. Here comes the plot;
Synopsis:
Rachel Watson as earlier mentioned is a depressed divorcee and an alcoholic who aimlessly rides a train to New York City everyday after she had lost her job and marriage.
During her aimless continuous ride, she spies on the life of her ex husband Tom, his new wife Anna and their neighbors Scott and Megan Hipwell who used to work as nanny to Anna's child Evie.
Rachel was depressed about her infertility while she was still married to Tom causing her to develop a drinking habit which led to her continual blackouts and a very destructive behavior (she had little memory of her behavior the moment she sobered up).
On her way home seated on the train one afternoon, Rachel spots Megan kissing a stranger which infuriates her causing her to confront Megan. She later wakes up in bed covered in blood unable to understand what happened.
Megan is later reported missing and Rachel is questioned by a detective as she was seen in the vicinity that day.
Long story cut short, Megan was found dead and it happened to be that Tom Rachel's ex husband had murdered her because she refused to abort his baby she was carrying.
What I hate about this film:
The movie indeed has a great cast. I can't dispute that fact but squanders it for a ponderous plot. Alternatively predictable, this movie relies more on its flashbacks and plot twists making it difficult for the viewer or audience to detect any character development. It also leaves its three central women(Rachel, Anna and Megan) as unrelatable and unlikely stereotypes. I had to watch and rewatch to get to this point of knowing what actually transpired to be able to review it here.
If I am asked to rate this film, I'll give it a 2 out of five stars as it was somehow complicated to be understood from the beginning. It's more of a flat and suspense free tale of nice people in jeopardy (my opinion).
Further information:
The film's running time is 112min, the language is English and country, is the United States.
This is my entry to the cinetv contest you can find the link here. Feel free to participate 🥰.
---
---