WOO Land Sale Poster Contest!! Over 90k $WOO in Prizes

It's time for another WOO Poster Contest! The last one was a lot of fun and there were so many great posters made from members of our community. We want to give you another chance to show off your art skills and have a chance to win some $WOO prizes!
Purchase the first WOO Territories during the WOO Land Sale on February 14th at 9am ET.
Poster Contest Details
Create a Wrestling Style Poster for our WOO Land Sale. Feel free to use our artwork and also come up with your own if you'd like. We really want to see what the community can do with this one! There will be prizes for the top 5 posters voted on by the community.
Top 5 Prizes
1st Place = 50k $WOO
2nd Place = 25k $WOO
3rd Place = 10k $WOO
4th Place = 5k $WOO
5th Place = 2.5k $WOO
The WOO Staff will go through the posters and pick their favorites for the community to vote on. We want your help in deciding the winners! Contest entries end on February 9th at 11:59pm ET. Get your poster uploaded by then to be included in the contest.
Include the following on your poster:
WOO Land Sale Event on February 14th 9am ET.
First WOO Territory Sale.
Burn 500 $WOO for $5 Discount.
PayPal will be available for the sale.
Make sure to upload your poster to any Hive dApp. Tag @wrestorgonline + @woo-marketing in your post and use the hashtag #WOOPoster so we can find your entry!
In summary, the WOO Poster Contest is a great opportunity for members of our community to showcase their art skills, win some $WOO prizes and be a part of the excitement of our upcoming land sale. Don't miss out on this opportunity and make sure to submit your poster before the deadline on February 9th at 11:59pm ET. We can't wait to see what the community comes up with!

Did you know we've recently launched our witness for @wrestorgonline, if you like what we're creating please consider supporting us by voting here.
#oneup #ctp #leofinance #alive #aliveandthriving #archon #neoxian #proofofbrain #hivepizza #spt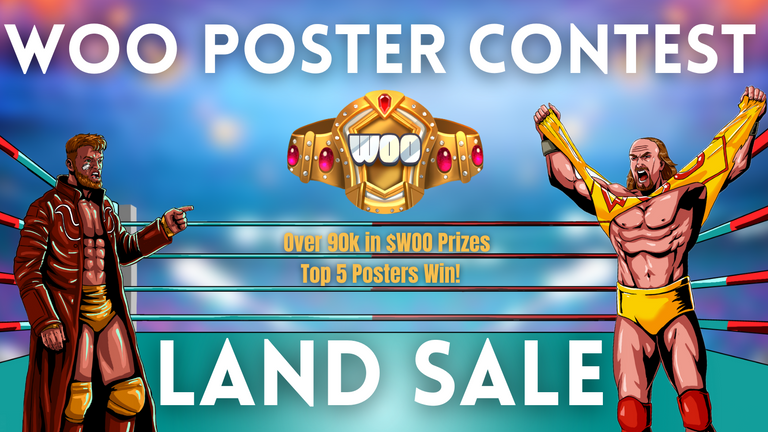 ---
---