Silver is explosive and making great progress 💥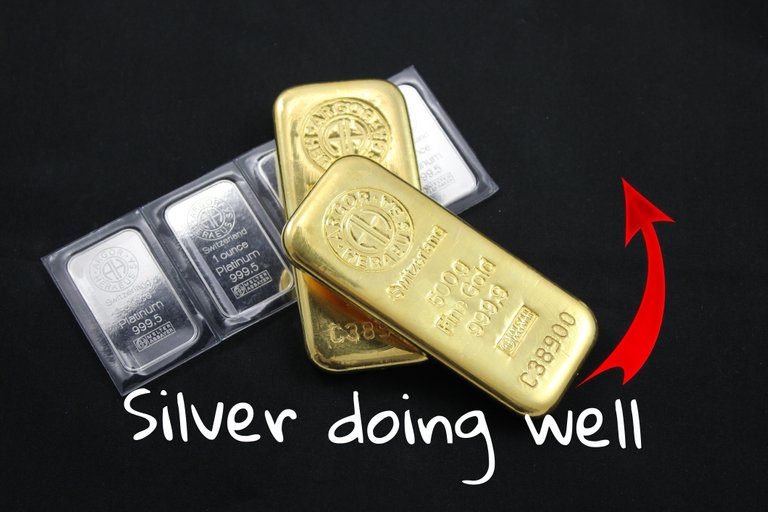 Silver bars
Over the past several decades, the gold-to-silver ratio has varied widely, and although gold and silver are precious metals, investors usually prefer to treat silver as a hybrid precious industrial metal.
Gold and silver prices change together, but what makes them move relative to each other?
More than half a century ago, gold and silver prices knew a strong positive correlation that was observed especially at the turn of the new millennium where the correlation between gold and silver prices was consistently higher than the positive 0.7.
The price ratio has reached a wide range, especially in light of the strong positive relationship between gold and silver. From one ounce of gold to buying the equivalent of 30 ounces of silver in 2011 to up to more than 100 ounces of silver in the past two years.
But what is the factor that makes these relative moves in the prices of metals significant?
Silver movement perform strongly during periods of strong expansion while gold knows to perform better during periods of contraction. Where gold is often employed as an investment and in jewelry. While silver knows several uses, although one of the important areas of its use has disappeared. Before the advent of digital cameras, more than 250 million ounces of silver were relied on annually for photographic development. However, the advent of digital cameras has dented this source of demand for silver by more than 80%, making silver price somewhat underrated compared to gold.
The special advantage of silver is that it finds new uses in the energy transition as the uses of silver multiply in batteries and electronics, not forgetting the new use in solar panels. Batteries and solar panels together have made up for the shortage and lost demand for silver due to photography and may make silver's niche higher in the future.
---
---