Bullfrog Invasion - Five Minute Freewrite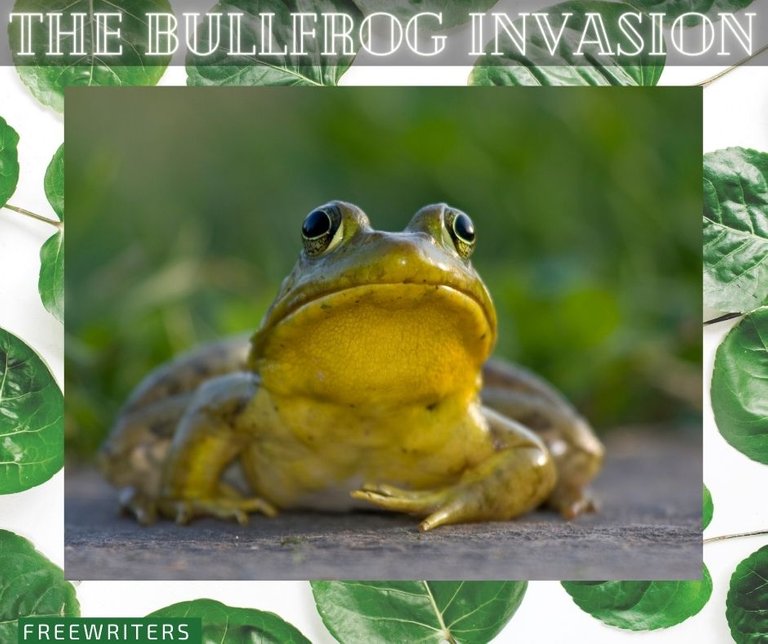 "Yes, Sir! Now that you have the necessary permits, we can begin draining the swamp first thing in the morning." replied a muscular man, standing in front of a large yellow bulldozer.
"Then let's get this done. The Flashsale Mall should have opened six weeks ago!" exclaimed a tall, well built young man in a suite.
Bright and early the next morning, Semith Construction And Demolition was revving up its engines. As they pushed into the swamp, a mass exodus of bullfrogs left, hopping into the woods across the road.
Cars stopped to watch, and let them pass. There were thousands of them. But once they entered the small wooded area adjacent to the park, everyone forgot about them.
At least until the large frogs discovered the duck pond. They loved it! Within a year they had taken over the pond. Some people liked the frogs, and others wanted the pond the way it was.
However the pond was only so big. And without the predators found in the swamp, the number of bullfrogs rapidly increased.
One night, some of the original settlers made the trip back to their old home. A number of their offspring followed. Unfortunately, they found Flashsale Mall instead of a swamp.
They made their way inside, through water pipes, the ventilation system, and any other means possible. Once inside, they automatically tried to locate water.
When the mall was opened for the day, it was chaos! There were bullfrogs in every place one could imagine. They were even swimming with the lobsters!
---
This happened several times a year, until a petition successfully forced Flashsale Mall to relocate, and restore the swamp to its natural state.
However the duck pond was still full of bullfrogs! It became known as Frog Pond, and the annual trips to the swamp continued. It was a constant reminder of why wild places are necessary in every city.
Cover image is from Canva, using their gallery
---
---