Grim, The Wrestling Punk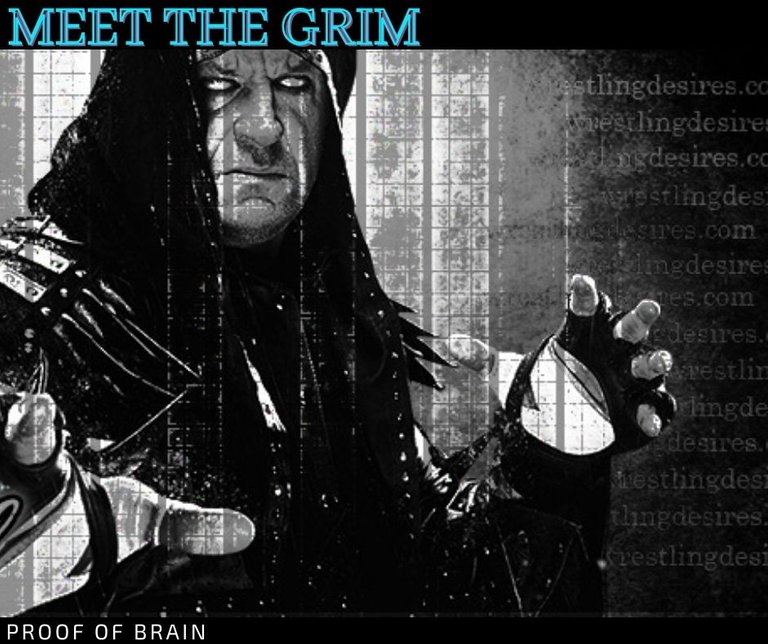 Meet our newest POB Punk: Grim, The Wrestling Punk
He can chokeslam any opponent right through the mat. Nobody wakes up from the Fall Into Oblivion. Or maybe the Grim will make them tap out with Satan's Torture Rack. Either way, it's a first class ticket to the Other Side.
Grim isn't just tough in the ring. He will spin a story which will have his desired effect on you. He can make you drift off to sleep in a state of relaxed bliss. Or if he so chooses, cause you to stay awake for a week, to avoid nightmares!
Are they fiction? Or are they places that he has seen on his supernatural travels? This is something that only you, the reader, can decide. But be careful where you roam. Some places are far more dangerous than they first appear.
Make no mistake, The Grim is a champion in everything that he does. But he doesn't carry the gold on his waist, you say? Legends don't need titles, they just are.
And so I invite you into the world of a champion like no other. A defender of Hive who knows all, and misses nothing. The Grim is ever vigilant. Villains, thieves, and other evildoers beware!
---
This POB Punk has been brought to life thanks to @jaxsonmurph and some encouragement to create a punk . If you would like to create one, feel free to do so! It's fun and easy, and perhaps your creation will be immortalized on the Hive blockchain.
Also be sure to follow @jaxsonmurph for NFT giveaways and more!
Don't forget, VYB will be launching soon! I hope you will be able to get in on the beginning of this great project, which is closely connected to POB. If you have been staking POB since November or before, check your Hive Engine wallet. There was an airdrop recently, and you probably have an early Christmas gift in there!
Remember to check out all of the fun things going on daily in Proof Of Brain. There's something for everyone. And I even heard whispers that we might get another pob-wotw challenge this year, IF we are lucky!!!
So let's get even more excited about the future of Hive, POB, VYB, and our own creativity!
Cover image made by Prashant Rawat (Carnage) and edited by me on Canva
---
---