Joy Comes To The Perth Family - A Cool Beans Adventure ( POB-WOTW Entry )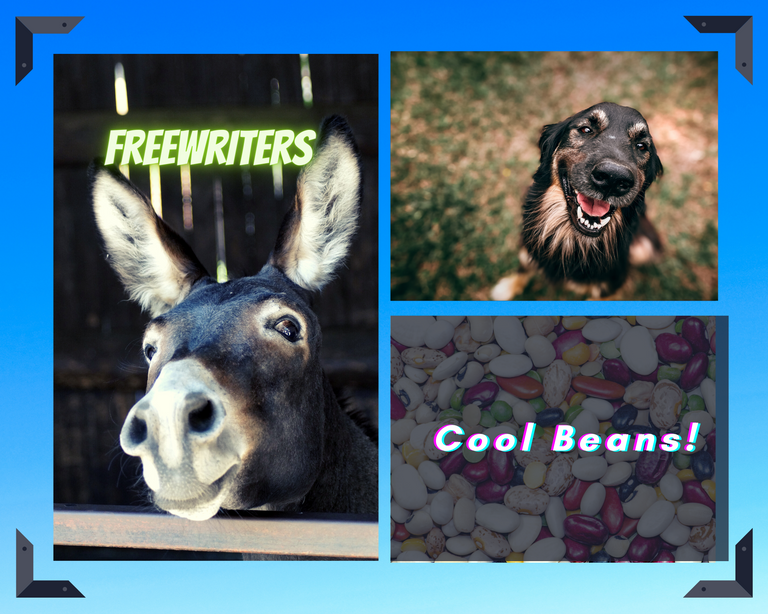 "Hello, Jim. Are we going to tackle that old sluice box today? I can really use it if you're still sure you want to part with it."
"My minin' days are over, Roger. This old back of mine hurts just thinking about it. The goldpans, picks, and other things go with it."
"Thank you, I saw some promising signs of gold close to the homestead. Even a little would make this a very happy winter!"
Old Jim and his new friend Roger Perth, whom he had met several weeks ago, loaded the heavy sluice box into the cart. They worked well together, and soon the job was done.
"Let's go get Beans, then we can load up the odds and ends. They're in that shed over on the other side of the meadow." said Jim, referring to the young mule which Roger had sold him.
Cool Beans was unlike any other mule. Add to this his unusual connection with the two farm dogs, and life was never dull.
While Jim opened the stall, Roger got the soft, well cared for harness.
"What's wrong, Roger?" asked Jim. A sad look had come over his face while he watched the litter of kittens playing in the straw.
"Oh, it's nothing. They just reminded me of a cat we used to have. The little gold one there looks like a twin to Dew. I've got the harness, if you're ready?" replied Roger, shaking it off.
"Sure thing..." said Jim, thinking.
"So where do you want this stuff?"
"Can we put the sluice box over by the bend in the stream? The tools can go in the barn."
Once everything was unloaded, Roger shook old Jim's hand. "I hope you will have time to stay for supper. Alice made a delicious bean soup."
"I always have time for a good meal!"
Remembering his last visit to the Perth residence, old Jim unharnessed Beans and turned him out in the field. There would be no wild cart rides across the countryside this time!
At the table, talk soon came around to the events of the day. Inevitably, Jim remembered the kittens in the barn. He had been waiting for the right time, and thinking about how to make it work. Obviously the pain was still fresh.
"I have a little story to share, if you youngsters are interested?" asked old Jim, knowing full well that they would be curious.
"Is it exciting?" asked Dean.
"Oh yes, it's a real life and death struggle."
"Does it have love in it?" asked Mary.
"The most powerful type of love on God's green Earth."
Both children were clamoring for details.
"Well you see... I have this mama cat in my barn. One day she just wouldn't stop working herself into a panic..."
Old Jim went on to tell the story in detail about how the little kitten had almost been a meal for a hawk, and her exciting rescue. Both children were glued to the story, as he had hoped. And to his delight so were their parents.
"I just don't know what to do, she needs someone to watch her a lot closer than I can... Do you know of anyone up for the job?"
Mary became very serious. She was obviously conflicted. The entire family waited, holding their breaths. Sniffling a little, she said "I'm not very good at it, but I can try."
"Well that's good enough, little lady! Even my own Ma couldn't do more than that. Can I bring her over tomorrow?"
"Yes, Sir. I'll do my best not to let her out of my sight."
Mary suddenly realized that the rest of the family was staring at her. Quickly they found other things to do.
"Well I guess it's high time I got back to the farm. Thank you for an excellent meal, Mrs. Perth."
After their goodbyes, Roger went out to help with harnessing Beans.
"Thanks so much for what you just did for my daughter. She was in charge of watching our cat on the way here, and one night Dew scratched and chewed a hole in her canvas and wood case, and escaped. Mary blames herself for not waking up. Until tonight she has been determined never to have another cat on the place."
"Well that would never do. You'd be overrun by all sorts of critters."
"I know, but what could we do? I've even taken her to meet litters of kittens, and she never so much as picked one up. I've never seen anything like that. And I didn't know how to help her. But you did. You have just made a little girl very happy."
"Well it's the least I could do. After all, you did the same for me when you let me have Beans. Remind me to tell you about Wind sometime."
"I'll do that. It'll be a real joy to welcome Joy into the family. She will get plenty of love, and I don't doubt that she will have a shadow following her for months to come. I just hope those two don't find too much trouble!" Roger laughed about that. Of course if there was trouble to be found, they would be drawn to it like a magnet.
The story about Joy and the hawk
Cover image is from Canva using their gallery
---
Posted via proofofbrain.io
---
---