Snook's Challenge - Ten Questions!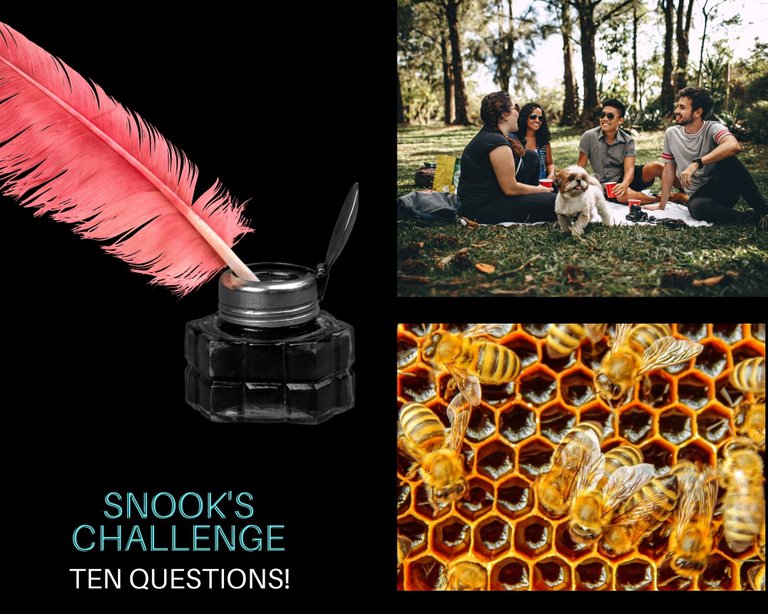 How long have you been on the Blockchain?
I joined in July 2019, but didn't really know what I was doing, and got lost. I only made a few posts and comments, which didn't get any replies. I promptly forgot my account existed.
---
Then, when I ended up at a now dead centralized platform, I met @dreemsteem . After helping me to improve vastly in my writing, she invited me to Hive. Of course I already had my account. But I hadn't truly used it.
It was in May or June of 2021 when I got serious about Hive. And it didn't disappoint! Each month, I just seem to enjoy it more :) ...
What was your background in Cryptocurrency when you first came to the blockchain?
In 2019, I didn't really have a background in it. I think I was in a couple of crypto discord rooms, and just starting to learn what altcoins were. It was a fun journey, but that's a story for another day.
---
When I truly started using Hive, I already knew the basics. I could use a centralized exchange, and understood the difference between a pos and pow coin. I had also experienced eth fees enough to know that I hated ERC-20. HIVE looked really great after being on the centralized platform which used an ERC-20 token. I am happy to say that I have not bought or sold any ERC-20 tokens since coming to hive!
What was your background in writing when you first came to the blockchain?
In 2019, my only experience had been from writing on forums. And even then, I rarely made really long posts. It was more about the engagement.
---
When I actually started using my account, I had been writing for about a year. And had just finished an initiative started by @dreemsteem called UU. I definitely knew how to put a post together - one which would be acceptable on Hive. Of course I am still learning, and trying to improve my writing. But I came knowing how to make a proper post because of UU, which gave me a great start.
How many people did you know when you first came to the Blockchain?
In 2019, not one.
---
When I started using Hive, I knew so many because I had met them on Discord and the centralized platform! This is a big reason why I got serious about being on daily, my friends were already here. Why wouldn't I log in??? And as I browsed, that circle just kept expanding :) ...
How did you meet people when you first came to the Blockchain?
In 2019, I tried to meet people in comments in trending posts. Nobody was interested, so that didn't last long.
---
When I got serious about using Hive, I mostly started by looking for topics and communities which interested me, and commenting in them. I also chatted in posts with people I already knew, and checked out those who replied to them.
Who did you look up to when you first came to the blockchain?
@dreemsteem @shadowspub @bluefinstudios @hazem91 @saffisara @kaerpediem z and so many others!
How would you describe your first three months on the blockchain?
In 2019? Uneventful.
---
When I really focused on it, those first three months were good, but tough. I had just lost my first blogging home (the centralized platform where I met my Hive friends). It took a while for me to truly settle in, despite everyone here being great. But once I let go of the past, everything fell into place quickly.
Has being a part of the blockchain changed you in any way for the good?
Yes!!! Thanks to the great people in @theinkwell including @agmoore @gracielaacevedo and @jayna my short stories have improved. At least people tell me I have grown! I'll let you guys be the judge.
@dreemsteem and @wil.metcalfe have revived my love for comments, which had begun to go dormant in the last couple of years, due to inactivity on many of my favorite forums. I am currently challenging myself to a major commenting marathon :) ....
What is your favorite memory from your time on the blockchain?
That's a tough one... Can I pick two?
The first one was Cometweek. It really got me exploring various corners of Hive. I was all over the place, meeting new people - and this time getting positive feedback. I loved it, and made some lasting connections.
The second one happened fairly recently. I was invited to curate for two different projects, and am truly honored - and excited to be able to help authors get the rewards they deserve :) !
If you could give advice to a new person signing up to Hive what would it be?
Meet people. Make a couple of posts which show what you can do. Make them good even if you have to take a long time to put them together. Once you have a few good posts, find authors you enjoy and chat in their posts! Believe me, people will look at what you wrote if you do this.
Don't follow just to get attention. It will just clutter up your feed. Follow those who interest you. Follow those who you had a good conversation with. Follow those who you feel have knowledge in an area which you would like to learn about.
NEVER make random comments just to get attention. You will get attention, but not the positive kind. Instead just refer to the advice above about meeting people.
If you would like to enter, click here
Cover image made on Canva, using their gallery
---
---