The Arts War: A Tale Of Two Pizzas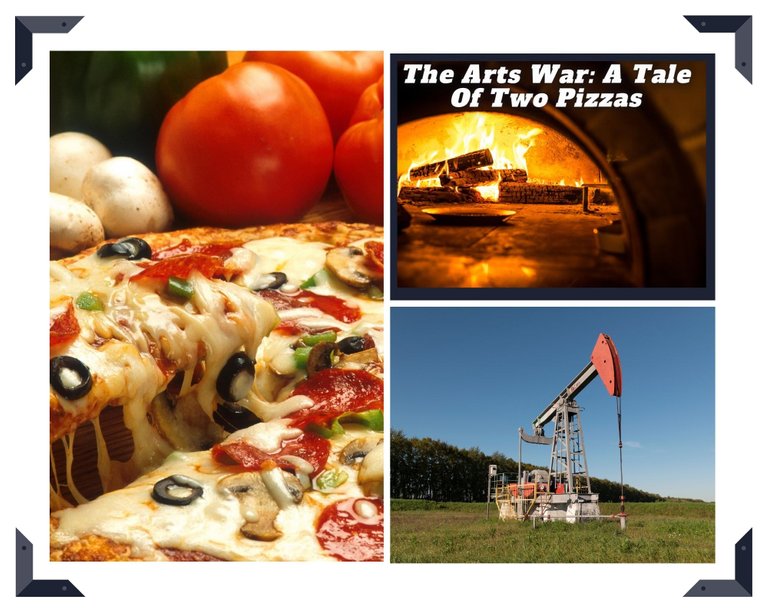 "If Tanya has firmly established herself in the mansion, maybe I should extract Barry. His being compromised has lessened his value here. There are plenty of other places where we could make better use of my brother's talents."
Rachel was sitting on an empty wooden crate in the store, organizing her thoughts. She had decided to make the abandoned shop her headquarters. It was relatively solid, and dry. The Predas apparently did as little as possible for their people. The town was riddled with such places, and the streets were filthy.
"I will meet with Tanya before I decide. But if all goes as planned, I will report back with my findings soon. And let Danny Rupert decide where to reassign my brother. I've heard Siberia is nice this time of year..."
The thought made her smile, even though she knew it would never happen. Barry really was an excellent spy, and would be invaluable in any number of sensitive situations.
Meanwhile in the Preda household, there was chaos. Servants were being reassigned to replace those in training. New staff were being recruited to fill the non skilled roles. Even a few higher positions were open, which was rare.
After a good night's rest, Rachel took advantage of the confusion. She strolled in as a new cleaning lady. The master spy was never one to take unnecessary risks or do things the hard way. And the safest and easiest way into any place is to appear as if you belong there. No skulking or slipping into the shadows, until it's time to collect information.
"What's going on here?" she asked curiously to a teenage girl limping down the hall in a blue tutu. The girl looked less than thrilled with the situation.
"Oh, you must be one of the new staff... Whatever you do, don't let Mrs. Preda get the idea that you're graceful! She'll work your feet to the bone!"
"But why?"
"I don't ask questions, I just dance!" said the girl sharply, tiring of standing on her sore feet.
"Thanks for the advice, I'll be sure to shuffle around when she's in sight."
"Good thinking. I need to get back to my room now. Practice starts first thing in the morning." she said while trying to offer a friendly smile.
"It appears that Tanya's observation was spot on. But why ballet, gymnastics, and fencing? The arts have all but disappeared in favor of more useful activities."
"Yes Mrs. Preda. I have your report ready. Tanya, can you please fetch it?"
"Thank you, Chelsea. You are handling this new role perfectly."
Rachel pulled out a washcloth, and began to clean a vase. She moved on to an elegant oak end table. This placed her directly in the path that Tanya would use. She rubbed a little grease on the floor, pretending to clean up a small mess.
"Whaaa!"
Rachel caught Tanya right before she could fall, and whispered the code. "The shadow can talk. Digging in the dirt is fun."
"Thank you, Miss. I could have had a bad fall." she said, then went on her way. Tanya had recognized her, but the Predas were too close.
"Here's the report, Chelsea. I hope it's to your satisfaction." Tanya gave a little bow of the head as she said this.
"You may go now. Don't forget to send me updates on which dancers should be moved to the advanced class. Also have a walk through the grounds and stables. I want a full list of the most promising young men."
"Of course, I will begin immediately, ma'am."
Tanya then headed back, giving Rachel a grin. Rachel followed a short time later, keeping her in sight. When they were alone in Chelsea's office, Tanya gave her part of the code.
"Rachel, I have other news. The Predas are threatening the Port Baron. Chelsea wrote the anonymous note, but I scratched in a clue for him and Danny. She had her letter opener sitting right next to it, so I wrote my own note mentioning them."
"Well done. Do you know what this is about?" she said, with a motion around the area.
"If you mean the madness of all this training, yes. The Predas want to revive the arts, beginning with an Olympic style challenge. Of course they have every intention of winning each event."
"That makes sense, but why? They don't seem like they care about advancing their people's lives."
"I think they might be planning on placing some major bets at the event. Similar to the Pizza Feast, but they will get the goods without making a fair trade."
"You are doing an excellent job. I will extract Barry and leave now. Thank you, Tanya."
This is a 100% power up post
Cover image is from Canva, using their gallery
---
---