Why Should I? Word Prompt: Copy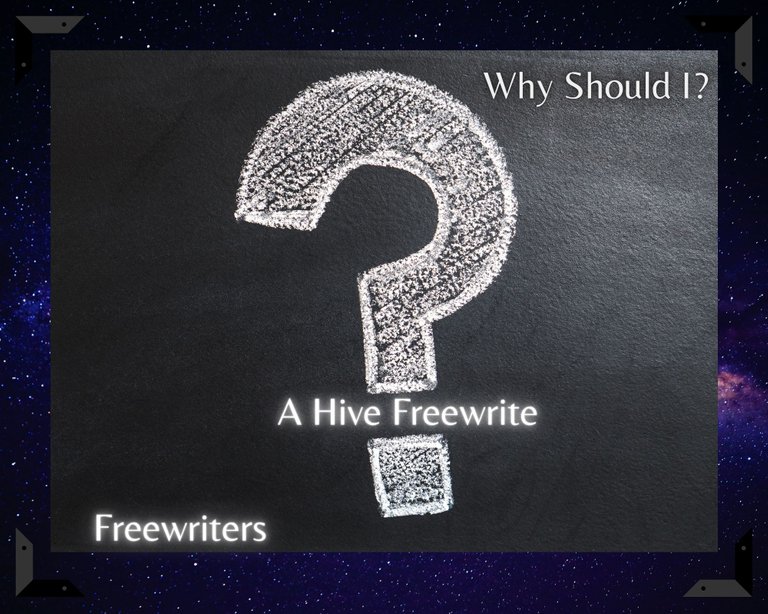 "Hey Jerry, thanks for giving me that link a few months ago! I just earned my first $5. Probably the hardest money I have made since I was five, but it was very satisfying."
"Uh, you're welcome? But what link did I send you?"
"The one where we get paid to write. I'm so excited, I've always wanted to be a real writer. Now people are actually reading my stories! But why do I have to wait so long to get the other half of my money?"
"Oh, you must mean Hive? Bill, I told you, if you join you need to let me know. There's a lot to learn, but it's worth it."
"I know. But I took a quick look around, and it seems pretty straightforward. Make an original post. Never copy so much as a quote without giving the source. And be sure to either use a picture that I took myself or one that's free for commercial use from a site like from Pixabay. Correct?"
"I'm impressed! You have been doing your homework. But you also need to cite the source of your pictures, even if it's your own. Not everyone will bother to double check before assuming the worst. And anyway it's just more polished, more professional. If you want to be a true master you have to pay attention to the details, Bill."
"Yeah, yeah. I'll be sure to do that from now on. But is there a faster way to get the rest of my money? I'm really not interested in storing it that way just so I can upvote other people."
"It's really not a good idea to withdraw everything. That stored money as you call it does other things too."
"Like what? I looked into it, and even if you have like thousands of dollars locked up you don't get much each day for voting."
"There's more to it than that, Bill. Hive isn't a site that you simply drop your post and leave for the day. It's a family. And we support each other, and our Hive token. If you are serious about Hive, that $5 you earned will seem awfully small one day. At your stage the best thing you can do, unless you are really desperate, is use everything to power up."
"Why would I want to do that?"
"It helps you to have guaranteed daily earnings on the portion you want to hodl. It shows that you are committed to the Hive community, token, and platform. This along with interacting with other members will grow your account. Don't you want to have a $100 post one day?"
"Sure, Jerry. I see them sometimes but how can I get there?"
"Just write great posts. If you would be interested in reading it if a stranger wrote it then it's probably good. Make friends on Hive. There are so many awesome people! And instead of powering down, hold as much HP as you can. There are other amazing opportunities too, but we can talk about those later."
"Now you have me really curious! But I think you are right, this is enough to absorb for now. I need to get online and power up, ASAP! Be sure to read a couple of my posts?"
"Sure, I can't wait to see what you came up with. Happy writing."
This little story is mostly for New Bees. I have written many tutorial style articles in the past about such topics. Sadly the only ones who really wanted to read them were those who already knew the platform or project and its potential. Perhaps a story format will reach the target audience a little more effectively :) ...
Inspired by a New Bee I met the other day who has been powering down and withdrawing all Hive Power. I hope you will grow strong, and learn to love Hive ❤️
Cover image made on Canva using their gallery
---
---