Day 1307: 5 Minute Freewrite: Thursday - Prompt: lion's tail (Short story
This is the story of a lion and a little mouse.
Many years ago a little mouse wanted to cross the river, and he could not find how to pass it, it was difficult for him because of the abundance, the little mouse made several attempts to cross it, the saddest thing was that he could not find someone to help him and the trees were so tall that the little mouse suffered from vertigo and it was impossible to climb, every day he went to the bank of the river to see if the flow of the river had dropped, but it was impossible, it always increased.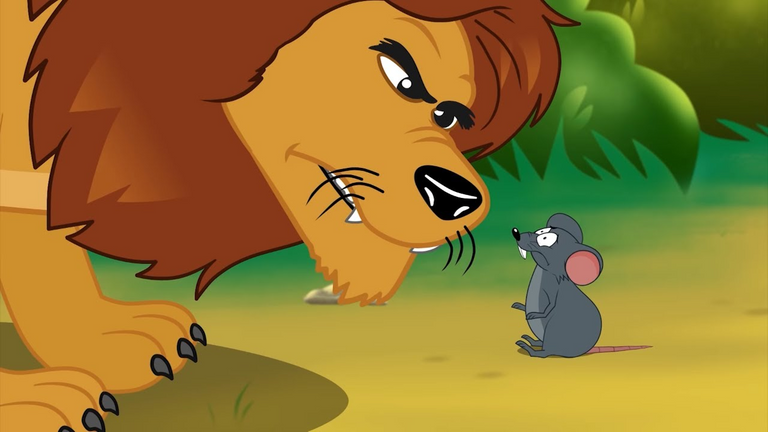 Fuente
One day the little mouse being on the river bank, he felt the presence of a very large animal, the little mouse got scared, and trembled with fear, it was an immense lion that gave the impression that he wanted to crush it, the little mouse tried to push it back and the lion said to him:
-Don't be afraid, I'm not going to do anything to you, I could help you, tell me what you want, and I will please you, I need to go to the other side of the river, I have my mother sick and I need to go in search of food to feed ourselves, my aunt Cleopatra, my mother's sister, will give me the food I need,
The lion told him: - No problem, my friend, mouse, I will pass you to the other end, get on, so did the mouse, he mounted on the lion's tail, he told him to hold on tight, the little mouse was hidden in the lion's long and abundant tail. He closed his eyes and the lion passed him to the other side of the river, he was very afraid, when he opened his eyes he was already at the other end, he found his aunt who was waiting for him, he thanked the lion, he spent several days that Aunt Cleopatra and his friend the lion took him back to the place where he started his journey, he got home and was able to feed along with his mother, the lion and the little mouse became friends forever.
---
---