3. Wahn-Vorstellung
---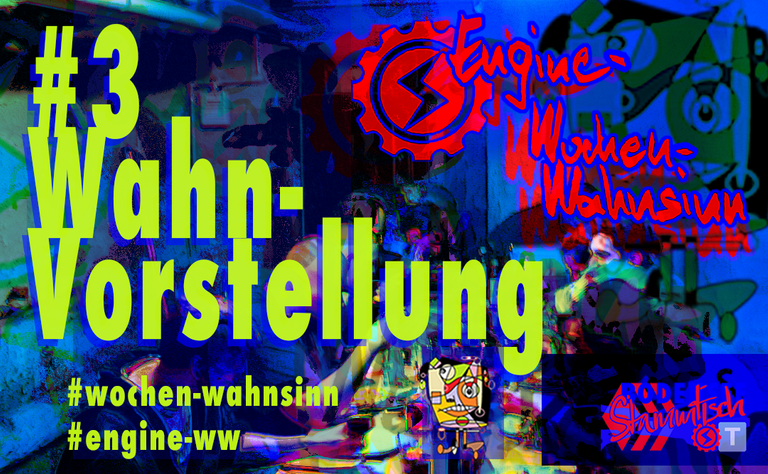 ---
Der Wahnsinn greift um sich oder eine wahn-sinnige Beteiligung in der 3.Woche Wochen-Wahnsinn:
Wenn der Wahn-sinn zum Wahn-sinn wird, entsteht eine solche Wahn-Vorstellung und wurde dabei selbst etwas wahnsinniger.
Ihr habt einen WW geliefert, kam kaum nach euren Wochen-Wahnsinn zu prüfen und als wahren-Wahnsinn zu benennen. Und Wahn-Sinn macht ja auch erfinderisch und so entstand letzte Woche nebenbei die wahnsinnige Lösung, den wahn-sinnig vielen Wochen-Wahnsinn visuell zu ordnen.
Und mir erspart es wahn-sinnig viel Handarbeit!
Daher wird "wahrer-Wahnsinn" Zukünftig mit folgendem, oder vielleicht auch mal ein wahn-sinnig schöner, durch aus aber auch mal, ihr werde es ja sehen!
---

---
Thanks for the fish!
Ich freue mich auf weiteren Wochen-Wahnsinn von euch und achtet auf den Wahn-Sinn.
---
Die "wahren-Wannsinigen" der vergangenen Woche:
Die als "Wahren-Wochen-Wahnsin" (zukünftig WWW genannt) Anerkannten und somit offizielle "Wochen-Wahnsinn Teilnehmer" (zukünftig WW genannt) und "Engine-WW Teilnehmer" (zukünftig E-WW genannt) und somit auch "Wochen-Wahnsinn--Wochen-Wetttbewerb legitimierte Teilnehmer" (zukünftig ww-ww genannt):
---
---
"Wochen-Wahnsinn--Wochen-Wetttbewerb" oder einfach die mit dem, schon wieder, wahnsinnigste Glück:
---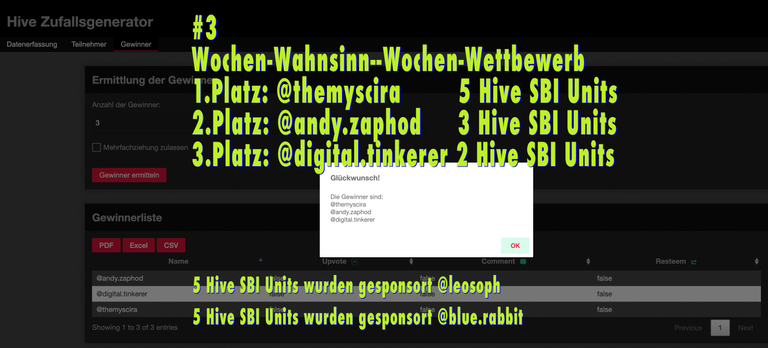 ---
"Wochen-Wahnsinn--Wochen-Wetttbewerb"
oder einfach was die Götter das Glück pachten nennen!
---
Du gewinnst somit
5 Hive SBI Units!
Du gewinnst somit
3 Hive SBI Units!
Du gewinnst somit
2 Hive SBI Units!
Diese SBI sollen dir hilfreich sein, deinen zukünftigen Wahn-Sinn, mit einer besseren Curation zu versehen. Mehr zu SBI findest du bei @steembasicincome
Der Wochen Gewinner wird unter allen Teilnahmeberechtigten, mittels des Hive basierten, Zufallsgenerator immer am Montag ermittelt und in der aktuellen Wahnvorstellung veröffentlicht.
---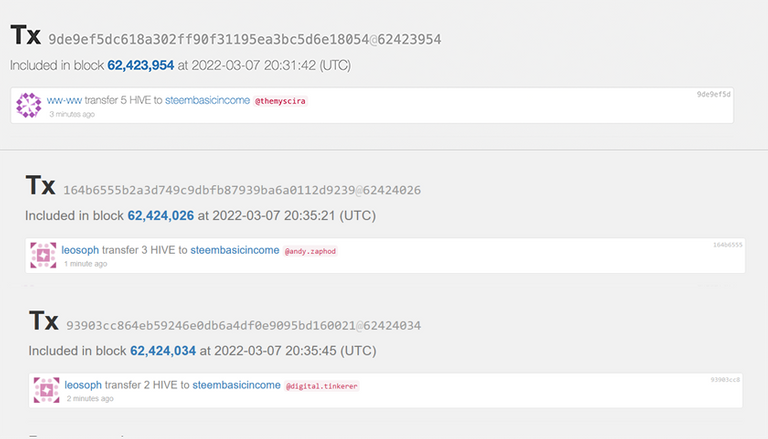 ---
Sonder Wahn-Sinn, oder der Grund für Luftschrauben:
Danke an die zwei Sponsoren der HIVE-SBI neu @leosoph und @blue.rabbit, die je 5 SBI zur momentanen Aufbauvase des @ww-ww.
Dies werden wir nächste Woche nochmals so beibehalten!
---
---
Der aktuelle Rahmen für "Wahren-Wochen-Wahnsin" oder wie ihr Wahrhaftigkeit erlangen könnt (max.1xW/acc):
Immer die aktuelle Wahn-Vorstellung gibt den (Zeit)Rahmen für den Wahnsinn der kommenden Woche (Mo-So) vor und sie ehrt, den Wahnsinn der vergangenen Woche (dies ist auch die beliebteste Aufgabe). Und ist Mass allen Wahnsinn's; d.h. dass nur die, die durch die @ww-ww (Wahn-Vorstellung) anerkannten "Wochen-Wahnsinn" oder "Engine_WW" Beiträge, dürfen den Titel "wahrer-Wahnsinn" tragen. Sowie und auch das Mass allen Wahnsinns für "Wochen-Wahnsinn--Wochen-Wettbewerbe"ist!
Anleitung zum Wahnsinnigsein:
1. Präsentier von Mo-So deinen Wochen-Wahnsinn
(Wahnsinn ist frei von Thematischen Vorgaben oder Grenzen)
Zeig uns deine Darstellung, deines empfundenen wöchentlich entstehenden Wahnsinns in deinem oder irgend einem Leben in den neuen Welten die durch HIVE, HIVE-ENGINE und TRIBALDEX oder wo im Leben auch immer der Wahnsinn lauert.
2. Veröffentliche deinen Beitrag über die WW Community
Zeig uns den Blick auf deine Wahrnehmung, teil dies mit der Community und lass den #engine-stamm(tisch) teilhaben und teilnehmen, Austausch ist die Grundlage jeder Community. Und so ist die Chance am grössten das ihr gut gesehen werdet.
3. Verwende folgende 3 Tag's:
Verwende die richtigen Tag's, damit du auch am richtigen Tisch deinen Platz findest. Der Curationstrail beinhaltet eine grosse Vielfalt an verschiedenen Tokens, wie es sich gehört für ein Projekt des #engine-stamm(tisch).
Wähle deine restlichen Tag's weise!
4. Verlinke deinen WW Beitrag (hier) in den Kommentaren der aktuellen Wahn-Vorstellung
Dadurch bekundest du dein Interesse an der Wochen-Wahnsinn Teilname.
Als "Wahrer-Wahnsinn" anerkannt und dadurch deine Teilname als bestätigt gilt, geschieht dies ausschliesslich durch die Curation von diesem ACC (@ww-ww).
Nur so hast du die Chance,
auf den super wahnsinnigen WW-WW (Wochen-Wahnsinn--Wochen-Wettbewerb)!
5. Kreativ und konstruktiv soll dein Werk sein, bei nicht selbst erschaffenem Inhalt musst du im Besitz der Rechte sein.
Dieses Format darf durchaus auch Satire sein, der Kreativität soll keine Grenze gegeben sein so lange keinem dabei Gewallt widerfährt. Es muss nicht zwingend dein Wahnsinn sein, aber es muss zwingend dein eigener Content deiner Darstellung, Frage, Fantasie, Hoffnung, Wunsch, Traum oder einfach Abra Kadabra. sein.
Diese wahnsinnigen Bedingungen existieren nur, damit du es nicht verpassen kannst, an dem wahnsinnigen engine-stamm(tisch) Curationstrail und Bonus- Program partizipieren zu können! Damit ihr euch wahnsinnig die Taschen füllen könnt, für wahnsinnige Ziele wie Lambo's, eigene Raumstationen, eine neue Intensivstation für Regenwürmer in der Tierklinik im Ort wo ihr zur Schule gegangen seit, usw.
Falls Du noch Fragen hast oder es wirklich noch nicht klar ist um was es geht RTFM *
---
---
Die Wahnsinnigen wünschen Euch eine schöne und wahnsinnige Woche und sind jetzt schon gespannt auf deinen nächsten "Wahn-Sinn" :-)
---

---
* RTFM = Read the fucking Manual
.
---
---
Konzept, Ideen, Wahnsinn und Design und nicht zu vergessen sämtliche Bildrechte, die in diesem Beitrag verwendet wurden, entstammen einzig und "non fungible" dem Rabbit.hole des blauen Hasen und somit sind sämtliche Rechte dieses Inhalt's bei @blu3.r4bbit.
---

---
---