2021 - The Year, I Made My First Million in Crypto

I hear, this bull run turned many crypto investors into a millionaire. So being a millionaire in crypto isn't a big deal these days. This applies to me as well ... or perhaps not!
Did I get rich?


No, I didn't!
Some people here think, I ain't writing my regular posts as I'm already rich now 😉. Tbh, I never write here to get rich. I actually like sharing and connecting on the blockchain and to be a part of this amazing community. I ain't rich yet as I was already born rich! 😊 This post may probably explain why I couldn't write regularly since April 2021.
I know, many people have a dream to earn a million dollar some day. An often asked question is, "What would you do if you get a million dollar one day?" I've never answered or even considered that question before.
Honestly, I didn't consider money too seriously in my life. When some of my friends used to tell me that I can easily earn a million dollar if I take money seriously, I used to reply them that I'll, whenever I'll find a need for it. Years passed on and I never felt an urge to accumulate millions of dollars. Life was treating me well even with no money in my pocket. So why would I want a million dollar!
...then came this year 20-21
The last week of 2020 woke me off my long comfortable slumber. India's biggest dairy giant chose to sue several vegan and anti-dairy activists in India with defamation suit for huge amounts. One of my close friends was also sued for 20 million rupees.
Thus, start of the new year of 2021, we were on a train to New Delhi in the search of some boutique law firm that could successfully defend us. In train, I told my friend that crypto bull run has started and there is nothing to worry about the finance part even if he lose the case. At that time, I had my crypto portfolio barely enough to make provision for the Law firm fee for High Court. I explained to him that it will take a good time for this case to reach to Supreme Court and by then we'll have sufficient money.
However, my friend was not convinced and extremely worried and tensed. Also, there was a lot of pressure from his family to settle the case at all cost. Money is always a concern for a middle class family and when the amount in question is beyond our limits, it starts shaking our core ideologies & values. That was a tough time!
Anyways, we somehow hired a law firm and returned to our city. Thanks to Covid, all hearings were being conducted online. For next couple of months, the preparation, analysis, strategies etc. surrounding this case kept me occupied. It became clear that we'll have to fight it out at all cost.
I resolved
In March, 2021 I reflected on my financial standing and concluded that if we are fighting against big corporates and Governments, we need to have a sizeable financial backing. Else, defeat is damn easy for us.
So I recalled to myself that making a million dollar for me is easy if I chose to. And it was already time for it. I should get at least a million dollar in my wallet this year.
Deciding that was easy. Putting a strategy to that was my next step. Crypto bull run made it clear that I should do it through crypto. But cryptoverse is vast. So, in crypto, I decided to grow my portfolio through DeFi.
But DeFi itself has grown so much and was evolving so fast that it became confusing for me to where to start. I knew of my limited abilities and understood that I can't keep track of whole of this ecosystem. So I short listed a few blockchains after some research. In March end, I borrowed a few thousand dollars and distributed them to 3 chains namely, BSC, xDAI and Fantom Opera to test waters.
After my experiences with these chains, I decided to make Fantom Opera as my home. Since that day, I've hardly looked beyond Fantom Opera. Although many times I was tempted to move to other chains to take advantage of great opportunities there, I decided to stick to only one chain until I made my first million.
Did I make my first million?
Well, making that evasive million dollar wasn't as easy as I thought. So many rug-pulls, hacks & exploits came along the way that most of my journey was about recovering my losses than making profits.
Most of May 2021, I wasn't able to access my wallet as I was almost dead from Covid-19. When I recovered, I found a huge part of my portfolio had vanished away due to my absence. I learned it hard way that DeFi investments need constant 24x7 monitoring.
After recovering from Covid, it was almost a new lease of life for me. So it was not so difficult for me to again start all the hard work from scratch and rebuild my portfolio. I had no other choice as time was running out to achieve my target.
This Diwali, my total crypto portfolio did touch a million dollars but it also included all my Hive wallets and some small wallets on other chains. Since then, my growth has slowed down a bit as I ain't taking a lot of risks at this stage.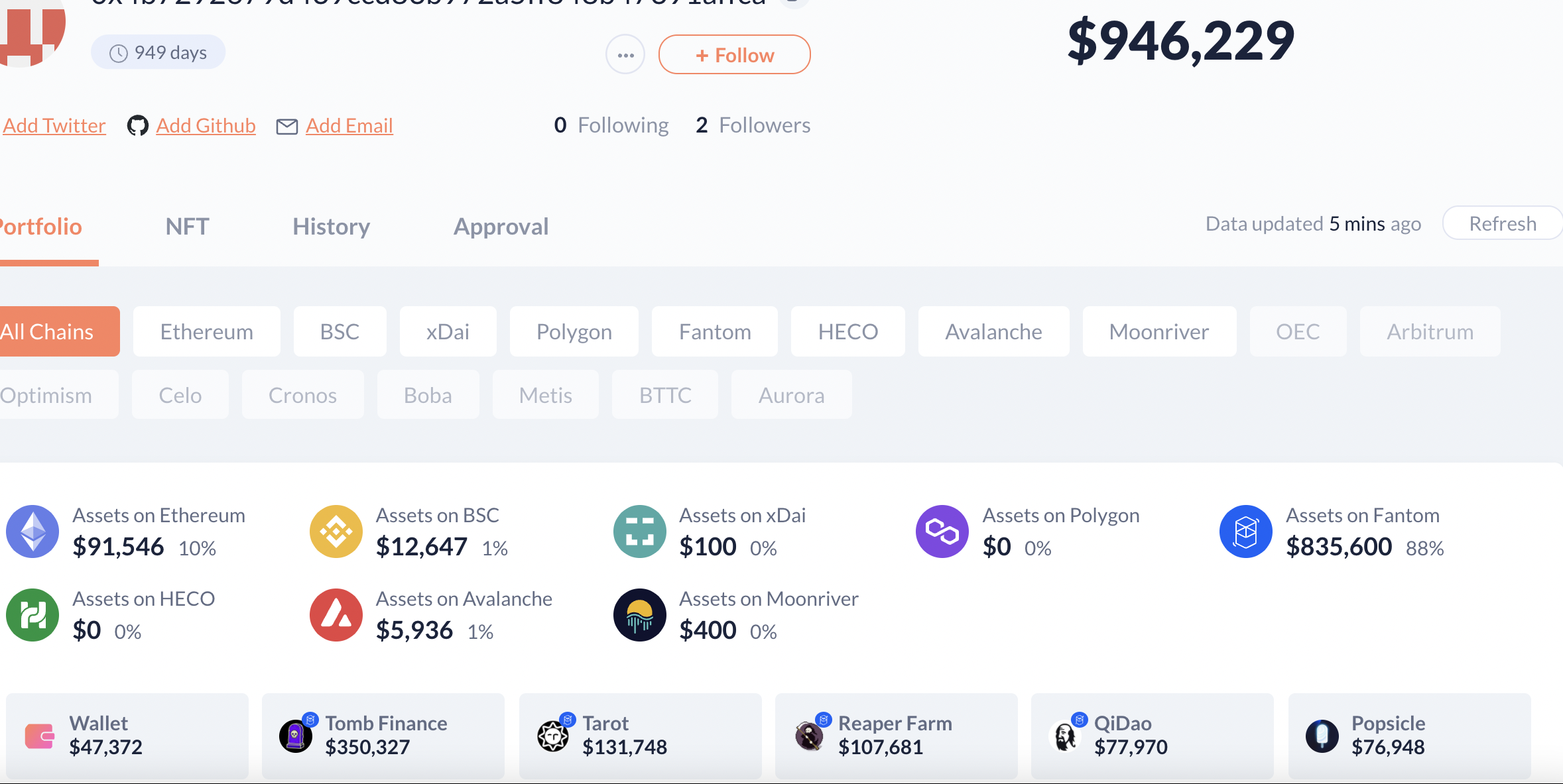 A glimpse from my biggest wallet at the time of writing this
Even today, that evasive million dollar appears in my portfolio as a twinkling star. Sometimes it's there while other times it's only high 6 figures. I'm looking forward to cement that 7 figures this year.
Not only that, I'm actually getting involved in some of the crypto projects this year, to get a part of the team share. So when I'm investing my time there, I won't be able to put my present portfolio to high risk - high gain mode.
To all my friends who still dream a million dollar, I can assure that if you're willing to spend time and energy, have determination & resolution, you can get what you want in lesser time than me.
Wishing you all a great 2022!
May you get what you want in 2022!
Posted Using LeoFinance Beta
---
---