SPLINTERLANDS DAILY QUEST REWARDS | ADVANCED TO DIAMOND LEAGUE | GOT EPIC CARD URAEUS FROM QUEST REWARDS | GLADIUS PACK OPENING | SEASON END REWARDS | 02 /14/2022

Hello, beautiful friends of Hive Blockchain! I hope you all are doing well and feeling healthy. I am also good and enjoying my life. It's Monday 14th February 2022 here in Pakistan. I am again going to share my daily quest rewards of the Splinterlands game with you people. Today's quest was given again in the Life Splinter and I again didn't change it because yesterday I completed it easily so today I also wanted to play with it. I completed my quest very easily because I have upgraded my life splinter deck to commons level 5 and summoner to untamed edition level 4 Rare Mother Khala in which I can use up to level 5 common cards. I easily won five battles with the Life Splinter monsters and completed the quest in a half hour. Currently, I am playing in the Diamond 3 leagues and I was rewarded with 10 loot chests. In today's quest rewards, I got 7 cards and 3 potions.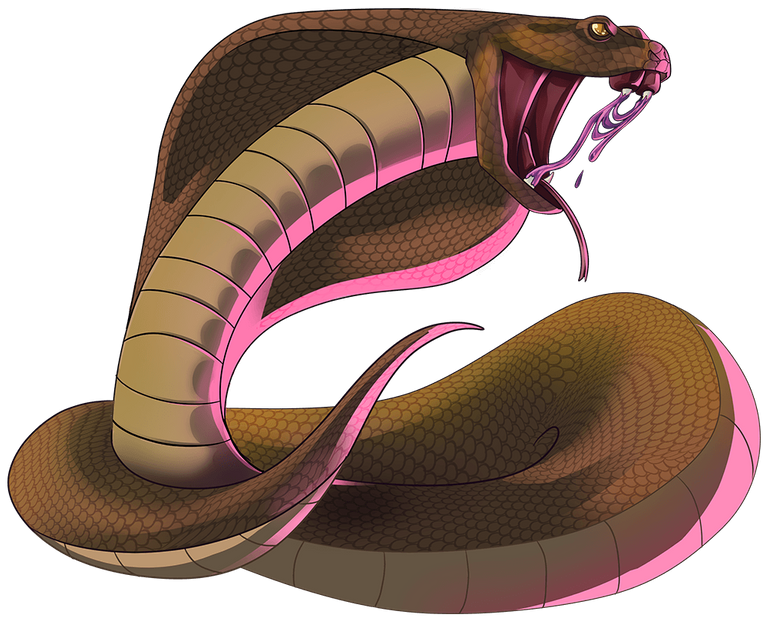 ADVANCED TO DIAMOND LEAGUE :
Today I finally advanced to the Diamond league tier 3 from Gold 1 due to which my season end rewards increased from 30 to 40 and daily quest rewards from 8 to 10. This time I reach the diamond league easily by just playing the ranked battles. There is only 1 day left in the current season and I will try my best to stay in this league so that I clam 40 loot chests of season-end rewards.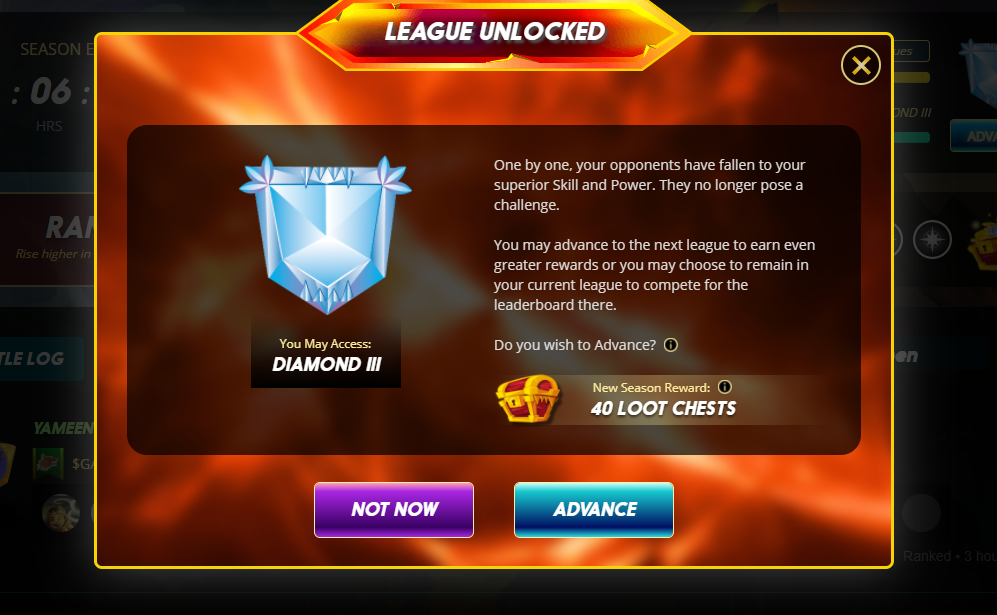 Claimed Quest Rewards: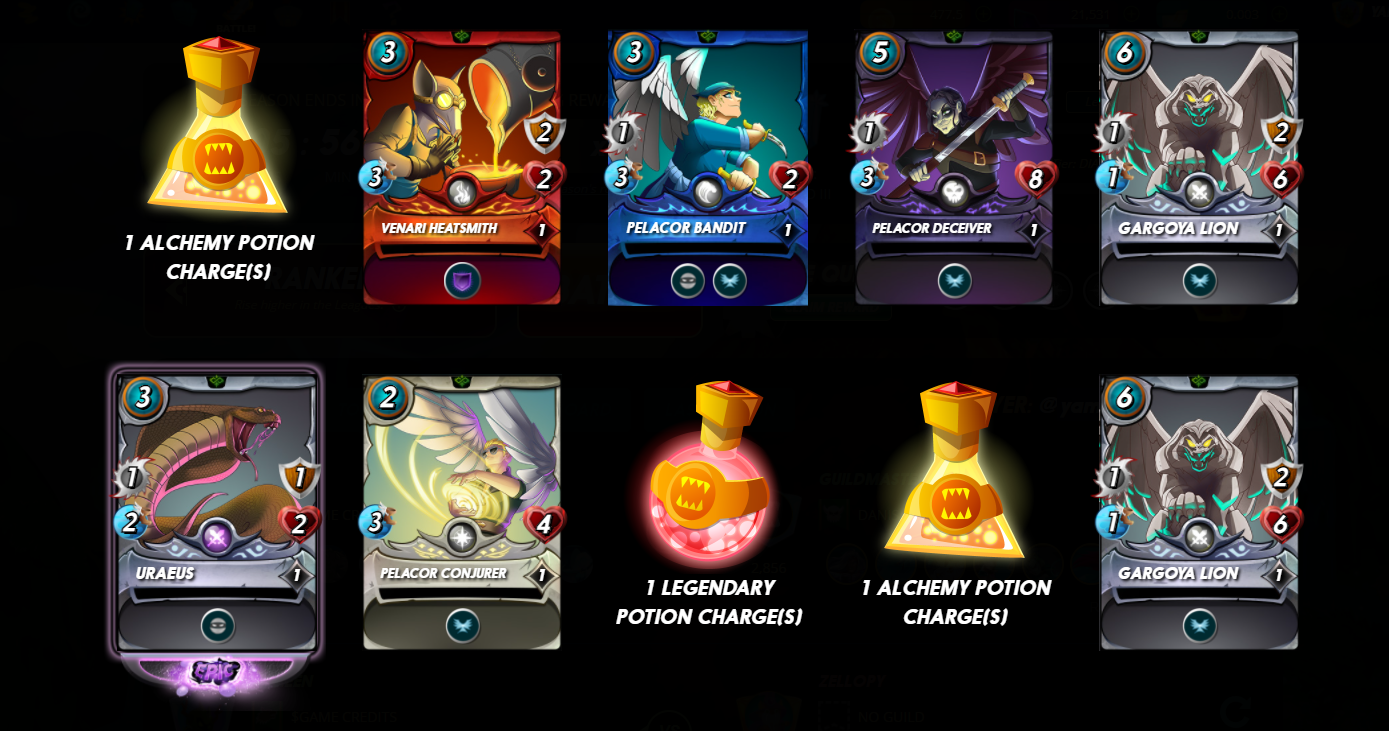 GOT EPIC CARD URAEUS:
Today I got one epic card URAEUS from the quest rewards which is a reward edition melee attack neutral splinter monster. The current price of this card in the market is 0.7$. I will soon upgrade it to level 4 for the poison ability.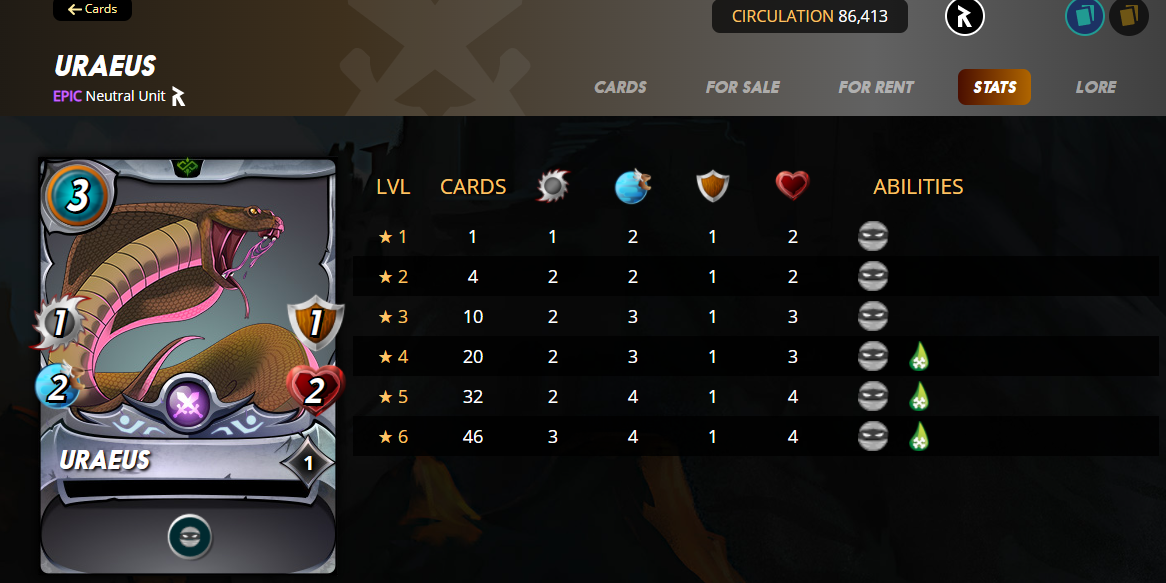 GLADIUS PACK OPENING:
Today another brawl battle ended, I participated in these battles and I was rewarded with the 1538 merits. I was having a total of 2800 merits so I bought one gladius pack on 2000 merits. After buying the gladius pack opened it in which I got one rare card and four common cards.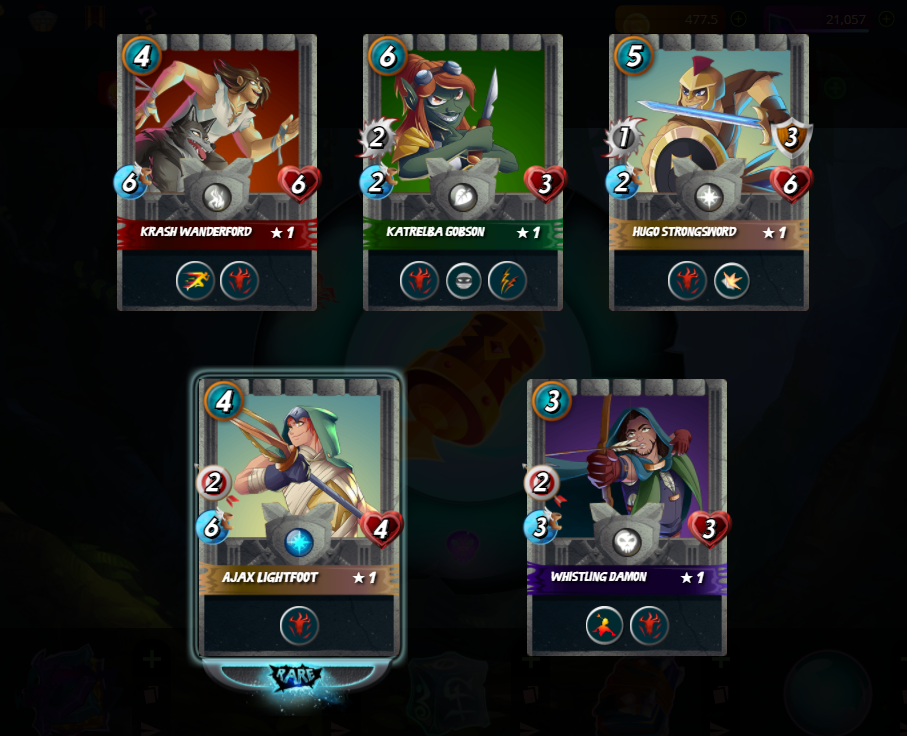 My Current League and Rating:
In the below screenshot you can check there are only1 day and 05 hours left in the current season. Today I tried my best to reach the diamond league and claimed my rewards of 10 loot chests. My pending rewards increased to 40 from 30. My current league is Diamond 3 and today I reached a 2821 rating.


Season End Rewards:
Below are my season-end rewards for reaching the Gold 1 league. I am very happy for getting these rewards because I got one legendary card, one chaos legion pack, and some other cards along with potions and Dec.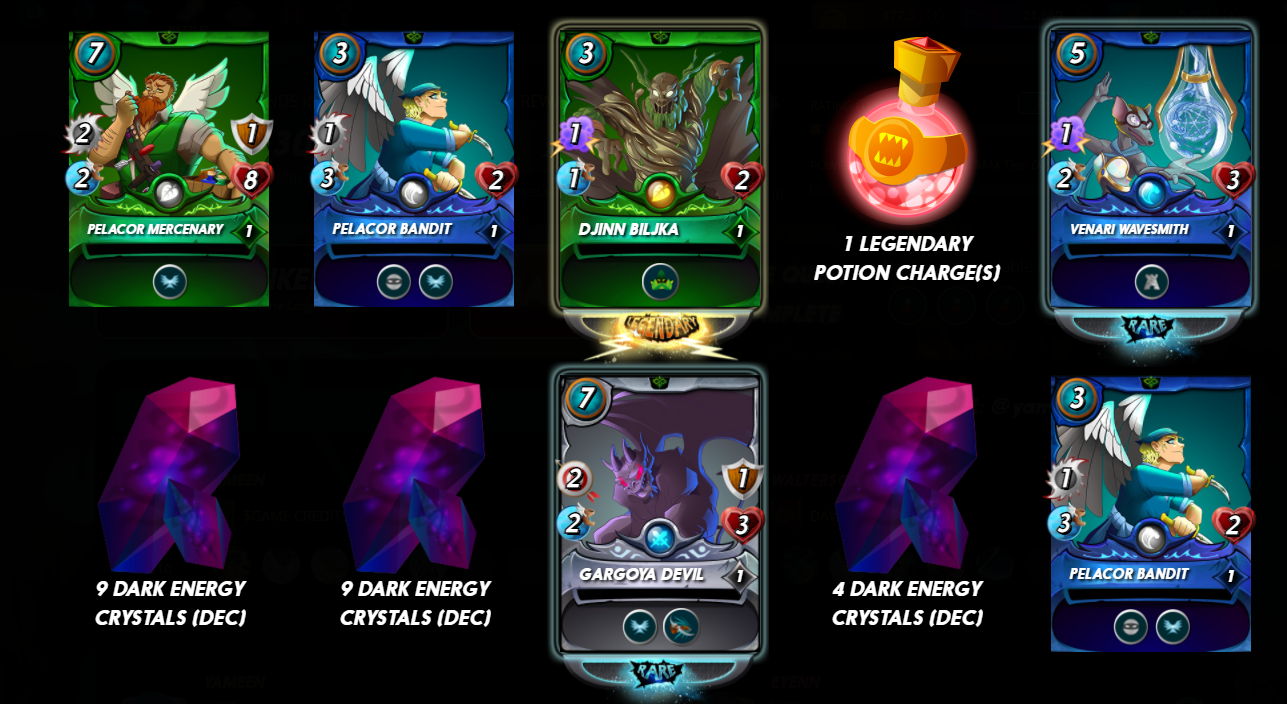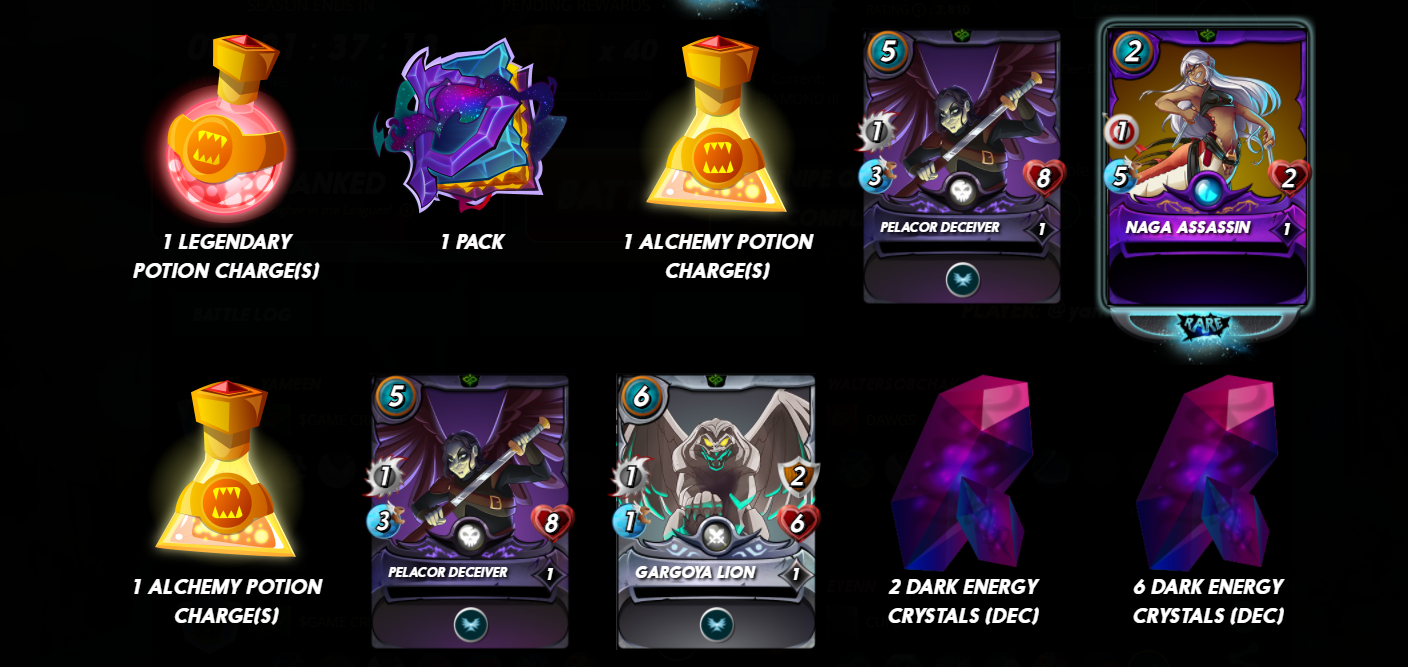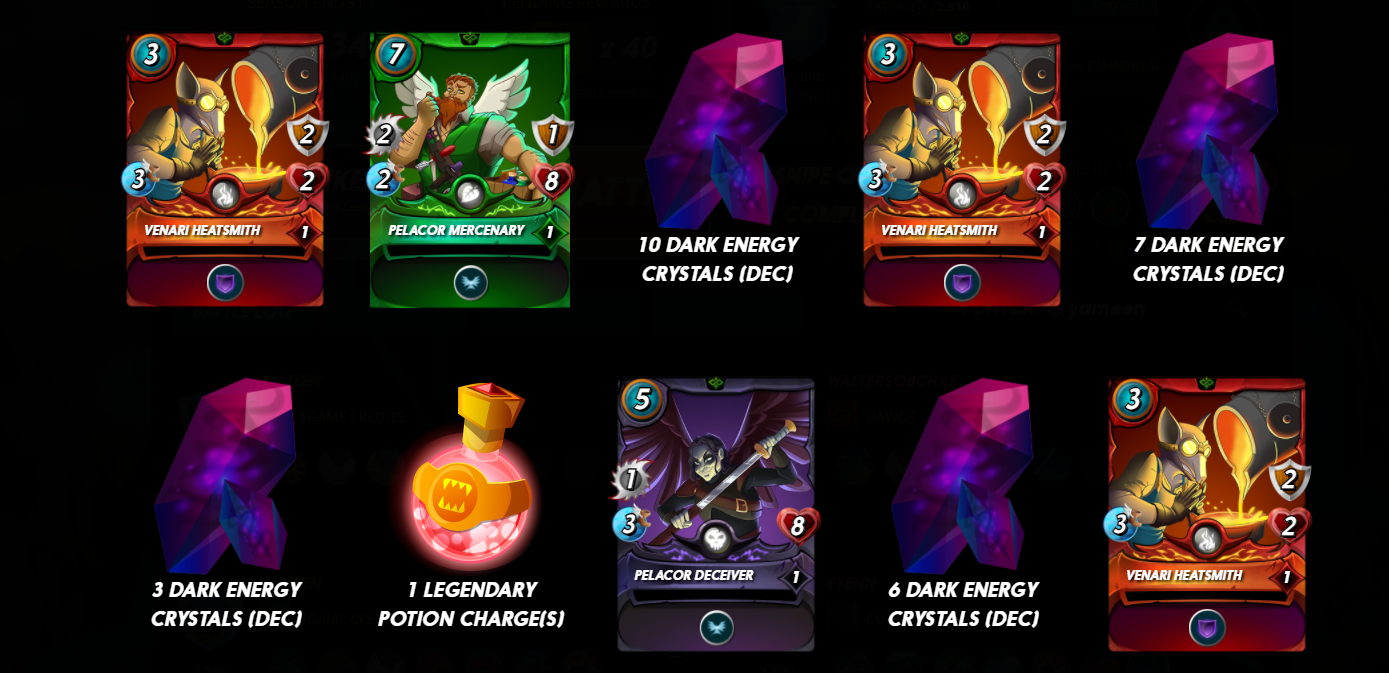 This is all about today, Thanks for visiting my blog.

JOIN SPLINTERLANDS
If you are new to Splinterlands and want to join, you are welcome, you can join from the below link.
https://splinterlands.com?ref=yameen

If you are a newbie and want to ask something, you are welcome I am always available 🤚 to help you.
All images used in this post are downloaded from the Splinterland official website.
Thanks in advance If you like my post and show some support.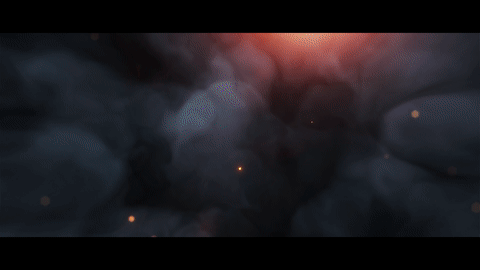 ---
---