Starbits - The Currency of Rockstars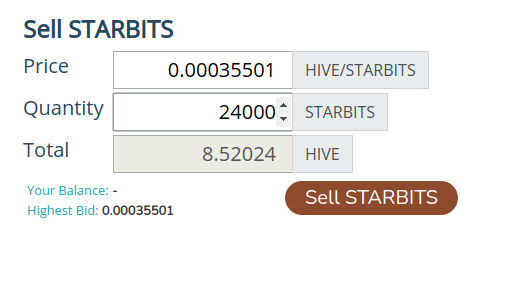 Starbits are
Easy to obtain and highly profitable. (Low risk, High reward)
Worth $0.00018 (Don't sound like a lot but thousands add up quickly)
---
I wrote a blog post 20 days ago about the HIVE blockchain game Rising Star.
In the post I write about how I "invested" 5 HIVE which was $1.50 at the time of writing. Since then, the price of HIVE has gone up more than 30%. That same 5 HIVE is now worth $2.40. I was interested to see how much HIVE my Starbits are worth. Starbits are the Hive-Engine token you get for completing missions. Now, this game is free-to-play. I did not have to invest anything to get started but chose to buy a pack for the fun and the convenience it provided. Since playing I have accumulated 24000+ Starbits. I'm on my way to the second island, which I hope means more Starbits per energy spent.
If I were to sell those Starbits on Hive-Engine I would get 8.5 HIVE which equals $4.08 ( At $0.48 per HIVE ). You can buy or sell Starbits on Hive-Engine with HIVE.
I am really impressed with those numbers. It's nothing compared to a paycheck but this isn't a job, its a game and it pays you. That is crazy to me. I have tried a lot of blockchain games not only the ones on HIVE but WAX also. I think HIVE is the place to be for #playtoearn with games like Splinterlands and Rising Star. I am not liquidating my Starbits but instead saving them for a card I really like. This was just for science, I am still holding my Starbits. These numbers aren't even taking into consideration the cards I have won in multiple giveaways.
Special thanks to:
Check those guys out for some sweet Rising Star giveaways.
If you aren't playing this game yet, why not? Sign up with my referral and get started today!
Thank you for reading
If you haven't already check out these great Hive services and learn more about the different Hive Tribes
This post is a part of the Event going on at CENT blog, hosted by @anadolu
---
---