Hive Open Mic - Week 125 | Rewrite The Stars(Cover)
---
Hello everyone, it's another week for artists all over the world to connect. This time with the theme, " NOTHING IS IMPOSSIBLE" which was chosen by the community's recent spotlight artist @bernice001.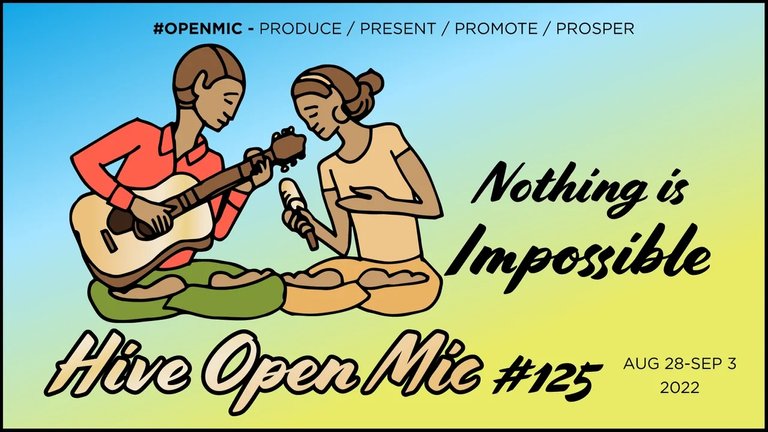 For the week I chose the song 'Rewrite the Stars' by Zac Efron and Zendaya.
Nothing is impossible is a phrase for the believers, the strong and the determined. Although things may be difficult or hard to achieve, the believe that it can be worked is already a massive move to accomplishment. I choose the song rewrite the stars, because although the lovers knew that the world was against their relationship, the male lover kept reassuring the female lover that their relationship was possible which would mean rewriting the stars, although not literally but changing the thoughts or believe of the rest of the world towards them.
Beneath is the lyrics of the song
"Rewrite The Stars"
(from "The Greatest Showman" soundtrack)
[Zac Efron:]
You know I want you
It's not a secret I try to hide
I know you want me
So don't keep saying our hands are tied
You claim it's not in the cards
But fate is pulling you miles away
And out of reach from me
But you're here in my heart
So who can stop me if I decide
That you're my destiny?
What if we rewrite the stars?
Say you were made to be mine
Nothing could keep us apart
You'd be the one I was meant to find
It's up to you
And it's up to me
No one can say what we get to be
So why don't we rewrite the stars?
Maybe the world could be ours
Tonight
[Zendaya:]
You think it's easy
You think I don't wanna run to you
But there are mountains
And there are doors that we can't walk through
I know you're wondering why
Because we're able to be
Just you and me
Within these walls
But when we go outside
You're gonna wake up
And see that it was hopeless after all
No one can rewrite the stars
How can you say you'll be mine
Everything keeps us apart
And I'm not the one you were meant to find
It's not up to you
It's not up to me
When everyone tells us what we can be
How can we rewrite the stars?
Say that the world can be ours
Tonight
[Zac Efron & Zendaya:]
All I want is to fly with you
All I want is to fall with you
So just give me all of you
[Zendaya:]
It feels impossible
[Zac Efron:]
It's not impossible
[Zendaya:]
Is it impossible?
[Both:]
Say that it's possible
[Zac Efron & Zendaya:]
How do we rewrite the stars?
Say you were made to be mine?
Nothing can keep us apart
Cause you are the one I was meant to find
It's up to you
And it's up to me
No one can say what we get to be
Why don't we rewrite the stars?
Changing the world to be ours
[Zendaya:]
You know I want you
It's not a secret I try to hide
But I can't have you
We're bound to break and
My hands are tied
Source
Thank you for visiting my post
---
▶️ 3Speak
---
---