Mariposa traicionera || Treacherous butterfly (Cover)
---
Mariposa Traicionera || Treacherous Butterfly
I love having a lot of commitments and projects going on, especially when you know they are well underway. The only bad thing is that it often means having to put aside other activities that you also enjoy. That is what is happening to me right now and that is the reason why I have been publishing little content, because there are projects in the real world, which are taking shape in a wonderful way and which I will tell you about soon.
In the meantime, today I am happy to bring you some music. I had thought about participating in the @hiveopenmic, but I couldn't think of a song that fit this week's theme. While that doesn't mean a major problem, because it's not mandatory to join the proposed theme, I also thought I've been posting little in the music community, which is one of the things I love most on Hive.
Also, I decided today to try the Chroma Key technique, which is that of recording over a green background and then replacing it digitally. I know it's the first test I do and that you shouldn't be so demanding when you are starting to use something, but I must confess that the result didn't leave me very satisfied, let's say. I will do some more tests and if I am not convinced, I will look for another alternative to change my backgrounds.
As for the music, I must tell you that the choice was very simple. At my house they woke up today listening to the Mexican group Maná, which I like very much and which has wonderful songs. Some of them I have sung a lot in my work in night clubs. This is one of them.
Since I was more focused on the video part, it was very comfortable to choose a song that I knew well, so I could focus my attention on the other part.
Anyway, I know that this song will not disappoint anyone, because it is very beautiful. Mariposa Traicionera (Treacherous Butterfly) is one of the countless songs composed by Fher Olvera, the lead singer and second guitar of the aforementioned group from Mexico.
I hope you enjoy both!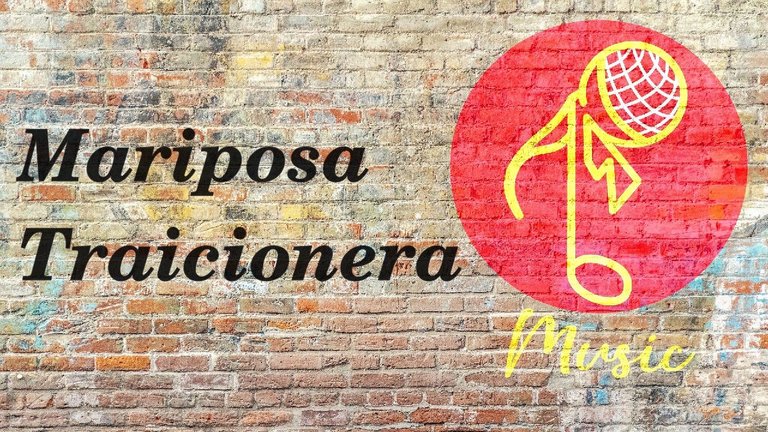 Me encanta tener muchos compromisos y proyectos en marcha, sobre todo cuando sabes que van muy bien encaminados. Lo único malo es que eso muchas veces implica tener que dejar a un lado otras actividades que uno también disfruta. Eso es lo que me está pasando en este momento y es la razón por la cual he estado publicando poco contenido, porque hay proyectos en el mundo real, que se están concretando de manera maravillosa y de los cuales les contaré próximamente.
Por lo pronto, hoy me alegra poder traer un poco de música. Había pensado en participar en el @hiveopenmic, pero no se me ocurría una canción que estuviera dentro de la temática de esta semana. Aunque eso no significa un problema mayor, porque no es obligatorio sumarse al tema propuesto, también pensé que he estado publicando poco en la comunidad de música, que es una de las cosas que más me gustan en Hive.
Además, decidí hoy probar la técnica del Chroma Key, que es eso de grabar sobre un fondo verde para luego sustituirlo digitalmente. Sé que es la primera prueba que hago y que no se debe ser tan exigente cuando está empezando a usar algo, pero debo confesar que el resultado no me dejó muy satisfecho, que digamos. Haré unas pruebas más y si no me convence, pasaré a buscar otra alternativa para cambiar mis fondos.
En cuanto a la música, debo decirles que la elección fue muy sencilla. En mi casa amanecieron hoy escuchando al grupo mexicano Maná, el cual me gusta mucho y que tiene canciones maravillosas. Algunas de ellas las he cantado mucho en mi trabajo en locales nocturnos. Esta que les presento es una de ellas.
Como estaba más pendiente de la parte del video, fue muy cómodo escoger una canción que conociera bien, de manera de poder centrar mi atención en lo otro.
De todos modos, sé que esta canción no decepcionará a nadie, porque es de gran belleza. Mariposa Traicionera es una de las innumerables canciones compuestas por el Fher Olvera, cantante principal y segunda guitarra de la mencionada agrupación de México.
¡Espero que disfruten de ambas cosas!

---



Vote la-colmena for witness
By @ylich
http://ylich.com
Spotify
Buy Ylich's "Pa' los bailadores" NFT at nfttunz.io
---
▶️ 3Speak
---
---