My battle with "Cruel Sethropod"
Hello Hivers, first time I greet you from this community, maybe the second or third time, what I mean is that I come here a little with my blog. However I confess that I am one of those "gamers" amateur for a long time, I remember when I went to a neighbor's house to rent his Atari, then playing 5 minutes of that thing was a glory. Now I invest a little more time thanks to the opportunity that the platform gives us, in particular the splinterlands community.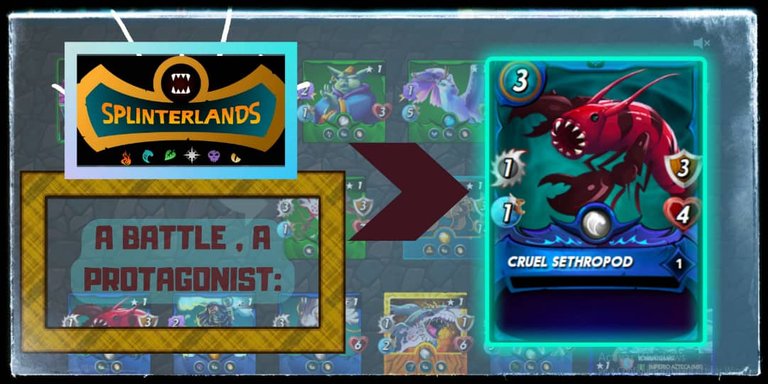 ---
Yesterday I came across a publication, it alluded to the challenge that takes place every week, where the community invites you to write about particular cases of the game and that really seem to me quite funny because most of the time they are related to make moves or choose cards from the deck that we do not use often. And so I decided to join and see how it went this time!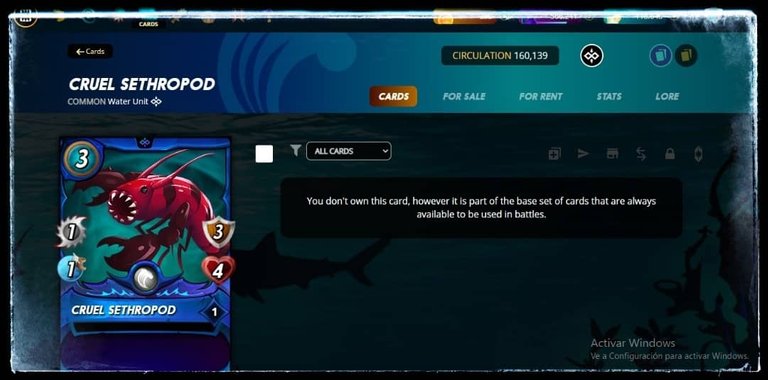 The card in question is from the current edition "Chaos Legion", which has given so much to talk about for having great "monsters" with quite fabulous skills and features that showed the entire community that the Splinterlands team has a lot to give with the ability to create intact since they managed to surprise us all with the printing of these cards.
"CRUEL SETHROPOD" is part of this edition and is the brand new protagonist of this challenge in which we had to make a battle where this monster takes part and of course come out the winner of the confrontation. If you observe, you will notice that this card is not part of my maso, however it is active so you can use it without needing to own it.
Actually I use "CRUEL" very little, if you ask me this is the first time I use it in battle. When I saw its attack and speed abilities I thought it was almost impossible to win using it, however I can tell you that I was able to win in the second battle I did.
---
The Battle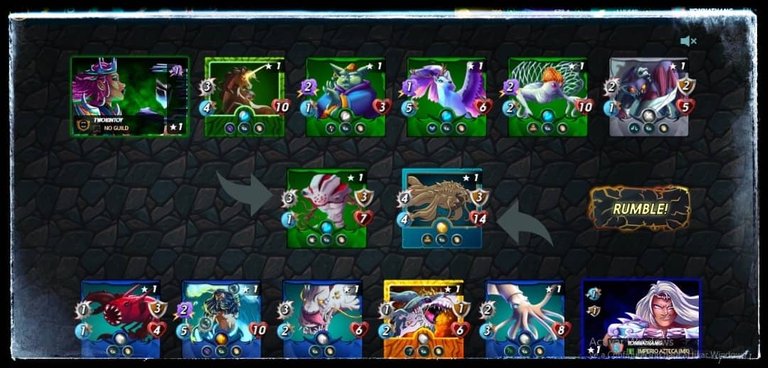 Looking at the characteristics of "CRUEL" for the second time, I was more optimistic to see that he had a great shield, a fairly regular amount of life and that he could support at least with his great defense.
The battle was ideal because he could attack with melee cards from any position, plus the total mana was 56, that is, it was not necessary to place him in front so I decided to put him in the rear. The battle was designed to be long, so there were going to be many turns, and the cards were going to be furious when they received hits, multiplying their attack and speed abilities. So most of my cards were big monsters with powerful hits and my opponent bet on using most of his cards with fire abilities mixed with the recovery of Goblin Psychic.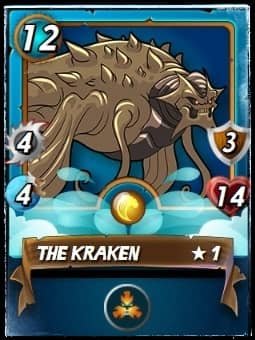 There were 4 rounds of great attacks, the most valuable of the team was "The Kraken " legendary card that causes many headaches in ideal conditions, as in this case. The fury allowed his speed to reach level 8 so the opposing team missed many hits, eliminating him in round 3 when almost everything was already decided. The highlight of the game is that the coup de grace was performed by the protagonist of this publication the great "CRUEL SETHROPOD". Pretty funny, in my opinion!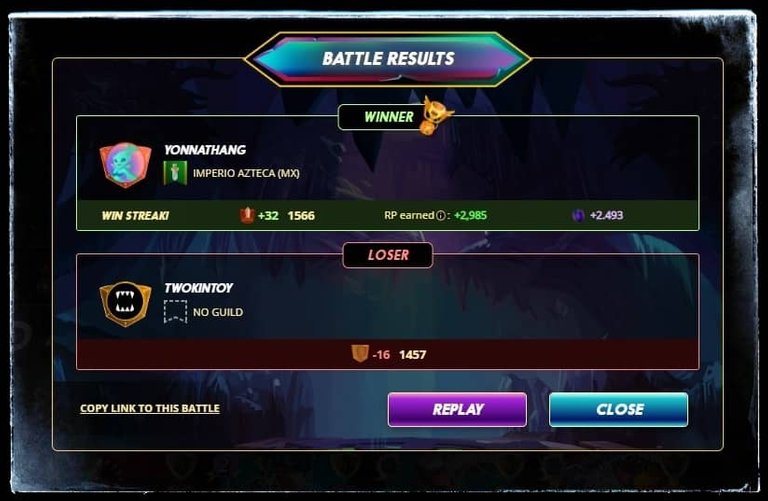 ---
I really enjoy this game, categorized as a powerful card NFT game, however it can be said that skill plays an important role in Splinterlands. This to me is what makes it so appealing, a perfect mix between the two big categories, making it appealing to the general public, regardless of gender, let alone age. The best thing about this game is that its infrastructure is developed in Hive which ensured that from the beginning our community was the main base of its players. A community, brave, prepared and aware of the new challenges proposed by blockchain technology and cryptos, where the long-term bets are those that increasingly demonstrate the best chances of success.
---
I invite you to review the contest by clicking on the following link:
---
---
Spanish!
---
Hola Hivers, primera vez que los saludo desde esta comunidad, quizás sea la segunda o tercera vez, lo que quiero decir es que vengo poco por acá con mi blog. Sin embargo les confieso que soy uno de esos "gamers" aficionado desde hace un buen tiempo, recuerdo cuando iba a casa de un vecino para alquilar su Atari, para entonces jugar 5 minutos de esa cosa era una gloria. Ahora mismo invierto un poco mas de tiempo gracias a la oportunidad que nos brinda la plataforma, en particular la comunidad de splinterlands.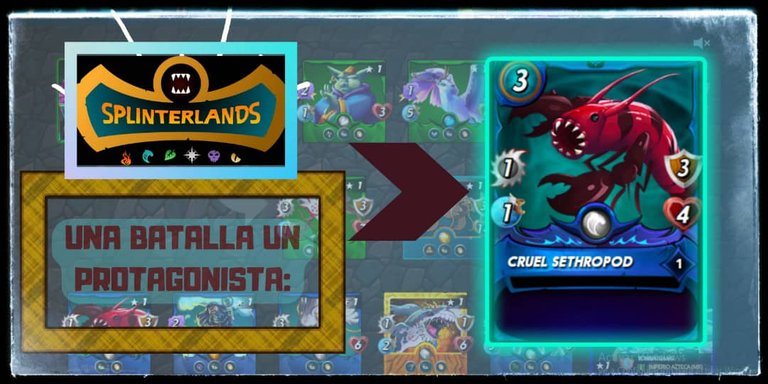 ---
El día de ayer me tope con una publicación, la misma hacia alusión al reto que se realiza cada semana, donde la comunidad invita a escribir sobre casos particulares del juego y que realmente me parecen bastante divertidos pues la mayoría de las veces se relacionan con hacer movimientos o elegir cartas del maso que no usamos con frecuencia. ¡Y es así que decidí unirme y ver como me iba esta vez!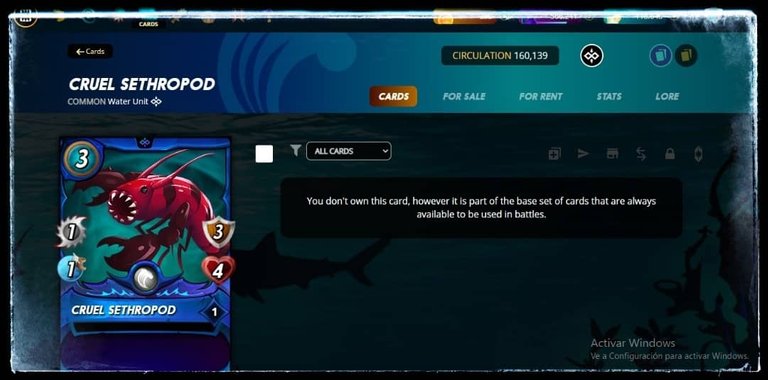 La carta en cuestión es de la actual edición "Chaos Legión", esta que ha dado tanto de que hablar por tener grandes "monstruos" con habilidades y características bastante fabulosas que demostraron a toda la comunidad que el equipo de trabajo de Splinterlands tiene mucho que dar con la capacidad de creación intacta puesto lograron sorprendernos a todos con la impresión de estas cartas.
"CRUEL SETHROPOD" es parte de esta edición y es el flamante protagonista de este reto en el cual debíamos hacer una batalla donde intervenga este mounstruo y por supuesto salir ganador del enfrentamiento. Si observan, podrán notar que esta carta no es parte de mi maso, sin embargo está activa para poder utilizarla sin necesidad de poseerla.
En realidad uso muy poco a "CRUEL", si me preguntan es primera vez que la utilizo en batalla, Cuando vi sus habilidades de ataque y velocidad pensé que era casi imposible ganar usándolo, no obstante les cuento que pude ganar en la segunda batalla que realicé.
---
La batalla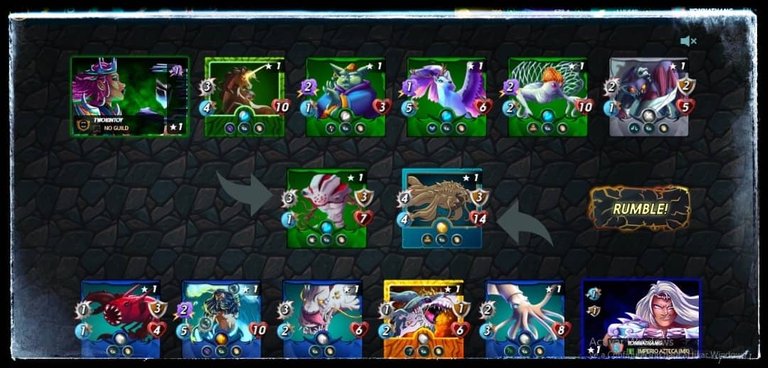 Al observar las características de "CRUEL" por segunda vez, fui mas optimista al ver que poseía gran escudo, una cantidad de vida bastante regular y que podía apoyar al menos con su gran defensa.
La batalla fue ideal pues podía atacar con cartas de cuerpo a cuerpo desde cualquier posición, además el mana total era de 56, es decir, no era necesario colocarlo al frente por lo que decidí ponerlo en la retaguardia. La batalla estaba diseñada para ser larga, por tanto se iban a realizar muchos turnos, además las cartas al recibir golpes se iban a poner furiosas multiplicando sus habilidades de ataque y velocidad. Así que la mayoría de mis cartas eran grandes monstruos de golpes poderosos y mi contrincante aposto por usar la mayoría de sus cartas con habilidades de fuego mezclada con la recuperación de Goblin Psychic.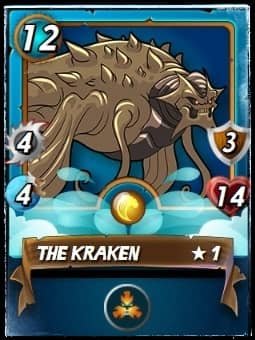 Fueron 4 rounds de grandes ataques, el mas valioso del equipo fue "The Kraken" carta legendaria que causa muchos dolores de cabeza en condiciones ideales, como era este caso. La furia permitió que su velocidad alcanzase el nivel 8 por lo que el equipo contrario fallo muchos golpes, eliminándolo en el round 3 cuando ya casi todo estaba decidido. lo mas cumbre de la partida es que el golpe de gracia fue realizado por el protagonista de esta publicación el gran "CRUEL SETHROPOD". ¡Bastante gracioso en mi opinión!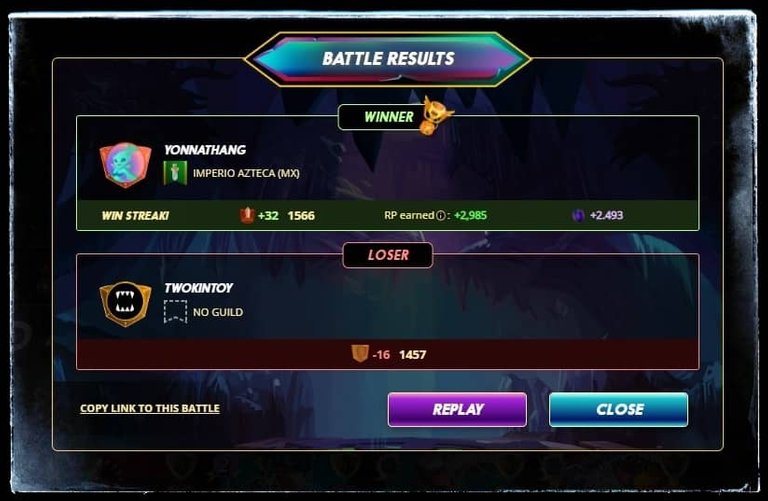 ---
En verdad disfruto mucho de este juego, categorizado como un juego NFT de cartas poderosas, sin embargo se puede decir que la habilidad juega un papel importante en Splinterlands. Esto para mi es lo que lo hace tan atractivo, una mezcla perfecta entre las dos grandes categorías. por lo que es atractivo para el publico en general, sin distinción de sexo y mucho menos la edad. Lo mejor de este juego es que su infraestructura esta desarrollada en Hive lo que aseguro que desde un principio nuestra comunidad fuese la base principal de sus jugadores. Una comunidad, valiente, preparada y consciente de los nuevos desafíos propuesto por la tecnología blockchain y las cryptos, en donde las apuestas a largo plazo son las que demuestran cada vez mas las mejores probabilidades de éxito.
---
Los invito a revisar la contienda haciendo clic el siguiente link:
---
End / Fin
---
---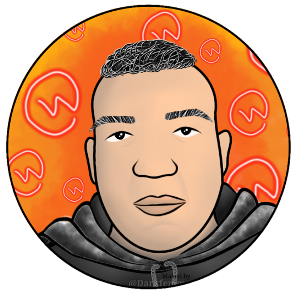 Original Creation by: @yonnathang
El avatar es creación de @darkfemme


Posted using Splintertalk
---
---