Crypto for kids - Kiddocurrency
I've been thinking about what it would be like to get kids involved with crypto from an early age. A lot of parents have a hard time understanding that children need some amount of financial understanding early.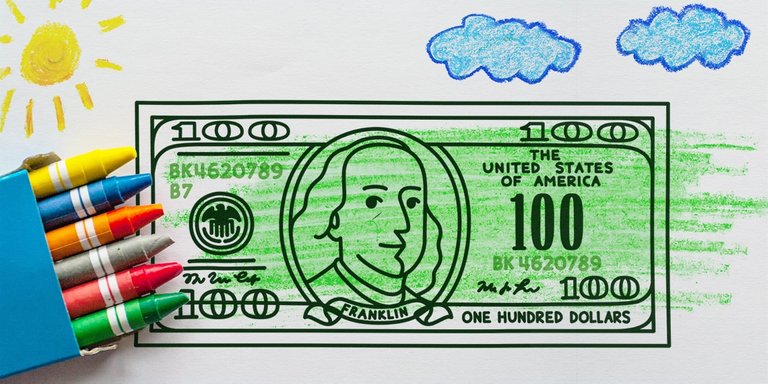 Take for instance my nephews recently. My mother told me that the 5 years old saw a 5 naira note and told her it was 5 Dollars.
He has spent a lot of his time understanding money from American television shows so definitely every money he sees has to be in dollars.
I've tried to help them get a better understanding of money and what it can do for them by making a savings box. I tried to get them involved in their finance but their mother has other ideas.
My interest in their financial understanding stems from my need to help them value things a lot more. I wanted them to save up a lot of money and watch how that whole lot of money is spent on very few items just because the Nigerian Naira is crap.
That would make them realize that a lot of money to them really can't fund 2% of their life.
Getting kids involved with crypto
A while ago, my brother @belemo wrote about how the fastest way to get kids involved in cryptocurrency would be through blockchain gaming.
I don't dispute that. Blockchain gaming can be fun but highly technical. A lot of adults don't entirely understand it themselves, let alone kids.
I haven't explored many blockchain games. It has just been Splinterlands for me. And I don't think I understand it fully most times to be a good teacher.
My nephews love playing games. They watch me play Splinterlands and they know it's a game but they never understand how it works. Most times they just think each card is a game of its own that's going to become an actual player and fight.
They always think I'm in the process of selecting a game whenever I'm selecting my cards for a match.
They spend a lot of their time playing games like Subway surf and the likes.
Would be nice if there was a Blockchain game I could introduce to them that could bring in some extra bucks.
Kids are shameless.
This was the best part of making a saving box for my nephews.
At first, I thought they would be shy about taking it out or showing it to their friends and asking for contributions like I was when I was their age.
Well, they proved me wrong. They asked for funds from every guest who came over and they were so excited about it. This was until their mom opened it up and "borrowed" a part of it.
I enjoy their enthusiasm to have money. I hope it yields a positive financial mentality coz I need them to understand why I protect my laptop and phone. They have a lot to learn about respecting people's property.
---
Check out my Freelance Gigs
Contact and Support:
Twitter @karina_lovet
Instagram @kmama
Discord Young-boss-karin#0643
Telegram @KarinaLovet
BSC Wallet
0x02384f8eeacbB4314bb69DBE098aF19aa89768A3
Posted Using LeoFinance Beta
---
---