Bitcoin chart analysis - Análisis de gráfico de Bitcoin (Eng/Esp)
This publication is too late... I was busy living my current life... But I checked the chart constantly.
Esta publicación es demasiado tarde... Estaba ocupado viviendo mi vida actual... Pero revisé el gráfico constantemente.
First of all... the graphic is really beautiful... haha
En primer lugar... el gráfico es realmente hermoso... jaja
It crashed at 23.9k, slightly above the 23.k 23.7k short point noted in the previous post.
Se produjo una caída en 23.9k, ligeramente por encima del punto corto de 23.k 23.7k señalado en la publicación anterior.
Similarly, it crashed after a weak bounce at 21.9k, slightly above the 21.5k-21.7k I noted.
De manera similar, se estrelló después de un débil rebote en 21,9k, ligeramente por encima de los 21,5k-21,7k que señalé.
So, let's cut it out and take a look at the chart .
Entonces, recortémoslo y echemos un vistazo a la tabla .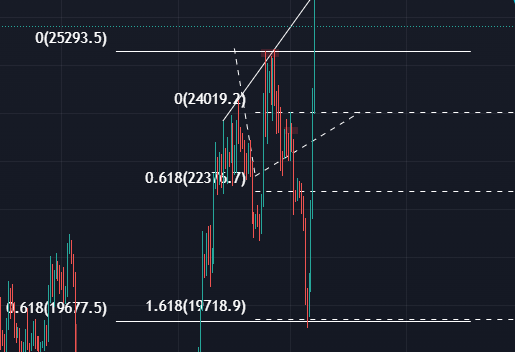 First, let's look at the bounce.
Primero, veamos el rebote.
If you are a person who has studied waves, it would have been an unconditional purchase.
Si eres una persona que ha estudiado ondas, hubiera sido una compra incondicional.
If you are a person who has studied waves, it would have been an unconditional purchase.
¿Realmente se está invirtiendo la tendencia? Hmm...
Echemos también un vistazo al gráfico actual.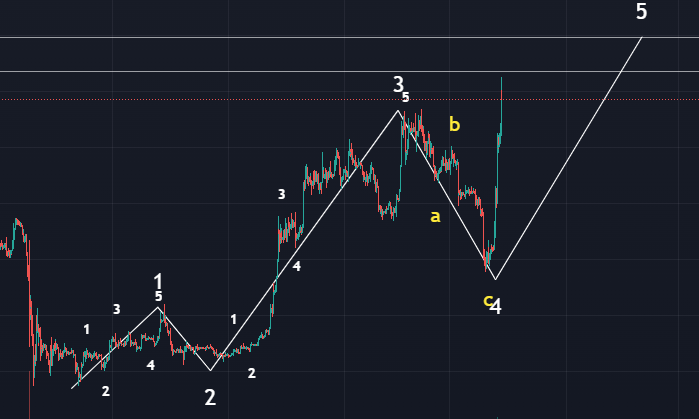 To summarise, the current wave progression situation looks like this.
Para resumir, la situación actual de progresión de la ola se ve así.
Or, after the end of the first wave of the upward momentum, the beginning of the third wave. There was no doubt that this was a common upward leg.
O, después del final de la primera ola del impulso ascendente, el comienzo de la tercera ola. No cabía duda de que se trataba de un tramo de subida común.
So, will we find the common decline section?
Entonces, ¿encontraremos la sección de declive común?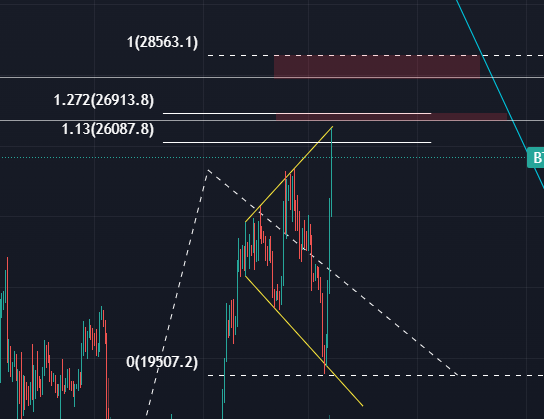 It seems to have stopped in the upper trend of the current extension pattern.
1.13 stophunting has ended, so I think we should keep it open until 1.272 stophunting.
There was a previous list and support line at 26.6k with a stophunting of 1.272.
When a support line is broken, it becomes strong resistance!
Taking a short shot from 26.7k to 26.9k doesn't look bad either.
There is also the previous support and sell section at 27.9 and the 3:5 1 to 1 position at 28.5.
If you get to this section, we recommend a short split with a low rise.
Of course, Ross has to hold firm.
After that, there are a lot of areas of resistance, so I think you can lose a bit of strength.
I'm very curious about the move after that.
Is it really reversing the trend and going up, or is it a retracement of the previous drop?
See you in the next post ~ Good luck!
Parece haberse detenido en la tendencia superior del patrón de ampliación actual.
1.13 stophunting ha terminado, así que creo que deberíamos mantenerlo abierto hasta 1.272 stophunting.
Hubo una lista anterior y una línea de soporte en 26.6k con un stophunting de 1.272.
Cuando se rompe una línea de soporte, ¡se convierte en una fuerte resistencia!
Tomar un tiro corto de 26.7k a 26.9k tampoco parece malo.
También está la sección anterior de soporte y venta en 27,9 y la posición 3:5 1 a 1 en 28,5.
Si llegas a esta sección, te recomendamos que hagas un split corto con un aumento bajo.
Por supuesto, Ross tiene que mantenerse firme.
Después de eso, hay muchas áreas de resistencia, así que creo que puedes perder un poco de fuerza.
tengo mucha curiosidad sobre el movimiento después de esto.
¿Realmente está invirtiendo la tendencia y subiendo, o es un retroceso de la caída anterior?
Nos vemos en la próxima publicación ~ ¡Buena suerte!
---
---