Bitcoin [ENG-ESP]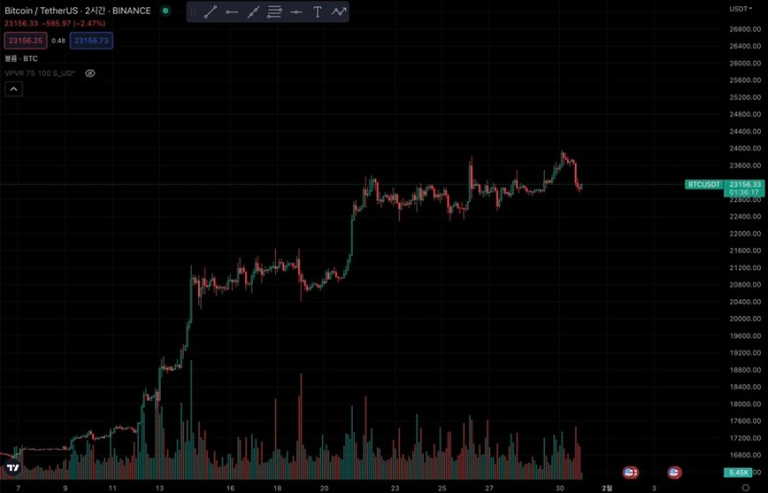 barra de 2 horas
2-hour bar
Subiendo mínimos y máximos Todavía en una tendencia alcista
Rising lows and highs Still in an uptrend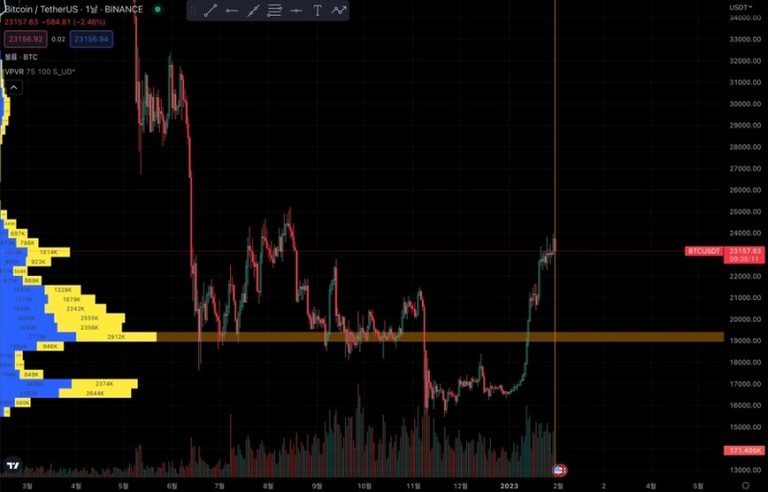 1ra barra, manteniendo soporte en la mesa de venta cerca de 23k
1st bar, keeping support on the sales table about 23k


Acerca de Leo Finance
About LeoFinance
LeoFinance es una comunidad Web3 basada en blockchain que crea aplicaciones innovadoras en las cadenas de bloques Hive, BSC, ETH y Polygon. Nuestra aplicación insignia: LeoFinance.io permite a los usuarios y creadores interactuar y compartir contenido micro y de formato largo en la cadena de bloques mientras obtienen recompensas en criptomonedas.
LeoFinance is a blockchain-based Web3 community that builds innovative applications on the Hive, BSC, ETH and Polygon blockchains. Our flagship application: LeoFinance.io allows users and creators to engage & share micro and long-form content on the blockchain while earning cryptocurrency rewards.
Nuestra misión es democratizar el conocimiento financiero y el acceso con Web3.
Our mission is to democratize financial knowledge and access with Web3.
Twitter : https://twitter.com/FinanceLeo
Discord : https://discord.gg/E4jePHe
Libro blanco / Whitepaper : https://whitepaper.leofinance.io
Nuestras aplicaciones de colmena
Our Hive Applications
Únase a Web3 : https://leofinance.io/
Join Web3: https://leofinance.io/
Microblog en Hive: https://leofinance.io/threads
Microblog on Hive: https://leofinance.io/threads
LeoMobile (IOS) : https://testflight.apple.com/join/cskYPK1a
LeoMobile (IOS): https://testflight.apple.com/join/cskYPK1a
LeoMobile (Android) : https:/ /play.google.com/store/apps/details?id=io.leofi.mobile
LeoMobile (Android): https://play.google.com/store/apps/details?id=io.leofi.mobile
Delegado HIVE POWER : Gane 16% APR, pago diario. Actualmente @ 2.8M HP
Delegate HIVE POWER: Earn 16% APR, Paid Daily. Currently @ 2.8M HP
Hivestats : https://hivestats.io
Hivestats: https://hivestats.io
LeoDex : https://leodex.io
LeoDex: https://leodex.io
LeoFi : https://leofi.io
LeoFi: https://leofi.io
BSC HBD (bHBD) : https://wleo.io/hbd-bsc/
BSC HBD (bHBD): https://wleo.io/hbd-bsc/
BSC COLMENA (bHIVE) : https://wleo.io/hive-bsc/
BSC HIVE (bHIVE): https://wleo.io/hive-bsc/
Gane 50%+ APR en HIVE/HBD : https://cubdefi.com/farms
Earn 50%+ APR on HIVE/HBD: https://cubdefi.com/farms
Web3 y DeFi
Web3 es más que redes sociales. Abarca una revolución personal en la conciencia financiera y la propiedad de los datos. Los hemos fusionado con nuestras aplicaciones sociales y nuestras aplicaciones DeFi:
Web3 is about more than social media. It encompasses a personal revolution in financial awareness and data ownership. We've merged the two with our Social Apps and our DeFi Apps:
CubFinance (BSC) : https://cubdefi.com
PolyCUB (Polygon) : https://polycub.com Puente multitoken
(Bridge HIVE, HBD, LEO) : https://wleo.io
Posted Using LeoFinance Beta
Publicado usando LeoFinance Beta

---
---