[ESP/ENG] ¿Una posición importante, rompiendo el rango de caja? ¿Un mercado amistoso? / An important position, breaking the cash range? A friendly market?
A partir de enero de 2023,
El comienzo de febrero tampoco está mal.
Con Bitcoin (BTC) y Aptos (APT)
Echemos un vistazo al mercado de monedas.
En un lugar importante en los últimos días,
En el rango de la caja, muestra un movimiento que parece estar ajustado.
estable de nuevo,
Parece una imagen que intenta romper el rango de la caja.
Por supuesto, hasta que se rompa la parte superior de la caja.
Sin embargo, es demasiado pronto para sentirse aliviado.
En primer lugar, es un Bitcoin diario.
(Precio actual de Bitcoin, 23.639 USDT
From January 2023,
The beginning of February is not bad either.
With Bitcoin (BTC) and Aptos (APT)
Let's take a look at the bitcoin market.
In an important place in recent days,
In the range of the box, it shows a move that seems to be tight.
stable again,
It looks like a picture that is trying to break out of the box range.
Of course, until it breaks the top of the box.
However, it is too early to be relieved.
First of all, it is a daily Bitcoin.
(Current Bitcoin price, 23.639 USDT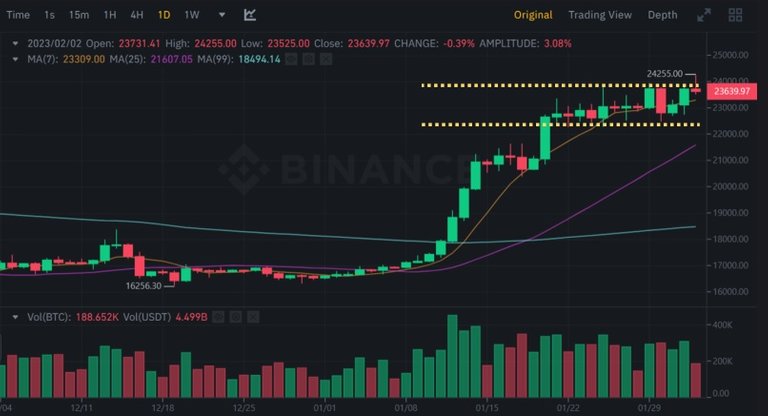 Bitcoin Diario / Gráfico - Binance
Bitcoin Daily / Chart - Binance
El siguiente es Aptos Daily
Next is Aptos Daily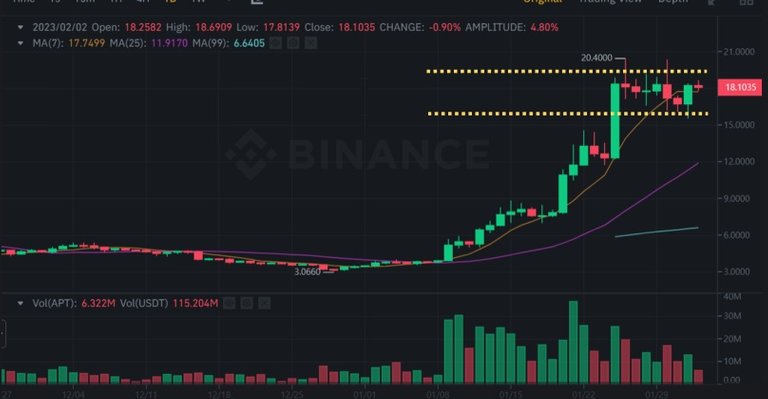 Aptos Diario / Gráfico - Binance
Aptos Daily / Chart - Binance
Tanto Bitcoin como Aptos parecían mostrar una corrección después de dispararse,
Aún así, mantengo mi asiento en la caja
Es un movimiento que parece mostrar un rebote.
(Por supuesto, nuevamente, dado que todavía está dentro de la caja,
Parece importante romper completamente)
En cambio, si se asienta de manera estable después de atravesar la parte superior de la caja,
¿Crees que podría ver muchas ventajas adicionales?
Afortunadamente,
Recientemente, los principales indicadores macro han salido a favor del mercado,
El índice estadounidense Nasdaq muestra una buena tendencia.
Both Bitcoin and Aptos seemed to show a correction after soaring,
Still, I'm keeping my seat in the box.
It's a move that seems to show a bounce.
(Of course, again, given that it is still inside the box,
It seems important to break out completely)
Instead, if it sits stably after breaking through the top of the box,
Do you think you could see many additional advantages?
Fortunately,
Recently, leading macro indicators have come out in favour of the market,
The US Nasdaq index is trending well.


Nasdaq Daily / Gráfico - Webull
Nasdaq Daily / Chart - Webull
El índice Nasdaq de EE. UU. superó con fuerza el nivel de resistencia a corto plazo,
Incluso en esta situación, el mercado arrancó con un gap de subida cercano al 2%.
(hora eeuu, 2/2 jueves por la noche)
The US Nasdaq index broke above the short-term resistance level,
Even in this situation, the market opened with a gap up close to 2%.
(eeuu time, 2/2 Thursday evening)
anunciado recientemente
Indicadores de precios, indicadores de tipos de interés (resultados del FOMC), indicadores
de empleo, etc.
recently announced
Todos los indicadores clave parecen ser considerados favorables al mercadPrice indicators, interest rate indicators (FOMC outcome), employment indicators, etc.
Los precios se mueven dentro del rango esperado,
Las tasas de interés tampoco parecen subir más de lo esperado,
(Continúan las expectativas de picos de tipos de interés)
El empleo también es sólido, por lo que parece poco probable que la recesión sea más
Prices are moving within the expected range,
Interest rates do not seem to rise more than expected either,
(Expectations of interest rate spikes continue).
Employment is also solid, so it seems unlikely that the recession will be any more severe than expected.
grave de lo esperado.
En primer lugar, hasta la publicación de los indicadores clave aproximadamente un mes
después,
Creo que habrá una situación positiva en el mercado de valores al menos durante unas
semanas.
First, until the publication of the key indicators about a month later
after that,
I believe that there will be a positive situation in the stock market for at least a few weeks.
weeks.
↓ Última publicación reciente
↓ Latest recent publication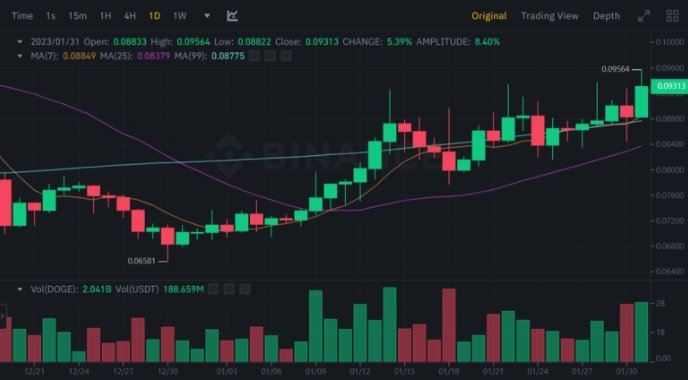 [Precaución] Todas las decisiones de inversión (compra-venta) (ya sea invertir o no, tamaño,
tiempo (punto de tiempo), posición, etc.) y la responsabilidad recae en el inversor mismo.
Tenga en cuenta que esta publicación no constituye una recomendación para comprar o
vender acciones o monedas. Por favor, juzgue usted mismo antes de invertir.
[Caution] All investment (buy-sell) decisions (whether to invest or not, size, timing (point in time), position, etc.) and responsibility rests with the investor himself,
timing (point in time), position, etc.) and responsibility rests with the investor himself.
Please note that this publication does not constitute a recommendation to buy or sell stocks or currencies.
sell stocks or currencies. Please make your own judgement before investing.


Acerca de Leo Finance
About LeoFinance
LeoFinance es una comunidad Web3 basada en blockchain que crea aplicaciones innovadoras en las cadenas de bloques Hive, BSC, ETH y Polygon. Nuestra aplicación insignia: LeoFinance.io permite a los usuarios y creadores interactuar y compartir contenido micro y de formato largo en la cadena de bloques mientras obtienen recompensas en criptomonedas.
LeoFinance is a blockchain-based Web3 community that builds innovative applications on the Hive, BSC, ETH and Polygon blockchains. Our flagship application: LeoFinance.io allows users and creators to engage & share micro and long-form content on the blockchain while earning cryptocurrency rewards.
Nuestra misión es democratizar el conocimiento financiero y el acceso con Web3.
Our mission is to democratize financial knowledge and access with Web3.
Twitter : https://twitter.com/FinanceLeo
Discord : https://discord.gg/E4jePHe
Libro blanco / Whitepaper : https://whitepaper.leofinance.io
Nuestras aplicaciones de colmena
Our Hive Applications
Únase a Web3 : https://leofinance.io/
Join Web3: https://leofinance.io/
Microblog en Hive: https://leofinance.io/threads
Microblog on Hive: https://leofinance.io/threads
LeoMobile (IOS) : https://testflight.apple.com/join/cskYPK1a
LeoMobile (IOS): https://testflight.apple.com/join/cskYPK1a
LeoMobile (Android) : https:/ /play.google.com/store/apps/details?id=io.leofi.mobile
LeoMobile (Android): https://play.google.com/store/apps/details?id=io.leofi.mobile
Delegado HIVE POWER : Gane 16% APR, pago diario. Actualmente @ 2.8M HP
Delegate HIVE POWER: Earn 16% APR, Paid Daily. Currently @ 2.8M HP
Hivestats : https://hivestats.io
Hivestats: https://hivestats.io
LeoDex : https://leodex.io
LeoDex: https://leodex.io
LeoFi : https://leofi.io
LeoFi: https://leofi.io
BSC HBD (bHBD) : https://wleo.io/hbd-bsc/
BSC HBD (bHBD): https://wleo.io/hbd-bsc/
BSC COLMENA (bHIVE) : https://wleo.io/hive-bsc/
BSC HIVE (bHIVE): https://wleo.io/hive-bsc/
Gane 50%+ APR en HIVE/HBD : https://cubdefi.com/farms
Earn 50%+ APR on HIVE/HBD: https://cubdefi.com/farms
Web3 y DeFi
Web3 es más que redes sociales. Abarca una revolución personal en la conciencia financiera y la propiedad de los datos. Los hemos fusionado con nuestras aplicaciones sociales y nuestras aplicaciones DeFi:
Web3 is about more than social media. It encompasses a personal revolution in financial awareness and data ownership. We've merged the two with our Social Apps and our DeFi Apps:
CubFinance (BSC) : https://cubdefi.com
PolyCUB (Polygon) : https://polycub.com Puente multitoken
(Bridge HIVE, HBD, LEO) : https://wleo.io
Posted Using LeoFinance Beta
Publicado usando LeoFinance Beta


---
---