Revival After 3 years! I am back baby!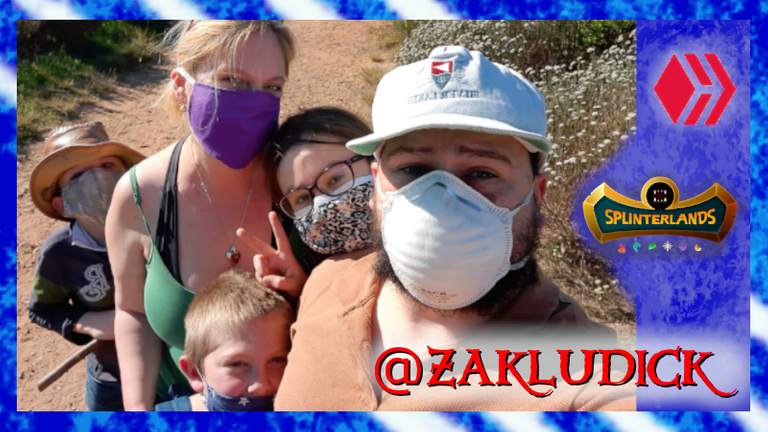 A Leave Of Absence
It has been almost 3 years since my last post on the blockchain.
What a journey I have been on and even more excitingly, finding out what a journey the blockchain has been on during my leave of absence.
On the 26th November 2018, I posted my Daily Journal #244. At the time, one of my colleagues had suddenly passed away. This was part of a series of things in my personal life that took the wind out of my sails.
I stopped writing fiction for a long while, I exercised sporadically, I kept the household working and the children in school. 2019 was a tough time. At this point, I had been divorced for nearly 5 years and I craved companionship.
I was however unsuccessful in finding someone who shared the same love for children or had other problems in their lives that would have added nothing but misery to my children's lives.
By the end of 2019, I had given up the idea of finding someone to love as a young-ish man and decided that I would focus on my children and that in another 9 or so years, when my youngest was 18, I might have a bit more freedom to perhaps do dating again.
I did decide to socialize with friends, however, to keep my social animal fed and happy.

Isn't It Ironic?
And then, when least expected, love finds a way... and sits on my lap.
But I am getting ahead of myself.
On new year's eve of 2020, I was invited by a good friend of mine and her husband to go to a new year's party for adults. I had not gone "out" or "partying" in well over a year and been focussing on working and being a single dad to my two beloved children.
All I asked of my friend was that this was not a couples-only event, since sitting with a collection of happy couples would be quite a painful reminder of my own loneliness. I was assured that there would be both men and women at the party that were single and thus I would not be the 3rd, 5th, or 7th wheel of the party.
There I met Claire Mobey. The love of my life, my moon, and my stars, the keeper of my heart.
Well, that's dramatic, sure. I did not know that this would be such a significant day either or that she would be so significant to me in the years to come.
But here I am, nearly 2 years later, she is snoozing behind me on a Sunday morning. I am the happiest man alive.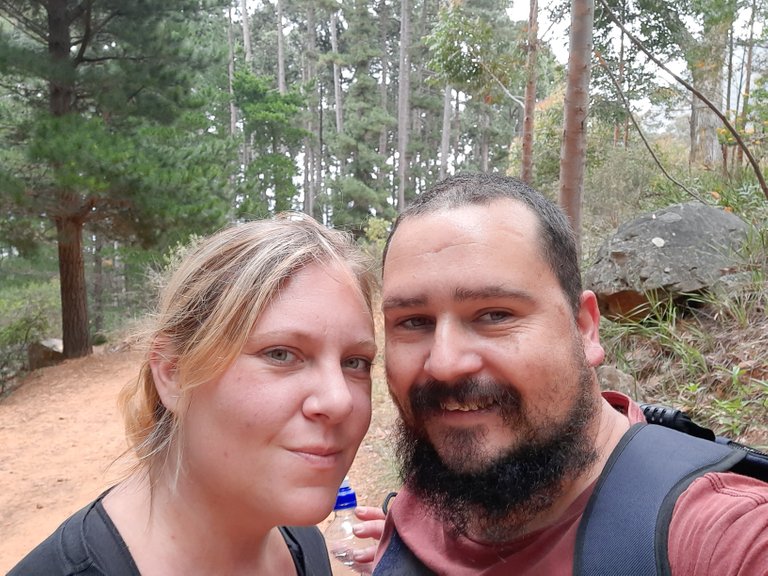 There is so much to tell, but we have been on an enriching journey together. From when we met, I have found a person with whom I could debate with, laugh with, dance with, share with and confide in. I have learned to rely on her. She always cares. She has helped me as much as I have helped her.
Claire has a massive musical passion. A wonderful summary of our last two years can be found in the cover she did for me for my birthday. You can view it on Youtube here.
Besides love, one amazing thing that I have learned in this relationship is that I am able to be vulnerable around her and that this is not a weakness. Even saying these words on a blog post might seem strangely intimate knowledge and a shock to people who keep their lives secret and private. Yet I believe in teaching this to others. More about this later.

The New Family
On the 1st of December 2021, Claire and I are moving in together! Exciting news and I have been and will be very busy with that coming up.
We have 3 children. My daughter Aime is 13 years old, my son Meren is 11 years old and Claire's son Matthew is 9 years old. So two, 2-year gaps between them.
When Claire and I met at the start of 2020, they were aged 11, 9, and 7. So the children have had a good long while to get to know each other and have formed bonds with each other as well as with their new parent figures.
There is so much to talk about and say, I will leave that off for other posts in the future.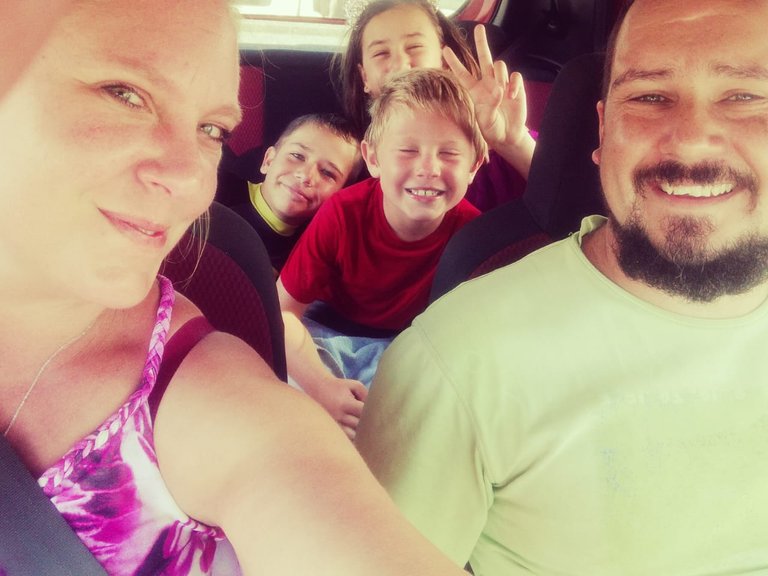 Splinterlands
Friendships built on the online communities I was involved with did not disappear completely. I remained in contact with some of the folks I had met on other platforms. A lot of the communities where I spoke to people from the blockchain publishing gang were on Discord of course.
Earlier this year, I logged into Discord for the first time in ages and there was a DM from someone offering to buy my Splinterlands cards I was not using. I did not even know what Splinterlands was, but I did remember that when I was playing Steemmonsters, that the different factions were called Splinters.
It is around here that I found out a lot of things, chiefly:
Steemmonsters was now called Splinterlands.
My previously low-value NFT trading cards that were worth a few hundred dollars were now worth thousands of dollars.
There was a hard fork with Steemit and Hive.
Splinterlands was now part of the Hive blockchain.
Thus my mention of the "block-chain publishing" gang. It used to be the Steemit gang... crew... community. But now all those people are found on Hive.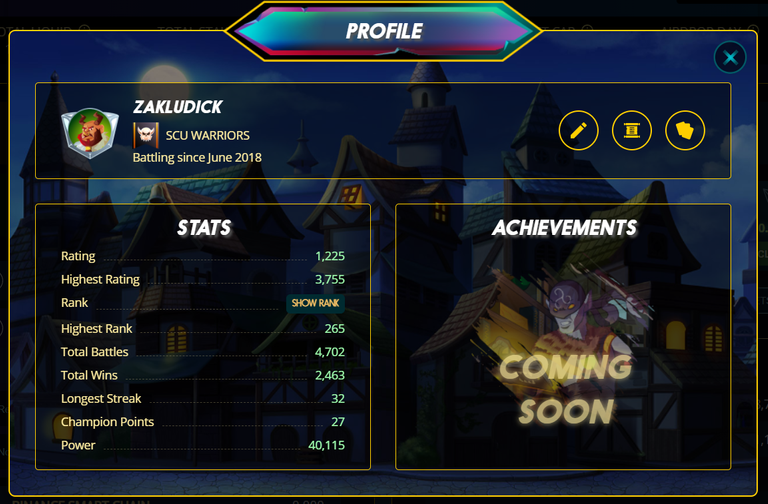 I started playing Splinterlands again and saw a massive update to the game. Earnings and rewards that never existed when I had been playing it 3 years ago.
DEC - Dark Energy Crystals, a tradable token that you can earn from playing games. Quests, Guilds, a "new" card set Untamed, that I had never seen.
Skills and game formats in the game made battles even more exciting and dynamic.
I came to and found that there had been a launch of the Spinterlands DAO, SPS and that there was an airdrop. Because of my 200k+ CP collection, there was a stack of SPS waiting for me to claim.
A new card set was being planned, Chaos Legion, and I started taking part.
Honestly, there is so much to cover about Splinterlands that it cannot be contained in this one post.
This brings me to my final point.

I'm coming back to the Block-chain!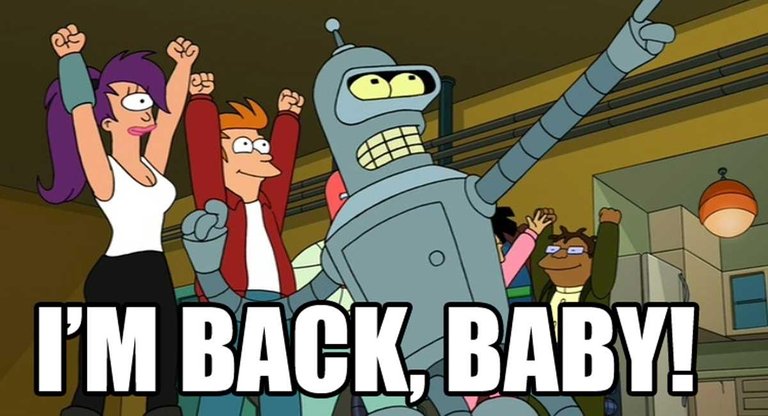 Credit to Futurama
Seeing the growth in Splinterlands led me to discover Hive.blog and the very many front ends that are available. I am so old school. I am amazed at how easy it is to write and format this post on #ecency. Back in the day, it was a real snore-chore to do what is now available at the click of a button and the drag of a mouse!
There are communities to get involved in. This is blockchain social media as Steemit was unable to grant me in the past. This new user-friendly interface also makes it far more likely for me to convert people over to this kind of content and community.
Being rewarded for content and participation, having ownership of your data on a decentralized platform and no Ads are major selling points.
I am planning on getting involved in every aspect and community that interests me:
Splinterlands - Been playing for a while now. Exciting!
Gaming - My kids and I love to play PC, console, and board games.
Philosophy - Post, discuss and share ideas and concepts.
Fiction writing - I have hundreds of thousands of words in fiction that are unpublished. I have been itching to get into writing again. Epic high fantasy and Science Fiction for the win!
Motivation, Journaling, and Exercise - I believe that sharing daily progress is a roadmap to success. I will be looking for like-minded people who seek to become active on the platform who want to improve their health, wealth, and wellness.
Cryptocurrency - There is just so much going on in this platform regarding crypto that I will have to add my perspective and findings as I explore more of what has been happening in the last 3 years.
Perhaps there will be other things in the future but I think that there is an endless supply of potential to this blockchain. Hive is my new home and I cannot wait to take part in existing communities as well as building new ones with people that I haul on over from elsewhere!
Have a blessed Sunday and upcoming week!
See you soon with posts and content!
Regards
Zak Ludick

---
---