BHBD-BHIVE is offering as high as 54% APR.
Hello lovely people of Hive community. Hopefully you will be enjoying your life with good health and spirit. Friends, after more than 2.4% yesterday, crypto market observed some stability as market observed 0.27% gain in last 24 hours. Good going after tomorrow dip. Despite, today stability there is a huge possibility that market will dip again after the Fed report which is about to roll out in couple of hours.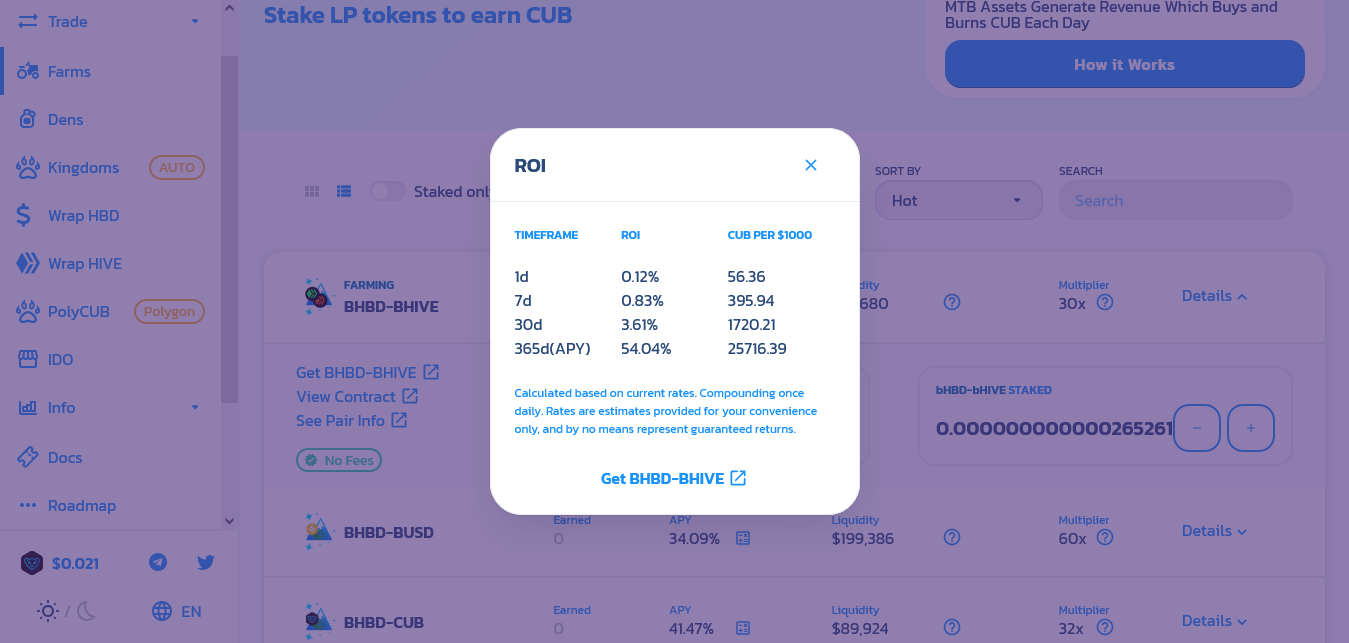 Tough time for financial and crypto market as a result market is moving no where. High inflation, increasing interest rate will definitely increase the struggle of crypto market. Time to show patience and hold your asset on a platform which is offering good reward on your investment.
I am amazed to see Cubdefi farming pair BHBD-BHIVE is offering 54.04% APR on providing liquidity. Attractive number considering the dip in market. Good opportunity for further investment.
I made investment on this pair couple of days ago. Right now, I have 6% loss on my initial investment but I am still holding my asset as it provides an opportunity to earn more Cub. We are lucky that low price of Cub provides an opportunity to earn handsome Cub.
Cub has started buying back and burning mechansim. Almost 200K cub was burned last month and it is expected to burn 300K Cub this month. This move will help to strengthen Cub worth.
Remember Cub is almost more than 99.5% down from its all time high worth of $4.73. This made a golden opportunity to grab as many Cub at cheap rate who knows the price will exponentially increase. Your today investment may earn big for you. What is your opinion my friends?
This is it for my today post. Wish you all a very happy, healthy and prosperous life ahead. Have a nice time.
Posted Using LeoFinance Beta
---
---