Leo Threads is an easiest way of increasing engagement
The beauty of leofinance platform is continue introducing new futures and product on Hive ecosystem. Hive badly need some microbloging platform like twitter and leofinance understood the importance of launching microbloging platform in the ecosystem. Leofinance launched microblogging platform in the form of Leo threads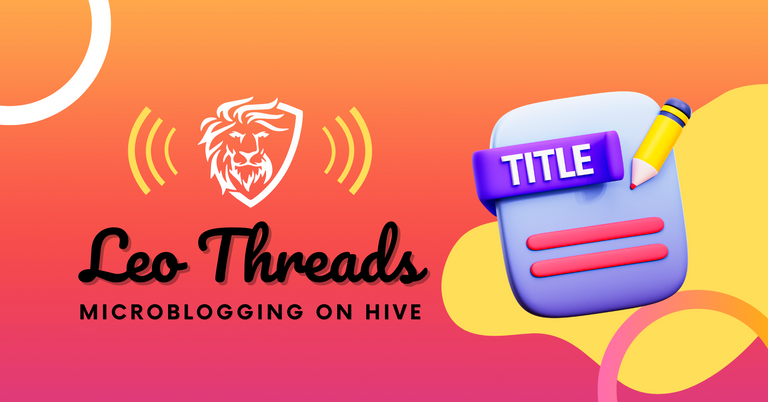 One of the most important thing in Hive platform is to increase your engagement. with fellow users. Leo Threads is an easiest, efficient and effective way of increase your engagement. You don't need lot of time and effort to complete the thread. It is short and smart. It is not only good for your engagement but it also may help to promote your content.
It is the substitute of giant microbloging platform Twitter. Even it is better than twitter as it not only provide you source of learning, entertainment but also create an earning opportunity for you, which is currently absent in Twitter.
The team behind leofinance understands the importance of introducing new features on its product. Leo threads have now is funished with Emoji and Edit feauters. Leofinance team also has decided to introduce another amazing product in the form of LeoTok. App is just like a tiktok where you can view a small video of 15 seconds to 60 seconds.
Tiktok has already gained massive popularity due to sweet, smart and entertaining content. Tiktok already has billion of active user. This reveals the potential of smart and short video around the globe. Hopefully leofinance team will update about leoTok soon. Eagerly waiting for the Leotok on Hive blockchain.
Leotok will not only help to strengthen Leofinance community, but also helps to build Hive Blockchain and entire crypto world. People will love to use smart content sharing video platform. It has tendency to increase the traffic on Hive blockchain exponentially, which eventually grow the Hive blockchain. Are you waiting for the LeoTok?
This is it for my today post. Wish you all a very happy, healthy and prosperous life ahead. Have a nice time.
---
---