Why Leo Threads is effective for the new beginners and all user
The most difficult step for starting new job is to take first step. First step atleast start your journey. Every big journey starts with single step no matter how long is your journey. You have to start from scratch and transform yourself to achieve something.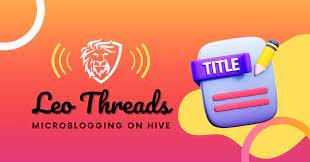 source
We are lucky that we have started Hive and Leofinance journey. I frequently see people join Hive community and after writing one or two posts. They quit the community due to lack of response and no upvotes. As far as votes are concerned it is not in our hand. One thing which is in our hand is to increase interaction and engagement with fellow users.
New comers needs to do lot of hard work in order to become successful on this platform. We are lucky that Leofinance has introduced a new platform in the form of LeoThreads which may help for beginner to increase their engagement.
The best thing about Leo Thread is that it is short and smart. Each Thread has a limitation of using 240 character including #hastags. It is easy for beginners to start Leo Thread as you don't need to write long posts on LeoThreads. It is quick to share a thread. You don't need lot of time and effort to initiate a Thread. Using LeoThreads on regular basis will help to increase your engagement and interaction with fellow users which encourage you to write more content. It may give you recognization which may be effective for user when sharing content on Hive finance and leofinance. It has same benefits for the old horses. It give you good option to promote your posts or every any other business through Leo Threads. It provides a platform to show your message across the globe in few words.
Another advantages of using Leo Thread is that it creates an opportunity to earn reward in the form of crypto. Using Leo Thread is easy as Twitter.
Leo Thread is a good way of increasing your interaction. Although Leo Threads size is much small than microblogging platform giant Twitter but it is far better than using Twitter. The way the crypto is getting more popular we will observe more user on Leo Threads. The beauty of Leo Threads is its working on decentralized platform. Being decentralized there is no single governing authority and it offers transpareny which give you liberty to express yourself truly. You don't need to monitize your content. All you need to do is effective smart Thread to gain attraction from people. What is your opinion my friends?
This is it for my today post. Wish you all a very happy, healthy and prosperous life ahead. Have a nice time.
---
---