10:10 TOP 10 MOST FREQUENTLY USED LEGENDARY SUMMONER BEFORE CHAOS LEGION
Hi there my SPLINTERLANDS fam! As we are nearing the release of the new cards from the Chaos Legion, let's dive in with the top 10 most frequently used legendary summoners on the battlefield before Chaos Legion reigns.

TOP 10 MOST FREQUENTLY USED LEGENDARY SUMMONERS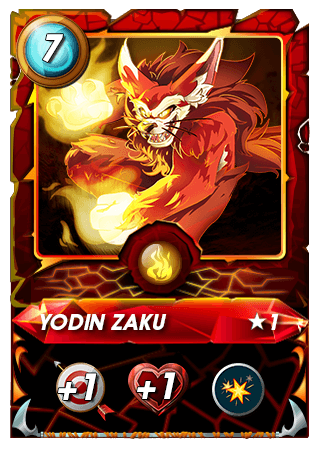 YODIN ZAKU
LORE
Yodin Zaku was a War Demon of the times before the Splintering so long ago. He was a hybrid child born of two warring races, the Efreet and the Bulludae, the Demons of War. But he never perished. His being was imprisoned in an ancient artifact that preserved his life, and now, nearly a thousand years after the Splintering, Yodin has opened his eyes and risen from his bondage.
STAT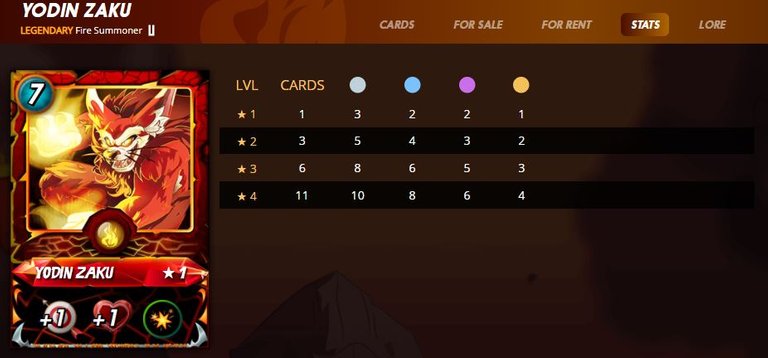 ABILITIES
+1 Ranged Attacks
+1 Health
Blast Ability
OTHERS
Element: Fire
Mana Cost: 7
Popularity: 10/10
WHY DO YOU LIKE IT? OR WHY NOT?
I love YODIN ZAKU, who cannot love this powerful summoner that provides a ton of abilities that are very difficult to battle with if you combo it with a nice tank and a number of the ranged attackers from behind. One of the most rented summoners in the market as the win rate using this is really impressive.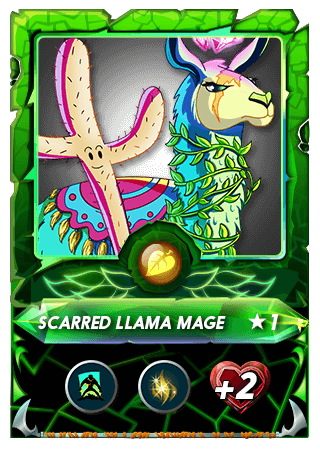 SCARRED LLAMA MAGE
LORE
The appearance of Crystal Werewolves around Shimmer City has caused problems far greater than the disappearance of livestock. The wisest say that deep crystal mining has prodded and awakened ancient magics by which even the Ancient Ones are mystified.
The greatest loss from the wolves' rampages has undoubtedly been the Llama Elect. They were once a proud and plentiful people that grazed the open grasslands of Khymeria. The Elect were incredibly skilled in Rainbow Magic, and sadly, many of their secrets and spells perished with the Llamas.
STAT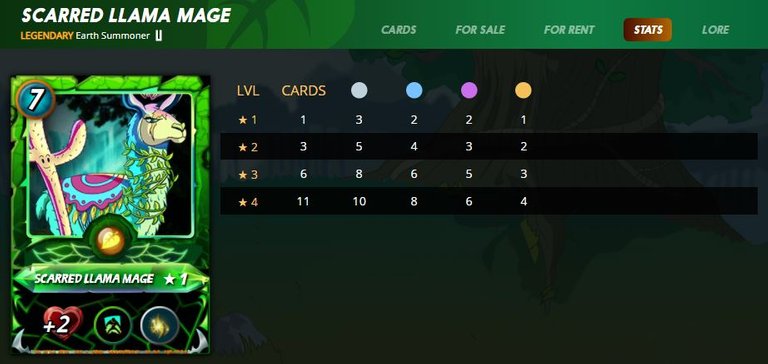 ABILITIES
+2 Health
Last Stand Ability
Cleanse All Debuffs
OTHERS
Element: Earth
Mana Cost: 7
Popularity: 10/10
WHY DO YOU LIKE IT? OR WHY NOT?
I like this summoner, especially when combined with KRON, one of the popular summoners indeed as the last stand abilities provide a big boost at the end of the battle.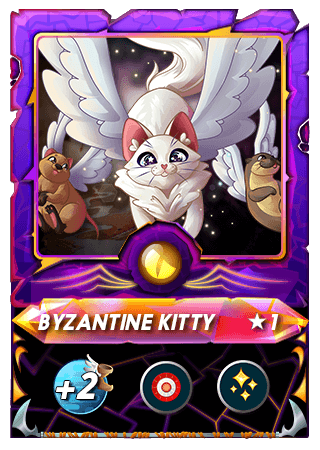 BYZANTINE KITTY
LORE
Be not distracted by cuteness and fluff,
Byzantine Kitty is cuddly but tough,
If you dare to think kitty is merely a pet,
You haven't faced kitty in battle just yet.
STAT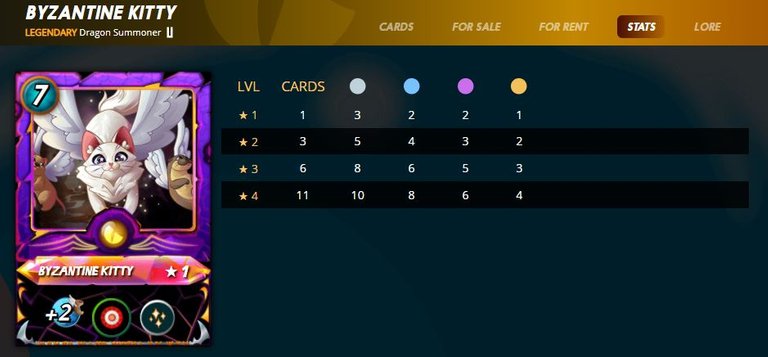 ABILITIES
+2 Speed
True Strike Ability
First Position Heal
OTHERS
Element: Dragon
Mana Cost: 7
Popularity: 10/10
WHY DO YOU LIKE IT? OR WHY NOT?
A powerful kitty, gives all friendly monsters additional speed, first position heal, and true strike. Everyone loves this summoner to be on their side when they battle enemies on the battlefield.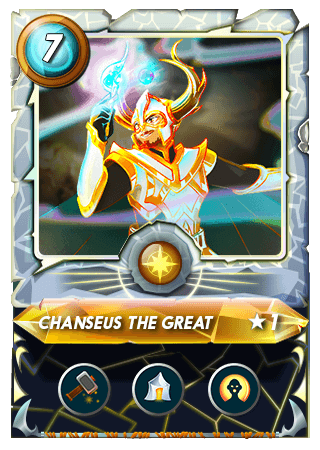 CHANSEUS THE GREAT
LORE
Somewhere in the distant sky, perhaps just out of an eagle's sight, floats the mighty land mass known as Solaki. Solaki and its counterpart, Lunaki, have for nearly a thousand years escaped the awareness of the Splintral people, but soon the veil will be lifted. Among the most noble of the Solakari, the Sons of the Sun, is a distinctive Angel/Human hybrid known as Chanseus.
STAT
ABILITIES
Restore Armor (most damage)
Heal Back-line
Resurrect Ability
OTHERS
Element: Life
Mana Cost: 7
Popularity: 10/10
WHY DO YOU LIKE IT? OR WHY NOT?
Another great summoner that gives unique abilities in fighting the enemies. A great fit for any monster that has armor that will be restored partially when damage. With that, I definitely love this summoner.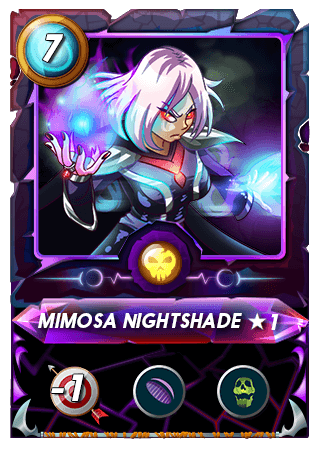 MIMOSA NIGHTSHADE
LORE
Years ago, Mimosa was a poor shivering child, all alone in the alleys of Beluroc. She was five years old. She remembered her name, but little else. Mimosa's parents had been vaporized before her eyes in a great battle of Witches, and she was now abandoned, an unwanted child left to fend for herself on the cold streets of a dark world.
STAT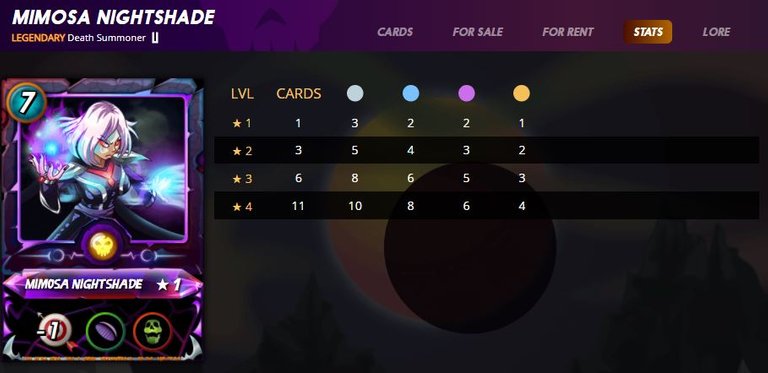 ABILITIES
-1 Ranged Attack (Enemy)
Void Ability
Affliction Effect
OTHERS
Element: Death
Mana Cost: 7
Popularity: 8/10
WHY DO YOU LIKE IT? OR WHY NOT?
A great defensive summoner, that offers void and affliction effect abilities to minimize the opponent's powers. As I'm not a defensive type of player on the battlefield I seldom use and utilize this summoner.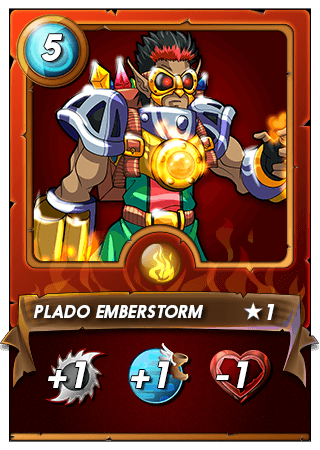 PLADO EMBERSTORM
LORE
For a Splinter packed full of grunting savages and wandering primitives, the Burning Lands produces a surprising number of geniuses. One such genius is Plado Emberstorm, the powerful Efreet summoner who has graduated from every school in the Burning Lands. Years ago, his privileged childhood was brought to a crashing halt when his parents were murdered in front of him over nothing more than a Heliostone. Young Plado became obsessed with invention, as though he had a plan to create a machine that would bring his parents back to him. His heart, in spite of being forever broken, is kind, true and generous. All of Plado's inventions are put to use for the good of the people. The Torch looks with scorn on Emberstorm's benevolence, but they never interfere with the work of their most prized summoner.
STAT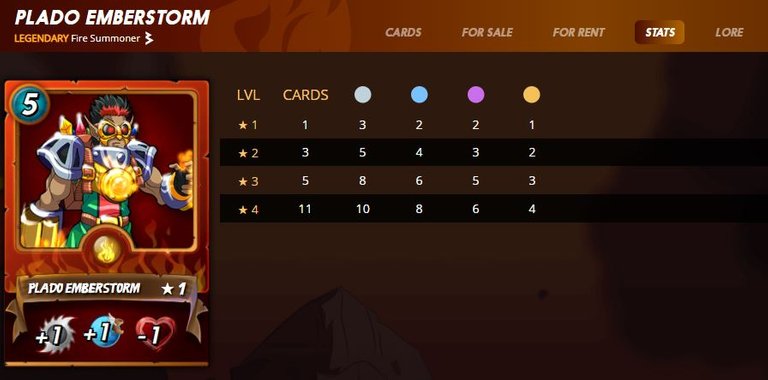 ABILITIES
+1 Melee Attack
+1 Speed
-1 Health (Enemy)
OTHERS
Element: Fire
Mana Cost: 5
Popularity: 7/10
WHY DO YOU LIKE IT? OR WHY NOT?
As I rarely rented this card and see my opponent use it in the game may be in the lower league that I'm playing, I will say 50/50 that I like this summoner as it will be useful when Yodin Zaku is not available and provide a little mana cost of 5 compare to 7. One of the oldest legendary summoners around as it was released in Beta.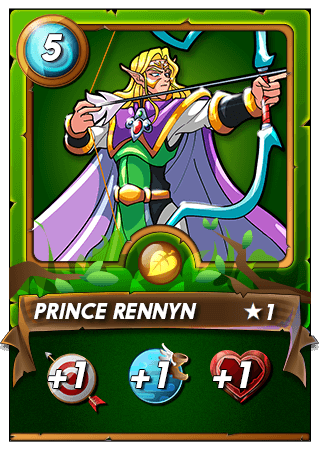 PRINCE RENNYN
LORE
There was no Prince in Lyveria. Old King Wilhelm lived childless for all his days, but in the twilight of his life, he wished he had a son on whom to impart (what was left of) his wisdom. The sudden arrival of a boisterous and handsome pointy-eared nobleman from faraway lands seemed to provide exactly what the Old King sought. The people of Lyveria watched with confusion as Prince Rennyn was suddenly taken in by their beloved King. The Prince is also a highly skilled and powerful summoner, a fact which has also riled the suspicions of the Lyverian people. Old King Wilhelm thinks it is merely an epidemic of jealousy.
STAT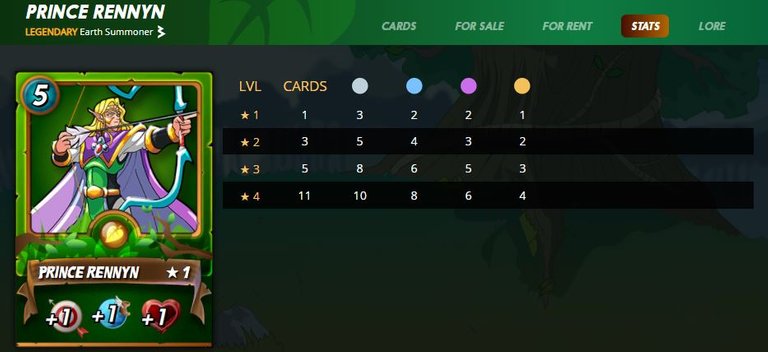 ABILITIES
+1 Range Attack
+1 Speed
+1 Health
OTHERS
Element: Earth
Mana Cost: 5
Popularity: 7/10
WHY DO YOU LIKE IT? OR WHY NOT?
Same as Plado, this summoner is another option for the earth team element when Llama is not available to use. Gives a little mana cost at 5 and provides offensive stats to the team. I seldom rent it as well so 50/50 for this one.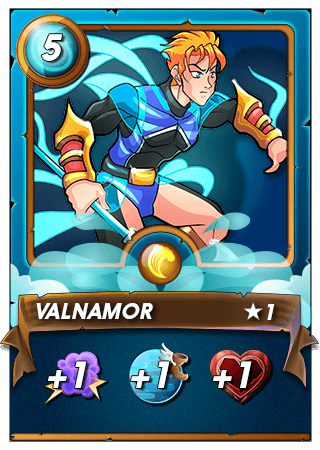 VALNAMOR
LORE
The cocky Uman summoner from the Water Splinter is known throughout the Splinterlands for his quickness. Above or under water, Valnamor is always the fastest one around. The Stories say that he was born into the ocean, literally. He came out of his mama and plopped straight into the water. Against all odds, Valnamor not only survived infancy, but eventually grew up, named himself, and became a formidable summoner. He can also hold his breath for 43 minutes, last time he checked.
STAT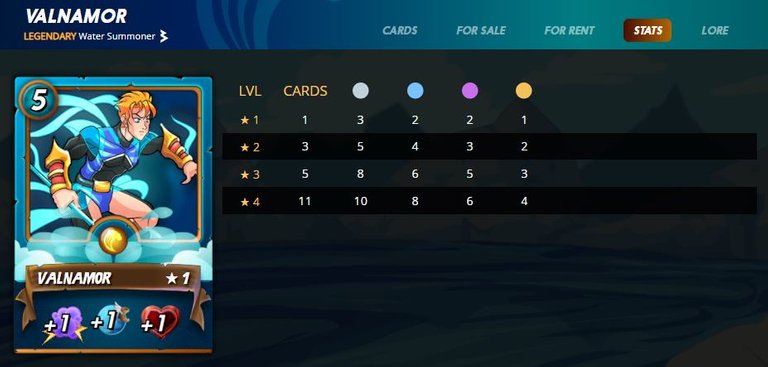 ABILITIES
+1 Magic Attack
+1 Speed
+1 Health
OTHERS
Element: Water
Mana Cost: 5
Popularity: 8/10
WHY DO YOU LIKE IT? OR WHY NOT?
A good summoner in the Water Element team as it gives an offensive boost for the magic attack, speed, and health. I like to use this card in playing tournaments than in ranked games.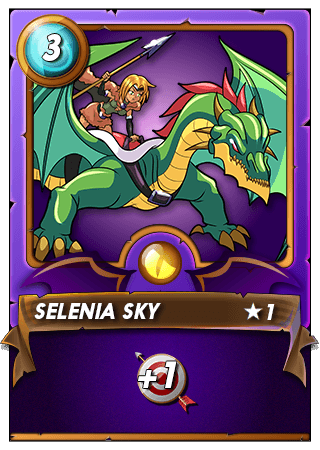 SELENIA SKY
LORE
Selenia Sky is a famed Dragon summoner from Draykh-Nahka. Though she has no scales, the purest of the Fire Blood pumps through Selenia's veins. Most of the flying Dragons allow her to ride them even though she is not an approved Gloridax Dragon Rider. Selenia has won more Mount Mox victories than any other summoner in the Splinterlands, and she knows she is the best.
STAT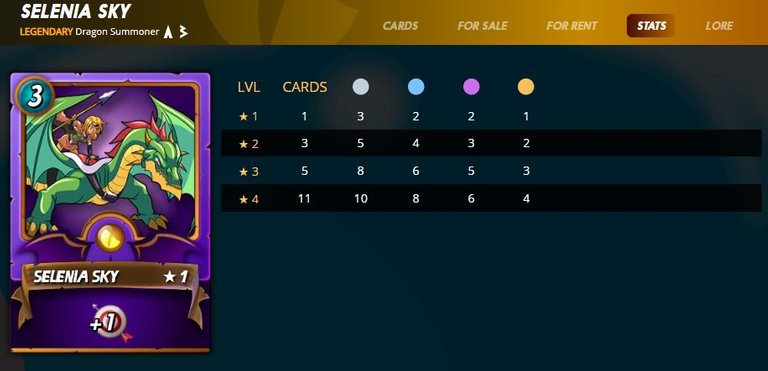 ABILITIES
+1 Range Attack
OTHERS
Element: Dragon
Mana Cost: 3
Popularity: 9/10
WHY DO YOU LIKE IT? OR WHY NOT?
I like this summoner as it's a very flexible one for being a dragon element and provides only 3 mana costs on the battlefield. Great fit for a low mana cap battle and boost all the friendly range attackers.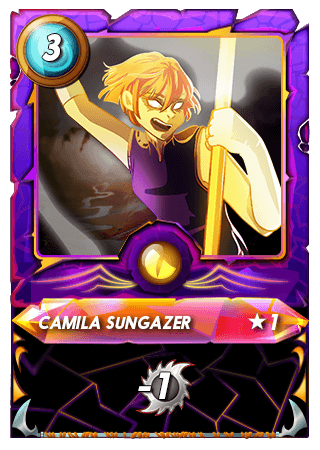 CAMILA SUNGAZER
LORE
It is said that Camila Sungazer received her summoning abilities from visions wrought by staring day after day at the noon sun for her entire life. She is, of course, completely blind from staring at the sun, but her magic is most impressive.
STAT
ABILITIES
-1 Melee Attack (enemy)
OTHERS
Element: Dragon
Mana Cost: 3
Popularity: 8/10
WHY DO YOU LIKE IT? OR WHY NOT?
If you are looking for a defensive summoner that offers a low mana cost for Dragon Element, this one might best fit your team. 50/50 for this one too as I rented it like twice only in the span of 4 months of playing.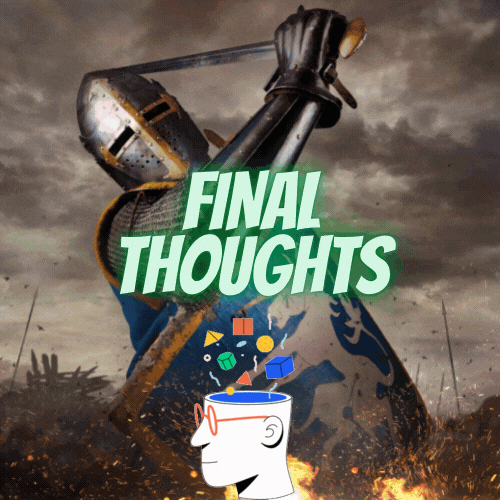 FINAL THOUGHTS
These are all based on what I see while playing SPLINTERLANDS in mostly Bronze to Gold league. Note that I might not include some legendary summoners above because I was not able to use it or play against it to the fact of my league ranking and maybe the cost of the card for me to rented it out.
I would love to hear your top 10 summoners as well and share the experiences you have enjoyed playing them. With the incoming summoners from the Chaos Legion, I posted this blog for me to remember and honor them. I will rank them again in the future with the mix of a new bunch of summoners.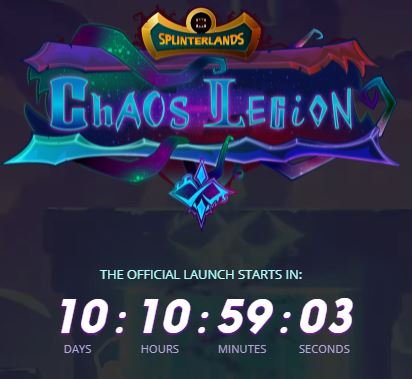 10 more days and 10 more hours to go! What more we can ask for?

If you are now ready to experience this, feel free to sign up now HERE to join this wonderful game and community at SPLINTERLANDS.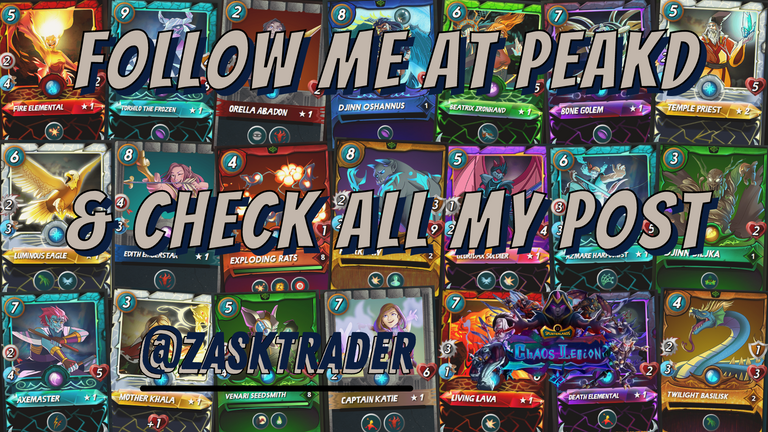 ---
---