8:8 8 BEST CASTING SUPPORT EPIC MONSTER FROM UNTAMED EDITION BEFORE CHAOS LEGION
Hi there my SPLINTERLANDS fam! 8 more days! Almost 1 week more and 1 day before we can finally taste and own a new card from the Chaos Legion.
With that, I have listed the 8 best support monsters from untamed edition below based on my own opinion and how often I see them on the battlefield.

8 BEST CASTING SUPPORT EPIC MONSTER UNTAMED EDITION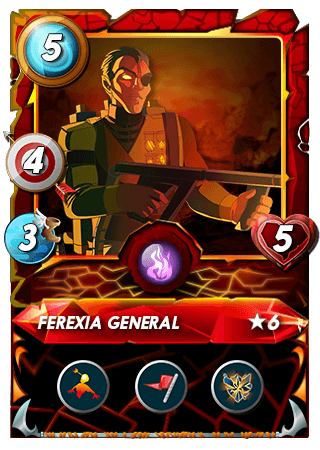 FEREXIA GENERAL
LORE
The united Ferexia of the Burning Lands have the most powerful military in the Splinterlands. Generals, as the highest ranking officer, are privy to nearly all the secrets and strategies of the Torch. The standards of the Ferexia army are so high that in its whole history, no one has ever achieved the highest rank of Admiral.
STAT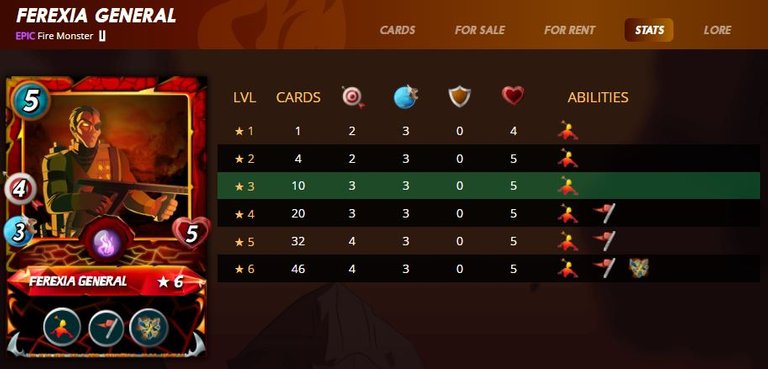 MAX LEVEL ABILITIES
Snipe
Inspire
Shatter
OTHERS
Element: Fire
Mana Cost: 5
Popularity: 9/10
WHAT CAN YOU SAY?
This Epic Monster has a powerful offensive power especially when maxed out. Best combined with Yodin Zaku summoner and with the snipe ability no one can barely beat them.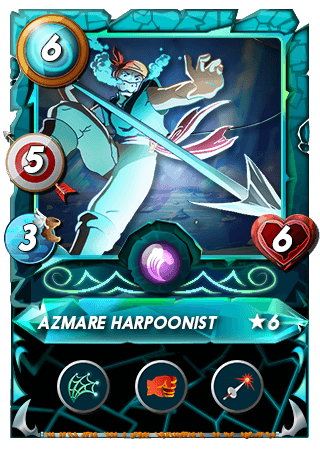 AZMARE HARPOONIST
LORE
A true Harpoonist is one with his harpoon. He never misses, he never lets go of a catch, and he will descend into the coldest, darkest depths to retrieve it. It is presumed that all Harpoonists are highly skilled at harpooning, so the quality of a Harpoonist is mostly determined by the size and complexity of his Harpoon. Harpooning is a rather shallow profession.
STAT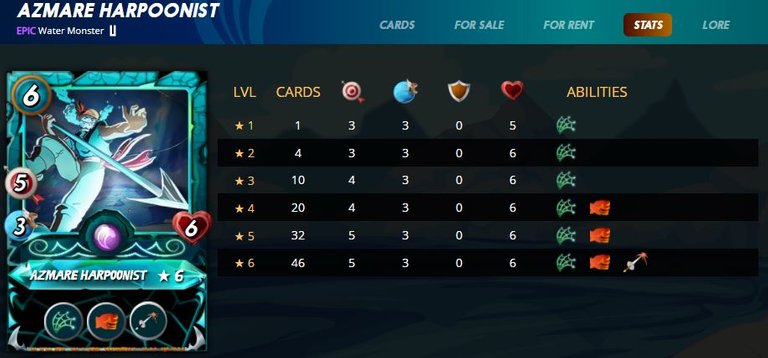 MAX LEVEL ABILITIES
Snare
Knock Out
Piercing
OTHERS
Element: Water
Mana Cost: 6
Popularity: 9/10
WHAT CAN YOU SAY
Another high damaged range attacker from the Water Element team that will surely cause a big problem on the battlefield. With a balance speed and health, this one is surely a headache.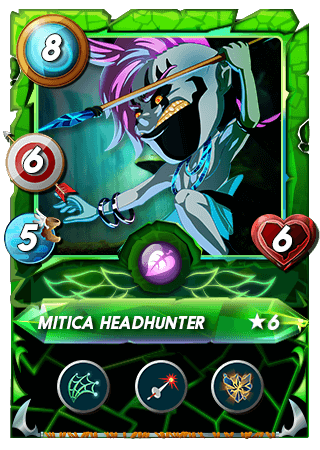 MITICA HEADHUNTER
LORE
These savage hunters are from one of the two original villages of Anumün and are named for their unusually large heads, which are the first thing their prey sees, but at that point they're as good as dinner.
STAT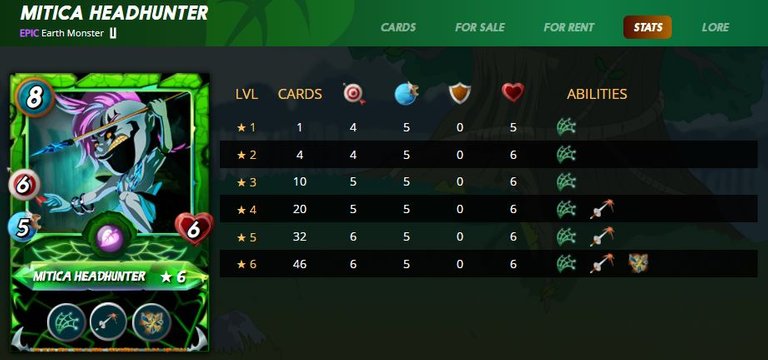 MAX LEVEL ABILITIES
Snare
Piercing
Shatter
OTHERS
Element: EARTH
Mana Cost: 8
Popularity: 8/10
WHAT CAN YOU SAY
A powerful epic earth monster, with ranged damage of 6 and speed of 5 when maxed out.

BEATRIX IRONHAND
LORE
Known for standing her ground despite any odds, this royal daughter detests being called a princess but takes her position very seriously. Beatrix leads the Maglarian defense forces when needed and spends most of her days training in the ancient boomerang arts of her people. Originally, boomerangs were used to catch unruly mountain goats and other small hillside creatures, but they were elevated to the status of epic weaponry when the Goblins attempted their historic invasion of Maglar, some 200 years ago.
STAT
MAX LEVEL ABILITIES
Close Range
Thorns
Cripple
OTHERS
Element: Earth
Mana Cost: 6
Popularity: 9/10
WHAT CAN YOU SAY?
With the 3 powerful abilities at maxed out level, this epic monster will face anyone on the battlefield without any fears.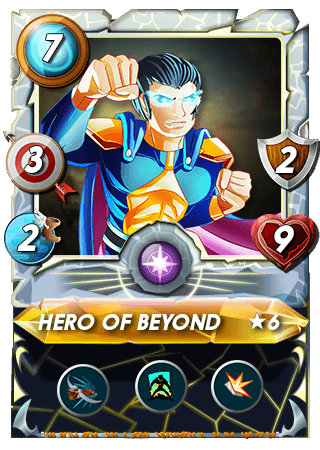 HERO OF BEYOND
LORE
The Splinterlands are fairly accustomed to unforeseen arrivals of new guests, especially in light of the recent mass migrations from the other side of the world, where a tremendous and terrible nameless conflict expands ever nearer to the Splinters. Still, some newcomers make greater impressions than others. One such newcomer is a handsome caped visitor that quickly became known as the Hero of Beyond. When he descended into the Life Splinter, the Khymians who witnessed his coming were incredibly afraid, and with good reason.
STAT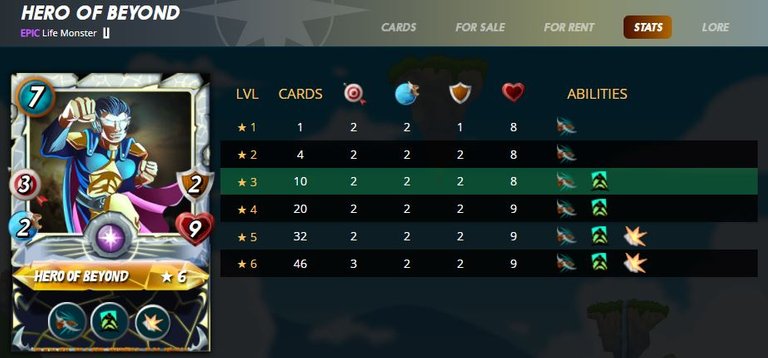 MAX LEVEL ABILITIES
Close Range
Last Stand
Shield
OTHERS
Element: Life
Mana Cost: 7
Popularity: 9/10
WHAT CAN YOU SAY?
An epic monster with the "last stand" ability when maxed out will surely be a great force to reckon with Life Element team.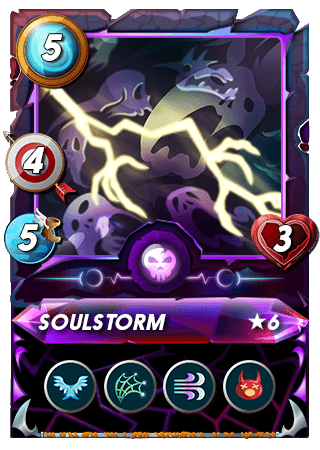 SOULSTORM
LORE
Soul Harvesting is forbidden by the Dark Eternals, but some still practice these evil ways. Often, a Soul Harvest goes wrong, leaving the victim's soul forever doomed to wander the Splinterlands with no body. These wandering souls gravitate toward one another, forming sinister clouds. These clouds are known as Soulstorms, and if you see one coming, run.
STAT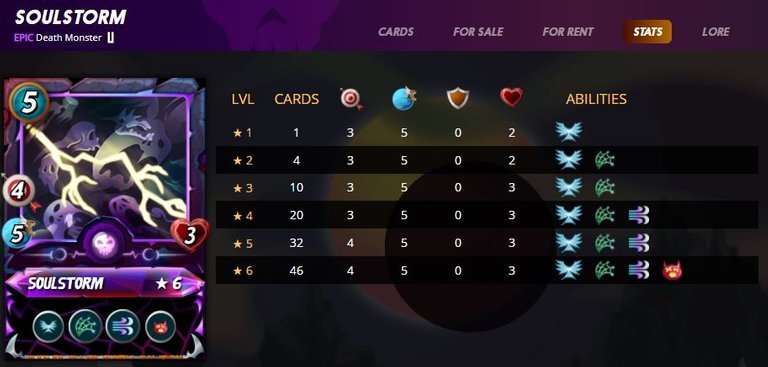 MAX LEVEL ABILITIES
Wing
Snare
Headwinds
Stun
OTHERS
Element: Death
Mana Cost: 5
Popularity: 9/10
WHAT CAN YOU SAY?
With 4 abilities when maxed out this epic monster is surely a big problem on the battlefield.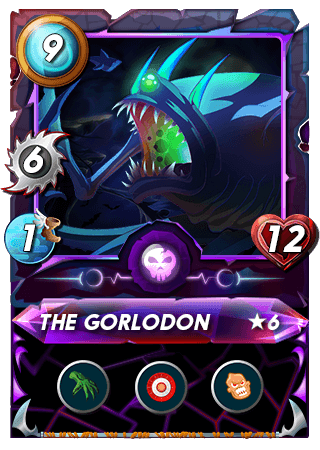 THE GORLODON
LORE
Among the deep water horrors of the Splinterlands, there is one so frightening that even the bravest pirates dare not mention its name for fear of being cursed. This creature appears to have been loosed upon the Splinterlands from the most treacherous waters of Praetoria at the same time as the Wizard's Veil was lifted, as if it was held prisoner by the Council's magic then suddenly released in an unforeseen consequence.
Fortunately, the Gorlodon is so large that it cannot approach land masses in close proximity. Unfortunately the giant is highly prone to fits of rage, which it unleashes against any ships that come near its waters by ripping them to splinters. The Gorlodon has not wandered south, as it is presumed that it could never squeeze through the waters of the Burning Strait which separates the Burning Lands from Mortis. It has found a comfortable home in the Splinter Sea south of Praetoria, sometimes crossing west into the Primordic waters where it can torment the larger sea monsters that roam there.
STAT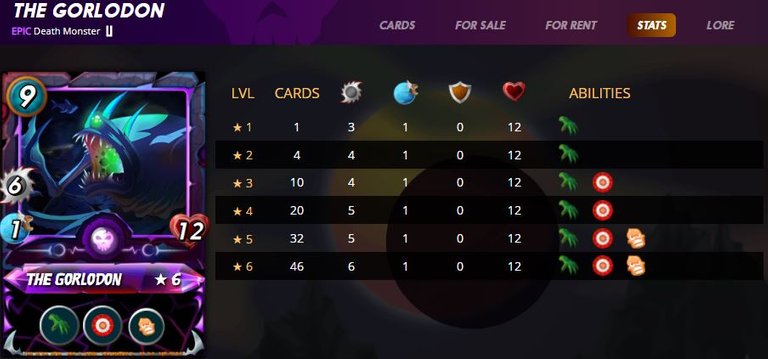 MAX LEVEL ABILITIES
Reach
True Strike
Enrage
OTHERS
Element: Death
Mana Cost: 9
Popularity: 10/10
WHAT CAN YOU SAY?
A very nice Epic Monster especially in 2nd position with a melee attack of 6 and health of 12, this will definitely be a great monster to have in the Death Element team.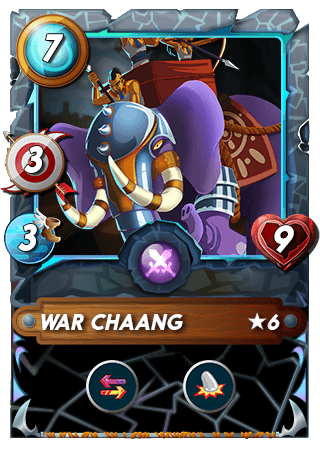 WAR CHAANG
LORE
WAR CHAANG
They say that in the great battles on the other side of the world, Hellaphants were trained and outfitted as massive monstrosities of war. It was not generally believed that Hellaphants could be controlled until the Ferexia Torch began its Chaang Project. Hellaphants were abducted en masse from the Wastelands of the Unknown and taken to the training grounds near Mittreya's Hand. There, the Hellaphants were forged into soldiers to carry soldiers. They were molded into a new type of war machine, called Chaang.
STAT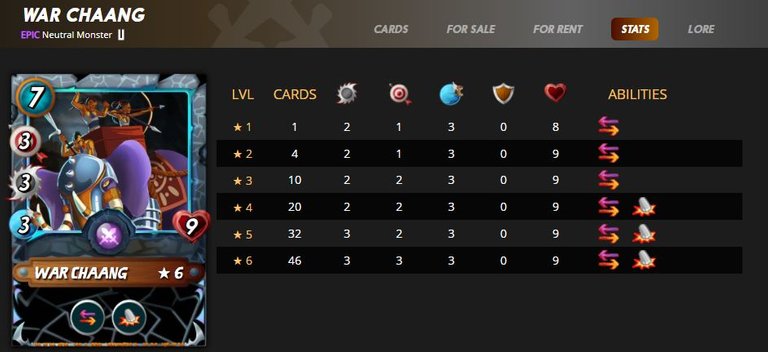 MAX LEVEL ABILITIES
Retaliate
Trample
OTHERS
Element: Neutral
Mana Cost: 7
Popularity: 10/10
WHAT CAN YOU SAY?
A great epic monster that can fit on any element team with a range and melee attack combo, plus 2 powerful abilities when maxed out. No one can resist having this monster on their side.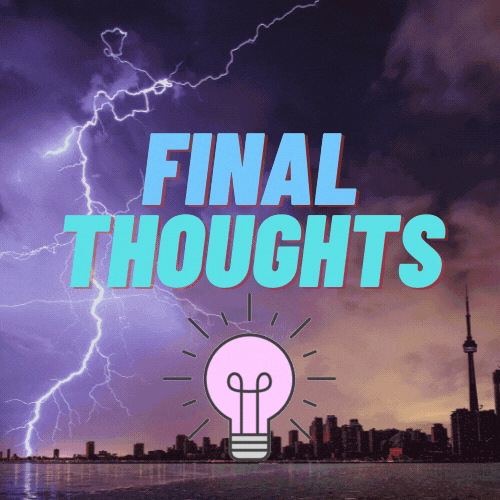 FINAL THOUGHTS
Again all are based on my point of view and I will be happy to hear what you can share on this blog. We are really excited what are the new EPIC cards coming soon from Chaos Legion. We can no longer wait for sure!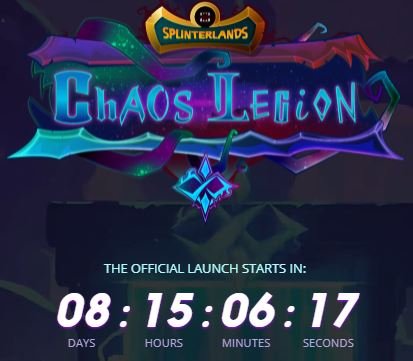 8 more days and 8 epic monsters for you before chaos legion!

If you are now ready to experience this, feel free to sign up now HERE to join this wonderful game and community at SPLINTERLANDS.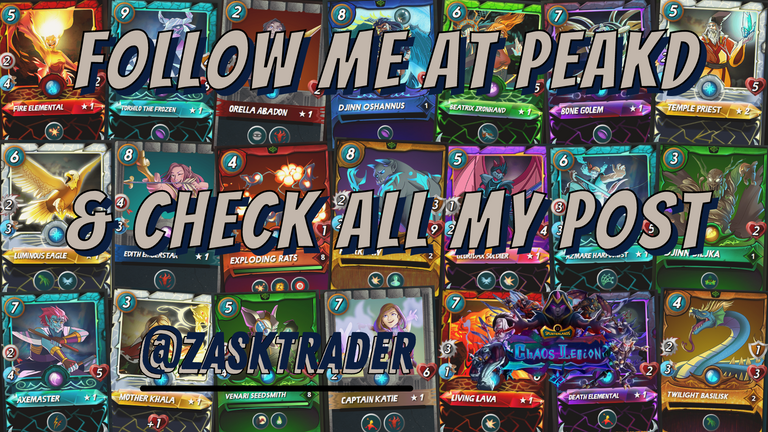 ---
---