Bodyguard(2018)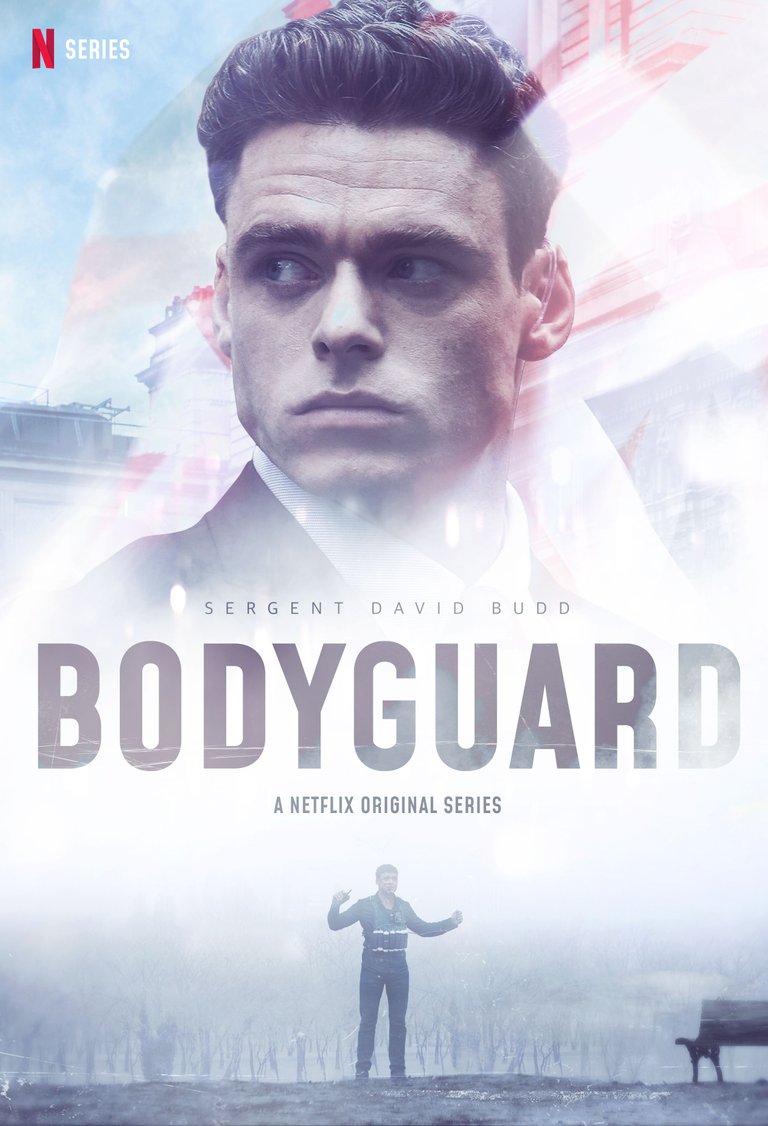 Source
---
After 2.5 years of its release, one of the highly praised yet not enough talked about TV shows among the masses is what Bodyguard turned out to be . For me personally, Bodyguard ranks among the moderately good shows I have watched in the past few years. Because I am naturally biased towards long-duration movies and 'bite size' TV shows. Only because I like a continual undisturbed flow in storytelling and not so much filler. That is my only ask, and if that is fulfilled, I can binge through anything. As a six-episode series, Bodyguard managed to perfectly fulfill most of my not-so-demanding criteria.
The first episode opens with Richard Madden, AKA Robb Stark, commuting in the London metros and his kids when he is put in a precarious position. The twist and turn this early startled me more than David Budd himself, the character Richard Madden is playing. All of a sudden, he finds himself standing between life, death, and a suicide bomber. As a police officer and an Afghanistan vet, while sweating like its summer and he is breaking ice in Belize, he successfully defuses the situation and convinces the bomber not to blow up the whole train along with his kids.
If you are a political drama/thriller lover, the first 15 minutes will get you hooked. To date, this might be one of the most thrilling and gripping openings I have seen on television. Which is very much indicative of what's to come throughout the rest of the episodes. Even though the show presented itself quite cleanly and strong performances from a complex cast deliver what the show creators intended, it falters on quite a few points. The whole show weaves this meticulously complex spider web of conspiracy that you slowly start to grasp bit by bit, to me, which by the end felt it was unnecessarily complicated. If the screenplay was intended in this retrospect, then, in my opinion, more focus on character development would have helped out with viewers getting lost in the plot while failing to keep track of who's who. To put it more plainly, the show creators introduce too many characters, which was unnecessary. One can argue that this cannot be avoided in a conspiracy, espionage, and political drama; to them, I say, they lack imagination.
For David Budd, foiling the train bombing turns into a stepping stone in his career as almost immediately he is promoted and assigned as a PPO, Bodyguard in layman's terms, to the home secretary. Very soon, a few short conversations with the secretary make it clear that his and her views don't mix up too well. There he is, an Afghan vet suffering from PTSD, which has resulted in his marriage be torn apart, and he blames the war for his miseries on politicians like hers, while on the other hand, the secretary is an ambitious politician whose focal point is more power to the government, more power to the army. Very soon, we get to see his agility and field experiences get tested out when a shootout with an unknown sniper breaks out, and he quite tactically saves the life of the secretary. And later on, they get sexually involved, an eon old cliche no less.
The most alluring parts of the show, in my opinion, are the thrilling, nail-biting, action-packed scenes where Sergent Budd has to either diffuse a bomb, a situation, or has to save someone. The adrenaline rush alone, though it might feel cheap, is what is expected from such a show. And on top of that, no matter how much I disagree that the web of conspiracy was made unnecessarily complex, for a TV show, how they managed to present it was pretty dang cool. But as I said, I'm biased towards such shows, and when it's brits producing shows like peaky blinders or Sherlock, I am even more partisan. So don't take my words for what they are worth; watch the clip, a link to which I'm dropping below(A bit graphic, so watch at your own discretion), and decide on your own. Happy watching:)
---
---