Trust Investing, August 2021 | Agosto 2021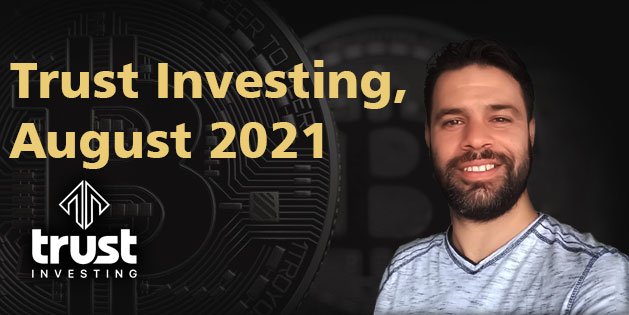 Another month that passes and another month that Trust Investing continues to meet its members with good returns and incredible results. In addition, Trustercoin (TSC), the TOKEN of the company had a spectacular result, increasing its initial value by more than 20,000%.


If you don't know what Trust Investing is, I have written several posts talking about it. What is it? How does it work? As well as all the profits that can be obtained from it. They can review all the information from these:
TRUST INVESTING, a solid investment
TRUST INVESTING, business plan
TRUST INVESTING, compensation plan
TRUST INVESTING, compound interest
TRUST INVESTING, withdrawals



Daily earnings for the month August
The values are given in percent. Said percentage of the value invested by plans is earned each day. The percentage is applied to each plan separately.

Otro mes que pasa y otro mes que Trust Investing sigue cumpliendo con sus miembros con buenas ganancias y resultados increíbles. Además, Trustercoin (TSC), el TOKEN de la empresa tuvo un resultado espectacular, aumentando su valor inicial en más de 20000%.

Si no sabes lo que es Trust Investing, he escrito varias publicaciones hablando sobre el tema. ¿Qué es? ¿Cómo funciona? Así como todas las ganancias que se pueden obtener de él. Pueden revisar toda la información desde estas:
TRUST INVESTING, una inversión sólida
TRUST INVESTING, plan de negocios
TRUST INVESTING, plan de compensación




Ganancias diarias del mes Agosto
Los valores están dados en porcientos. Cada día se gana dicho porciento del valor invertido por planes. A cada plan se aplica el porciento por separado.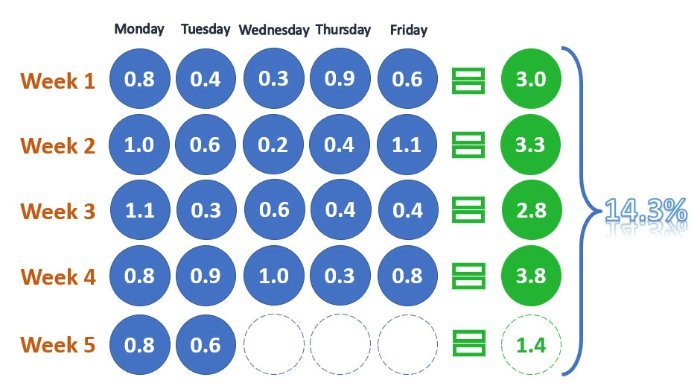 These values mean that in the month of July each member had profits of 14.3% of the total invested they have in the system. In other words, each plan they have purchased reports 14.3% of earnings for the month.
Estos valores significan que en el mes de julio cada miembro tuvo ganancias por valor del 14.3% del total invertido que tienen en el sistema. O sea, cada plan que tengan comprado reporta 14.3% de ganancias en el mes.
Summary for months since the company went public
Resumen por meses desde que la empresa se hizo pública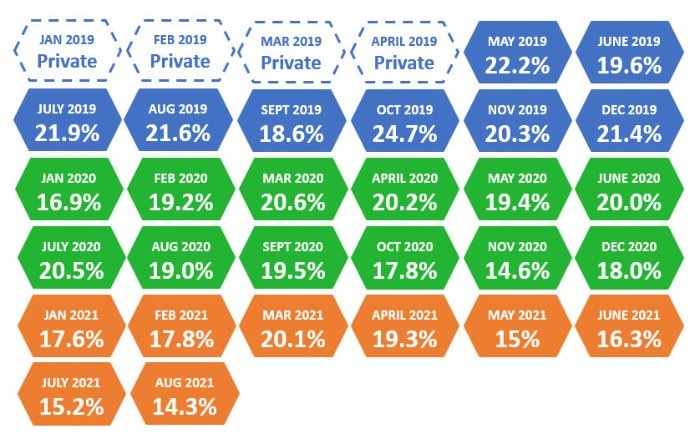 My earnings in the month of August
This month of August has been a quiet month for me without much activity in the system. I have not purchased any more packages, nor have I made withdrawals. However, this inactivity is due to the fact that both the daily earnings and those of the referral plan have been reserved to make the purchase of a great package. At least great for my context. I must buy it on the 1st or 2nd of September at the latest. With which I will significantly increase my total amount in the system and therefore the earnings for the next month.
Compound Interest is a super power !!!
Depending on the strategy I have, I must continue to reinvest for 3 or 4 more months. Increasing and increasing the monthly earnings, then make another big withdrawal. The general plan is to withdraw all earnings from December or January. By that time I must have grown enough so that the withdrawal will be more than double the largest I have done so far. We'll see how it goes.
Mis ganancias en el mes de Agosto
Este mes de agosto ha sido un mes tranquilo para mi sin mucha actividad en el sistema. No he comprado ningún paquete más, ni he hecho retiros. Sin embargo, esta inactividad se debe a que tanto las ganancias diarias como las del plan de referidos las he estado reservando para hacer la compra de un gran paquete. Al menos grande para mi contexto claro. Debo comprarlo el 1ro o el 2do de septiembre como mucho. Con lo cual aumentaré significativamente mi cantidad total en el sistema y por lo tanto las ganancias del próximo mes.
¡¡¡El Interés Compuesto es un super poder!!!
Según la estrategia que llevo, debo seguir reinvirtiendo durante 3 o 4 meses más. Aumentando y aumentando las ganancias mensuales, para luego hacer otro retiro grande. Los planes de manera general son retirar todas las ganancias de diciembre o enero. Ya para ese momento debo haber crecido lo suficiente como para que el retiro sea más del doble del más grande que haya hecho hasta ahora. Veremos cómo va.



Any questions you have can ask in the comments and perhaps I have to add some more information to the article if you deem appropriate, just tell me.
This is just one in a series of articles about the Trust Investing investment system. If you are interested, I invite you to also read the rest of them from my user.
TRUST INVESTING, a solid investment
TRUST INVESTING, business plan
TRUST INVESTING, compensation plan
TRUST INVESTING, compound interest
TRUST INVESTING, withdrawals



Invitation
If you liked the offer and are interested in investing, but you do not know anyone who can invite you, feel free to register as a member of my team and rest assured that I will help and guide you in everything I can so that you are comfortable with your investment.
The link to enter as my affiliate is the following.
https://trustinvesting.com/zeke/unete
You can also contact me through email rtl3014@gmail.com or by Whatsapp or Telegram by +5354065485. Communication can also be in Spanish or English languages


Subscription
If you found this article interesting, you may want to learn more about the subject and read some more, consider subscribing to my user and you will find out when I publish something new, as well as the corresponding community.
Cualquier duda que tengan pueden preguntar en los comentarios y quizás tenga que agregar algo más de información al artículo si ustedes estiman conveniente, solo díganme.
Este es solo uno de una serie de artículos sobre el sistema de inversión Trust Investing. Si está interesado, le invito a que lea también el resto de ellos desde mi usuario.
TRUST INVESTING, una inversión sólida
TRUST INVESTING, plan de negocios
TRUST INVESTING, plan de compensación




Invitación
Si le ha gustado la oferta y está interesado en invertir, pero no conoce a nadie que pueda invitarlo, siéntase libre de registrarse como miembro de mi equipo y tenga seguro que yo lo ayudaré y guiaré en todo lo que pueda para que esté a gusto con su inversión.
El vínculo para entrar como mi afiliado es el siguiente. https://trustinvesting.com/zeke/unete
También pueden comunicarse conmigo a través de rtl3014@gmail.com o por Whatsapp o Telegram por el +5354065485. La comunicación puede ser igualmente en idiomas Español o Inglés


Suscripción
Si le ha parecido interesante este artículo quizás quiera conocer más sobre el tema y leer algunos más, considere suscribirse a mi usuario y se enterará cuando publique algo nuevo, así como a la comunidad correspondiente.
Support in HIVE
So far my journey on HIVE has been great and I have had the support of many users. These are the users who have generously contributed the most to my posts:
Thank you all…
---
---