The Richest Man In Babylon ~ A Book That Transformed My Life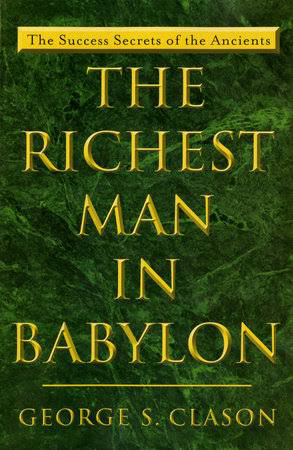 It's yet another privilege to participate in the #ocd contest and the community highlight for this week is #HiveBookClub.
I intentional missed the Anime Realm contest since I don't know much about Animes just a few I have watched which I wasn't confident enough to share.
While for the contest, there were three questions to be answered whichever one chooses and the questions are:
(1) If you were making a movie based on a book, what book would you choose and why?
(2) Has a book ever transformed yourself and your life?
(3) What is your most favorite book and why?
I would have loved to answer the third question cause I have a lot of books I love after reading them and they become my favorite because of one thing or the other but then, I think talking about the book that transformed my life in a certain aspect is worth more my numerous favorites.
So for this contest, I will answer question two.
(2) Has a book ever transformed yourself and your life?
And my answer is YES
Apart from reading novels, educational and inspirational books, a financial book to me was a No Attempt at all.
I found it really boring and tasking.
We have a handful of such books in our library but I have never for once touched them for any reason aside arrange or rearranging 😁
Last year 2020, during the pandemic that locked up everyone at home, after reading all the novels my sister brought back from school with her, I couldn't find any other thing doing to keep me busy.
Unfortunately or should I say fortunately for me, I found a book on our shelf, my sister started bragging about the book and how the book is inspiring, so I thought, why not give it a try, finally after avoiding it for years.
I picked up the book and started reading, I was so engrossed in the book that I didn't wanna do anything else without finishing the book. The more I read, the more it felt like I was seeing a movie.
The book that transformed my life during the lockdown and changed my approaches to money and how I manage my finance is The Richest Man In Babylon by George S. Clason
The book had a good turning effect on my wallet, my finance, my money. How I save, how I spend, and how I budget for anything I wanna purchase.
I will also love to share a little review about the book and I really hope you grab it and read it if you haven't just yet.
Book Review ~ The Richest Man In Babylon
The first and most striking fact revealed to us in the book is that 10% of whatever we earn is ours to keep and by so doing it means you are paying yourself.
The author made a funny but striking truth by saying that, sadly we pay everyone around us but we forget to pay ourselves.
For example, you pay the coffee man at the coffee shop, you pay for your groceries, you pay the taxi driver that takes you to work, you even pay your family when you provide for them but you forget to pay yourself.
Paying ourselves is one thing we should never forget to do every time we receive the payment or rewards for the work we have done.
In the book, George spoke of the laws of money and stated ways of fattening your purse.
He made mention that the laws of money are like the laws of gravity, assured and unchanging.
The 5 Laws of Gold
Gold comes easily and in increasing quantity to the person who saves at least 1/10th of their earnings.

Gold labors diligently and multiplies for the person who finds it profitable employment.

Gold clings to the protection of the person who invests their gold with wise people.

Gold slips away from the person who invests gold into purposes through which they are not familiar.

Gold flees the person who tries to force it into impossible earnings.
If you are in debt, live on 70% of what you make. Save 10% for yourself. Use the remaining 20% to repay your debts.
Increase your ability to earn. Improve your skills. As you perfect your craft, your ability to earn more increases.
"A man's wealth is not in the coins in his purse. It is in his income."
Ensure a future income. Every person gets old. Make sure your income will continue without work.
What he simply meant by this is that we should ensure that our income and flow of money continue even after we die.
The author mentioned making money and investing it to bring more children and grandchildren meaning, investments that will bring more money and income.
The book encourages us to increase and improve our skills because by so doing, we will increase our ability to earn more.
As you perfect your craft, your ability to earn more increases.
The more we know, the more we may earn. The person who seeks to know more of their craft is capable of earning more.
There are many other reviews about the book and I hope someone reads it, you never know how it can impact your life and transform your purse and how you manage your finance. I recommend the book if you haven't read it yet.
Thanks to the #HiveBookClub community, where we can share and review the books we have read and which have positive impacts on our lives, and thanks to #OCD for highlighting this awesome community this week.
---
---