Underwater Hockey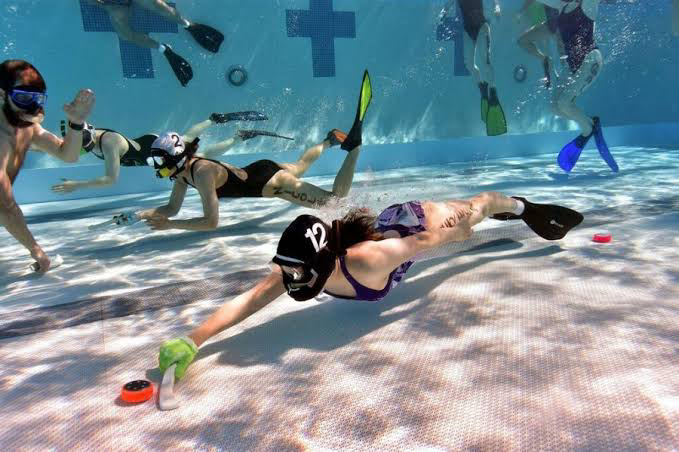 I thought I knew all the sports until I heard of underwater hockey.
Lately, I have been watching hockey games played by the ladies and one very talented girl keeps scoring the goal for the team.
She loves hockey games and it's been her dream to play, so when she finally got the chance to, she played with all her heart and so much confidence.
I didn't know there was a different sport know as underwater hockey
I just learned about that today and I want to give you brief info from the little research I made about this game.
Underwater Hockey (sometimes called Octopus) was invented in the 1950s by the British Navy to keep their divers in shape and to improve their efficiency underwater. It then became popularised in Australia before expanding across the world. The sport intertwines disciplines from both ice hockey and swimming in creating a competitive and fairly physical battle.
Just as the name implies, the game obviously is played totally underwater and players must remain underwater until a goal is scored. Only when a break in play for a goal or a foul is called by the referee may players then resurface.
Rules of Underwater Hockey
Teams consist of 10 players with 6 players in the pool at all time.

The remaining 4 act as rolling substitutes.

Games take place for two 15 minute halves with a 5 minute rest period in between halves.

Players generally cover zones rather than having positions but formations do come into play.

Teams can also be split into attack and defence. Variations of midfield players have also been noted before.

Players can only score using the stick in their hands and cannot use any body parts to assist moving the puck.

Players are prohibited from making contact with players unless they have the puck.
You can research and find out more about this sport.
It's a fast and furious game.
---
---