Polycub is DeFi on Steroids! 4 Reasons to Get Invested
From the 5th day of March 2022, the world of crypto will never remain the same as the team behind the successful Leofinance platforms and their intelligent lead Khaleel Kazi will introduce the next big revolutionary Decentralized Financial (DeFi) platform known today as Polycub.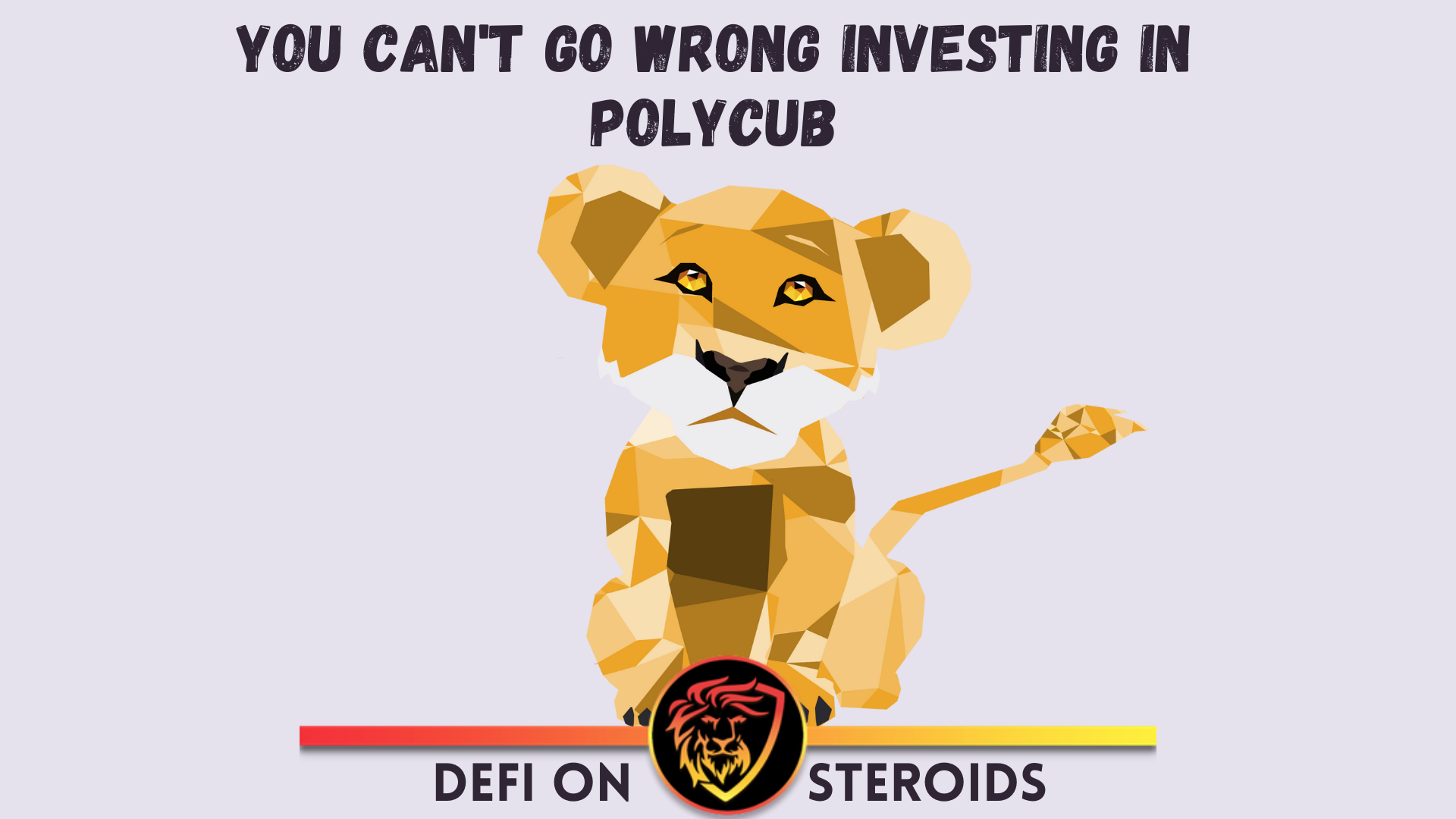 - What is Polycub?
---
Polycub is the next big thing in decentralized finance (DeFi). It is a DeFi project built on the Polygon network. It is the best successor to Cubfinance - which is a yield farming platform introduced in 2021 on the Binance Smartchain.
Yield farming is one example of a DeFi investing strategy. It involves lending or staking your cryptocurrencies (coins or tokens) to a DeFi platform in exchange for transaction fees or interest in the form of transaction fees. It is like lending money to your bank, and then getting interests from a bank account.


Screenshot from Polycub homepage
Currently, Polycub is considered by most crypto enthusiasts as the best DeFi platform of 2022. It is an upgrade to its elder brother - Cubfinance.
CubFinance operated on DeFi 1.0, while Polycub (Cubfinance 2.0) is designed to operate on DeFi 2.0 which fixes some of the limitations of the original CubFinance project. You can read more about this exciting Polycub project by clicking here.
Let's now go straight to why you should be invested in this project.

Reasons to Choose Polycub and Get Invested
---
1. High Annual Percentage Rate (APR)
Just like its predecessor, Cubfinance, in which you can earn an upward of 49% in APR, the Polycub project also promises high APR with some level of optimizations, thanks to the DeFi 2.0 release. A unique value presented by the Polycub project as highlighted by this CoinTelegraph Article is quoted below:
"Instead of selling POLYCUB, users are offered the ultimate value proposition of holding POLYCUB as staked xPOLYCUB, earning more than 30% APY, and taking out self-paying loans against their stake when they require cash".
What can be better than that?
2. You are in Safe Hands
This is another unique reason why you should be invested in the Polycub project. The Leofinance team, headed by Khaleel Kazi are veterans in the DeFi space. Their first DeFi project based on DeFi 1.0 was a huge success.
Therefore, it is interesting to note that the Polycub project was born out of a huge wealth of experience, and as noted in this BeInCrypto Article, this project was a product of months of planning and research (about 7 months of research), Monte Carlo simulations, and development work.
3. Polycub Project is Designed to be Safe
Crypto investments are highly volatile and risky, this is a fact. However, the Polycub DeFi project has been purposefully designed to mitigate most risks. Through simulations, future trends and issues were envisaged and measures were implemented to mitigate them, at the end, the product was a sustainable DeFi platform.
To ensure safety, high level of sustainability has been built into the Polycub's blueprint.
PolyCub kingdoms provide the best yields on the Polygon network by employing cross-composable, yield-optimizing vaults that function with management fees kept by the treasury as Protocol Owned Liquidity (POL) and eventually buy back POLYCUB to create limitless demand and perpetual liquidity.

4. Polycub is Intentionally Designed to Make You Wealthy
Not all crypto-based projects are built with the public's ultimate interest at heart. Polycub changes that!
Going through several articles and listening to the brain behind the project it is evident that the Polycub project is not just another Leofinance project, rather it is best referred to as a community project.
"Our ultimate ambition with the LeoFinance Web3 Ecosystem is to expand the width and depth of our community. Width means getting new users, and depth means achieving more and more levels of opportunity to enrich our users and create abundance for our community."
The team are not just tossing words around, but through their actions and the design of the Polycub project, there is numerous unmistakable evidence that the Polycub project is built to enrich parties within the project. Here is an example of such:
"The platform also employs a harvesting penalty approach based on a curve. Users can choose to wait 90 days for their harvests to "unlock" and become claimable, or they can claim their harvests immediately but incur a 50% early-harvest penalty to xPOLYCUB holders. This functionality is combined with Protocol Owned Liquidity provided by POLYCUB Bonding and a 10% management charge on Kingdom dividend. When these qualities are coupled, they assure that the price will increase in USD terms over lengthy durations, and that value is funneled into the pockets of anyone staking xPOLYCUB in a way that DeFi 1.0 systems do not."
Final Words
Polycub is a DeFi project designed on the Polygon network and aimed at providing wealth to its users. Do not miss out on this stage of DeFi evolution and revolution.
---
---
Disclaimer: This is not a piece of financial advice, please carry out further independent research to decide whether Polycub is a good investment or not.
Posted Using LeoFinance Beta
---
---