PGM-CURATOR REPORT || LAST 30 DAYS! (ita/eng/esp)

ENG
Hi to all friends of PGM community, today we are going to see how the project of @pgm-curator is going and how the earnings are going in the last 30 days!
All stats are provided by https://hivestats.io/@pgm-curator
But for those who still don't know we are going to explain how the curation project works and what it is!
Well the @pgm-curator account curation project works like this:
Users delegate HPs to the @pgm-curator account.

Every day the votes that the account gives are added up and 90% of the liquid HIVEs are given to the delegators.

The HIVE received will be 90% of the proxies

Every week 300 PGMs will be sent to be spread to all delegates!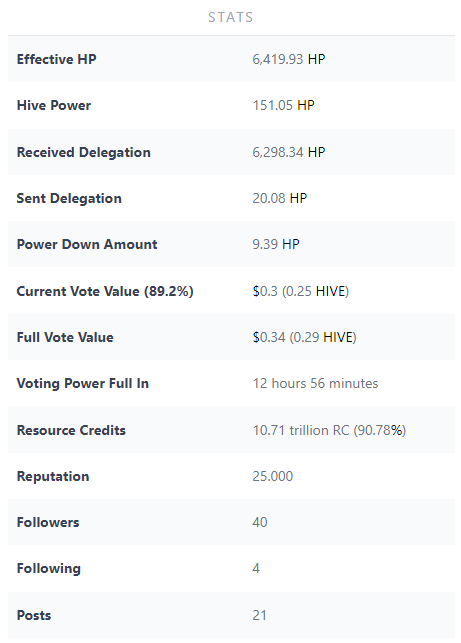 These instead are the statistics of the account.
As we can see in the account there are 6.298 HP delegated by the community - 151 HP obtained from the rewards of the posts
20 HP have been delegated to the account @zottonetoken , this part is about 10% of the rewards that will remain on the account of care of the posts.
There are power downs and each week the account receives 9.39 liquid HIVE.
The maximum rating of the account is $0.30
---

The APR of the account is 10% which is the interest rate that is paid for an investment in this case the proxy to the account.
For example my account has an APR of 5.05%.
---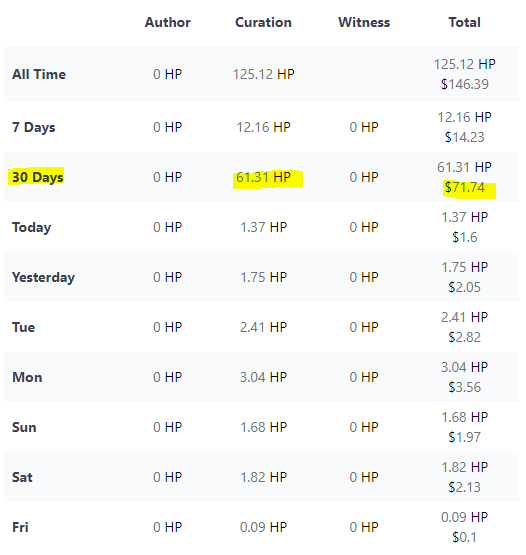 These instead are the daily weekly earnings for the last 30 days and since the account exists.
As you can see the account in this week has recorded a 12.16 HP earned , so $14.23 (with the current price of HIVE at $1.17)
In the last 30 days our project has recorded a gain from the curation of 61.31 HP and then a total gain of $ 71.74
So the $ that we went to give in HIVE liquid to all delegates amounted to $64.56
While our gain was $7.18
So in the last seven days we have made just over 1/4 of our monthly earnings.
---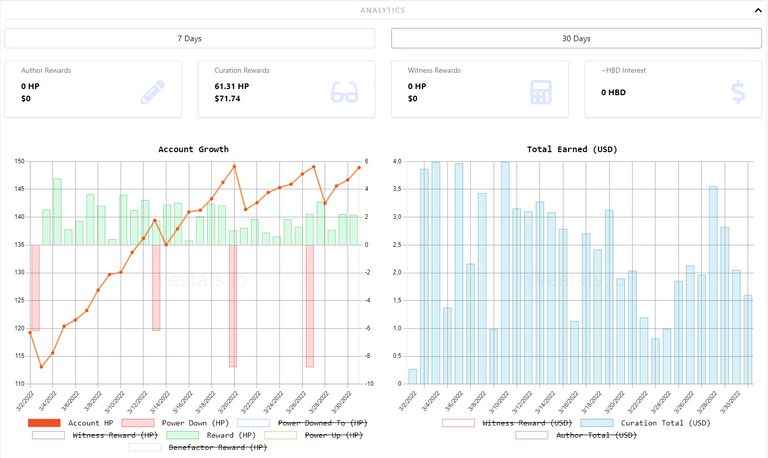 Before we say goodbye we'll leave you with some nice stats you might like! Here you see the day by day earnings for the last 7 and 30 days.
---
---
---

ESP
¡Hola a todos los amigos de la comunidad PGM, hoy vamos a ver cómo va el proyecto @pgm-curador y cómo van las ganancias en los últimos 30 días!
Todas las estadísticas son proporcionadas por https://hivestats.io/@pgm-curator
Pero para los no iniciados vamos a explicar cómo funciona el proyecto de curación y en qué consiste.
Pues el proyecto de curación de cuentas de @pgm-curator funciona así:
Los usuarios delegan los HP en la cuenta @pgm-curator.

Cada día se suman los votos que da la cuenta y se entrega el 90% de los HIVEs líquidos a los delegados.

El HIVE recibido será el 90% de los apoderados

Cada semana se enviarán 300 MGP a todos los delegados.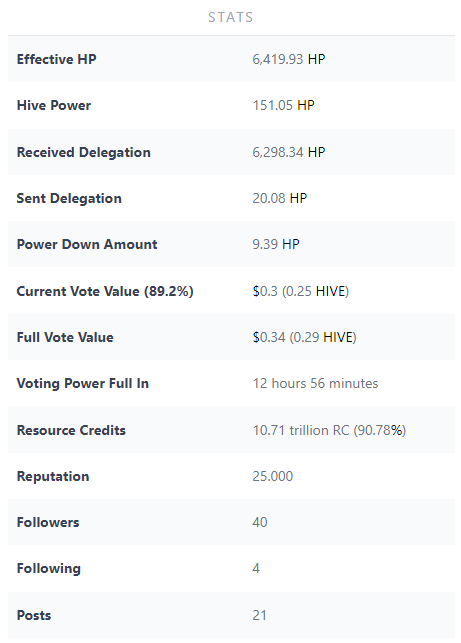 Estas son las estadísticas de la cuenta.
Como podemos ver en la cuenta hay 6.298 HP delegados por la comunidad - 151 HP obtenidos de las recompensas de los puestos
20 HP han sido delegados a la cuenta @zottonetoken, esta parte es aproximadamente el 10% de las recompensas que se quedarán en la cuenta de curación de puestos.
Hay bajadas de tensión y cada semana la cuenta recibe 9,39 de líquido HIVE.
La valoración máxima de la cuenta es de 0,30$.
---

La TAE de la cuenta es del 10% que es el tipo de interés que se paga por una inversión en este caso el apoderado a la cuenta.
Por ejemplo, mi cuenta tiene una TAE del 5,05%.
---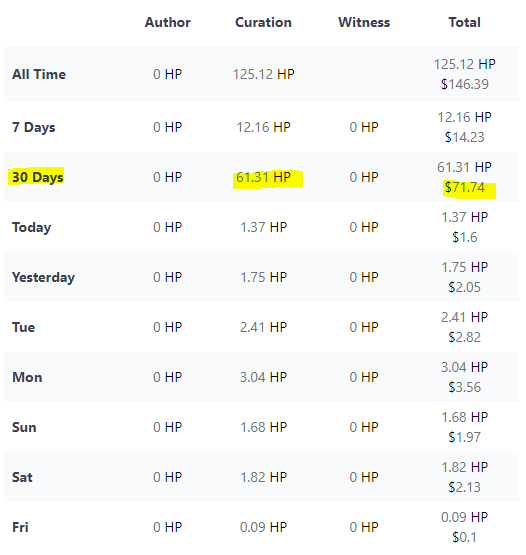 Son las ganancias diarias semanales de los últimos 30 días y desde que existe la cuenta.
Como puede ver, la cuenta ha ganado 12,16 HP esta semana, lo que la convierte en 14,23 $ (con el precio actual de HIVE a 1,17 $).
En los últimos 30 días nuestro proyecto ha ganado 61,31 HP de curación y, por tanto, una ganancia total de 71,74 dólares.
Por lo tanto, los dólares que hemos dado en el VIH líquido a todos los delegados son 64,56 dólares.
Mientras que nuestra ganancia fue de 7,18 dólares
Así que en los últimos siete días hemos ganado algo más de 1/4 de nuestros ingresos mensuales.
---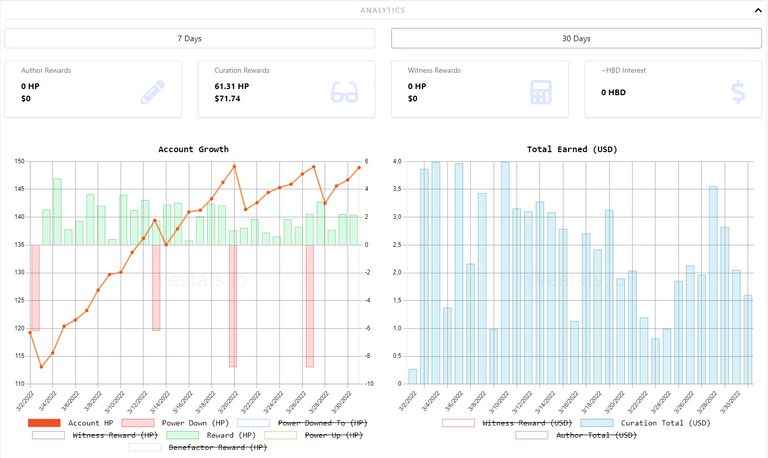 Antes de despedirnos, te dejamos con unas bonitas estadísticas que te pueden gustar. Aquí puede ver las ganancias diarias de los últimos 7 y 30 días.
Traducción realizada con la versión gratuita del traductor www.DeepL.com/Translator
---
---
---

ITA
Ciao a tutti amici e amiche della community di PGM , oggi andremo a vedere il progetto di @pgm-curator come sta andando e come vanno i guadagni negli ultimi 30 giorni!
Tutte le statistiche sono fornite da https://hivestats.io/@pgm-curator
Ma per chi ancora non lo sapesse andremo a spiegare come funziona il progetto di cura e cos'è!
Bene il progetto di cura dell'account @pgm-curator funziona cosi:
Gli utenti delegano degli HP all'account @pgm-curator

Ogni giorno si sommano i voti che da l'account e va a dare ai deleganti il 90% degli HIVE liquidi

Gli HIVE ricevuti saranno il 90% delle delega

Ogni settimana verranno inviati 300 PGM da spalmare a tutti i deleganti!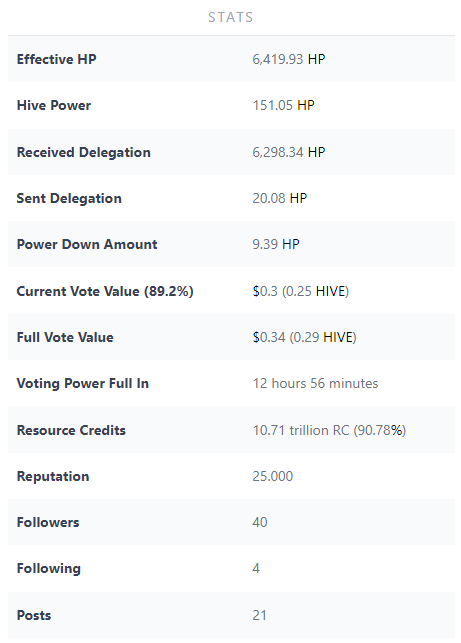 Queste invece sono le statistiche dell'account.
Come possiamo vedere nell'account ci sono 6,298 HP delegati dalla community - 151 HP ottenuti dalle rewards dei post
20 HP sono stati delegati all'account @zottonetoken , questa parte è il 10% circa delle rewards che rimarranno sull'account di cura dei post.
Ci sono dei power down e ogni settimana l'account riceve 9,39 HIVE liquidi.
Il voto al massimo dell'account è di $ 0.30
---

L'APR dell'account invece è del 10% cioè il tasso di interesse che viene pagato per un investimento in questo caso la delega all'account.
Per esempio il mio account ha un APR del 5,05 %
---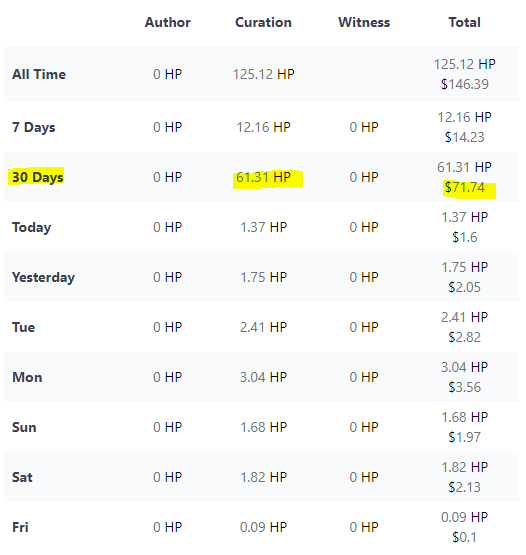 Questi invece sono i guadagni giornalieri settimanali degli ultimi 30 giorni e da quando esiste l'account.
Come potete vedere l'account in questa settimana ha registrato un 12.16 HP guadagnati , quindi $14.23 (con il prezzo attuale di HIVE a $1.17)
Negli ultimi 30 giorni il nostro progetto ha registrato un guadagno dalla curation di 61.31 HP e quindi un guadagno totale di $71.74
Quindi i $ che siamo andati a dare in HIVE liquidi a tutti i deleganti ammontano a $64.56
Mentre il nostro guadagno è stato di $7.18
Quindi negli ultimi sette giorni abbiamo fatto poco più di 1/4 dei guadagni mensili.
---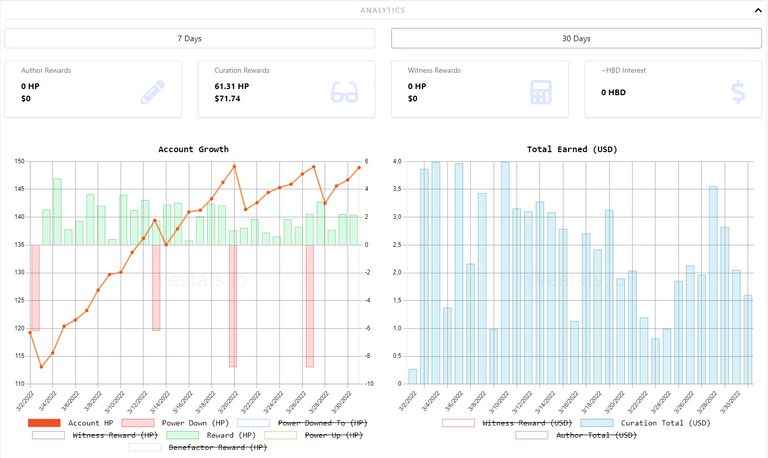 Prima di salutarci vi lasciamo delle statistiche carine che vi potrebbero piacere! Qui vedete i guadagni giorno per giorno negli ulti 7 e 30 giorni.
---
---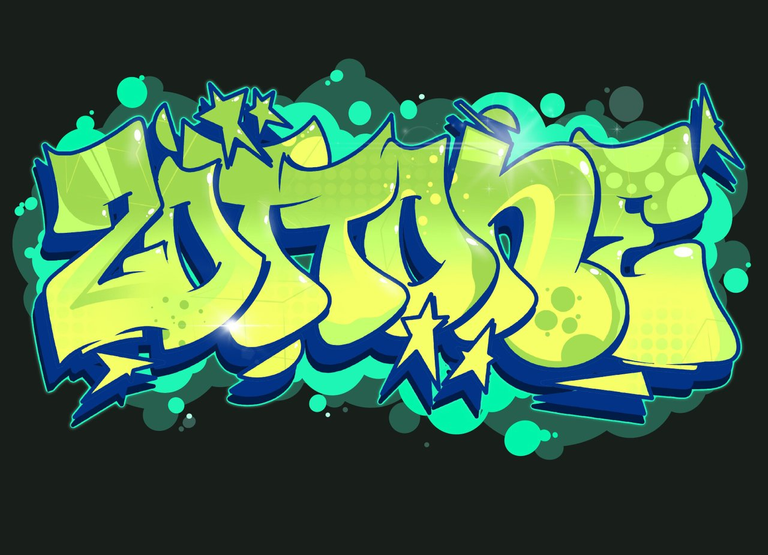 Follow me on
TWITTER ---> https://twitter.com/zottone444
TORUM ---> https://www.torum.com/u/zottone444
HYPPER ---> https://hyprr.com/profile/zottone444
NOISECASH ---> https://noise.cash/u/Zottone444
READCASH ---> https://read.cash/@Zottone444
BLURT ---> https://blurt.world/@zottone444
JOIN ON TELEGRAM ITALIAN GROUP ---> https://t.me/hiveitaly
FOLLOW HIVE ITALIA ON ---> Twitter -- Instagram -- Fecebook
photo by @astrocreator / @japex1226
---
If you want to buy/sell Dcity cards with the PGM token from the NFTM.art shop click here
---
My private socials
Instagram---> ale_zotta_
Twitch ---> zottone
---
Links that may be useful to you for the PGM token
Buy it here
If you don't know how to buy the PGM token click here
If you want to know what projects we collaborate with, click here and here
If you want to become a sponsor of the project click here
joins the PGM discord server
FOLLOWE PGM ON TWITTER
Buy games by paying with hive-HDB-Pizza Token here @thebeardflex
To buy my microphone click here
To join my fortnite community click here
---
---
---