PGM POWER UP WEEK 1-7 AUGUST! [ITA-ENG]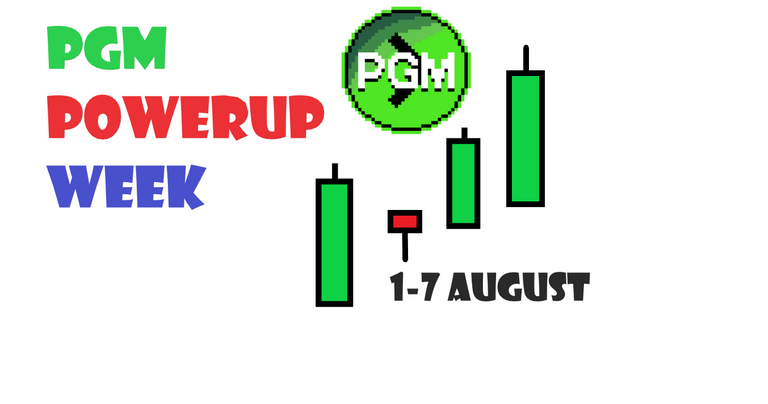 ENG
Hello all friends of the PGM community, today we are here to talk about the...
PGM POWER UP WEEK!
A period of no less than 7 days where you will have to follow the following rules that I am going to tell you about:
power up of at least 50 PGM
Post with tags #pgmpowerupweek and #pgm
at least 100 words in the post
3 posts to participate
PREMIUMS
---
We do all this to reward everyone who uses PGMs who buy PGMs and puts and willingness to put PGMs in stakes!
Staking PGMs offers a lot of advantages that we have been listing for days!
Support the initiative and the project for gamers with:
Upvote
Re-blog
Comment of appreciation
Talking to friends
---
To buy PGM click here --- > 50 PGM = 1 $
For more info for PGM click here
Translated with www.DeepL.com/Translator (free version)
---
---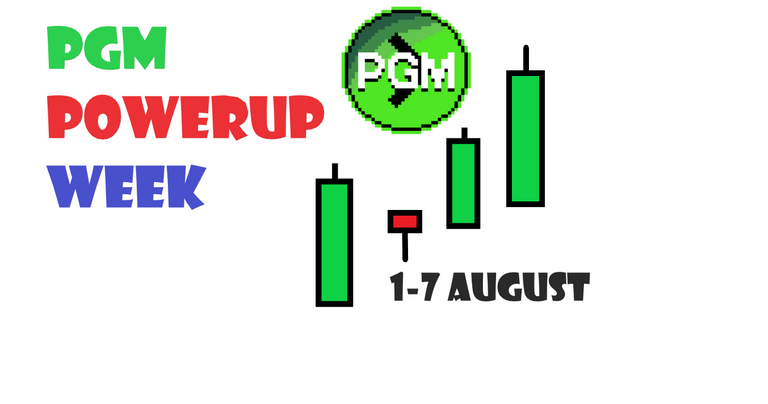 ITA
Ciao a tutti amici della community di PGM , oggi siamo qui per parlare del...
PGM POWER UP WEEK!
Un periodi di ben 7 giorni dove bisognerà seguire le seguenti regole che vi andrò a dire:
power up di almeno 50 PGM
Post con tag #pgmpowerupweek e #pgm
almeno 100 parole nel post
3 post per partecipare
PREMI
Voti da 25% a 100% da @pgm-curator e @token-curator
Voti da curatore @tipu
2500 PGM delegati a 3 utenti
5000 THG delegati a 3 utenti con + di 5K PGM in stake.
---
Noi facciamo tutto questo per premiare tutti coloro che usano PGM che comprano PGM e che mettono e hanno voglia di mettere PGM in stake!
Mettere PGM in stake offre un sacco di vantaggi che stiamo elencando da giorni!
Supporta l'iniziativa e il progetto per i videogamer con:
Upvote
Re-blog
Commento di apprezzamento
Parlandone agli amici
---
Per comprare PGM clicca qui --- > 50 PGM = 1 $
Per maggiori info per PGM clicca qui
---
---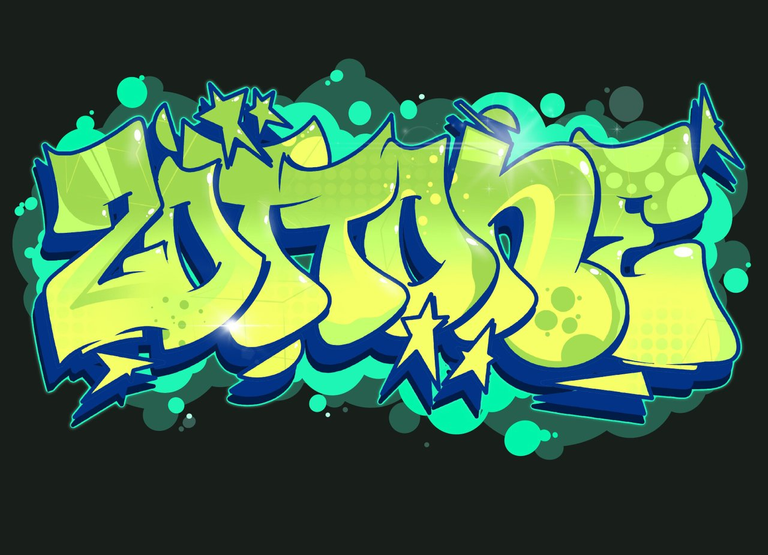 Follow me on
TWITTER ---> https://twitter.com/zottone444
TORUM ---> https://www.torum.com/u/zottone444
HYPPER ---> https://hyprr.com/profile/zottone444
NOISECASH ---> https://noise.cash/u/Zottone444
READCASH ---> https://read.cash/@Zottone444
BLURT ---> https://blurt.world/@zottone444
JOIN ON TELEGRAM ITALIAN GROUP ---> https://t.me/hiveitaly
FOLLOW HIVE ITALIA ON ---> Twitter -- Instagram -- Fecebook
photo by me / @hashkings /hive-engine
---
If you want to buy/sell Dcity cards with the PGM token from the NFTM.art shop click here
---
My private socials
Instagram---> ale_zotta_
Twitch ---> zottone
---
Links that may be useful to you for the PGM token
Buy it here
If you don't know how to buy the PGM token click here
If you want to know what projects we collaborate with, click here and here
If you want to become a sponsor of the project click here
joins the PGM discord server
FOLLOWE PGM ON TWITTER
Buy games by paying with hive-HDB-Pizza Token here @thebeardflex
To buy my microphone click here
To join my fortnite community click here
---
@chaosmagic23
@emaxisonline
@isiksenpalvoja
@amaillo
@itharagaian
@arpuch
@steem82868
@guurry123
@points-fr
@crazyphantombr
@hhayweaver
@koussbar
@ydaiznfts
@bokica80
@heruvim1978
@captainquack22
@beeminer
@servelle
@mizuosemla
@adie44
@mypathtofire
@c3r34lk1ll3r
@florenceboens
@agog
@solymi
@davidxxl
@dubble
@kryptodenno
@bencwarmer
@gestion.alive
@genming
@pirulito.zoado
@hafiz34
@mad-runner
@mario89
@princekham
@noctury
@ganjafarmer
@myothuzar
@kojiri
@bilidrg
@ternizator
@daniarc
@thaddeusprime
@dewabrata
@darmst5339
@forykw
@thgaming
@jim-crypto
@eijibr
@new.things
@dksart
@xheadhunterz
@dracozauberer
@rachaeldwatson
@thisisawesome
@cryptoalvirin
@pinkhub
@forsakensushi
@flaxz
@operahoser
@suhlaing
@maurojd
@edgerik
@libertycrypto27
@heartbeatonhive
@digitalspace
@salamera
@lozio71
@matons
@elikast
@danideuder
@bitcoinflood
@reiseamateur
@aweee
@jdike
@freed99
@davot
@miketr
@mein-senf-dazu
@nahueldare3627
@ana-maria
@chubb149
@timehacker
@lofone
@vaynard86
@koshwe
@benthomaswwd
@imno
@bananasfallers
@nyimwa
@szmobacsi
@acgalarza
@chapelle
@nyinyiwin
@badpupper
@pousinha
@elfino28
@from-mars
@alicia2022
@tokutaro22
@uthantzin
@shiftrox
@ivanslait
@yeckingo1
@shawnmichael-gt
@serhotest
@candnpg
@lotto-de
@blitzzzz
@ladymisa
@rzc24-nftbbg
@zonadigital21
@tinyputerboy
@luizeba
@trading-tokens
@r1s2g3
@krueger053
@jjprac
@hutorou
@lordshah
@tengolotodo
@michupa
@alex2alex
@underlock
@solairitas
@criptosectadepit
@siphon
@atma.love
@entrepidus
@lipe100dedos
@web-gnar
@splinter100dedos
@urkanon
@mervinthepogi
@krakonos
@cpol
@eustace-kidd
@hurtlocker
@thecuriousfool
@brianhuang
@ruralio
@amaari
@nietokilll
@beeber
@eddwood
@dontcare89
@stdd
@iamjabez
@mauriciolimax
@mehmetfix
@condeas
@lobaobh
@skgcrypto
@xykorlz
@torran
@cryptounicorn420
@mann0000
@astrocreator
@allonyx.ngs
@valerianis
@hoosie
@jimmy.adames
@andy-vibes
@utopia-hope
@uggya
@andy4475
@captainloken
@valdiva
@felixgarciap
@savvytester
@kaniz
@kraaaaa
@dailygiveaways
@metronet
@olympicdragon
@misterc
@curator50
@bananofarmer
@gr33nm4ster
@phoenixwren
@mvl2304
@caracol32
@pablodare
@manuvert
@thedoc07
@urri2020
@paul20
@hive-143869
@moeenali
@gwajnberg
@quekery
@pgmcuration
@dstampede
@johnripper
@noblebright
@javivisan
@okluvmee
@lxsxl
@dadspardan
@challenge-fr
@elkingplayer
@wazock
@cantfoldaces
@arkasz
@pregosauce
@fallen.angels
@hatke
@cervantes420
@nilarwin
@femcy-willcy
@assassyn
@chuiiiiiiii
@chaosbug
@dynamicrypto
@linlove
@celf.support
@atnazo
@draco2412
@rentaw03
@zakludick
@s3rg4
@indiebandguru
@mairapanelo
@jonimarqu
@sissim72
@luba555
@kvinna
@morenow
@lolxsbudoy
@tawadak24
---
---