QUANTO SONO FORTI LE CARTE DELLE BRAWL! (ita/eng)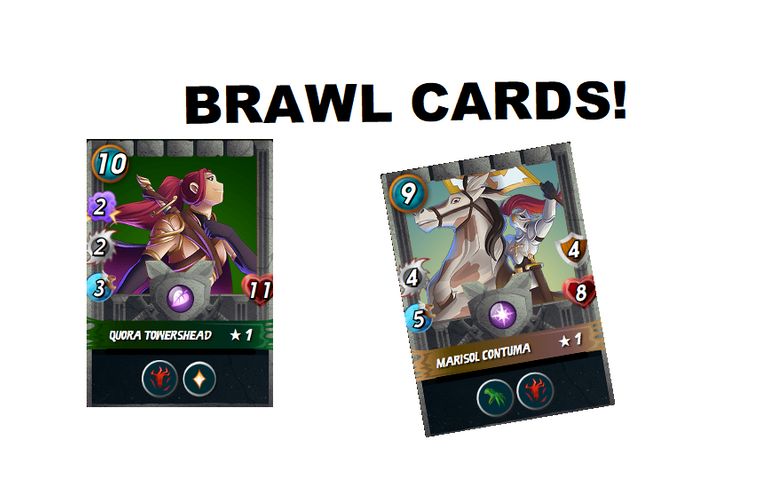 Hello all friends, today I come back with a post that does not talk about the PGM token AHAH, in fact today since I had no updates to bring I said: "Umh, why not talk a little bit of the Gladius cards" well here I am writing it and let you read it!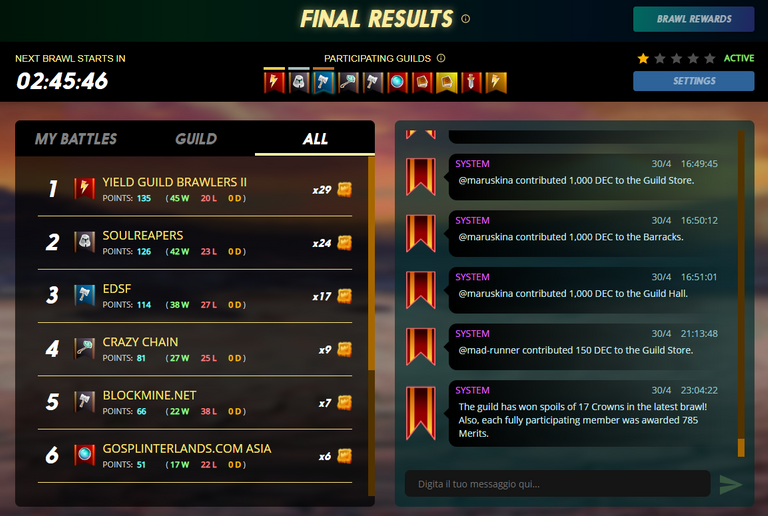 This is the last brawl we have done we EDSF guild, a brawl that did not go bad at all, in fact we made a nice 3rd post with 38 wins and 27 losses, not bad at all, however, we lost to guilds much stronger and deserve much more being much more complete organized and especially experienced, but in the end we are not in bad shape and we learn quickly!
---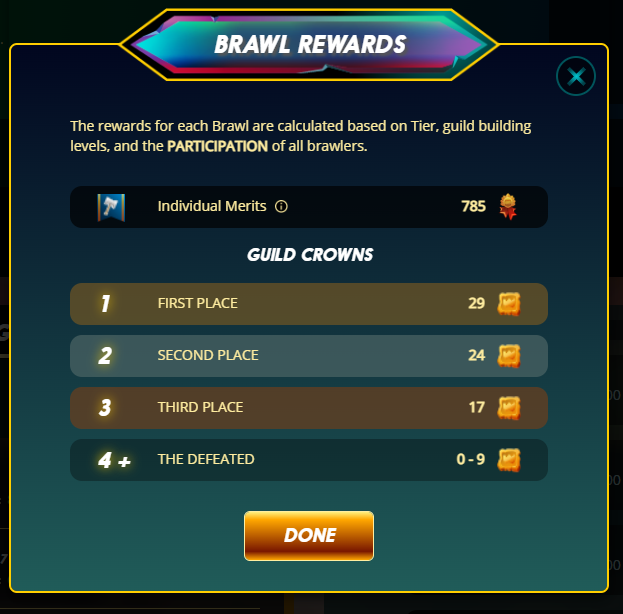 These are the rewards of the brawl that we have and I have received, in fact we have taken 17 CROWN that bring us to 40 total and then we can upgrade, if one between @mad-runner and @libertycrypto27 wants, the arena to level 2!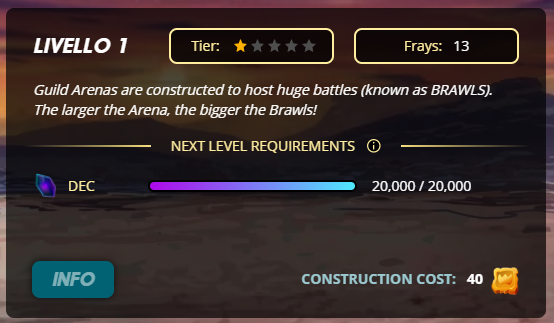 On top of that I took home a bunch of merits which are an individual prize!
With these I am getting closer and closer to reaching my 3rd Gladius pack!
These were my first two packs: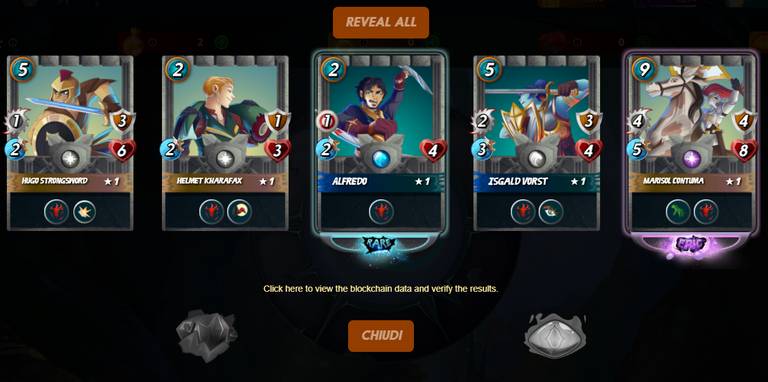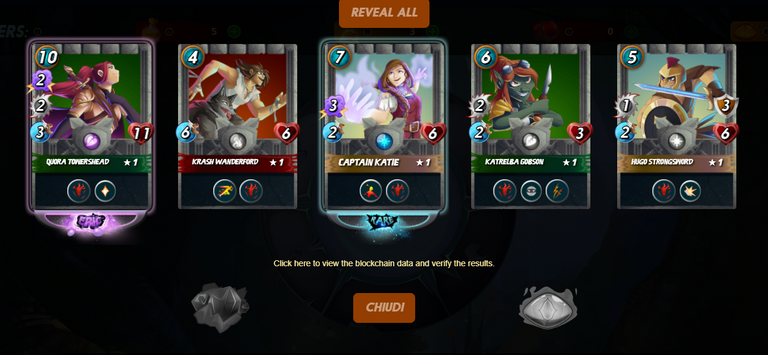 As you can see there were some nice rewards out of the total 10 cards I found:
For a total of 530 POWER to move up a league in normal battles!
In fact, these cards are worth twice as much as those that we can find in Chaos packs, for example an epic Gladius is worth 200 POWER, while an epic Chaos is worth 100 power, but they have the advantage that they can be sold and can be upgraded much faster!
In addition to this, in these two packs I found two of the strongest cards in my opinion present in the Gladius edition, and one that I think is in the top 1/2 and is the one that today made me win a lot of games and made me lose as many!
I'm talking about the epic Quora Towershead card!
A card out of the ordinary, in fact with the cost of send that in theory should balance everything has not yet found one at his height!
This card has as starting damage 2 melee and 2 magic damage, for a total of 4 damage per round, while the speed brings a nice 3 and well 11 life units!
In addition to this it has an ability that allows it to heal itself once per round if it is not killed before its turn to attack, and has the ability Bloodlust, an ability that increases the stats of the card every time it kills an opponent's monster, so it increases life, magic damage, melee damage, speed, an immortal card AHAh!

To make you understand, in this brawl I have always used this card, badly but I have deployed it on the battlefield, all the times I lost was because I found myself against it and I had deployed it really badly, all the times I won was because I had deployed it better than the opponent, or because the opponent did not have it...

I don't know if it's clear to you, but in two rounds she destroyed an entire lineup of cards and finished the game with 16 life (+ 5 times more than the base life) 7 melee and magic attack damage (+ 5 times more than the base damage) and 8 speed (+ 5 times more than the starting speed).
Now tell me how to throw down such a card HAHA!
Anyway, I'm having too much fun playing brawls and I can't wait to play another one right away!
FULL AHEAD EDSF!
Translated with www.DeepL.com/Translator (free version)
---
---
---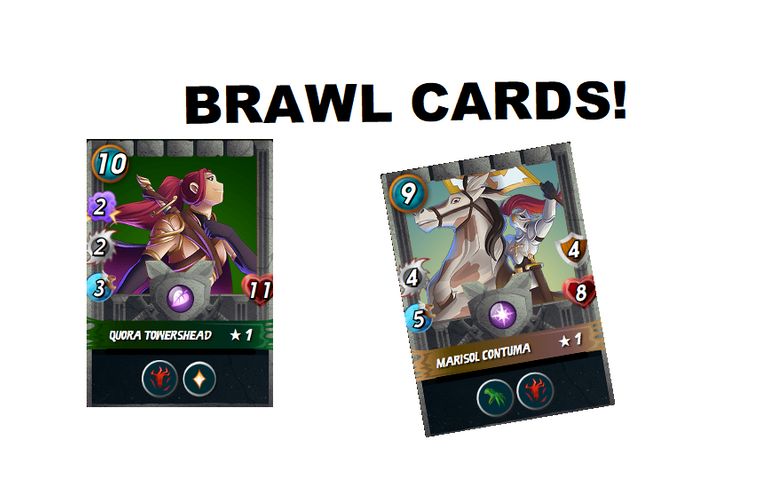 Ciao a tutti amici , oggi torno con un post che non parla del PGM token AHAH , infatti oggi siccome non avevo aggiornamenti da portare ho detto: "Umh , perché non parlare un pò delle carte Gladius" beh eccomi qui a scriverlo e a farvelo leggere!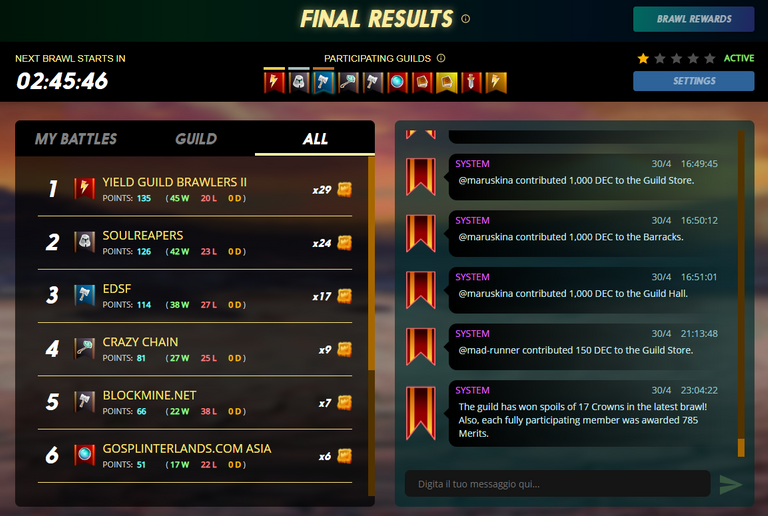 Questa è l'ultima brawl che abbiamo fatto noi della gilda EDSF , una brawl che non è andata per nulla male , infatti abbiamo fatto un bel 3° post con ben 38 vittorie e 27 sconfitte , non male assolutamente , comunque abbiamo perso contro gilde nettamente più forti e che meritano molto di più essendo molto più complete organizzate e soprattutto esperte , ma alla fine noi non stiamo messi male e impariamo in fretta!
---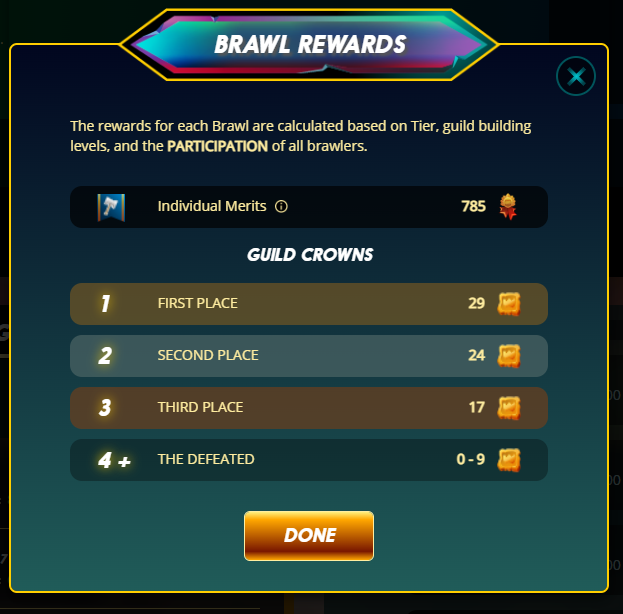 Queste sono le ricompense della brawl che abbiamo e ho ricevuto , infatti abbiamo preso 17 CROWN che ci portano a 40 totali e quindi possiamo potenziare , se uno tra @mad-runner e @libertycrypto27 vuole , l'arena al livello 2!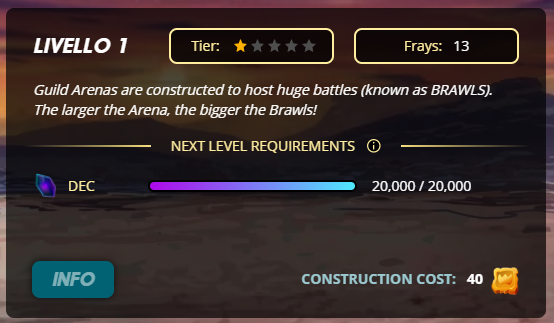 Oltra a questo io mi sono portato a casa un bel pò di merits che sono un premio individuale!
Con queste mi avvicino sempre di più nel raggiungere il mio 3 pacchetto Gladius!
Questi sono stati i miei primi due pacchetti: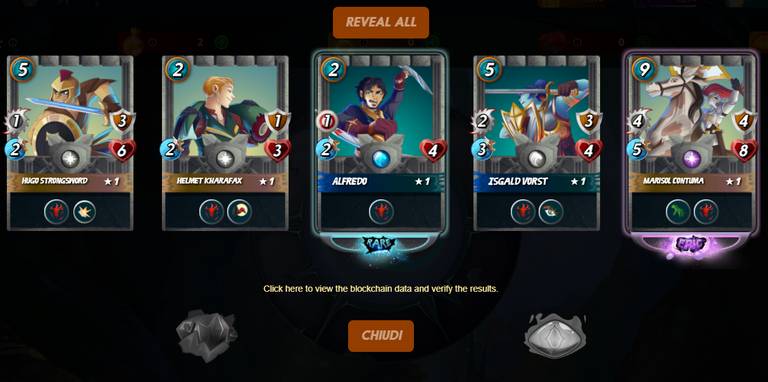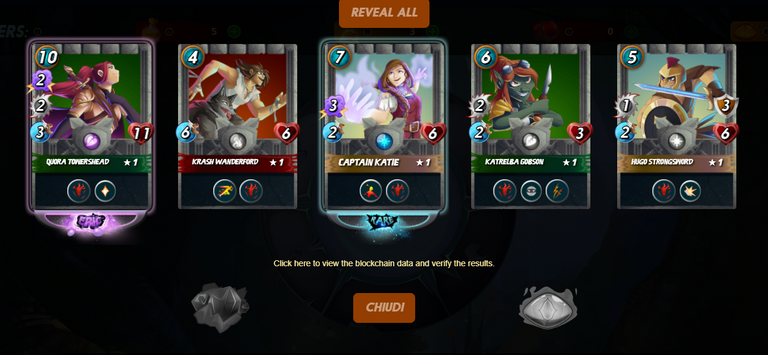 Come potete vedere ci sono state delle belle ricompense su 10 carte totali ho trovato:
Per un totale di 530 POWER per salire di lega nelle battaglie normali!
Infatti queste carte valgono il doppio di quelle che possiamo trovare nei pacchetti Chaos , per esempio un epica Gladius vale 200 POWER , mentre un'epica Chaos vale 100 power , però dal loro favore hanno che si possono vendere e si possono potenziare molto più velocemente!
Oltre a questo in questi due pacchetti ho trovato due delle carte più forti secondo me presenti nell'edizione Gladius , e una che secondo me è nella top 1/2 ed è quella che oggi mi ha fatto vincere un bel pò di partite e me ne ha fatte perdere altrettante!
Sto parlando della carta Quora Towershead carta epica!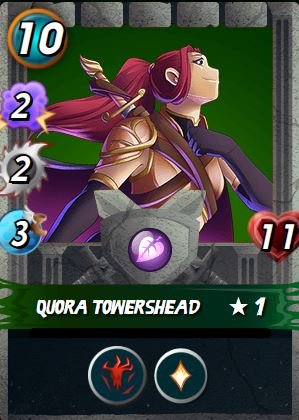 Una carta fuori dal comune , infatti con il costo di manda che in teoria dovrebbe bilanciare il tutto non ha ancora trovato una alla sua altezza!
Questa carta ha come danno di partenza 2 da mischia e 2 da danno magico , per un totale di 4 danni a round , mentre come velocità si porta un bel 3 e beh 11 unità di vita!
Oltre a questo ha una abilita che le permette di curarsi una volta a round se non viene uccisa prima del suo turno di attacco , e ha l'abilità Bloodlust , abilità che aumenta le statistiche della carta ogni volta che uccide un mostro avversario , quindi aumenta la vita , il danno magico , il danno da mischia , la velocità , una carta immortale AHAh!

Per farvi capire , io in questa brawl ho usato sempre questa carta , male ma l'ho schierata sul campo di battaglia , tutte le volte che ho perso è stato perché me la sono ritrovata contro e l'avevo schierata davvero male , tutte le volte che ho vinto è stato perché l'avevo schierata meglio dell'avversario , oppure perché l'avversario ne era sprovvisto...

Non so se vi è chiaro , ma lei in due round ha distrutto un intera schiera di carte e ha finito la partita con 16 di vita ( + 5 volte di più della vita base) 7 di danno da mischia e da attacco magico (+ 5 volte rispetto al danno base) e 8 di velocità ( + 5 volte superiore rispetto alla velocità di partenza) .
Ora ditemi come si butta giù una carta del genere HAHA!
Comunque io mi diverto troppo a giocare le brawl e non vedo l'ora di farne subito un altra!
AVANTI TUTTA EDSF!
---
---
---
---