Chelsea Win Match Against Everton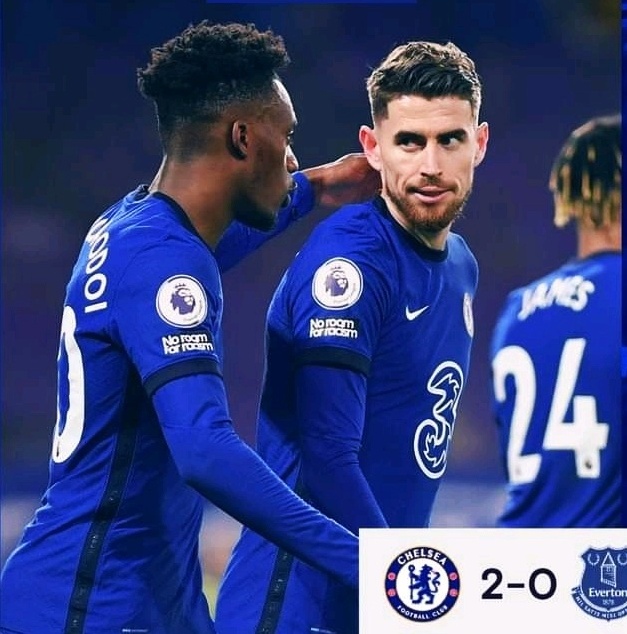 Chelsea won 2-0 at home to Everton at Stamford Bridge Stadium in the 2020/2021 Premier League season.
This victory makes Chelsea firmly in fourth place in the standings with a collection of 50 points from 28 matches. The Blues are four points clear of Everton who are one place behind them.
First Round

Since the beginning of the match, the Blues immediately attacked the Everton defense. However, the strong defense for the visitors made Thomas Tuchel's squad difficult to score.
The hosts got the first chance in the 16th minute. Starting from Reece James' corner, it led to Jorginho who was outside the penalty box. Without waiting for the ball to fall to the ground, the Italian midfielder immediately kicked the ball towards the goal. Unfortunately, the kick was still not on target.
Finally, the goal he had been waiting for was born. Starting from Marcos Alonso's pass to Kai Havertz, the German player immediately directed the ball at Everton's goal. His shot hits Ben Godfrey from Everton and it turns out to be a goal. The score changed 1-0 with Chelsea's advantage. The score lasted until the end of the first half.
Second Round

Entering the second half, Chelsea still did not reduce the attacks. Kai Havertz managed to break into the Everton goal in the 54th minute after using Hudson-Odoi's pass. However, the referee disallowed the goal after checking the VAR replay because the ball hit Havertz's hand first. Everton had a chance two minutes later through Richarlison.
However, the shot was still off the mark. Instead of pursuing, The Toffees conceded again in the 65th minute through Jorginho's penalty. The referee awarded a penalty to the hosts after Kai Havertz was brought down by Pickford in the penalty box. Jorginho, who ran as the executor, managed to carry out his duties perfectly. Chelsea beat Everton 2-0.
After trailing by two goals, Everton were again made inconvenienced by the host's attack. Several times the opportunity was obtained by Chelsea players, but still did not produce goals. Like in the 85th minute, Pickford came close to conceding a third time. The England goalkeeper made two brilliant saves against Werner and Kante.
The 2-0 score lasted until the age of the match, Chelsea also managed to win in this match while securing fourth place from Everton's pursuit.
Chelsea Menangkan Laga Lawan Everton
Chelsea berhasil meraih kemenangan dengan skor 2-0 kala menjamu Everton di Stamford Bridge Stadium dalam lanjutan Liga Inggris musim 2020/2021.

Kemenangan tersebut membuat Chelsea kokoh di peringkat keempat klasemen sementara dengan koleksi 50 poin dari 28 laga. The Blues unggul empat poin dari Everton yang berada satu peringkat dibawah mereka.
Babak Pertama

Sejak dimulainya pertandingan, The Blues langsung menggempur pertahanan Everton. Namun, kokohnya pertahanan tim tamu membuat skuad asuhan Thomas Tuchel kesulitan untuk mencetak gol.

Peluang pertama didapat tuan rumah di menit ke-16. Berawal dari sepak pojok Reece James, bola mengarah ke arah Jorginho yang berada di luar kotak penalti. Tanpa menunggu bola jatuh ke tanah, gelandang asal Italia itu langsung menendang bola ke arah gawang. Sayang, tendangannya masih belum tepat sasaran.

Akhirnya gol yang ditunggu-tunggu lahir juga. Berawal dari umpan Marcos Alonso kepada Kai Havertz, pemain asal Jerman itu langsung mengarahkan bola ke gawang Everton. Tendangannya mengenai pemain Everton, Ben Godfrey dan malah berujung jadi gol. Skor pun berubah 1-0 dengan keunggulan untuk Chelsea. Skor tersebut bertahan sampai berakhir babak pertama.
Babak kedua

Memasuki babak kedua, Chelsea masih belum menyurutkan serangan. Kai Havertz berhasil membobol gawang Everton di menit ke-54 usai memanfaatkan umpan Hudson-Odoi. Namun, gol tersebut dianulir wasit setelah mengecek tayangan ulang VAR dikarenakan bola lebih dulu mengenai tangan Havertz.

Everton mendapat peluang dua menit setelahnya lewat Richarlison. Namun, tendangannya masih melenceng dari gawang. Bukannya mengejar ketertinggalan, The Toffees malah kembali kebobolan di menit ke-65 lewat penalti Jorginho.

Wasit memberikan hadiah penalti kepada tuan rumah setelah Kai Havertz dijatuhkan Pickford didalam kotak penalti. Jorginho yang maju sebagai eksekutor, berhasil menjalankan tugasnya dengan sempurna. Chelsea unggul atas Everton 2-0.

Setelah tertinggal dua gol, Everton kembali dibuat kerepotan oleh gempuran tuan rumah. Beberapa kali peluang didapatkan oleh pemain Chelsea, namun masih tidak berbuah gol. Seperti pada menit ke-85, Pickford hampir kebobolan untuk ketiga kalinya. Kiper asal Inggris itu melakukan penyelamatan brilian dua kali terhadap tendangan Werner dan Kante.

Skor 2-0 bertahan hingga laga usia, Chelsea pun berhasil meraih kemenangan di laga ini sekaligus mengamankan posisi keempat dari kejaran Everton.
---
---