Manchester City vs PSG: The Citizens Carved History, Qualified for the Final for the First Time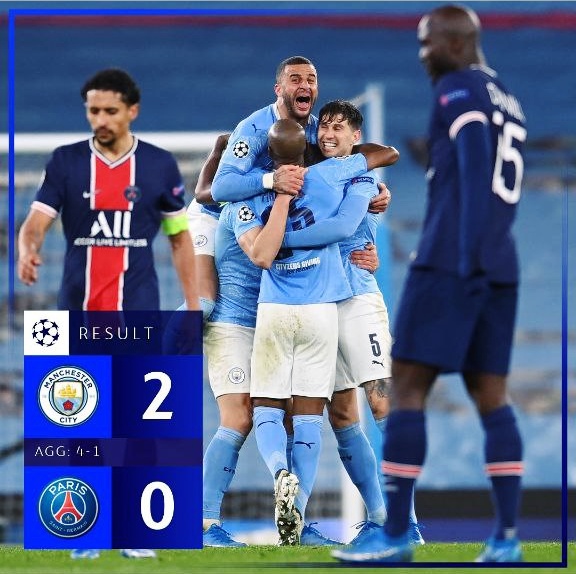 Manchester City made sure to qualify for the Champions League final for the 2020-2021 season after defeating the resistance of France's representatives, Paris Saint-Germain in the semifinals.
The Citizens won 2-0 in the semifinals of the second leg at the Etihad Stadium Two goals from the host were scored by the Algerian national, Riyad Mahrez in the 17th and 63rd minutes. Man City qualified for the Champions League final for the first time 4-1 on aggregate after the first leg which was held at Parc De Princes they also won 2-1.
Their passage to the final was inseparable from the strength of the defense, especially Ruben Dias. Noted, the Portuguese defender made 100 percent successful tackles, 90 percent pass accuracy, 3 clearances and 3 blocks which earned him the Man Of The Match title in this match.
PSG strikers such as Neymar, Angel Di Maria and Mauro Icardi were rendered helpless. Of the 14 kicks taken by PSG players, not one shot was on target.
PSG players were frustrated, including Di Maria who had to get a red card in the 69th minute for stepping on Fernandinho's foot. The referee did not hesitate to throw Di Maria out of the field.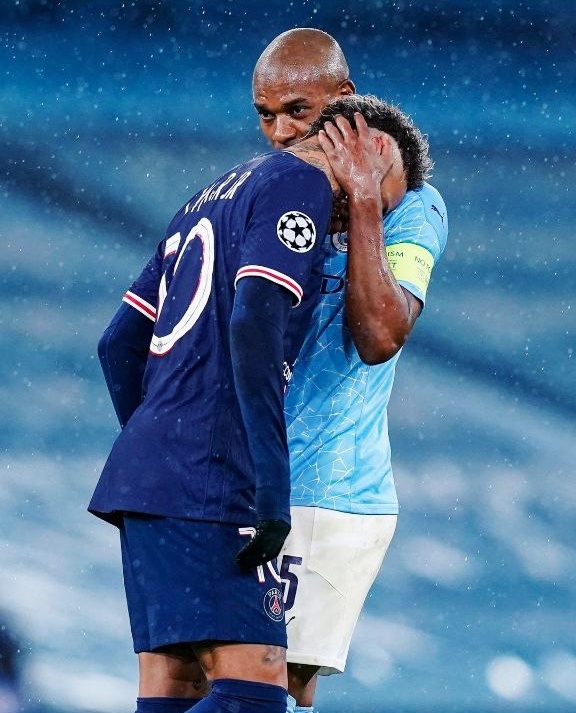 Losing one player makes Les Parisiens chance to reverse the position getting smaller. In fact, the Navas goalkeeper received several threats that made him have to make saves.
The 2-0 score lasted until the game was over, Man City made history to qualify for the Champions League final for the first time. Man City are just a little longer left to lift the Champions League trophy. In the final round Pep Guardiola's squad will challenge the winner between Chelsea and Real Madrid.
Will Pep Guardiola carve a beautiful story with Man City this season by winning the Premier League and Champions League trophies?
Manchester City Vs PSG : The Citizens Ukir Sejarah, Lolos Final Untuk Pertama Kalinya
Manchester City memastikan diri lolos ke babak final Liga Champions musim 2020-2021 usai mengandaskan perlawanan wakil Prancis, Paris Saint-Germain di babak semifinal. The Citizens berhasil meraih kemenangan di semifinal leg kedua yang dilangsungkan di Stadion Etihad dengan skor 2-0
Dua gol tuan rumah dilesakkan pemain berkebangsaan Aljazair, Riyad Mahrez pada menit ke-17 dan 63. Man City lolos ke final Liga Champions untuk pertama kalinya dengan agregat 4-1 setelah pada leg pertama yang digelar di Parc De Princes mereka juga menang 2-1.
Lolosnya mereka ke final tidak terlepas dari kokohnya barisan pertahanan, terutama Ruben Dias. Tercatat, bek asal Portugal itu melakukan 100 persen tekel sukses, 90 persen akurasi umpan, 3 clearance dan 3 blok yang membuatnya dianugerahi gelar Man Of The Match di laga ini.
Striker PSG seperti Neymar, Angel Di Maria dan Mauro Icardi dibuat tak berdaya. Dari 14 tendangan yang dilakukan pemain PSG, tidak ada satupun tendangan yang tepat sasaran.
Para pemain PSG dibuat frustasi, termasuk Di Maria yang harus mendapatkan kartu merah di menit ke-69 karena menginjak kaki Fernandinho. Wasit pun tak segan-segan mengusir Di Maria ke luar lapangan. Kehilangan satu pemain membuat kans Les Parisiens untuk membalikkan kedudukan semakin kecil.
Bahkan, gawang Navas beberapa mendapatkan ancaman sehingga membuatnya harus melakukan penyelamatan. Skor 2-0 bertahan hingga laga usai, Man City mengukir sejarah lolos ke final Liga Champions untuk pertama kalinya.
Man City tingggal sedikit lagi untuk mengangkat trofi Liga Champions. Di babak final skuad asuhan Pep Guardiola itu akan menantang pemenang antara Chelsea dan Real Madrid. Akankah Pep Guardiola mengukir cerita indah bersama Man City musim ini dengan memenagi Premier League dan Champions League ?
---
---