Decorando tazas y portarretratos para personas especiales de mi vida.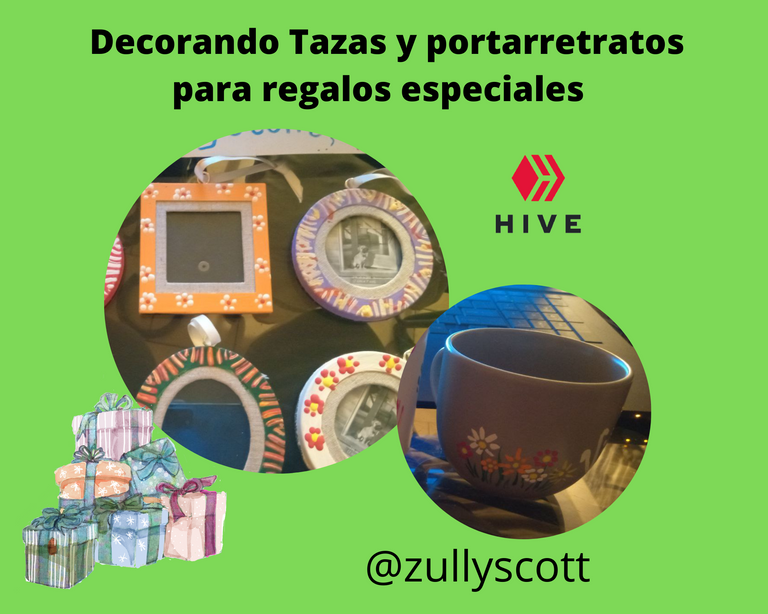 Hola mis amores
Felíz de compartir con ustedes uno de esos momentos donde la creatividad se activa y podemos hacer cosas maravillosas, sobre todo si es para hacer felices a las personas que amamos.
En un post anterior les conté que había salido a comprar varias cosas para realizar unos obsequios, pero estas cosas estaban sin detalles y tuve que decorarlas para poder hacer los obsequios.
Hacer detalles para mi es muy importante, pues con ellos puedo decirle de otra manera a las personas que son importantes para mi, todos tenemos nuestros lenguajes para expresar el amor , regalar es uno de ellos. En mi caso salir de compras o simplemente craftear o diseñar un obsequio me llena de mucha felicidad, es dedicar tiempo a imaginar cómo va a quedar todo, ligar eso a la persona a la que quieres hacerle el obsequio, luego dedicar tiempo a crear, armar, pintar y trasformar para obtener los resultados que te hagan sentir feliz.
Yo soy muy feliz haciendo cosas con mis manos para regalar a otros, sobre todo a las personas que han tenido en mi vida un papel importante y especial.
Vamos y te cuento cómo las decoré para poderlas obsequiar:
Hello my loves
Happy to share with you one of those moments where creativity is activated and we can do wonderful things, especially if it is to make happy the people we love.
In a previous post I told you that I had gone out to buy several things to make some gifts, but these things were without details and I had to decorate them to be able to make the gifts.
Making details for me is very important, because with them I can tell in another way to the people who are important to me, we all have our own languages to express love, giving is one of them. In my case, shopping or simply crafting or designing a gift fills me with a lot of happiness, it is dedicating time to imagine how everything is going to look like, linking it to the person you want to give the gift to, then dedicating time to create, assemble, paint and transform to get the results that make you feel happy.
I am very happy making things with my hands to give to others, especially to people who have played an important and special role in my life.
Let me tell you how I decorated them to be able to give them as gifts: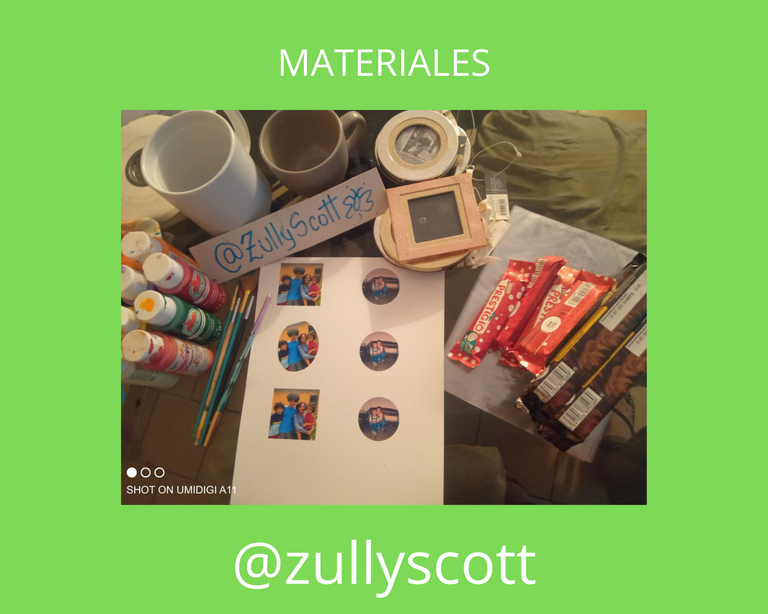 Para mis obsequios tenía varios portarretratos que me había mandado una amiga muy querida, pero estos eran todos dorados y compré un par de tazas unicolor, una blanca y una gris para personalizarlas.
Utilicé:
Pinturas al frío
Pinceles
Tijera
Cinta de lazos de regalos
Bolsitas trasparentes
Fotografias impresar en papel fotográfico.
For my gifts I had several picture frames that a dear friend had sent me, but these were all gold and I bought a couple of unicolor mugs, one white and one gray to personalize them.
I used:
Cold paints
Brushes
Scissors
Gift ribbon
Transparent bags
Photographs printed on photographic paper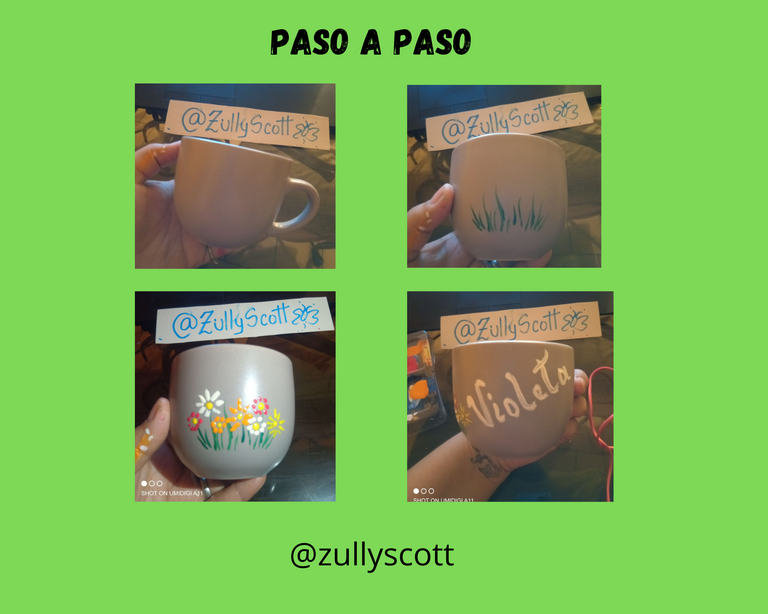 Comencé por personalizar la taza gris que era para mi suegra, comencé pintando una gramita y le hice flores anaranjadas, amarillas y rojas por un lado y por el otro le pinté su nombre "Violeta".
I started by personalizing the gray mug that was for my mother-in-law, I started by painting a small gram and made orange, yellow and red flowers on one side and on the other side I painted her name "Violet".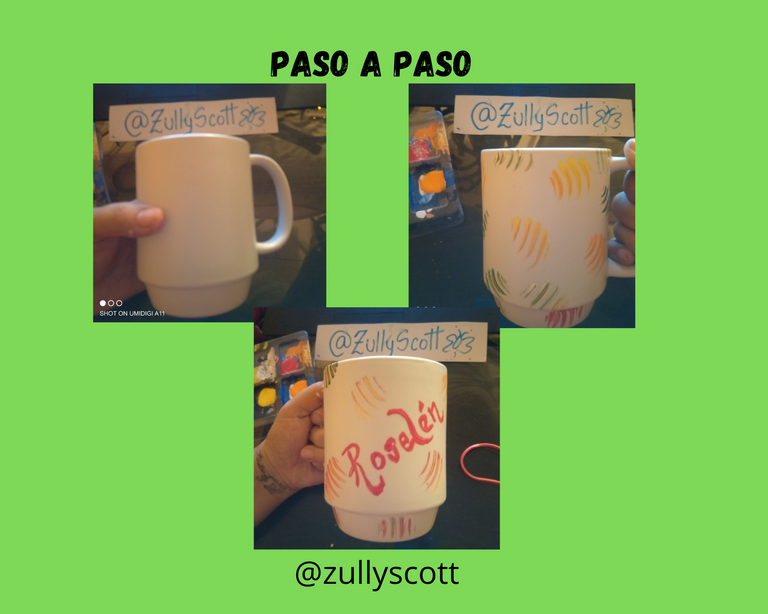 La segunda taza era para la madrastra de mis hijos, a esta taza la pinté con destellos de diferentes colores y también la personalicé pintando su nombre "Roselen".
The second mug was for my children's stepmother, I painted this mug with sparkles of different colors and also personalized it by painting her name "Roselen".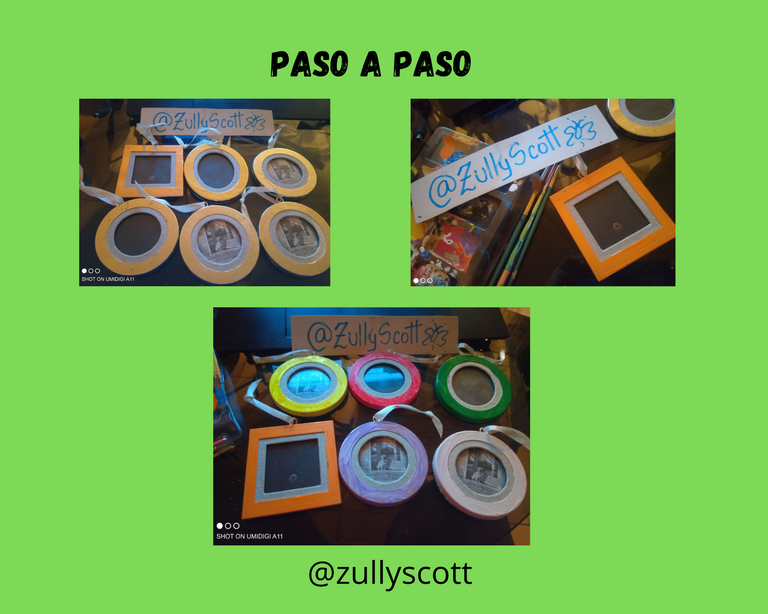 Para los portarretratos, primero pinté cada uno de un color diferente, ya que quería que todos fuesen personalizados. Estos serían para algunas abuelitas e incluso había uno para mí.
For the picture frames, I first painted each one a different color, since I wanted them all to be personalized. These would be for some abuelitas and there was even one for me.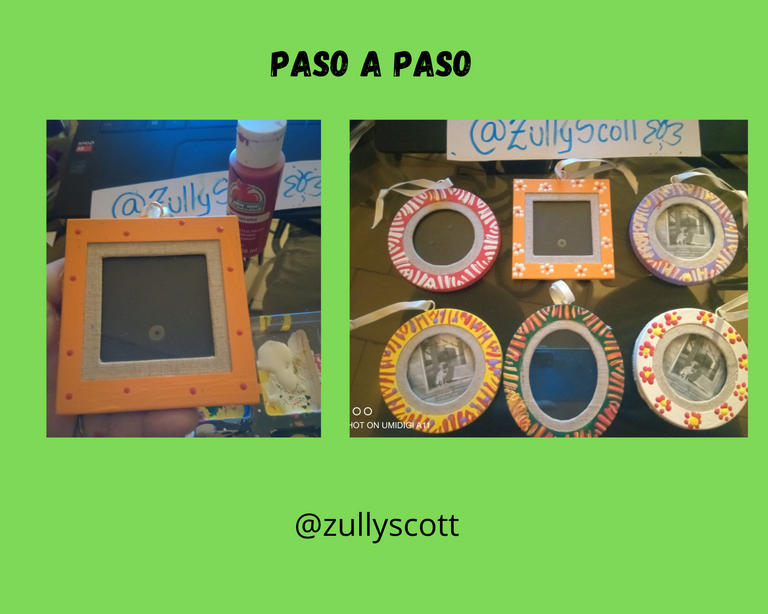 Luego a cada portarretrato le hice detalles cómo flores, rayitas de varios colores o unicolores, me encantaron como quedaron de vivos y coloridos.
Then I made details like flowers, stripes of various colors or unicolors, I loved how vivid and colorful they were.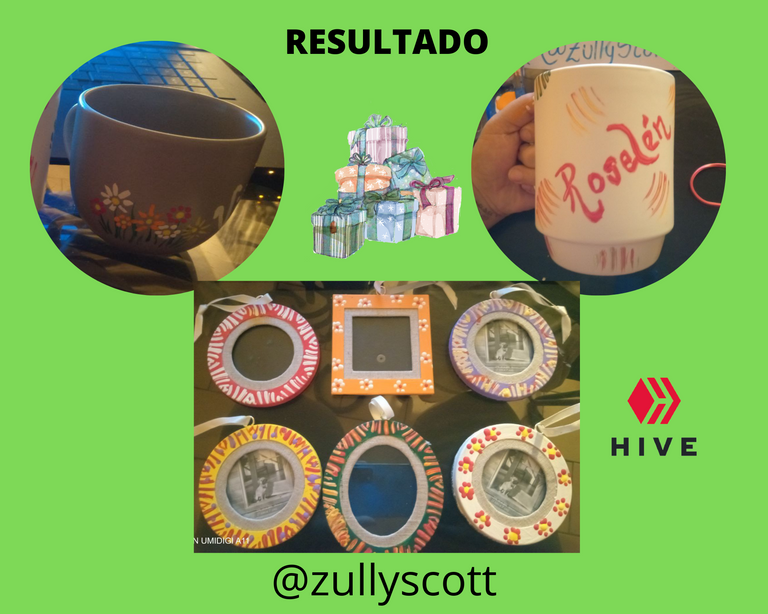 Luego con algunas chucherías armé unos pequeños cotillones y fuí armando cada obsequío en forma de arreglo, a los portarretratos luego les coloqué la fotografía y los obsequié.
Then with some knick-knacks I put together some small cotillions and I assembled each gift in the form of an arrangement, then I placed the photograph on the picture frames and gave them as a gift.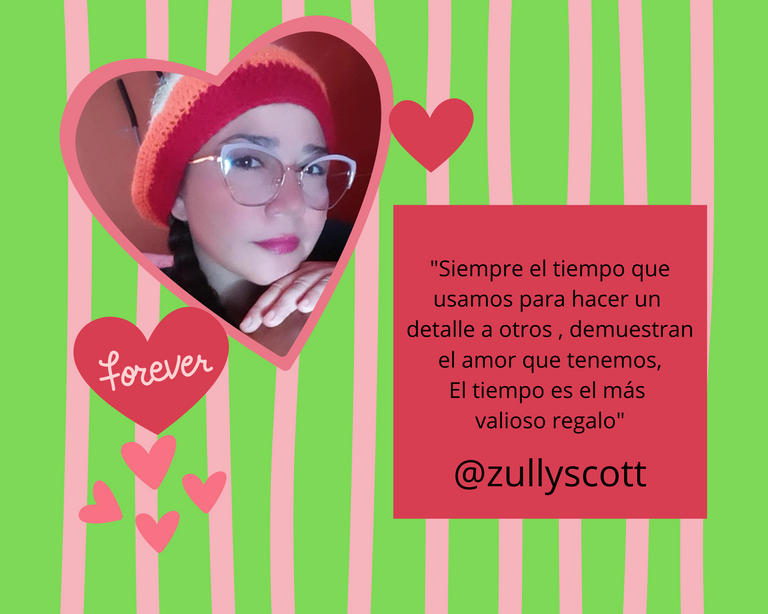 Dedicar tiempo de nuestra vida a elaborar alguna manualidad, a pintar un objeto, a transformar algo en un regalo especial personalizado, hace sentir a las personas el amor que le tienes. En mi caso disfruto mucho todo el proceso de obsequiar algo, y cuando estoy transformando esos regalos pienso en cada detalle que hace que esa persona sea especial.
¿Qué regalamos más allá del objeto? , regalamos el tiempo de vida que hemos usado a elaborar eso, la energía que colocamos, el amor en los detalles, la dedicación para que esa persona que recibe el obsequio sea felíz. No es sólo algo material, es todo lo que engloba realizarlo.
Dedicating time of our life to elaborate a craft, to paint an object, to transform something into a special personalized gift, makes people feel the love you have for them. In my case I really enjoy the whole process of giving something as a gift, and when I am transforming those gifts I think about every detail that makes that person special.
What do we give beyond the object? We give the time of life we have used to elaborate it, the energy we put into it, the love in the details, the dedication to make the person who receives the gift happy. It is not only something material, it is what is involved in making it.
Espero les haya gustado mis detalles, las personas que los recibieron se sintieron muy felices, y bueno, por su cara creo que les gustó.
I hope they liked my details, the people who received them were very happy, and well, by their face I think they liked it.
GRACIAS POR DEDICAR TIEMPO VALIOSO DE TU VIDA A LEERME
CON AMOR
ZULLY
THANK YOU FOR DEDICATING VALUABLE TIME OF YOUR LIFE TO READ ME
WITH LOVE
ZULLY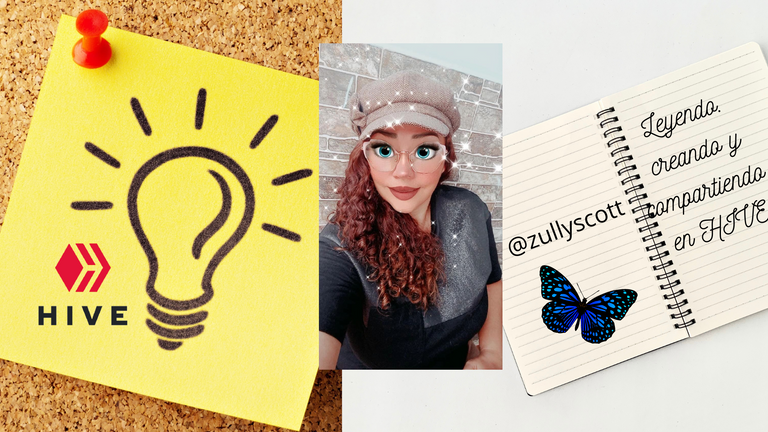 Imágenes propias editadas con CANVA
Own images edited with CANVA
---
---