Hive Open Mic 115 . "Canto de pilón" Cover @zullyscott
---
Hola gente bonita de Hive Open Mic
Nos volvemos a conseguir esta semana para este encuentro musical que une corazones y fronteras, felíz de estar aquí y sentir como todos vamos disfrutando la música.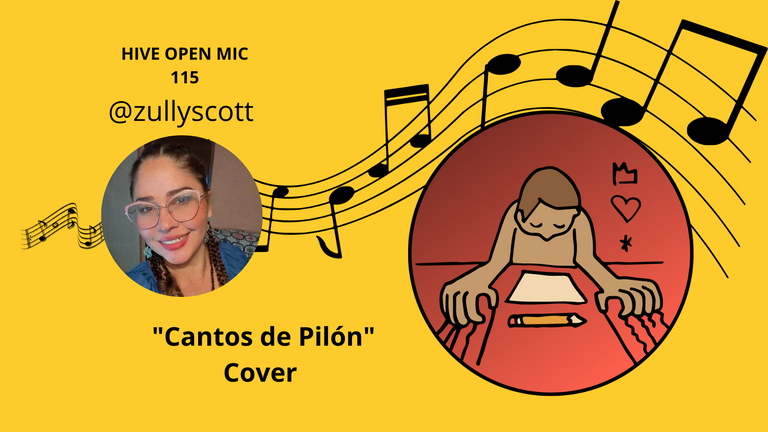 El tema de esta semana es "Doing the work" ó Haciendo el trabajo en español, estuve buscando opciones de canciones y al final decidí compartirles un canto de pilón, estos cantos se daban en la época de la colonia en mi país, allí las mujeres , mayormente afrodescendientes cantaban mientras hacían sus labores del día, habian Cantos de Lavanderas y también cantos del pilón.
El pilón era como un embudo de madera donde se colocaba el maiz en granos y con un palo las mujeres golpeaban el maíz hasta triturarlo y así hacer una masa para cocinar las arepas, especie de pan hecho de maiz que se rellena de diversos alimentos como queso, carnes entre otros.
Tenían que levantarse muy temprano estas mujeres, así que mientras hacían su trabajo cantaban, pero esos cantos llevaban mensajes de lo que iba pasando en el pueblo, una especie de canto donde se chismeaba, por decirlo así.
Así que les dejo este canto folklórico de mi pais que hace alusión a cuando se está haciendo el trabajo.
CANTO DE PILÓN
A Capella:
(Ritmo Orquidea, lento)
Adios, manita querida Oh
Adios, que te voy diciendo manita Oh,
Di porque no me contestas, manita Oh?.
Io, io...Dale duro a ese pilon
Io, io...Que se acabe de romper
Io, io...En el monte hay mucho palo
mi papa lo sabe hacer.
Ya me duele la cabeza,
de tanto darle al pilon,
que es pa' engordar un cochino
y comprarme un camison.
Si por tu marido es,
Cojelo que alla te va,
un camison de cretona
no me lo ha llegado a dar.
Allá arriba en aquel cerro,
ta' un matrimonio civil,
se casa la bemba e' burro,
con el pescuezo e' violin.
Alla va la cara e' diablo,
de corazon de demonio,
que tiene la lengua negra
de levantar testimonios.
Yo no quiero hombre casa'o,
porque 'jiede' a mata dura,
yo quiero uno solterito,
que huele a piña madura.
Y la zoqueta se cree,
que todo se lo merece
y vive en un pe'azo e' rancho
que el viento se lo estremece.
Linda tú linda tu madre
linda tu abuela y tu tía
¿cómo no vas a ser linda?
si eres de la misma cría.
(La ultima estrofa fue una variación que hice)
Estos cantos son muy variados son de origen popular, más si este tiene algún autor pueden colocarlo en los comentarios.
Sigamos amando la música, viviéndola y compartiendo con otros el maravilloso mundo que nos brinda
Un abrazo fraterno
Con amor
Zully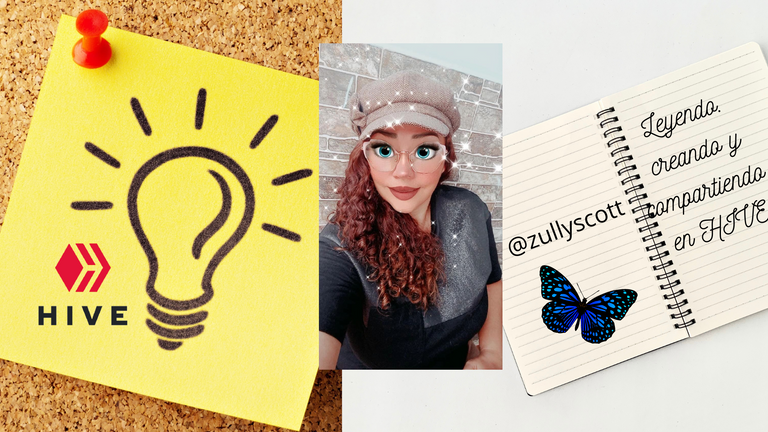 ENGLISH
Hello beautiful people of Hive Open Mic
We meet again this week for this musical encounter that unites hearts and frontiers, happy to be here and feel how we all enjoy the music.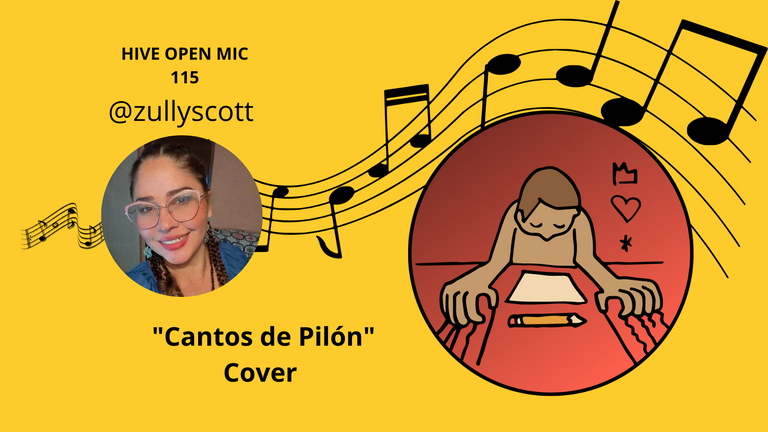 This week's theme is "Doing the work" or "Haciendo el trabajo" in Spanish, I was looking for options of songs and in the end I decided to share with you a pilón song, these songs were sung during the colonial times in my country, there the women, mostly afrodescendants sang while doing their daily chores, there were Cantos de Lavanderas and also pilón songs.
The pilón was like a wooden funnel where the corn kernels were placed and with a stick the women beat the corn until it was crushed to make a dough to cook the arepas, a kind of bread made of corn that is filled with various foods such as cheese, meats and others.
These women had to get up very early, so while they were doing their work they sang, but these songs carried messages of what was happening in the village, a kind of song where they gossiped, so to speak.
So I leave you with this folkloric song from my country that alludes to when the work is being done.
CANTO DE PILÓN
A Capella:
(Orquidea Rhythm, slow)
Adios, manita querida Oh
Adios, I'm saying to you, manita Oh,
Say why don't you answer me, manita Oh?.
Io, io...Hit that one hard pilon
Io, io...Let it break down
Io, io...In the mountain there is a lot of stick
My dad knows how to do it.
I already have a headache,
of so much giving him to the pylon,
that it is to fatten a pig
and buy me a shirt.
If it's for your husband,
Take it and there you go,
a cretonne camison
he hasn't even given it to me.
Up there on that hill,
there's a civil marriage,
the donkey's donkey is getting married,
with the neck of the violin.
There goes the face of the devil,
with the heart of a devil,
who has the black tongue
of raising testimonies.
I don't want a man in the house,
because he's a tough nut to crack,
I want a bachelor,
who smells like ripe pineapple.
And the oaf believes
that she deserves everything
and she lives on a small ranch
that the wind shakes it.
Pretty you pretty your mother
your grandmother and your aunt
how can you not be pretty?
if you are from the same brood.
(The last stanza was a variation I made)
These songs are very varied, they are of popular origin, more if this one has some author you can place it in the comments.
Let's keep on loving music, living it and sharing with others the wonderful world that it gives us
A fraternal embrace
With love
Zully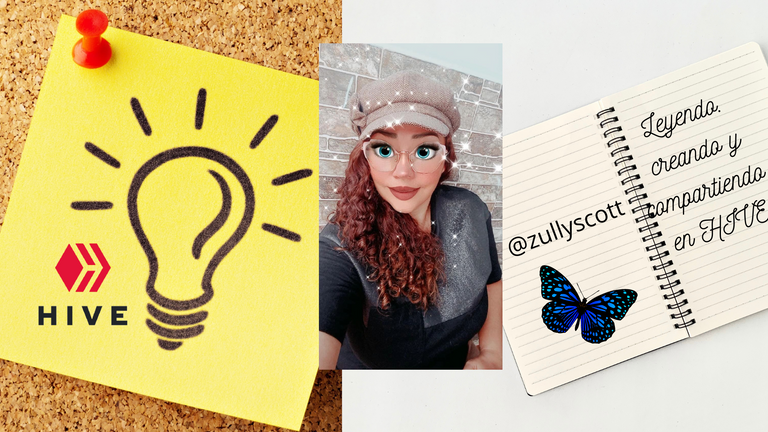 Translated with www.DeepL.com/Translator (free version)
Imágenes editadas con Canva
Video editado en Filmora.
---
▶️ 3Speak
---
---