Mi avance en RisingStar al 23/05/2022, Disfrutando de este gran juego musical (Esp/Eng)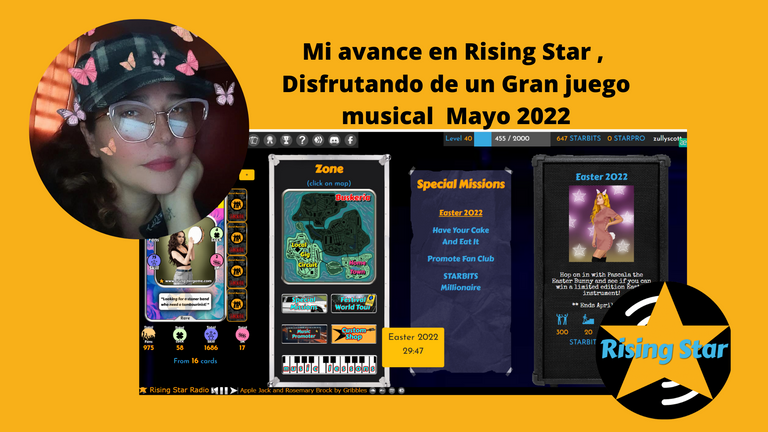 Hola Gamers de Hive
Estoy de nuevo por aquí para contarles mi avance es este súper juego Rising Star durante El mes de Mayo.
Sería mi tercer reporte y me siento muy bien de lo que he ido logrando, este juego se ha convertido en parte de mi día a día y es muy emocionante sentir que voy avanzando, cada día entiendo más las dinámicas y tengo más claras las metas que deseo lograr cada mes, como siempre traeré mis avances de forma mensual ya que considero que así puedo ver mejor lo que voy haciendo, además de que me da más oportunidad de ir haciendo compras de cartas y obteniendo más starbits.
Se han duplicado las ganacias este mes y eso es por algunos avances que he logrado y pues, vengo a contarles:
MIS AVANCES GENERALES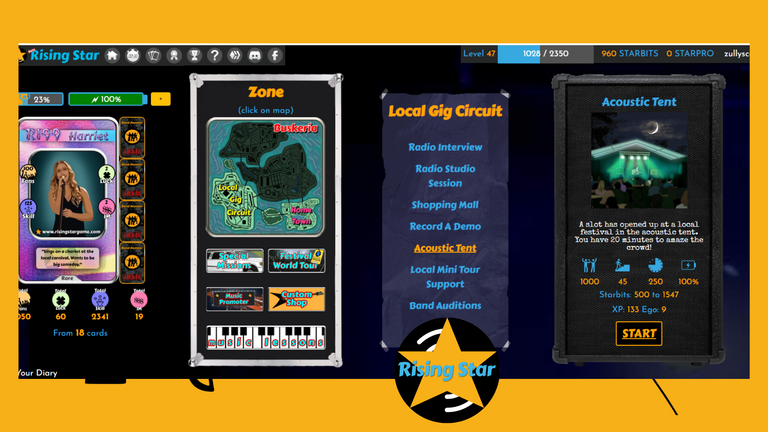 Les cuento que ya estoy en el nivel 47, esto me ha permitido hacer nuevas misiones, ya tengo 1050 Fans no siento que avancé mucho comparado al informe anterior que tenía 998 fans. He bajado mi ego de 34% a 23% , esto a que he realizado bastantes clases tanto vocal como lecciones de guitarra. Mi Skill subió de 1686 a 2341.
Ya puedo realizar la misión ACOUSTIC TENT del mapa LOCAL GIG CIRCUIT y mi próxima meta es poder bajar más mi ego, tener más fans y poder llegar a Band AUDITIONS.
MIS CARTAS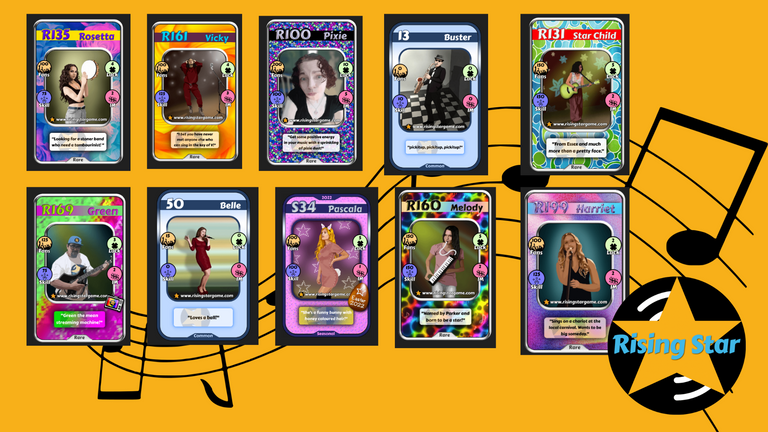 Ya tengo 10 Artistas , este mes agregué a mi colección a HARRIET, ya que me dió una cantidad de fans necesarios para subir el nivel.
MIS INSTRUMENTOS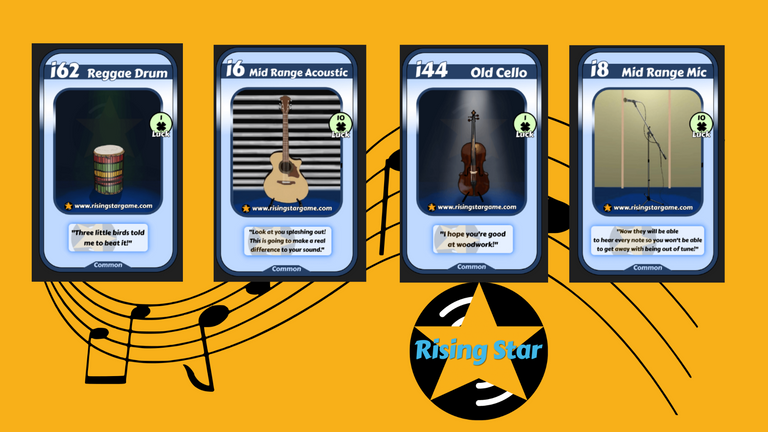 Por ahora sigo teniendo los mismos instrumentos, no he comprado nuevos.
AUTO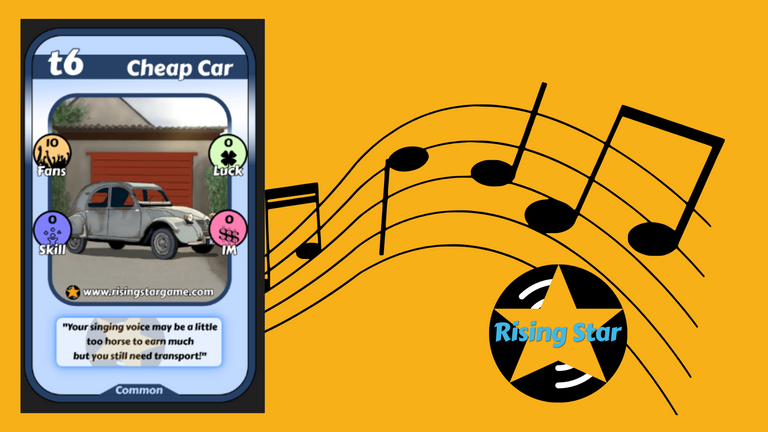 Aún solo tengo este auto. Espero poder comprar el que exigen para las audiciones pronto.
MIS BOOSTERS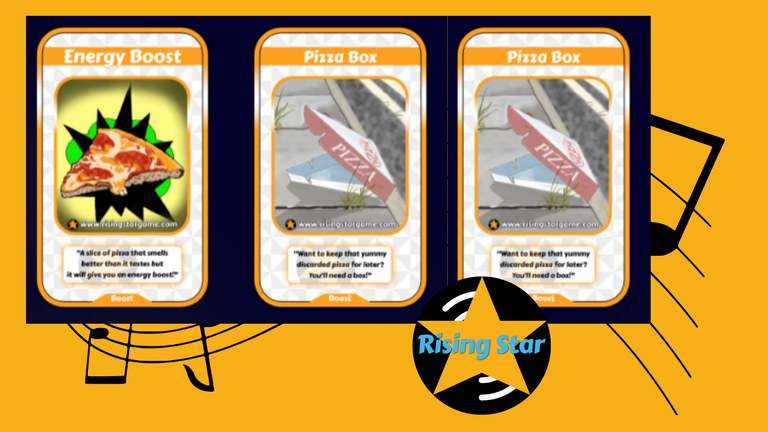 Compré otra caja de pizza, esto me ha ayudado mucho a adelantar misiones, deseo comprar este mes un Energy Boost, porque así no dependo tanto de la suerte.
RESUMEN FINAL

¿Mis estrategias?
Pueden ver mi estatus al 23/05/2022 , siento que avancé bastante, he dedicado tiempo ha hacer más misiones cortas con el fin de avanzar más de nivel, las misiones largas las dejo para la madrugada, está vez tuve que cambiar a Hive un poco de los starbits ganados porque los necesitaba para solventar una situación familiar, pero sigo ahorrando. Quiero mucho comprarme varios packs y vivir esa emoción. Por ahora sigo haciendo mis misiones, mi reto este mes es poder llegar a las Audiciones de Banda.
MIS GANANCIAS
Desde que inicié hasta el 22/02/2022 10.000 Starbits
Desde el 26/02/2022 al 1/04/2022 41000 starbits
Desde el 1/04/2022 al 23/04/2022 22000 Starbits
Desde el 23/04/2022 al 23/05/2022 40.854 Starbits
Total 113,854 Starbits ganados desde que comencé el juego.
Siento que voy bien, a veces quisiera dedicar más tiempo pero no puedo, pero hasta ahora he logrado avanzar y este mes gané el doble que el anterior, para este mes que viene deseo poder comprar más cartas y lograr bajar mi ego a cero y así avanzar mejor.
SIGAMOS DISFRUTANDO DE LA MÚSICA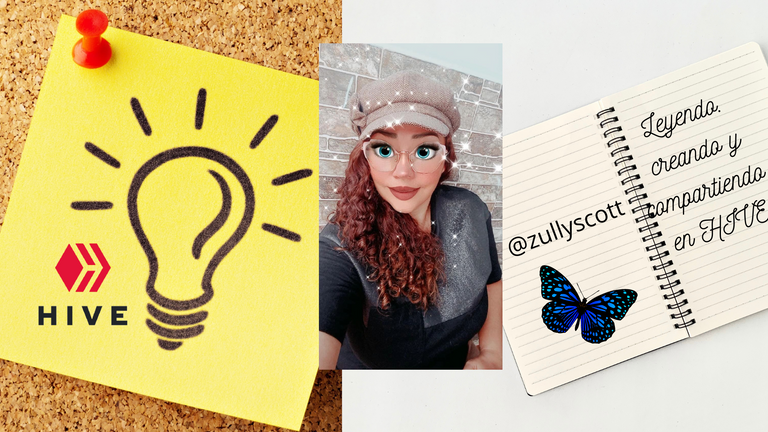 Todas las imágenes son capturas tomadas de mi user de Rising Star, ediciones hechas con CANVA.

ENGLISH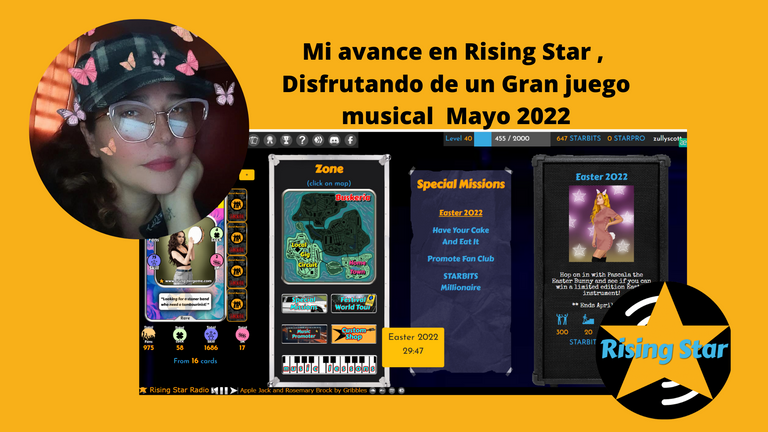 Hello Hive Gamers
I'm here again to tell you about my progress in this super game Rising Star during the month of May.
This would be my third report and I feel very good about what I have been achieving, this game has become part of my day to day and it is very exciting to feel that I am advancing, every day I understand more the dynamics and I have more clear goals that I want to achieve each month, as always I will bring my progress on a monthly basis as I believe that so I can see better what I'm doing, plus it gives me more opportunity to go shopping cards and getting more starbits.
The earnings have doubled this month and that is because of some advances that I have achieved and well, I come to tell you:
MY GENERAL PROGRESS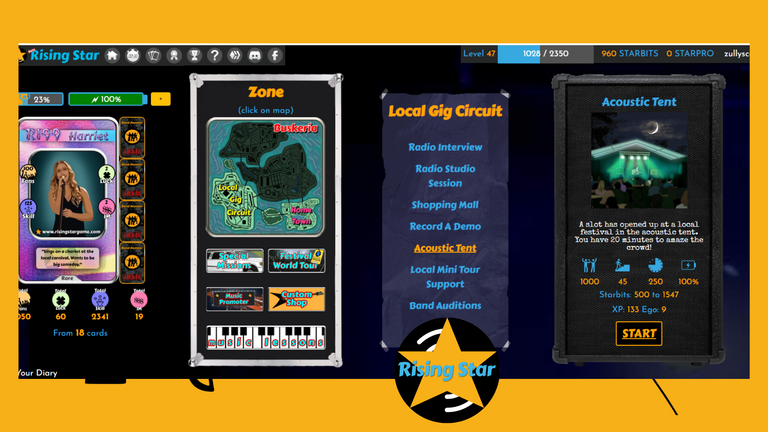 I'm already at level 47, this has allowed me to do new missions, I already have 1050 Fans, I don't feel that I have advanced much compared to the previous report that I had 998 fans. I have lowered my ego from 34% to 23%, this is because I have done a lot of vocal lessons as well as guitar lessons. My Skill went up from 1686 to 2341.
I can now do the ACOUSTIC TENT mission of the LOCAL GIG CIRCUIT map and my next goal is to lower my ego more, have more fans and be able to reach BAND AUDITIONS.
MY CARDS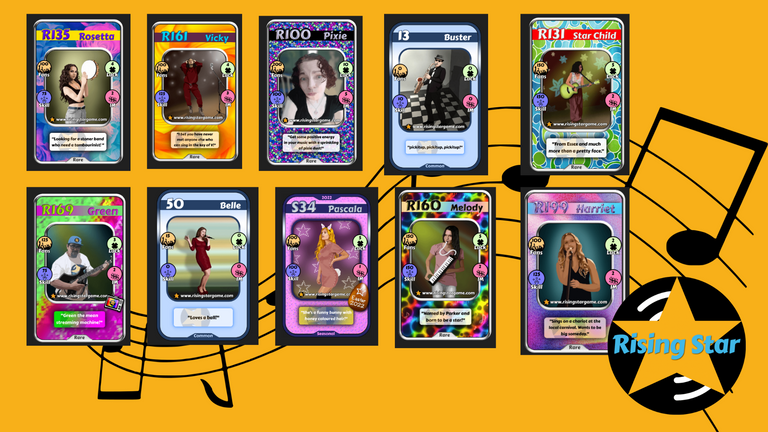 I already have 10 Artists , this month I added HARRIET to my collection, as she gave me the amount of fans needed to level up.
MY INSTRUMENTS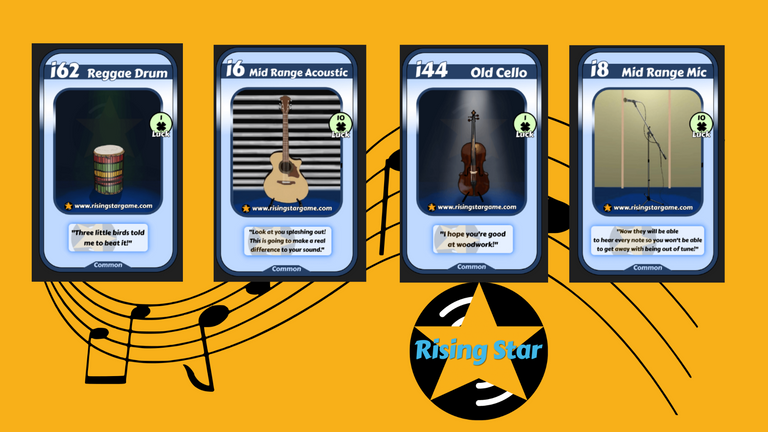 For now I still have the same instruments, I haven't bought new ones.
CARS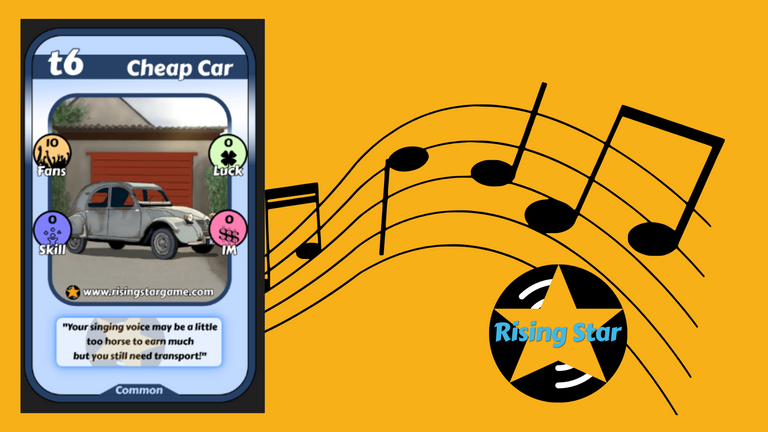 I still only have this car. I hope to be able to buy the one they require for auditions soon.
MY BOOSTERS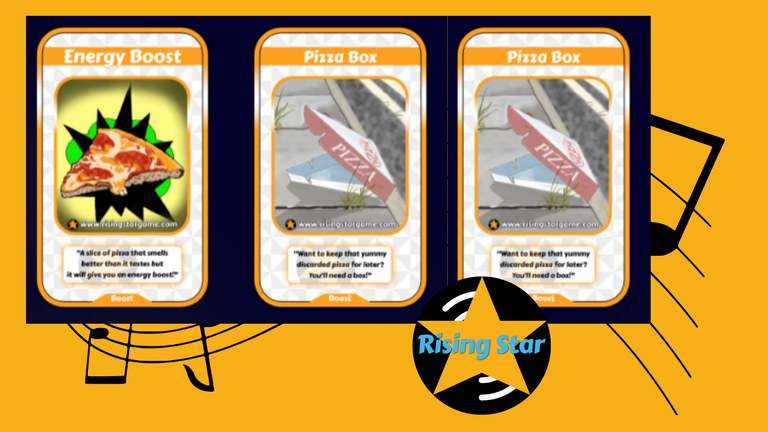 I bought another pizza box, this has helped me a lot to advance missions, I wish to buy this month an Energy Boost, because this way I don't depend so much on luck.
FINAL SUMMARY

My strategies?
You can see my status on 05/23/2022 , I feel that I have advanced a lot, I have dedicated time to do more short missions in order to advance more in level, the long missions I leave for the early morning, this time I had to change to Hive a little of the earned starbits because I needed them to solve a family situation, but I continue to save. I really want to buy several packs and live that emotion. For now I keep doing my missions, my challenge this month is to get to the Band Auditions.
MY EARNINGS
Since I started until 02/22/2022 10.000 Starbits
From 02/26/2022 to 04/1/2022 41000 starbits
From 1/04/2022 to 23/04/2022 22000 Starbits
From 04/23/2022 to 05/23/2022 40,854 Starbits
Total 113,854 Starbits earned since I started the game.
***I feel that I'm doing well, sometimes I would like to spend more time but I can't, but so far I have managed to advance and this month I won twice as much as last month, for this next month I want to buy more cards and get my ego down to zero and thus advance better.
LET'S KEEP ENJOYING THE MUSIC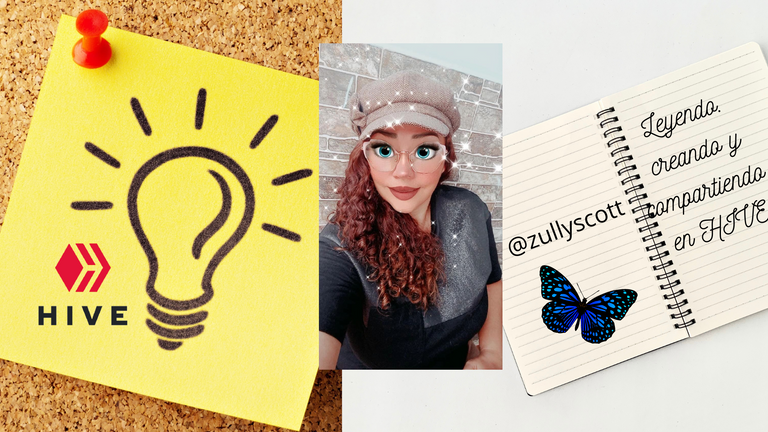 All images are screenshots taken from my Rising Star user, editions made with CANVA.
Deelp Traslate free.
---
---