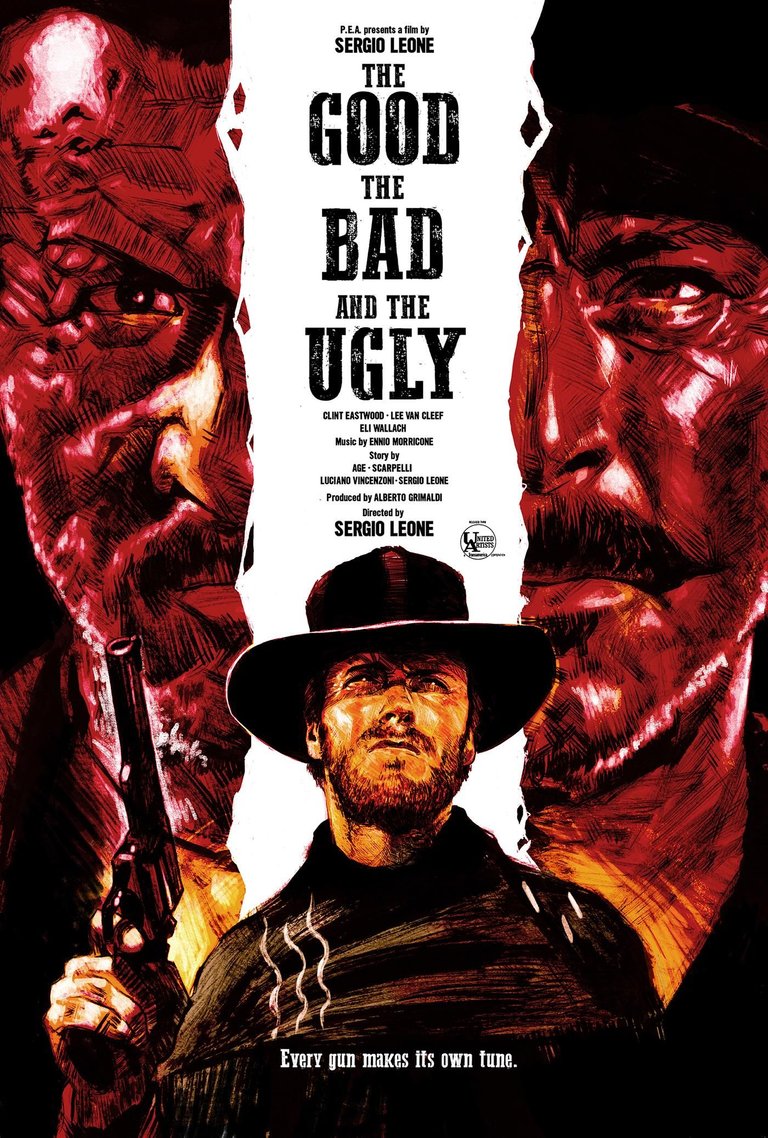 Image source
---
Ciao Steemians!
---
My good father was a great film lover, he watched so many, especially those of "his times", often criticized the ones that just came out that I liked so much and I didn't understand why. Now, years later, I can understand why, lately I can feel the same sensations with some new arrivals, they seem to me that are already seen and a recycled thing can't give you the same emotions as the novelty.
Between all those he watched on TV, this was one of those that, when he found it on any channel by zapping, he watched again without hesitation, sawing it dozens of times and me with him. Like I said in the title, a Spaghetti Westerns masterpiece, this is the word that comes to my mind to be able to describe it as briefly as possible.
Accompanied by the music of the master Ennio Morricone and surrounded by spectacular landscapes, the desolate lands of Sergio Leone with this film have touched almost the top of his career, thanks also to his choices regarding the three main actors, who have acted in an excellent way.
It lasts about three hours and in the first part the three main characters are presented, the whole story will run around them, the Ugly appears first, committed on facing some disreputable elements, just like him, that he will get rid of in a few seconds gunshots sound.
---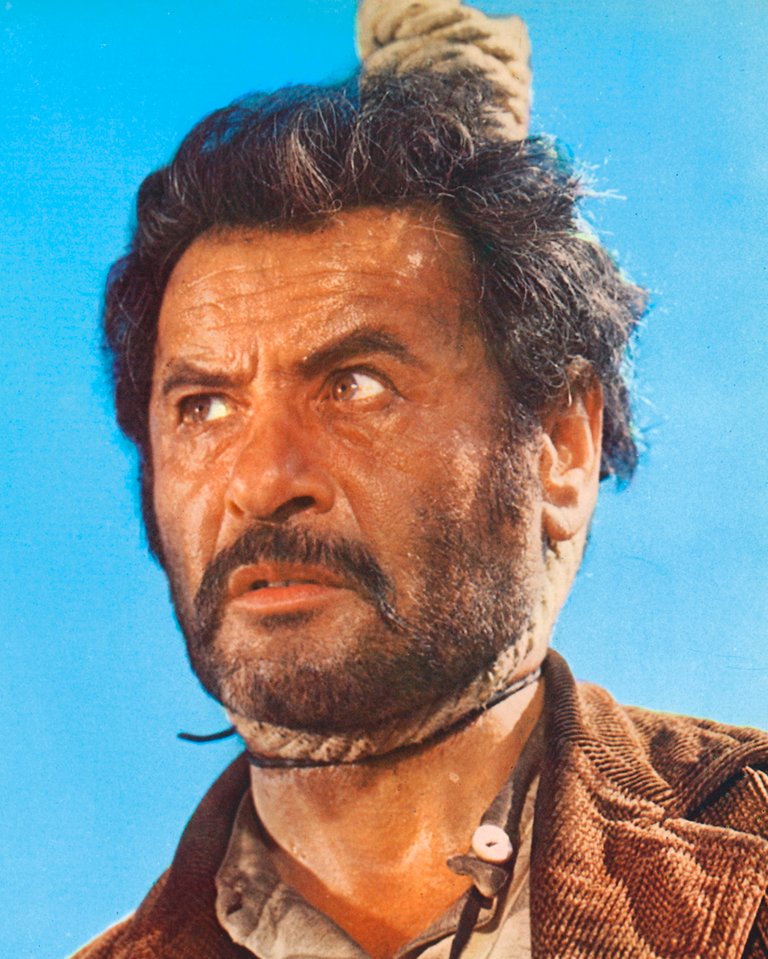 The Ugly - Eli Wallach Image source
---
Then the Bad, also called "Angel Eyes", enters the scene, who, worthy of his nickname, exterminates on behalf of a sender a family man and his son to know under what name John Carson is hiding, despite the man offer more money than the sender to save his life, the villain respects his own formidable reputation and kills him without hesitation.
Once met the sender will do him the same favor, as a man with firm principles, he claims that "when he is paid he always finish his work", but not before discovering that a case of money has been hidden by Carson in a unknown place, so begins his search for $ 200,000.
---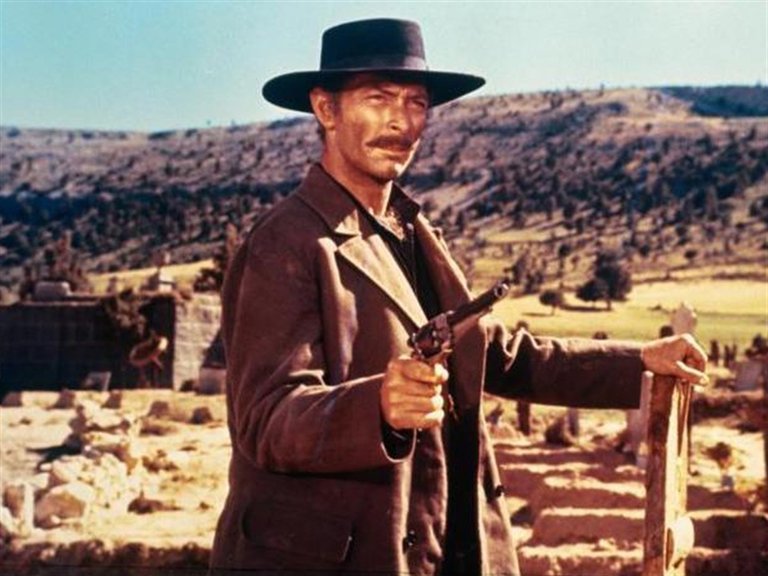 The Bad - Lee Van Cleef Image source
---
To enter for the last it's up to the Good, also called "blondie", he always very willingly helps the ugly, often saving his life, as they are in couple and share the wanted rewards when the poor Ugly is destined to be hanged. The Good has an excellent sight and always, or almost, is able to cut the rope surgically and then run away together.
This game does not last long, soon they will fight and the Good will not turn out to be a saint, from that moment the Ugly will try in every way to take revenge until he almost kills his former partner. Fate, however, wants the two to meet the famous Carson and that the Good, almost dying, will be able to discover a grave name and the Ugly will feel obliged to save his skin.
---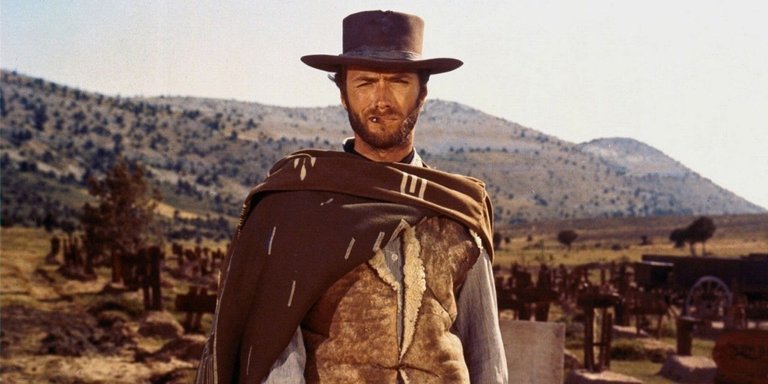 The Good - Clint Eastwood Image source
---
From this point begins the gold rush, in an era in which the principles and values of people had been lost and money, alcohol and personal vengeance dominated the scene. The three share the information, Blondie knows the grave's name, while the Ugly knows that one of the cemetery, the Bad, who became an Northern officer, will also discover the name of the cemetery after torturing the Ugly.
That one just described is among the most entertaining and touching moments, because, just before we discover the name of the ugly, Tuco, as he met the priest brother with whom he does not have a good relationship but pretends to the eyes of the Good to have it, trying to save appearances.
The two will find themselves dressed in gray, having stolen some Southerner dead military soldiers' uniform, and they will meet a group of dirty Northern believing them to be the same color, but once they clean their uniform, they will realize they are trapped and they will be imprisoned, this scene will be enclosed in this beautiful sentence:
Tuco: "Lee! LEE! Ha ha! God is with us because he hates the Yanks too. HURRAH!"
Blondie: [spits] " God's not on our side because he hates idiots also."
---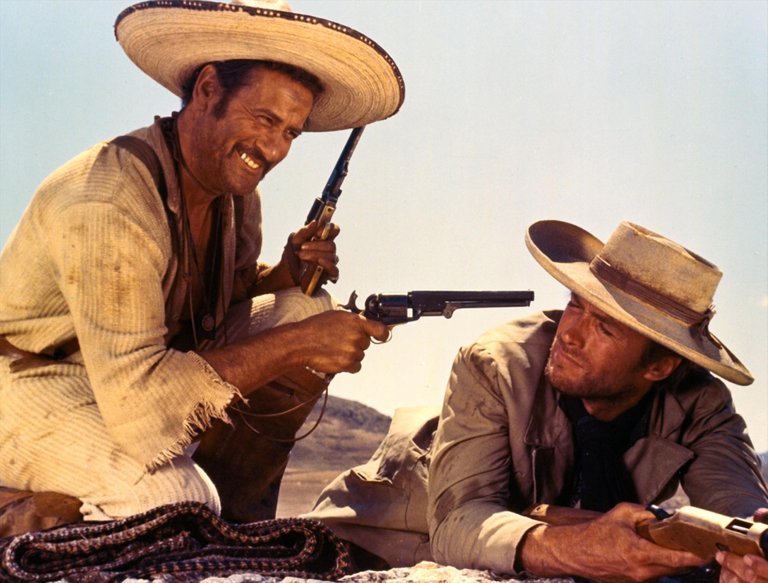 Image source
---
The secession war and his grotesque dynamics and its horrors arrives. The two partners will initially be imprisoned to then be able to leave, on the journey to the cemetery they will help a poor desperate man protecting a bridge with his platoon, located on the west front on the New Mexico conflict, to blow it up, a touching and very thoughtful scene.
The film moves in different locations in a easy way and time literally flies, despite the sometimes very static scenes, looks and jokes can cut the tension, wiping out boredom. Some sentences have entered in the cinema hitory, like the one mentioned before and during a Tuco fire fight, after having prevailed, he says:
When you have to shoot, shoot; don't talk!
The Ugly's gun is well guided by a quick and timely hand and Blondie baptizes it this way:
Every gun makes its own tune.
---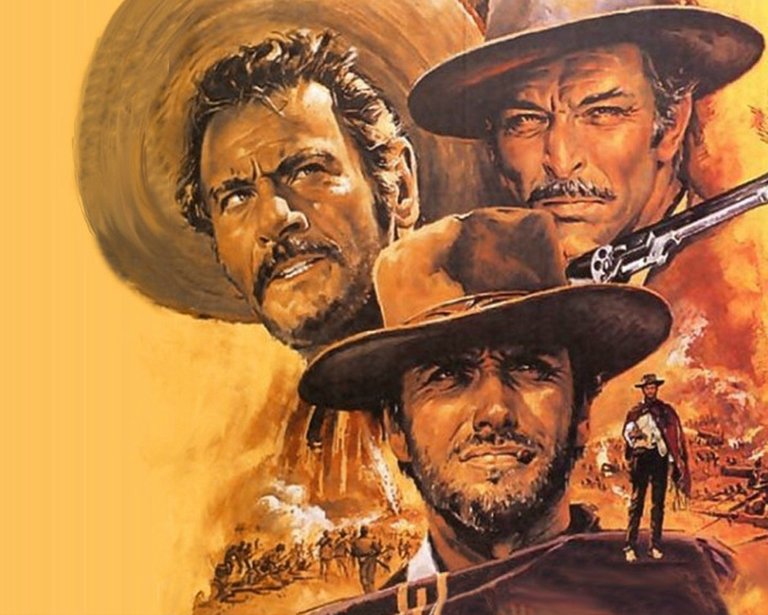 Image source
---
After so many adventures the three will meet at the cemetery, a scene that you will hardly not have seen if you have a minimum knowledge of this type of film, reputed by some to be one of the best scenes ever. A fire-on anthology duel, sharp looks and zoom shooting on the three who, at that moment ,only have one thing in their mind and are ready to die to get it.
I have seen it about thirty times and I do not think I will get tired of watching it again in the near future, it is difficult to find high quality films like this in its genre, there are not many that manage to compete with it, despite the fact that more than 50 years since its theaters release. A pearl that I recommend to anyone, even children, like me when I was eight years old and if I fell in love with cinema, most of the credit is thanks to this film.
---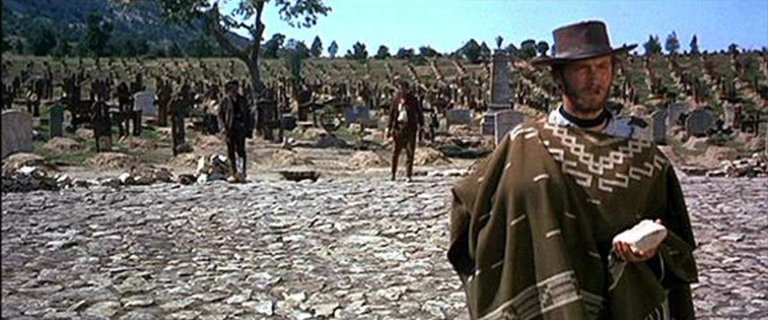 Image source
---
---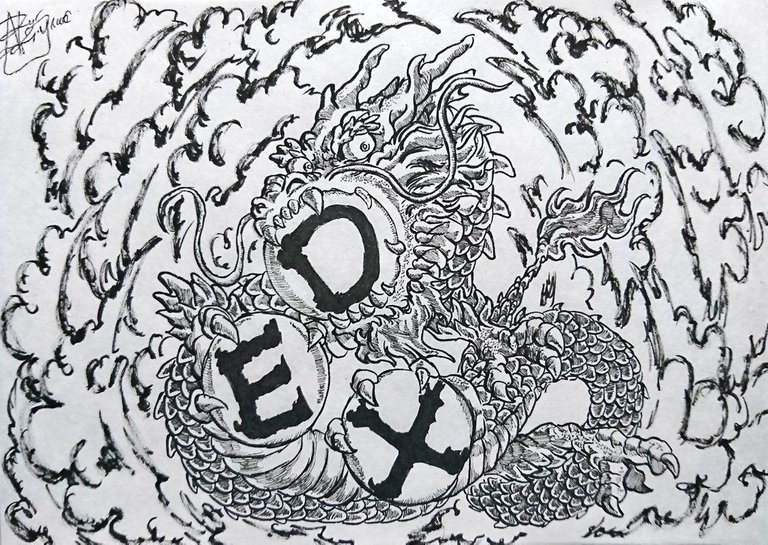 Logo by @ryo-6414
---
Thanks for reading, a big hug and see you soon!
---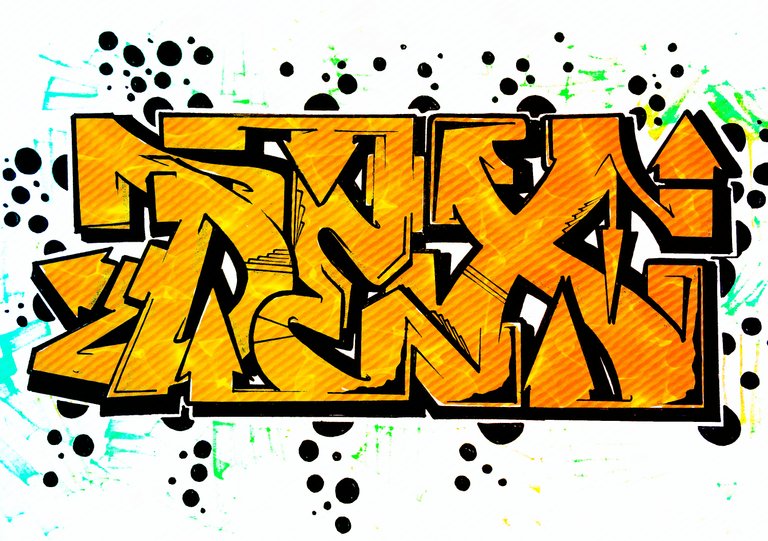 Logo by @ran.koree
---
Rating: 9.5
---