English
Today I come to talk about something that excites me a lot, because I would never have thought of creating and my personal brand.
As you all know I am a producer and it is not something I studied for years, it is a career that I practice as part of my daily life. In one of my posts I told you how I became a producer and some projects I've had the honor of organizing with excellent artists.
I believe and act quickly and effectively, that has always been innate, "I'm Aries, I'm Fire" and according to my Kin Maya "THE PLANETARY MOON OF THE DOG (FOX)"- I live from How can I perfect what I do?
"PERFECT - PRODUCE"
From time to time this is often a problem for me to develop artistically, since I demand so much that sometimes it is unnecessary and blocks me to the point of wanting to give up, but it turns out that it is something that makes me very competent, so much so that I can create harmony between my tastes and the tastes of others, being an excellent critic of situations or projects.
My friends used to make jokes about the latter and after a while I became a kind of impartial judge at my university, being a reliable reference in any field.
Recently a friend managed to see beyond what I was doing and suggested that I create a personal brand to serve as a seal of quality for the things I wanted to produce, this generated in me a mental shock and because there I had to start producing myself.
On the same date I was designing for the first time in my life, and creating an illustration For friends of @abundance.tribe I found the motivation and experience I needed to think of an image that would describe me and in turn describe everything I wanted to be a part of.

Chejeru productions
Chejeru is the Goddess of the Wotujja culture. It is said that she was the one who sowed all the medicinal plants in the earth, being an image of fertility; Her body is seeds, seeds that she waters in the world. She is the energy that we receive through the plants.
During the Ñua ceremonies, we prepare ourselves to feel her presence, because she becomes the medicine, she is the Ñua. The shaman uses the plants as a tool to connect with the spiritual world, but it is Chejeru, wife of Puruna (God), who with her energy becomes present to guide us. Her story is beautiful and extensive, besides interesting, I won't tell it in this post because I'm not sure if it's really right to do so, but maybe in another occasion I'll tell you a little more about her.
For me, a production is a seed (idea), which is born in a fertile mind, giving an endless number of possibilities for a creation; so calling a production company, with the name of the Goddess of my land, was appropriate for me and thus became a successful option.

Values
Honestly it's not the same to create for another person as to create for yourself, so this took me weeks, what I did for @abundance.tribe in 1 day, took me 2 weeks.
The main thing was to think about those values that describe my way of working, I needed the logo to be a representation of the values that I think, are needed when offering a service.
Love
I consider love to be one of the most important values. Since it is the force that drives us to do things right, that is why it is considered a value that has the difference between good and evil very clear.
"Love as you can, love who you can, love as much as you can. Don't worry about the purpose of your love."

Amado Nervo.
Balance
Balance is the harmony that must exist in the midst of diversity, moderation, equanimity, and good sense in judgments and actions. If a person acts in equilibrium, he can travel through diverse paths without falling, that is, without losing control or harming others.
Constancy
Constancy is the quality that people possess in order to achieve objectives in all areas of life.
This trilogy is the one that in my opinion will lead us to be and act in an integrated way and in congruence with the world.
These values help us to work in collaboration with our brothers, and only through collaboration is that we can evolve as a species.
For life to be created, we must work together, a man and a woman must unite, an egg and a sperm only evolve when they unite.

Design
The turtle as a representation of creation, was an idea that played in my mind for days, the turtle besides being a symbol of fertility, is a representation of tenacity and strength that crosses borders.
Turtles cross the ocean in long journeys through the seas, sailors used to tattoo turtles when they crossed the equator in long journeys through the seas, in my case I never got a tattoo, but without a doubt it is an animal that can represent me internally.
For the design it was necessary to draw as a trilogy, the highest values used in the creation, in order to harmonize the logo.
Colors
My story with colours is quite intimate, my perception of colours is the basis of my existence, colours represent for me, flavours, sounds, feelings, the whole. Through colors I can get to know people, I can get to know how they are internally and externally, I can recognize color in a song and see the pain of a soul.
So based on this and with the help of @joseacabrerav who lent me a book on metaphysics, I looked for the colors that the design should have.
Blue
As a symbol of balance, peace, will, faith and happiness.
This color refers to the executive part of every project, the strength, power, initiatives and protection that surround all work.
Pink
As a symbol of pure love, beauty, opulence and cohesion.
Involving as a department, the mediators and judges of a project, which represent the divine love, tolerance and worship existing any event.
Green
As a symbol of truth, healing, consecration and concentration.
Since the essence of creating a production company goes hand in hand with design and music, here we can find the idealistic designers and musicians, who project art in its purest form.
Platonic Solids
Platonic solids are 5 forms that underpin the structure of everything from atoms to planetary orbits.
The name of these five figures refers to Plato, the Greek philosopher who represented each of the elements (earth, water, air, fire), with a different solid form, in an attempt to explain nature in simple terms.
Some time later Aristotle gave the ether a dodecahedron shape (main figure of Chejeru Productions' design).
Each of the solids has properties that represent values in ourselves, as in our DNA and chakras.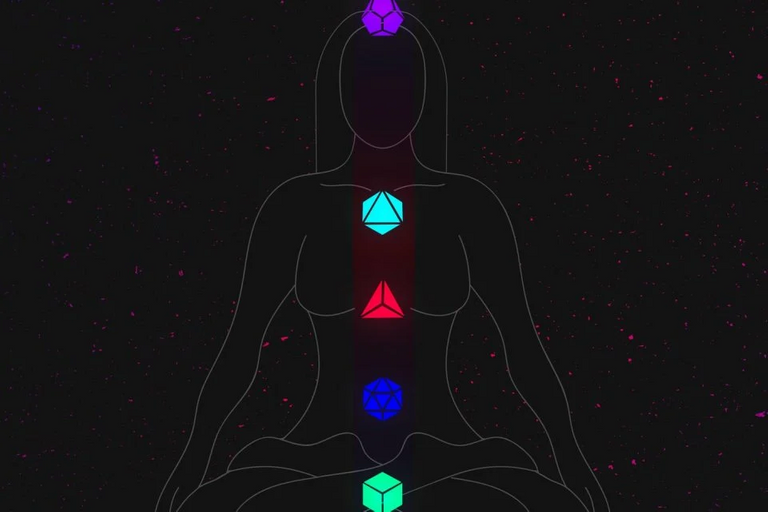 Source
The Ether: Dodecahedron
The ether in its dodecahedron form represents the universe, as the beginning and end of everything.
It is the primary energy that has not yet been set in motion; it is pure potentiality. The Ether merges all aspects of our creativity that exist multi-dimensionally, helping us to understand our experiences in this incarnation and to be able to see them in a sacred context.
Then in this way, a tortoise, 3 colours and a dodecahedron emerged to symbolise a producer, which is itself a universe of creative energies.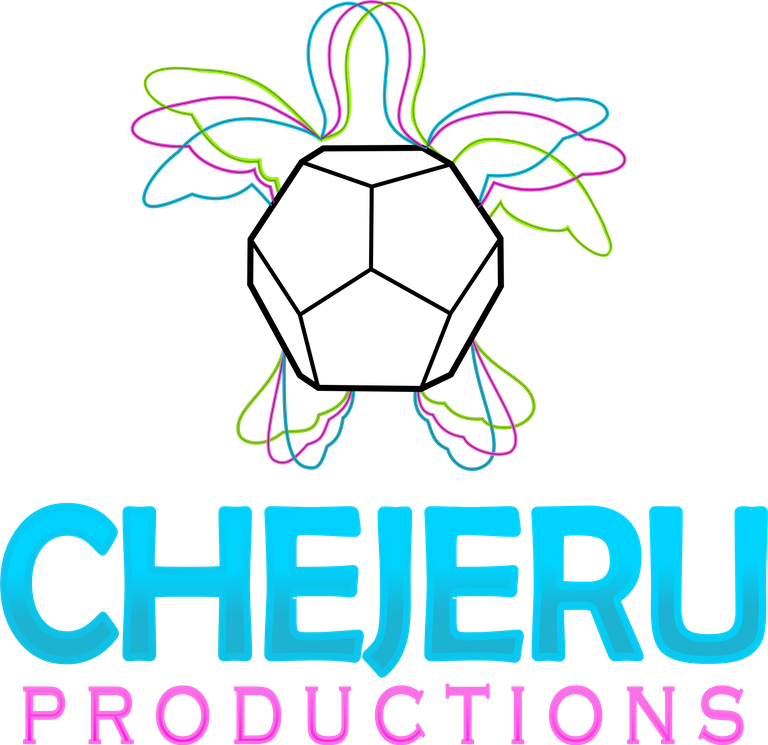 Chejeru Productions is a reflection of a group of people with whom I try to work in this way to ensure that what I offer as part of society is integrated and quality, so here I want to mention and thank the team with which I work, individuals who work from their hearts to give the best of them and thus positively impact spaces and minds.
Jose Cabrera
@joseacabrerav
Javier Liendo
@drrune
Neyxi
@neyxirncn
Rafael Meneses
@acurewa
Alberto Cabezas
@trovadormusica
Special thanks to: Aldair Rojas @aldateacher for helping me with the illustration of this beautiful design.
I hope you liked it as much as I did, soon you will have more news about this project that has just started and comes with everything!

Español
Hoy les vengo a hablar de algo que me emociona mucho, porque nunca habria pensado en crear y mi marca personal.
Como ya todos saben soy productora y no es algo que estudie por años, se trato de una carrera que practique como parte de mi vida diaria. Ya en unos de mis post les comente como me convertí en productora y de algunos proyectos que he tenido el honor de organizar de la mano de excelentes artistas.
Creo y acciono con con rapidez y de forma efectiva, eso siempre ha sido algo innato, "Soy Aries, Soy Fuego" y segun mi Kin Maya "LA LUNA PLANETARIA DEL PERRO (ZORRO)"- vivo del ¿Cómo puedo perfeccionar lo que hago?
"PERFECCIONAR - PRODUCIR"
De vez en cuando esto suele ser un problema para desarrollarme artísticamente, ya que me exijo tanto que en ocasiones es innecesario y me bloquea al punto de querer abandonar, pero resulta que es algo que me hace muy competente, tanto así que puedo crear armonía entre mis gustos y los gustos de los demás, siendo una excelente critica de situaciones o proyectos.
Mis amigos solían hacer bromas en cuanto a esto ultimo y después de un tiempo me convertí en una especie de juez imparcial en mi universidad, siendo una referencia confiable en cualquier ámbito.
Hace poco un amigo logro ver mas allá de lo que yo lo estaba haciendo y me sugirió que creara una marca personal para que sirviese como un sello de calidad para las cosas que yo quería producir, esto genero en mi un choque mental y porque allí debía comenzar a producirme a mi misma.
En la misma fecha en la que me encontraba diseñando por primera vez en mi vida, y creando una ilustración para los amigos de @abundance.tribe encontre la motivación y la experiencia que necesitaba para pensar en una imagen que me describiera y a su vez describiera todo aquello de lo que yo quería formar parte.

Chejeru productions
Chejeru es la Diosa de la cultura wotujja se dice que fue ella la que sembró todas las plantas medicinales en la tierra, siendo una imagen de la fertilidad; Su cuerpo son semillas, semillas que ella riega en el mundo. Ella es la energía que recibimos mediante a las plantas.
Durante las ceremonias de Ñua, nos preparamos para sentir su presencia, pues ella se convierte en la medicina, ella es la Ñua. El chaman usa las plantas como una herramienta de conexión con el mundo espiritual, pero es Chejeru esposa de Puruna (Dios), quien con su energía se hace presente para guiarnos. Su historia es hermosa y extensa, ademas de interesante, no la contare en este post debido a que realmente no estoy segura de si sea correcto hacerlo, pero quizás en otra ocasión les hable un poco mas acerca de ella.
Para mi, una producción es una semilla (idea), que nace en una mente fértil, dando un sin fin de posibilidades para una creación; Por lo que llamar a una productora, con el nombre de la Diosa de mi tierra, fue para mi apropiado y así se convirtió en una opción acertada.

Valores
Sinceramente no es lo mismo crear para otra persona que crear para ti mismo, por lo que esto me llevo semanas, lo que hice para @abundance.tribe en 1 dia, me llevo 2 semanas para mi.
Lo principal era pensar en esos valores que describen mi forma de trabajar, necesitaba que el logo fuese una representación de los valores que pienso, se necesitan a la hora de ofrecer un servicio.
Amor
Considero que el amor es uno de los valores más importantes. Ya que es la fuerza que nos impulsa para hacer las cosas bien, por eso es considerado un valor que tiene muy clara la diferencia entre el bien y el mal.
"Ama como puedas, ama a quien puedas, ama todo lo que puedas. No te preocupes por la finalidad de tu amor."

Amado Nervo.
Equilibrio
El equilibrio es la armonía que debe existir en medio de la diversidad, la mesura, la ecuanimidad, la sensatez en los juicios y los actos. Si una persona actúa en equilibrio logra transitar por diversos caminos sin llegar a caerse, es decir, sin perder el control o dañar a otros.
Constancia
La constancia es la cualidad que poseen las personas para poder conseguir objetivos en todos los ámbitos de la vida.
Esta trilogía es la que en mi parecer nos llevara a ser y a actuar de forma integra y en congruencia con el mundo.
Estos valores nos ayudan a trabajar en colaboración con nuestros hermanos, y solo por medio de la colaboración es que podemos evolucionar como especie.
Para que la vida se cree, debemos trabajar en conjunto, un hombre y una mujer deben unirse, un ovulo y un espermatozoide solo evolucionan cuando se unen.

Diseño
La tortuga como representación de la creación, fue una idea que jugo en mi mente por días, la tortuga ademas de ser un símbolo de fertilidad, es una representación de tenacidad y de fortaleza que cruza fronteras.
Las tortugas cruzan el océano en largos viajes por los mares, los marinos solían tatuarse tortugas cuando cruzaban el ecuador en largas travesías por los mares, en mi caso nunca me tatué, pero sin dudas es un animal que me puede representar internamente.
Para el diseño era necesario dibujar como una trilogía, los mas elevados valores utilizados en la creación, para así armonizar el logo.
Colores
Mi historia con los colores es bastante intima, mi percepción de los colores son la base de mi existir, los colores representan para mi, sabores, sonidos, sentimientos, el todo. Por medio de los colores puedo conocer a las personas, puedo llegar a saber como son interna y externamente, puedo reconocer el color en un canto y ver el dolor de un alma.
Entonces basándome en esto y con ayuda de @joseacabrerav que me presto un libro de metafisica, busque los colores que debia tener el diseño.
Azul
Como símbolo de equilibrio, paz, voluntad, fé y felicidad.
Este color se refiere a la parte ejecutiva de todo proyecto, la fuerza, el poder, las iniciativas y la protección que envuelven todo el trabajo.
Rosa
Como símbolo de amor puro, belleza, opulencia y cohesión.
Envolviendo como a un departamento, los mediadores y jueces de un proyecto, los cuales representan el amor divino, la tolerancia y la adoración existente cualquier evento.
Verde
Como símbolo de verdad, curación, consagración y concentración.
Ya que la esencia de crear una productora va de la mano del diseño y de la música, aquí podemos encontrar a los idealistas diseñadores y músicos, los cuales proyectan el arte en su forma mas pura.
Solidos Platonicos
Los solidos platonicos son 5 formas que fundamentan la estructura de todo, desde los átomos hasta las órbitas planetarias.
El nombre de estas cinco figuras hace referencia a Platón, filósofo griego que represento cada uno de los elementos (la tierra, el agua, el aire, el fuego), con una forma sólida diferente, en un intendo de explicar la naturaleza en terminos simples.
Tiempo despues Aristóteles le dio forma de dodecaedro al éter (figura principal del diseño de Chejeru Productions).
Cada uno de los sólidos tiene propiedades que representan valores en nosotros mismos, como en nuestro ADN y chakras.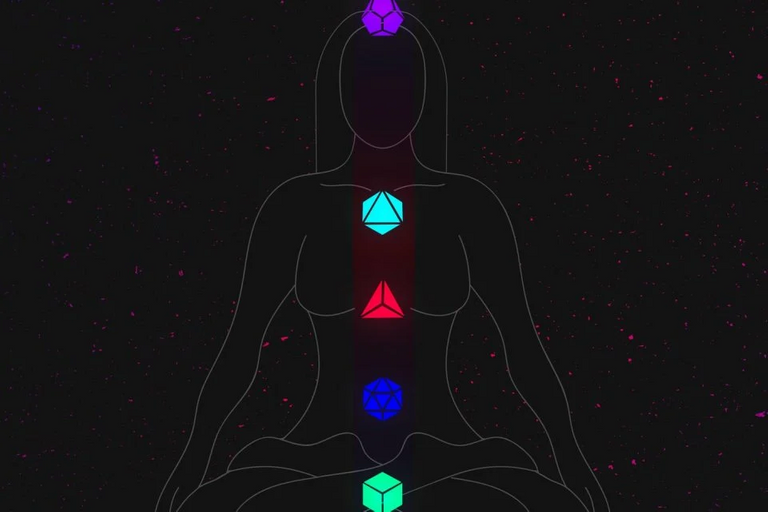 Source
El Éter: Dodecaedro
El éter en su forma de dodecaedro representa el universo, como inicio y fin de todo.
Es la energía primaria que aún no se ha puesto en movimiento; es potencialidad pura. El Éter fusiona todos los aspectos de nuestra creatividad que existen multidimensionalmente, ayudándonos a comprender nuestras experiencias en esta encarnación y a ser capaces de verlas en un contexto sagrados.
Entonces de esta forma surgieron, una tortuga, 3 colores y un dodecaedro, para simbolizar una productora, que es por si misma un universo de energías creadoras.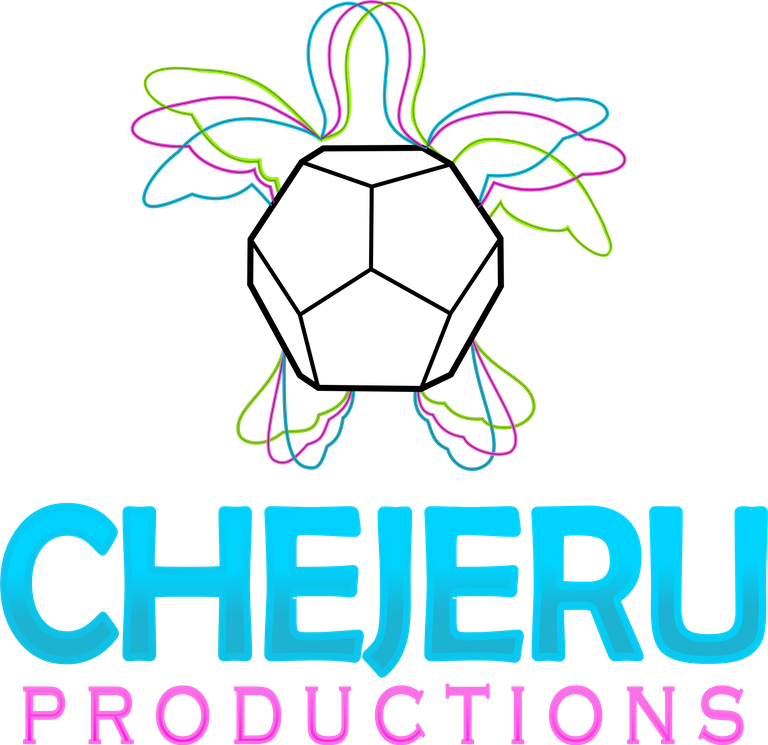 Chejeru produtions es un reflejo de un grupo de personas con las que procuro trabajar para de esta forma asegurar que lo que ofrezco como parte de la sociedad sea integro y de calidad, entonces aquí quiero mencionar y agradecer al equipo con el que trabajo, individuos que obran desde su corazón para dar lo mejor de ellos y así impactar de forma positiva espacios y mentes.
Jose Cabrera
@joseacabrerav
Javier Liendo
@drrune
Neyxi
@neyxirncn
Rafael Meneses
@acurewa
Alberto Cabezas
@trovadormusica
Agradecimientos especiales a: Aldair Rojas @aldateacher por ayudarme con la ilustración de este hermoso diseño.
¡Espero les haya gustado tanto como a mi, próximamente tendrán mas noticias de este proyecto que apenas comienza y viene con todo!

Separator by @trovadormusica