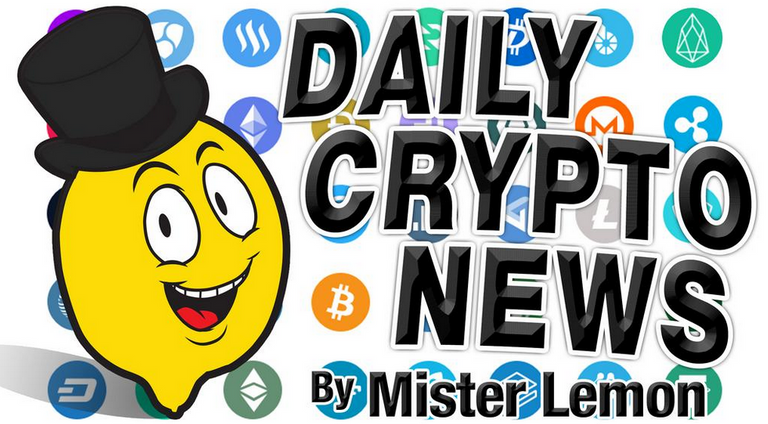 Bitcoin Price May Hit $5.5K in 2020 to 'Wear Out Bulls' — Peter Brandt ;
The Case for a Bitcoin ETF ;
JPMorgan Tests Private Blockchain to Track Auto Dealer Inventory ;
Bakkt Bitcoin Futures Set New Daily Record Trading Over $20M ;
Binance CEO: 'We Will Be Suing' The Block Over China Police Raid Story ;
🗞 Daily Crypto News, November, 23rd 💰
STEEM Trading Update
Welcome to the Daily Crypto News: A complete Press Review, Coin Calendar and Trading Analysis. Enjoy!
In a tweet on Nov. 21, Peter Brandt revealed his target for Bitcoin price was a floor of $5,500. Negative pressure had engulfed markets on the day, sending BTC/USD to lows of $6,850.
Brandt: length of bear market "might be surprise"
What happens next, he argued, could continue that trend — and make it last longer than the general consensus suggests.
"My target of $5,500 is not far below today's low. But I think the surprise might be in the duration and nature of market," he wrote.
Brandt continued:
"I am thinking about a low in July 2020. That will wear out bulls quicker than a price correction."
Issuers have submitted proposal after proposal for a bitcoin-based exchange-traded fund (ETF), and the SEC has delayed or rejected each one. It's time, however, to ask why and if the SEC's frustration over not having jurisdiction over cryptocurrencies is clouding their judgment. In my opinion, the answer might well be yes.
To start, it is important to recognize that there is a lot of investor interest in bitcoin as well as other digital assets. Nothing the SEC can do will diminish that, so the only relevant question is if a bitcoin ETF meets the standards for such a product and is consistent with other approved ETFs. That said, the SEC argues that bitcoin, despite having multiple markets that meet a reasonable standard for displayed price discovery, does not meet that standard.
From the disapproval ruling:
"Because, among other things, the Sponsor has asserted that 95% of the bitcoin spot market consists of fake and non-economic activity, but has not established that it has in fact identified the "real" bitcoin market, or that the "real" bitcoin market is isolated from the fraudulent and manipulative activity, we find, in each case, that NYSE Arca has not met its burden to demonstrate that its proposal is consistent with the requirements of Exchange Act Section 6(b)(5), and therefore the Commission disapproves this proposed rule change."
The bank's wholesale car financing arm has filed a patent application describing a distributed ledger-based version of floorplan lending, a revolving line of credit that allows car dealers to borrow against retail inventory.
Every car sold in the U.S. has an individual vehicle identity number (VIN). The bank reckons that these can be anchored to a blockchain, assisted by a range of other telematic and geolocation sensors, which can remove inefficient manual pain points around auditing inventory on the dealership floor.
"The floorplan lending process involves periodically doing a physical inspection or audit of all the inventory on the dealership's lot," said Kevin Point, head of research and development at Chase Auto. "That means that a human being actually travels to the dealership, identifies the vehicles and then reconciles that inventory, if the loan's outstanding, on both the dealer's and the bank's accounting system."
Bitcoin (BTC) futures daily volumes on digital asset platform Bakkt have hit a new all-time high, according to data from Intercontinental Exchange (ICE). More than $20.3 million was traded in Bitcoin — or 2728 futures contracts — on Nov. 22.
30% higher than the previous daily volume record
The new volume record represents a 66% increase over the previous day and is roughly 30% higher than the previous all-time high on Nov. 8.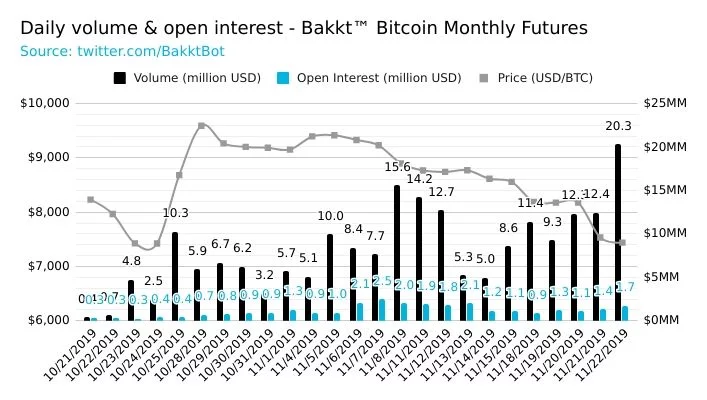 The CEO of cryptocurrency exchange Binance has vowed to sue industry media outlet The Block over alleged false reporting.
In an ongoing Twitter exchange on Nov. 22, Changpeng Zhao, known as CZ in crypto circles, promised to take legal action over an article that claimed Binance's Shanghai office was receiving attention from Chinese police.
CZ to The Block: "Own up and apologize"
"We will be suing them," he wrote in one tweet.
The offending piece originally surfaced on Friday and was part of multiple reports of a fresh crypto clampdown by China. At the same time, Bitcoin (BTC) slid to below $7,000.
The Block initially made its claims under the headline "Binance's Shanghai office shut down following visit by authorities, sources say."
🗞 Daily Crypto News, November, 23rd 💰
Abra Listing
Californium (CF), Cardano (ADA)
"On November 23, the Greek #Cryptocurrency Community Meetup will take place in Greece!"
BTCF tokens will be converted to ERC20 tokens.
"VeChain CEO Sunny Lu will be conducting a livestream AMA on Nov. 24, 9PM(GMT+8). Please submit your questions to the Reddit thread..."
"The conference will take place on November 23rd, 2019 and will feature a speaker series as well as a development workshop for people..."
STEEM Trading Update by my friend @cryptopassion
Here is the chart of my last analysis :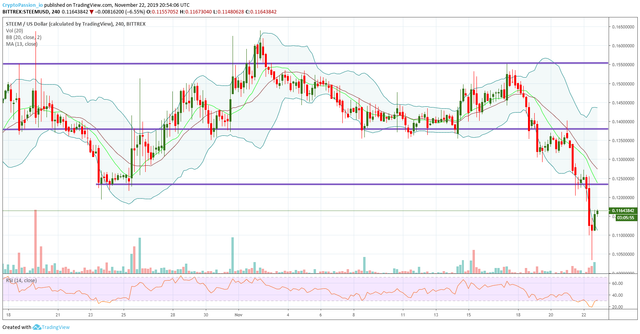 Here is the current chart :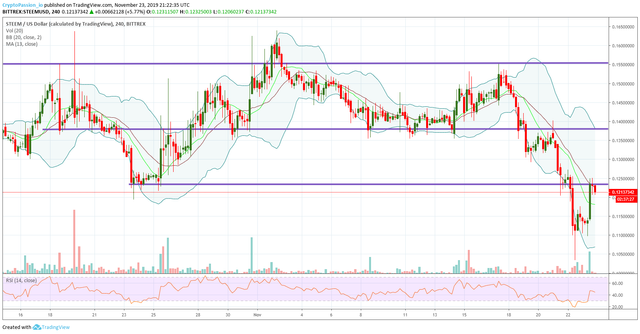 We are in a very dangerous momentum. We just did the pullback to go test the line at 0.124$ that we broke yesterday and the resuslt is very important. If we start to drop again from that line, it will confirm the pull back which is a powerfill pattern which confirms the previous move so here a drop. If we can break the resistance line, it could be the start of a bounce after that excessive drop.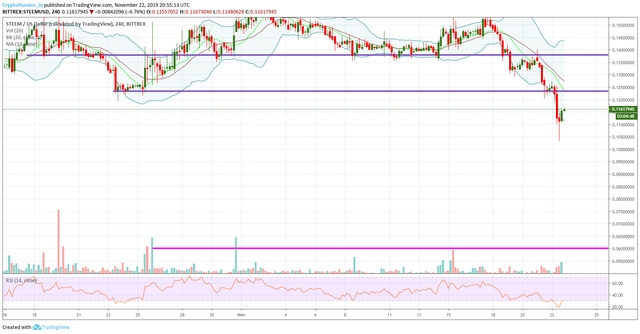 I traced in pink the all time low on the STEEM. What do you think? Will we go test that all time support line ?
Last Updates

You don't want to miss a Crypto news?
Join SteemFollower and get Upvotes back !